by Chris Feeny • @ChrisF3105 • Apr 18
Hoosier Baseball will travel 325 miles north on Thursday to East Lansing, Michigan for a weekend series with Michigan State. They will show up with a B1G record of 7-2. Make no mistake about it, the goal will be to take the return trip home to The Bart with a B1G record of 10-2.
Indiana Hoosiers (25-12) (7-2) at Michigan State Spartans (9-25) (0-8)
The last time the Hoosiers and Spartans faced off was in an elimination game in last year's B1G Tourney. The Spartans current Friday night starter, Mason Erla, held the Hoosier offense to just 1 hit and 1 run through 6 innings. He left the game up 5-1. However, with 2 outs in the ninth, the deficit was 5-2, and then Matt Gorski did this.
Down 3 runs, bottom of the 9th, 2 outs for @IndianaBase…

It's Matt Gorski time. pic.twitter.com/p3U4WwwsNi

— Indiana On BTN (@IndianaOnBTN) May 24, 2018
The Hoosiers went on to win in extras and kept their Tournament alive.
This year's version of Michigan State is at the bottom of the conference. However, regardless of his record, Mason Erla is still going to be a challenge on Friday Night. Also, Sparty recently took a series at home against Indiana State holding them to just 2 total runs.
Friday night will be the first night game Indiana has ever played at Michigan State as they recently had a 1.5 million dollar lighting system put in. That Friday night vs Indiana State was a shut out victory for Erla. Hoosier Baseball will be night game number two.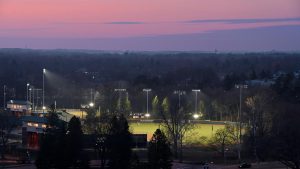 (Credit – msuspartans.com)
The B1G schedule becomes a lot more challenging going forward with Minnesota, Illinois, and Michigan looming. With the way the B1G Standings are shaking out, Hoosier Baseball needs 3 wins out of this trip to stay at the top with Nebraska and keep focused on that regular season title that has eluded them since the days of Schwarber, Travis and DeMuth.
Games Notes
Pitching Matchups
Friday 6:30 pm EST
RHP Mason Erla (1-6) 5.26 vs RHP Pauly Milto (5-3) 1.98
Saturday 4pm EST
LHP Mitchell Tyranski (0-7) 5.53 vs RHP Tanner Gordon (4-3) 3.31
Sunday 1pm EST
RHP Caleb Sleeman (2-2) 4.02 vs LHP Andrew Saalfrank (4-1) 2.61
Spartans to watch for :
#17 Bryce Kelley .- 295 (team leader) 39 hits, 42 total bases, 14-18 steals (team leader)
#2 Marty Bechina – .261 , 13 R (team leader), 12 doubles (team leader) , 19 RBI's (team leader)
#28 Adam Proctor – 5 HR's (team leader)
On the Air
Indiana University will be providing an audio play by play link via Hoosier Country 105.1 for all three games.
There is a video feed for all three games provided by BTN Plus
Team Rosters / Team Stats
Indiana
Michigan State
Cassady Palmer's B1G Win Probability Tracker