3-seed Indiana managed to get into the catbird seat at Kentucky Proud Park in Lexington but fell short of advancing to supers to cap a huge turn-around season
By Carl James @jovian34 June 18th, 2023
---
I've given some time to write a comprehensive recap of the Lexington Regional. In the world of sports writing, old news is usually ignored, and this might be. Fortunately for us, iubase.com is a labor of love. We have no click counting masters or advertisers to answer to. There was a lot of unpleasantness surrounding events of this regional. I plan to address some of those in this piece, but above all else I didn't want controversies to overshadow the most important part of the regional weekend, which was that it was just great baseball.
Indiana played in four of the seven games of the regional, going 2-2. Except for the Sunday night game, they were all competitive. Saturday night was among the biggest games won by the Hoosiers in the past decade, and the Monday finale ranks up there with other great heartbreaking regional losses including the 2014 finale against Stanford, the 2015 winner's bracket game at Vanderbilt, the 2018 regional final at Texas, and the 2019 elimination game at Louisville.
Between the live game blogs, and the recaps of the first two games, I have already wrote a lot about this regional. I am adding some big picture context and in some cases a little after the fact detail.
---
Friday, June 2nd: Game 2 IU-12, WVU-6 | WIN | Live Blog | Recap | Box Score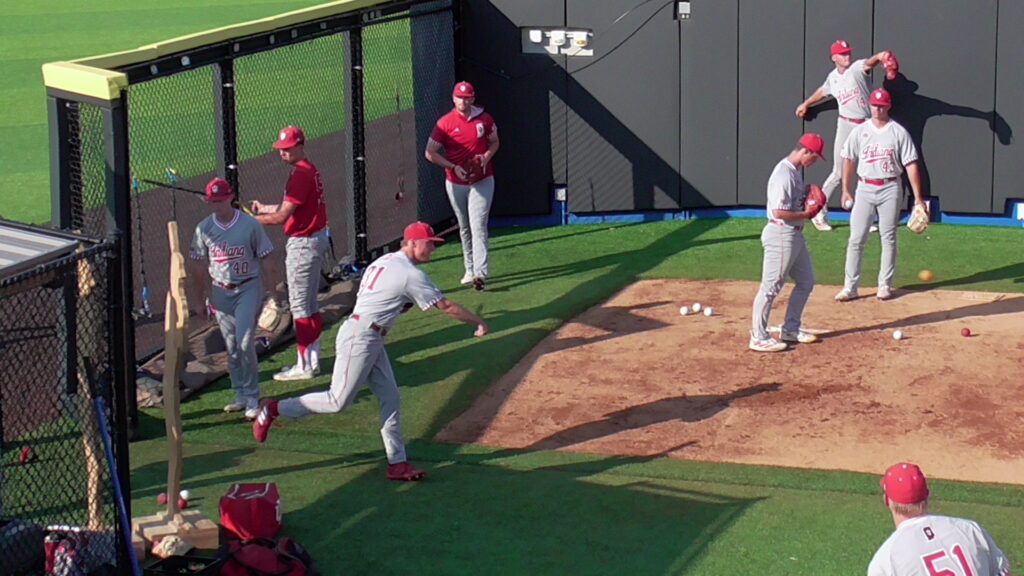 The Hoosiers opened up regional play against 2-seed and Big 12 co-champ West Virginia. Many in the national media had picked West Virginia to win the regional. West Virginia had the star power in second baseman J.J. Wetherholt and the most successful starting pitching.
Indiana countered with their only deep-inning starting pitcher and ace Luke Sinnard. In two innings Sinnard gave up a solo home run, but struck out 5 Mountaineers, eclipsing an 86 year old record for single season strikeouts by a Hoosier. After facing only one batter in the third inning, catcher Peter Serruto saw something with Sinnard and called time. After a lengthy mound visit including training staff, Sinnard was pulled from the game with an apparent injury.
Without the only true starter the Hoosiers has, it made the urgency of winning even greater. In a four-team double elimination tournament, the one team that wins the first two games gets to play one fewer game than their competition. The Hoosiers left nothing on the table in doing just that. Freshman Braden Risedorph pitched 3.2 innings, earning the victory, while senior Ty Bothwell earned a 3.1 inning save.
---
Saturday, June 3rd: Game 4 IU-5, UK-3 | WIN | Live Blog | Recap | Box Score
Having used all of their expected starting pitchers on Friday, Indiana turned to first team All-B1G reliever Ryan Kraft to start the winners bracket game against host Kentucky. Kraft had been shut down two weeks prior after a bout with arm soreness. Kraft was excellent, giving up only 1 run in 4.0 innings of work. Senior Craig Yoho gave a up a couple of runs in middle relief.
Indiana hitters were struggling mightily with the slider of Kentucky righty Zach Lee. Lee struck out 9 Hoosiers in 7 innings of work. His last inning was the only one in which he faced issues, with runners on the corners and two outs to Serruto in the bottom of the seventh, as Indiana was the designated home team.
Here is the point I will interject a touch of controversy, and I do so primarily to underscore what a great moment it was for Serruto and the Hoosiers. It is also in many ways the largest (but not only) issue that was in the background leading to the coldness between the Kentucky and Indiana coaches and players.
A source with knowledge of the situation informed iubase.com that Kentucky protested the result of the game on the grounds that Indiana's use of camcorders mounted in Kentucky Proud Park were being used to spy on Kentucky players, but the NCAA immediately denied the protest. This past week, we reached out to the Kentucky program and let them know we were going to discuss this in an article. Their response was, "The University of Kentucky requested and received clarification on an administrative question during the Lexington Regional." The vague response neither confirmed nor denied what we were told.
The cameras in question could not be used in real time for any purpose. They are not networked and record to a local memory device. There purpose is providing feedback to Hoosier players. TV broadcasts change camera angles and are not consistent enough to get feedback on player mechanics. Many college teams employ cameras like this. It is a normal standard. It was a bit of a head scratcher why Kentucky would need even a "clarification" about these very standard cameras.
Furthermore… there was nothing in the game that would give anyone the impression that Indiana was stealing signs. Lee was having his way with Indiana hitting until literally his 100th pitch of the night. Now in case someone might think that Serruto had an unfair heads-up on Lee, I will recount what happened in the critical at-bat.
Hoosiers were down 3-1 in the bottom of the seventh with two outs and runners on the corners. Lee was in the mid-90s in pitch count. He starts the at-bat with a high inside slider that Serruto fights off and pops up into foul ground near right field. It lands just outside the reach of either the first baseman or right fielder. The 0-1 pitch is probably Lee's best pitch of the at-bat. It is his typical 79-mph slider that starts in the zone and breaks well outside. Serruto swings and misses, not coming close. If Serruto knew that was a slider he clearly would not have swung.
The next pitch is another outside slider, this a bit more elevated that Serruto takes. The next pitch is an 81-mph slider that Serruto just manages to pull his swing attempt back on. The pitch is well outside. The first base umpire denies the appeal. The ESPN crew shows the swing in slow motion and it was close. Count is now 2-2. Lee throws Serruto his fifth straight slider this time well outside that Serruto takes to fill up the count. With 3-2, and clearly struggling to command his slider, Lee finally thorws a 92-mph fastball. The catcher sets up inside, but the pitch ends up over the outer half of the plate and Serruto hits the ball the other way and it lands in the Hoosier bullpen just beyond the right field fence. The Hoosiers take a 4-3 lead.
There is nothing about the way Serruto approached that plate appearance that said anything other than that it was a remarkable baseball battle between two great ball players. Now Tyler Cerny's ejection and suspension for bringing a home-run prop out on to the field after Serruto's blast has been covered in detail, but I did need to mention it. Freshman righty Connor Foley kept the Wildcats at bay and earned the victory.
---
Sunday, June 4th: Game 6 IU-6, UK-16 | LOSS | Live Blog | Box Score
Sunday night is when the loss of Sinnard Friday finally knocked over enough dominoes that Indiana found itself overmatched. Kentucky is very deep in it's pitching staff, and despite playing two games on Sunday, the Wildcats were just much better on the mound. After the game, Jeff Mercer said, "We threw some guys today that haven't thrown a ton. Those things happen. It's not a deal. It's not an issue. We threw some guys today that haven't thrown a ton. And some of them haven't been leaned on in, like, premium innings on weekends and whatnot. Sometimes those things happen. You just pick up and move on."
With Cerny serving a suspension, Evan Goforth had his moments to shine, getting two hits, including a home run on the day and making a fantastic double play.
Indiana pitchers did hit 9 Kentucky batters, which of course did not help the already icy situation between the two staffs. Mercer reflected after the game, "We just have to have a conversation about it. And we have to understand that there's a lot of things behind the scenes. There's a lot of things going on. There's a lot of moving pieces. I don't want to get into it. But there's just a lot. We just have to have a discussion about keeping it on the field and being professionals. And we've done a really good job of that this year. We've been professionals and we've been gentlemen. And that's something that's really important to me and I'm very proud of that."
---
Monday, June 5th: Game 7 IU-2, UK-4 | LOSS | Live Blog | Box Score
While the Hoosiers came up on the wrong end of this one, they put everything out on the field and gave an effort that was worthy of being in a regional final. Indiana out hit Kentucky 10-6 and got the lead-off man aboard 7 of 9 times in the game. But the Hoosiers stranded 9 runners. Mercer reflected after the game, "I thought we played really well. Really proud of the way we showed up today. We put a plan together, and the boys did a great job of executing that plan really down to just leaving some guys on base."
Ty Bothwell got the start after earning the save on Friday. While he was struggling with command in the first inning he settled down and produced a gutsy performance on a huge stage.
---
In conclusion I can't do better than what Coach Mercer did in respond to his last question on Monday:
"How together they were to achieve something that was bigger than just them, I guess. Everyone will remember, and I'll remember Pete Serruto's home run, but how you got there. It's like 0-2 count, I think it was the Lee kid. He's drilling us. He's killing us. He's doing a great job. And he just fights and they send him back out. I think it was the eighth. He just fights, he gets 0-2, he fights, fights, fights.

You could hear everybody just keep going, just keep going. Then he hits that home run and just seeing like the dugout erupt. Like, I stepped out at the end of the dugout. It's pandemonium, everyone's going bonkers, like, oh, my goodness, we did it. And to see that moment will live with me for the rest of my life. I'll remember the view of the dugout and everyone going crazy forever.

Watching Risedorph come in from the bullpen when Sinnard gets hurt and knowing what just happened. We just had to use probably our next two starters to cover that first game. And knowing, all right, young fellow, you're going to have to get us out of this pickle and then you'll have to give us some length.

And watching those guys step up and seeing all those guys have that through the first two days come back yesterday, I can throw today. You're not throwing today, pal, you're not hurt.

But all those guys stepping forward and seeing their performances today, seeing Ty Bothwell go from where he was at six or eight weeks ago to throwing terrific in the first game and coming out today and giving — what an incredible performance from that kid.

I just remember seeing him on the Wednesday off scrimmages throwing, trying to get it back, throwing to a stand-in dummy, throwing to kind of like the guys, the redshirt guys on Wednesday, trying to get it back, seeing so far away from it, to se him go out and pitching like he has.

Those are things I'll remember forever. I'm very thankful for that."

Jeff Mercer