3-seed Indiana and 1-seed Kentucky play one game for a trip to Supers at Kentucky Proud Park
By Carl James @jovian34 June 5th, 2023
---
Top 9th: Hoosiers 2, Wildcats 4 (FINAL)
Tyler Cerny strikes out to start the ninth. Serruto works the count full and flies out to center, bring the Hoosiers to their final out in the top of the order. Kentucky thought the game was over when a foul off of Glasser's foot went to first. Glasser singles up the middle bringing up the tying run to the plate with two outs. Moore is at 78 pitches. Whalen grounds out to second base. Kentucky comes out of the losers bracket to win the Lexington Regional. Indiana is eliminated.
Bottom 8th: Hoosiers 2, Wildcats 4
Risedorph starts the inning with a quick strikeout. Church draws a one-out walk. Risedorph throws over to first multiple times to boos from the the Wildcat fans. Waldschmidt keeps fouling off two strike pitches. ⭐Tyler Cerny robs a hit for the second out with a diving grab. McCarthy hits a single to left to get Church into scoring position. That will be all for Risedorph. Jeff Mercer goes to Ryan Kraft to get the last out in the eighth. Kraft gets ahead 0-2 and Kentucky calls for a hitter's time-out. A groundout to second gets the Hoosiers back up to bat.
Top 8th: Hoosiers 2, Wildcats 4
A groundout makes Mathison the first Hoosier lead-off man to not reach base. Pyne also grounds out. Jessee gets behind 0-2 then Kentucky shifts to pull side. Jessee looks at a 94-mph fastball that gets a delayed strike three call to end the inning. The Hoosiers are down to their last three outs of the season.
Bottom 7th: Hoosiers 2, Wildcats 4
Risedorph back out to face the top of the Wildcat order. Gray flies out to Jessee in left field in foul ground. Jessee also collects out number two in fair territory. Burkes rips a two-out single to left field. Indiana failed to hold Burkes and he stole second without a throw.. Risedorph strikes out Pitre.
Top 7th: Hoosiers 2, Wildcats 4
Moore throws seven straight balls before a get-me-over fastball strike. Then Glasser goes the other way with a single. Mound visit ensues. Whalen bunts both runners into scoring position. Taylor swings at a breaking ball well off the plate for the second out, putting the pressure on Tibbitts to get a hit. Tibbitts grounds out on a chopper to second. Again, the Hoosiers just can't push runners into to score.
Bottom 6th: Hoosiers 2, Wildcats 4
Ty Bothwell is back out for the 6th while there is right handed activity in the Hoosier bullpen. Devin Burkes hits a 3-2 pitch down the left field line for a lead-off double. A ground out moves the runner to third with only one out. Kentucky has been much better so far of taking advantage of these situations. An RBI double gets Kentucky back into the lead. After a mound visit, Bothwell walks Church. Jeff Mercer makes the call to the bullpen. Bothwell had a remarkable outing in the biggest stage. What a great performance from the senior. He exits to a standing ovation from the Hoosier fans behind the Indiana dugout.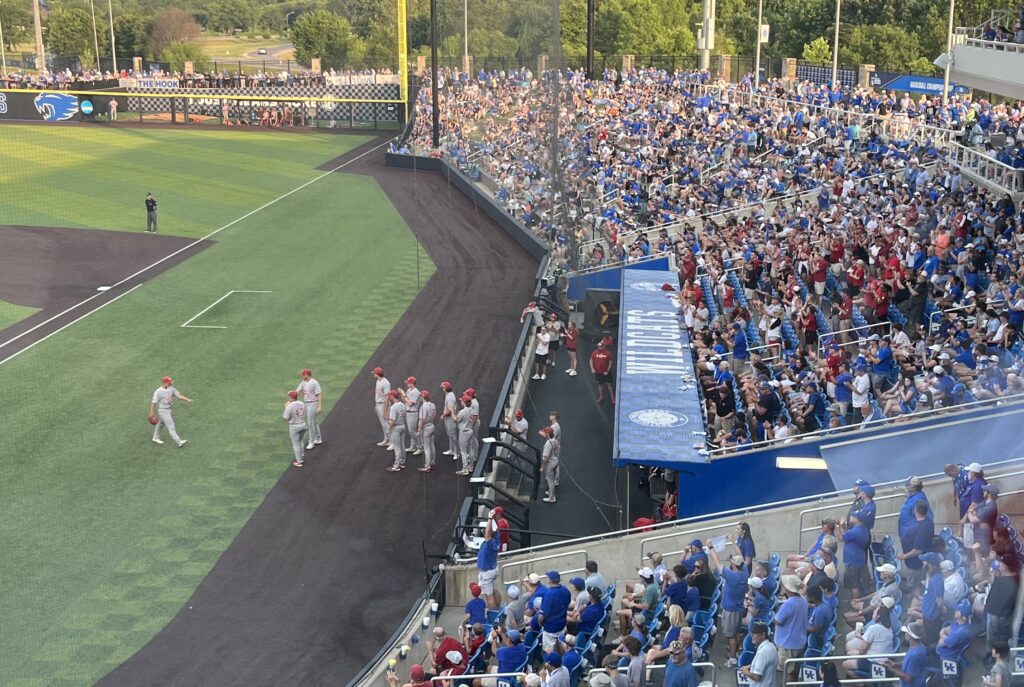 Brayden Risedorph replaces Bothwell and gives up an RBI double. Risedorph then produces an infield pop up. He's throwing 93-mph with his fastball. A left hander is throwing in the Hoosier bullpen. Risedorph then touches 95 with a foul ball before stranding two runners with an 83-mph breaking ball.
Top 6th: Hoosiers 2, Wildcats 2
Mathison rips a ball up the middle, but Smith steals the hit at short stop for the first out. Pyne is frozen by breaking ball for a strikeout. Jesse faces a two out full count and rips a chopper up the middle for a single. Indiana is now out hitting Kentucky 8 to 1. A 2-2 wild pitch gets Jessee into scoring position. There is a player meeting on the mound. A breaking ball gets Cerny swinging, and the Hoosiers strand yet another base runner.
Bottom 5th: Hoosiers 2, Wildcats 2
Bothwell gets strikeouts of McCarthy and Smith before hitting Gray with a pitch not far off the plate. Gray made no attempt to get out of the way, but was awarded first base. Felker hits a ball well to right field, but Taylor manages to track it down for the third out.
Top 5th: Hoosiers 2, Wildcats 2
Mason Moore is the new Wildcat pitcher. He threw 50 pitches against Ball State on Friday. He has a 2.17 ERA and 1.14 WHIP. Whalen gets an infield single for the fifth straight inning with the lead off man aboard. Whalen is erased with a ground ball double play off the bat of Taylor. Another ground ball ends the inning.
Bottom 4th: Hoosiers 2, Wildcats 2
Bothwell is really mixing up his pitches now and uses a fastball to get another strikeout. ⭐Glasser and Tibbitts combine for a great play to get the second out. A groundout completes a 1-2-3 inning.
Top 4th: Hoosiers 2, Wildcats 2
Hunter Jessee leads off the inning with a single. Cerny hits a chopper to third that moves Jessee into scoring position. Serruto swings at an off speed for strike three and Glasser strands Jessee with a hard hot lineout to Nolan McCarthy in right field. The Hoosiers are out hitting Kentucky 6 to 1, but that advantage is not showing up on the scoreboard which is still tied.
Bottom 3rd: Hoosiers 2, Wildcats 2
Bothwell starts the inning with 40 pitches. He finally reveals the low slot fastball on an 0-2 pitch which is fouled off. Bothwell then throws an off-speed pitch for a strikeout. He then heats up to 92-mph with his four seam for a strikeout. Josh Pyne boots a ground ball getting the Wildcats a 2-out base runner. Pitre barely hits a ball down the line foul. Bothwell fools Pitre with an outside breaking ball to end the inning. Bothwell is in a zone now with multiple pitches working.
Top 3rd: Hoosiers 2, Wildcats 2
Williams starts the inning with 52 pitches. Taylor works the count full and fouls off a couple of pitches. Taylor drops a single into shallow center that Gray misplays and Taylor gets to second. Taylor was almost picked off at second. The second pick-off attempt goes into centerfield and Taylor moves to third with no outs. Tibbitts did not look comfortable and strikes out. Mathison also wastes the opportunity with a pop up to the catcher. Now the Hoosiers need a hit to plate Taylor. Pyne lines out and Taylor is stranded. This is the kind of situation that a team needs to capitalize on.
Bottom 2nd: Hoosiers 2, Wildcats 2
Bothwell gets behind to Ryan Waldschmidt but gets an easy infield pop up. Bothwell then gets a hard groundout to Cerny at second. Bothwell falls behind 3-1 to nine-hole hitter Grant Smith and then throws an 80-mph off-speed pitch for a strike. Bothwell finishes off a 1-2-3 inning with a line out to Whalen in center.
Top 2nd: Hoosiers 2, Wildcats 2
Josh Pyne leads the inning off with a single off the glove of Kentucky third baseman Felker. Hunter Jessee gets ahead 3-1. The count runs full and Kentucky deploys a shift, but Jessee walks to get Pyne into scoring position with no outs. Cerny goes the other way with a single and the bases are loaded with no one out. Peter Serruto hits a ball the thrid baseman who gets Pyne out at the plate. Phillip Glasser fouls off several two strike pitches before working the count full. Glasser grounds into a fielder's choice which does score Jessee to tie the game. Kentucky Coach Nick Mingione asked for a review for a reason that wasn't clear. The call on the field stood. Whalen attempted a surprise bunt, but it went foul. Whalen grounded out to end the inning.
Bottom 1st: Hoosiers 1, Wildcats 2
Ty Bothwell surrenders a lead-off single with his second pitch. As on Friday, Bothwell is throwing his 4-seam fastball over the top, so far with 90-91 mph velocity. Bothwell is very fastball heavy with his mix as expected. Bothwell walks Jase Felker after getting ahead. Bothwell quickly falls behind 3-0 and Phillip Glasser calls a players-only meeting on the mound. Bothwell's pitch is outside and the bases are loaded with no outs. No bullpen activity as Bothwell gets back in the zone and Kentucky ties the game with a sacrifice fly off the bat of Emilien Pitre. Another sacrifice fly gives the Wildcats the lead. Devin Burkes tags into scoring position as well. Bothwell gets ahead of Reuben Church who fouls off multiple pitches before striking out.
Kentucky did a better job of capitalizing on thier opportunities than IU did, but Bothwell did find the zone again and keep the Wildcats from having a really big inning.
Top 1st: Hoosiers 1, Wildcats 0
Phillip Glasser fouls off four pitches before hitting a lead-off single up the middle. Bobby Whalen showed bunt on the first pitch and took a strike before fouling off the next pitch. Whalen rips an RBI double into the right centerfield game scoring Glasser. Devin Taylor fouls out with a shallow pop up. Whalen creates havoc prompting Williams to commit a pitch clock violation and then stealing third base. Brock Tibbitts strikes out on a full count, spoiling a chance to score Whalen with something other than a hit. Carter Mathison also goes down on strikes, stranding Whalen.
Announcements
First pitch will be at 6:06pm and be broadcast on ESPN2.
Starters
LHP Ty Bothwell will start the final championship game for Indiana, after earning the save in 3.1 innings of work on Friday versus West Virginia. Kentucky will counter with RHP Darren Williams (4.01 ERA, 1.20 WHIP) who threw 27 pitches against the Hoosiers on Saturday. Williams is the statistically best pitcher that could reasonably be expected to throw today.
Regional Final starters. ⤵️ pic.twitter.com/HdaZ2Doxgz

— Indiana Baseball (@IndianaBase) June 5, 2023
Links
Catch us on ESPNU or ESPN2. 📺 https://t.co/jJC9kvgRrP

— Indiana Baseball (@IndianaBase) June 5, 2023