3-seed Indiana defeated 1-seed Kentucky at Kentucky Proud Park in Lexington – Serruto's 3-run oppo homer is the difference maker
By Carl James @jovian34 June 4th, 2023
LEXINGTON, KY – Indiana baseball put themselves in the driver's seat of the Lexington Regional on Saturday with a 5-3 win over host Kentucky on Saturday night in the winner's bracket game. It was a back and forth affair but felt like Kentucky's pitching was in control until senior catcher Peter Serruto hit a 3-2 fastball into the Indiana bullpen just past the right field fence for a go-ahead 3-run home run in the bottom of the 8th inning.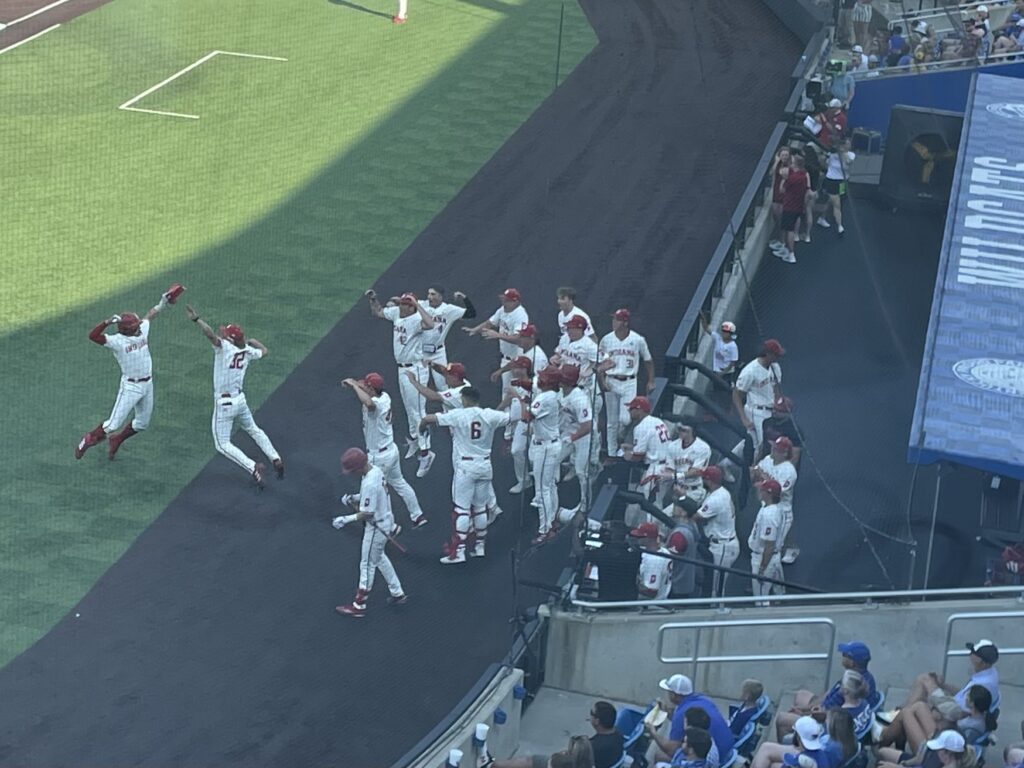 Indiana was the designated home team for the game, and Ryan Kraft, in first action in two weeks due to arm discomfort, pitched a clean first inning. Phillip Glasser took the first pitch he saw off of Kentucky starter Zach Lee over the left field fence for a solo home run. While this got the Indiana contingent excited, that didn't spark anymore offense. Lee was electric after that, striking out nine Hoosiers and walking none in 7 innings of work. After the game, head coach Jeff Mercer described the struggles Indiana had with Lee. "His change-up is unique breaks like a breaking ball. First time through I told the guy you have to treat it like a breaking rule. We have a specific rules for a breaking ball."
It took quite a while for Hoosier hitters to adapt to Lee. The change-up at about 81-mph was breaking hard outside to right handed hitters generating a lot of swing and miss. He very occasionally threw a 93-mph fastball to force the Indiana hitters to stay on fastball timing. It wasn't until the seventh inning when Josh Pyne hit a double and Hunter Jessee reached by getting hit by a pitch set up Serruto's heroics.
Serruto was down 0-2 in the count and battled with foul offs and pulling back on check swings to run the count full. Serruto recounted, "I just kept replaying that same thought in my head: Don't come off the fastball; don't come off the fastball. Just have to control my breathing. Coach Mercer always says don't play emotionally and just control that. And stick to my plan. Once I got that fastball I knew what to do, that pitch." He lifted the outside fastball and sent the small, but loud Hoosier contingent into a frenzy.
Unfortunately the ensuing celebration has has consequences. Freshman second baseman Tyler Cerny was ejected for bringing a plastic oversized necklace with "IU" on it onto the field to place on Serruto. This is the typical IU home run celebration. A knowledgeable source informed iubase.com that Cerny, because of the ejection, will serve a suspension of one game during the Sunday night championship game. Cerny will be allowed to play in Indiana's following game, either an "if necessary" rematch on Monday night, or the opener of the Super Regional on Friday, should the Hoosiers win the game and thus the championship Sunday night.
On the pitching side, Kraft looked much like his typical self. He pitched a 4 inning start, allowing one earned run on three hits and one walk, while striking out two. Craig Yoho handled the middle 2.1 innings, allowing 2 runs (1 earned). Kentucky took the lead in the top of the seventh inning when Tyler Cerny made a throwing error to Phillip Glasser to start a potential double play. The ball sailed into left field allowing a pair of runs to score when the inning may well have been over.
Connor Foley came in on "fireman" duty and escaped a huge jam with 97-mph heat. Foley cruised through the eighth inning, but ran into a jam in the ninth by plunking two batters before recording the final out and earning the victory as he was the pitcher of record when Serruto's homer gave Indiana the lead. After the game Foley commented, "When you get in an environment like this, just making sure everyone gets on the same page when you have some of those weird moments. So just bringing everyone together and making sure our emotions are in check and then just going out and executing the next pitch because that's what mattered."
Sunday morning in the loser bracket game, Kentucky easily defeated West Virginia 10-0. Indiana and Kentucky will play Sunday at 6pm. Indiana needs only to win to advance to the Super Regional round starting Friday. A Kentucky win will force a winner-take-all championship game Monday night at 6pm.