3-seed Indiana takes on 1-seed and host Kentucky in the winner's bracket game at Kentucky Proud Park in Lexington
By Carl James @jovian34 June 3rd, 2023
---
Top 9th: Kentucky 3, Indiana 5 (FINAL)
Connor Foley will be facing nine, one and two in the ninth. Sam Murrison and Morgan Colopy are in the outfield in place of Jessee and Taylor. Morgan Colopy collects a fly out in right. Foley then plunks Gray to bring the tying run to the plate. Foley then plunks Felker as well putting the tying run on the base paths. ⭐ Colopy makes a great catch colliding with the wall. Runners on he corners with two outs. Pitre just barely misses a lead taking homer.
Bottom 8th: Kentucky 3, Indiana 5
Darren Williams is the new Wildcat pitcher. Whalen flies out to right field. Taylor gets his second hit of the day with a single to center. Tibbitts rips a ball up the middle. Taylor gets to third with one out thanks to Kentucky's second very uncharacteristic error. A wild pitch gets into the Indiana dugout plating Taylor. Pyne beats out the first baseman for an infield single. Tibbitts advances to third. Jessee is called out on strikes.
Top 8th: Kentucky 3, Indiana 4
Despite thinking it was Jessee who was ejected, Cerny is the player leaving the field and Evan Goforth is the new second baseman. Connor Foley is back on the mound. Cerny brought a home run celebration prop onto the field, in clear violation of NCAA rules. Cerny will also likely be suspended for Indiana's next game. Cerny is escorted out of the centerfield wall.
Connor Foley is throwing heat and gets two quick strikeouts before allowing a single to McCarthy. A fielder's choice ends the 8th.
Bottom 7th: Kentucky 3, Indiana 4
Lee is back on the bump for the Wildcats protecting a 2-run lead now having thrown just 83 pitches. Mathison sends a jam-shot to center that hangs up for out number one. Josh Pyne rips a double into the left field corner. Lee plunks Jessee with his 91st pitch and there is activity in the Wildcat bullpen as there is a discussion at the mound. Cerny flies out to right field. Pyne advances to third base with two outs for Peter Serruto who hits a three run homer to right center field giving Indiana the lead. Duruing the celebration, Hunter Jessee was apparently ejected from the game. Glasser flies out to center.
Top 7th: Kentucky 3, Indiana 1
⭐Phillip Glasser makes a tough play look easy for the first out. Yoho then hits Church yet again with a pitch. A pop up to second base could have been a double play, but Cerny slipped and the ball drops for an infield single for Smith. In another double play opportunity, Cerny throws a ball over Glasser and Kentucky takes the lead. Still only one out with runners on first and second. Yoho gets Felker 3-2 and then plunks him to load the bases with one out. The defensive miscues have given Kentucky extra outs in this frame. Coach Mercer elects to go with fireman Connor Foley to try to keep the game close. Foley is throwing 96-mph heat. Burkes extends the lead with a sacrifice fly. Foley touches 97mph on a pitch to Pitre who whiffs and then pops up to Glasser.
Bottom 6th: Kentucky 1, Indiana 1
Glasser pops out in foul ground for the first out of the inning. Whalen looks at fastball. He then fails to pull a bunt back and then strikes out with check swing. Devin Taylor hits a ball down the left field line for a triple. A fly out to right off the bat of Tibbitts ends the threat.
Top 6th: Kentucky 1, Indiana 1
Yoho gets in and out of trouble again. 1-1 B6 #iubase pic.twitter.com/9gbt6MIGIx

— iubase.com (@iubase17) June 3, 2023
Yoho gets ahead 0-2 to Felker, but losses the zone for a bit and retires him on a 3-2 groundout. Yoho is struggling with the zone, walking Devin Burkes. He gets back in the zone with a fastbal strike to get ahead of Pitre who then singles up the middle. Two off speed pitches get Yoho ahead 0-2 on Gilliam. Gilliam launches a ball to center, but Whalen managed to reel it in for out number two. Yoho works Waldschmidt to a 2-2 count before striking him out.
Bottom 5th: Kentucky 1, Indiana 1
Josh Pyne works the count full and then hits a chopper that was misplayed by the second baseman for a very rare Kentucky error. Kentucky leads the nation in fielding percentage. Hunter Jessee flies out. Lee is missing more with his slider now and the Hoosiers seem to be seeing it better. Cerny lines out to centerfield for the second out. Serruto manages to hit a ball to the right center gap, but hangs up enough for McCarthy to make the catch.
Top 5th: Kentucky 1, Indiana 1
Ryan Kraft's day is done. Craig Yoho is brought on to start the fifth. Yoho had struggled in Omaha last week to command his off speed pitches. In a good sign Waldschmidt strikes out on a breaking ball. Nolan McCarthy also strikes out on a breaking pitch. Yoho hits Church with a pitch for his first baserunner. A wild pitch gets Church into scoring position. Yoho falls behind 2-1 to nine hole hitter Grant Smith. The count runs full and Smith walks to bring the top of the order up with runners on. Yoho escapes the jam by striking out Jackson Gray on a 3-2 pitch.
Bottom 4th: Kentucky 1, Indiana 1
Devin Taylor's recent struggles continue, striking out on four pitches. Lee then uses a 93-mph fastball to set down Tibbitts. Lee is making multiple pitches work and the Hoosiers are not able to do much at the plate. Mathison is frozen on slider to end the inning. Lee is also being quite efficient, with 55 pitches through four innings of work.
Top 4th: Kentucky 1, Indiana 1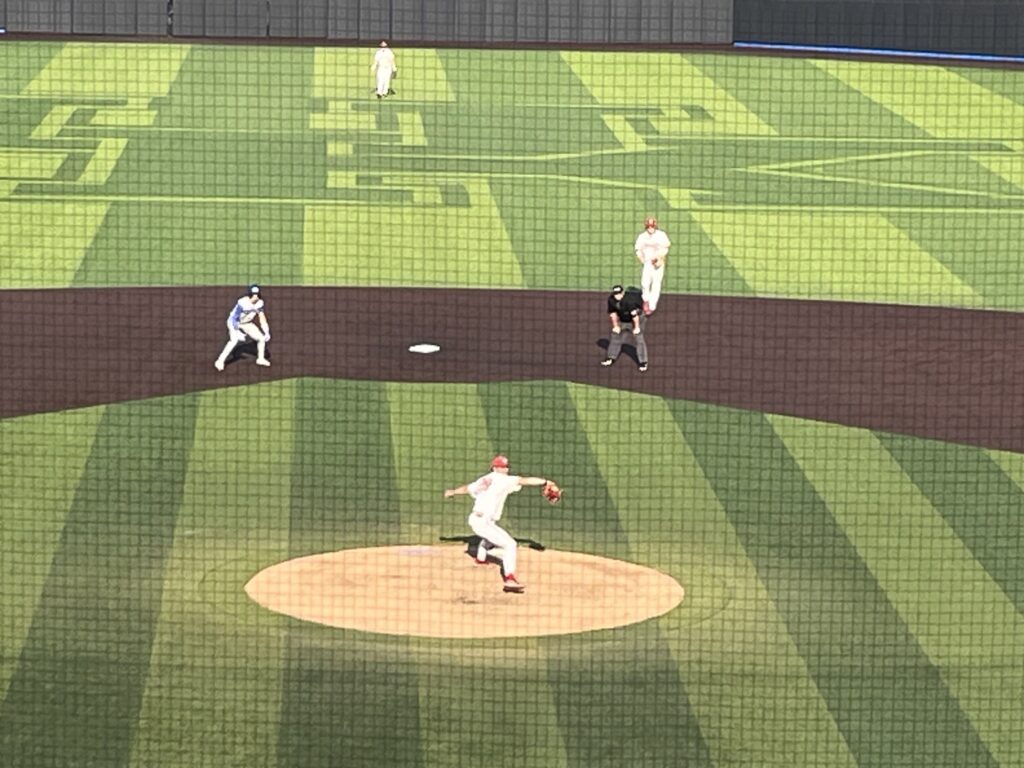 Jase Felker hits a double to the left field wall to lead off the fourth. After failing to land a 2-1 curveball in the zone, Kraft walks Devin Burkes. This prompts a visit from pitching coach Dustin Glant. While Emilien Pitre is showing bunt, the first two pitches were high for balls. Kraft has Felker in a rundown, but by throwing behind him to second base, Felker manages to steal third base. The count moves to 2-2 when Pitre fails to pull back a bunt attempt and Kraft sets him down with a nasty off-speed pitch. With one out, the Hoosiers are playing back, conceding the run on ground contact barring a double play. A stolen base attempt and a line drive to Glasser makes an easy double off to end the inning with no damage.
Bottom 3rd: Kentucky 1, Indiana 1
Tyler Cerny bangs a ball up the middle on the ground for a lead-off single. Peter Serruto attempts a sacrifice bunt, fouls off the first, and successfully moves Cerny to scoring position with the second. Glasser grounds out to first base moving Cerny to third with two outs. Whalen whiffs on three straight 81-mph sliders to strand Cerny.
Top 3rd: Kentucky 1, Indiana 1
Kraft strikes out Reuben Church on three pitches. Cerny makes a nice play charging the ball to get the second out. A pop up to Glasser gets Jackson Grey. Kraft is looking just like his old self. This is huge positive news for Indiana given the quick exit Luke Sinnard made yesterday.
Bottom 2nd: Kentucky 1, Indiana 1
Carter Mathison gets ahead 3-1 and pops the ball up foul for an out. Josh Pyne gets called out on a third strike on a 2-2 count. Jessee grounds out to make it a 1-2-3 inning. Zach Lee is making short work of Hoosier hitters after giving up the homer to Glasser on his first pitch of the game. The Hoosiers will need to adjust to do more damage.
Top 2nd: Kentucky 1, Indiana 1
Cerny has to use a glove shuffle to get the first out on a chopper. Hunter Gilliam hits a double to left field. Kraft gets behind 3-0 to Ryan Waldschmidt. After filling up the count, Waldschmidt fouls a pitch off and rips an RBI single to left to tie the game. After an out Waldschmidt stole second, but Cerny and Glasser are insisting Waldschmidt went off the bag. Play is under review. Waldschmidt is called out.
Bottom 1st: Kentucky 0, Indiana 1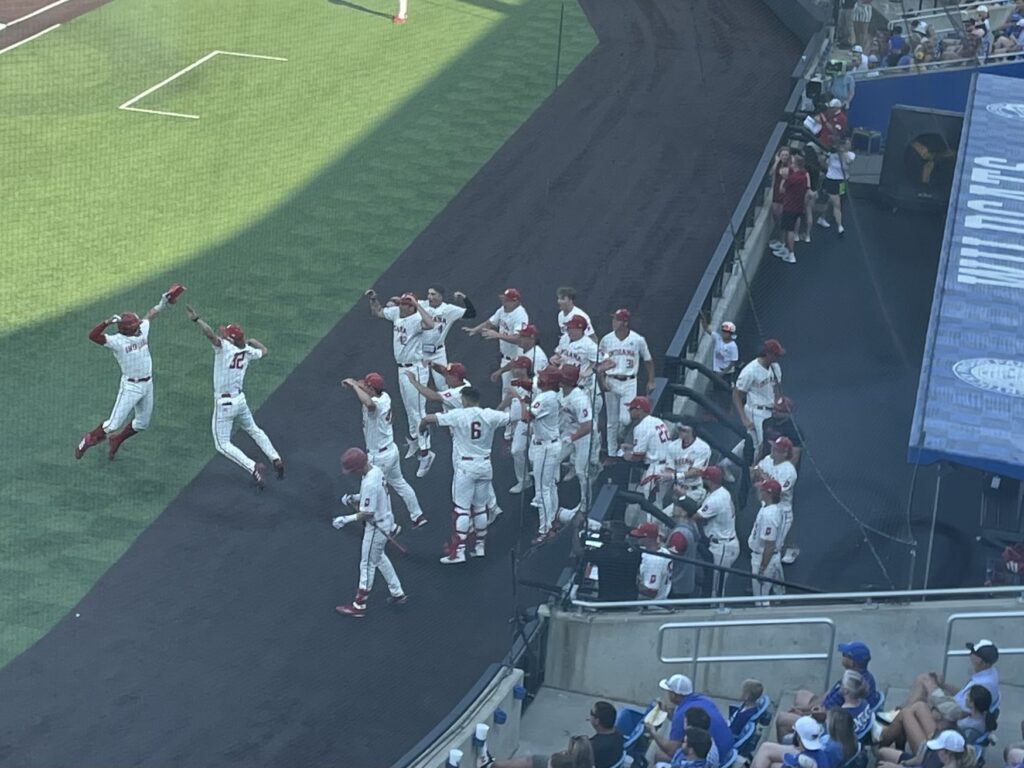 Phillip Glasser leads the game off with a bomb to left center. Bobby Whalen strikes out. Zack Lee is filling up the zone and strikes out Devin Taylor as well. Tibbitts gets ahead of Lee 2-1, but ends up going down on strikes as well.
Top 1st: Kentucky 0, Indiana 0
Ryan Kraft is set to make only his second start of this season after two weeks since he was removed at Michigan State for forearm tightness. Kraft manages a 1-2-3 inning. He is sitting 89-90 mile per hour on his fastball, inducing weak contact. He is mixing offspeed in the 85-86 mph velocity. Seems confident. Question is how much is in the tank given how long he has been sidelined.
Pregame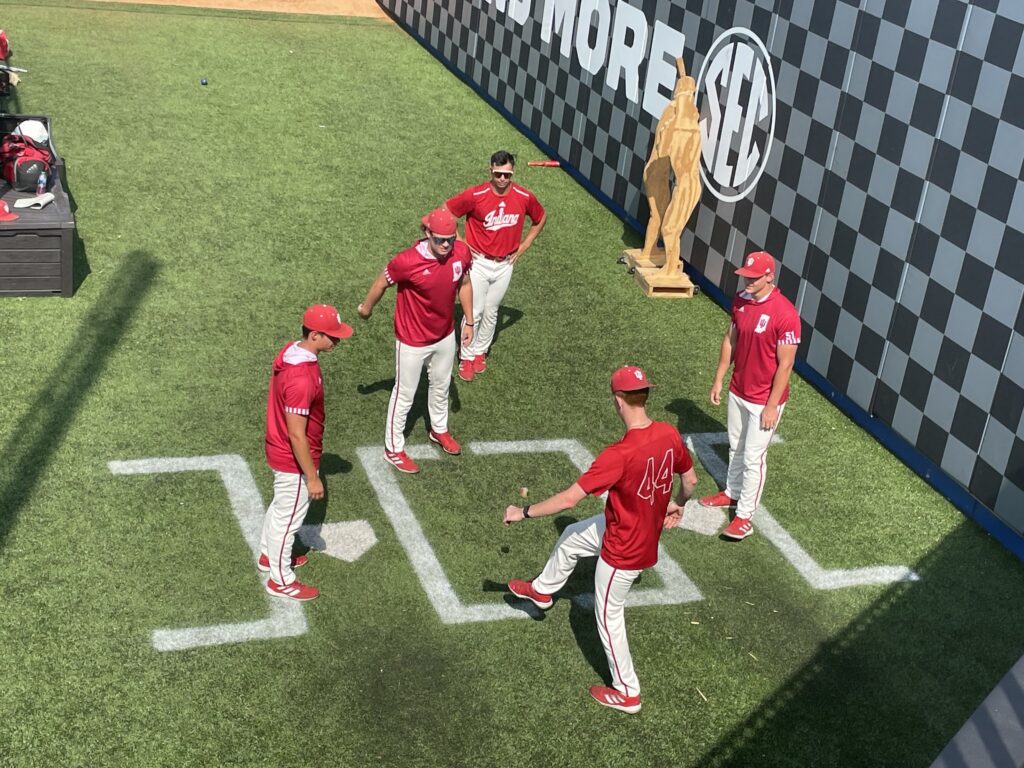 Starters
Saturday starters for ⚪️ & 🔴. pic.twitter.com/J9TNUz8sQI

— Indiana Baseball (@IndianaBase) June 3, 2023
Indiana
SS Phillip Glasser
CF Bobby Whalen
RF Devin Taylor
1B Brock Tibbitts
DH Carter Mathison
3B Josh Pyne
LF Hunter Jessee
2B Tyler Cerny
C Peter Serruto
Pitcher: LHP Ryan Kraft
Kentucky
CF Jackson Gray
3B Jase Felker
C Devin Burkes
2B Emilien Pitre
1B Hunter Gilliam
LF Ryan Waldschmidt
RF Nolan McCarthy
DH Reuben Church
SS Grant Smith
Pitcher: RHP Zack Lee
Links
Facing the Wildcats in Game ✌️.

📺: @SECNetwork
📻: https://t.co/Szz36UctzD
📊: https://t.co/Fv7GVrxUPh pic.twitter.com/AmDfWfj9zE

— Indiana Baseball (@IndianaBase) June 3, 2023