by Carl James • @jovian34 • Nov 9
It was Gabe Bierman (Crimson: Team Sommer) and Braden Scott (Cream: Team Scott) on the bump as the starting pitchers, but it was largely the bullpens that decided Game 2 and allowed Team Scott to even the series at one game a piece with an 11-4 victory on Saturday afternoon.
After the starters held both teams scoreless in the first, Team Crimson got out to an early 4-1 lead with a big second inning featuring home runs by Tyler Van Pelt and Drew Ashley.
Drew Ashley with a 2-run homer. Crimson leads 4-2 middle third. #iubase pic.twitter.com/UktlmbqKZq

— Carl James (@jovian34) November 9, 2019
Cream cut it closer in the third with a Jordan Fucci double and a couple of productive outs, but more importantly they ran Bierman's pitch count up to 70 in only 3 innings, forcing Sommer to go to the bullpen in 4th inning.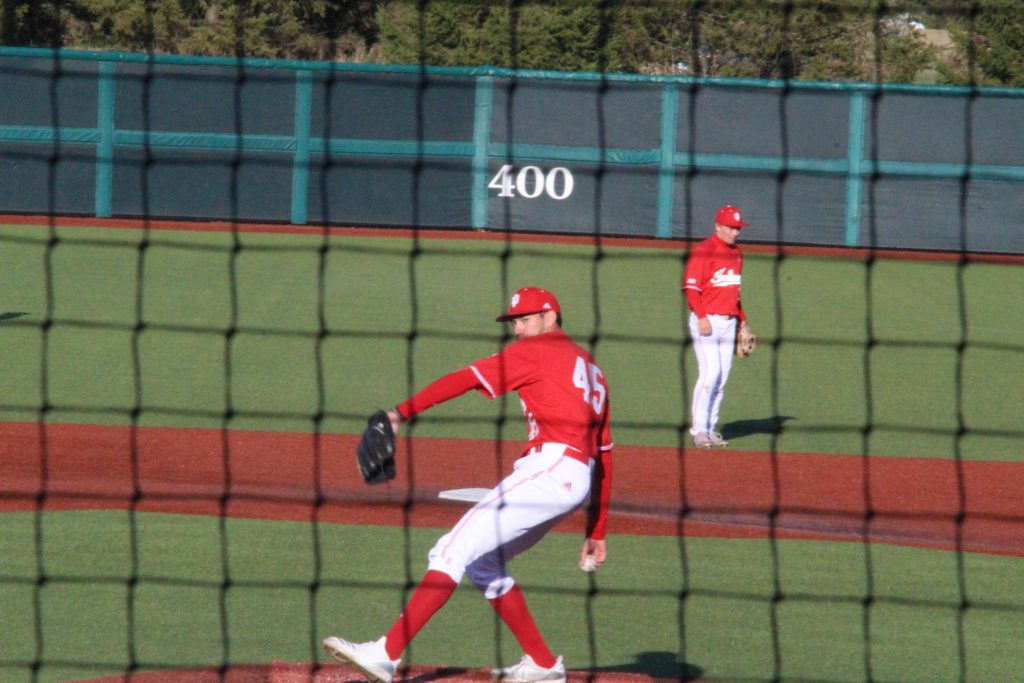 John Modugno was solid for Team Sommer in the fourth and fifth, giving up only a walk and infield hit. Scott also went to the bullpen in the fourth inning even though he had settled in with a hitless and scoreless third. A.J. Hacker sat 86-87 on his fastball and used an off-speed pitch to induce an inning ending double play in the fourth. Ty Bothwell shook off a lead-off four pitch walk by locating and mixing up pitches. Bothwell sat 85-86 on his fastball, touching 88 and peppering in a 73-74 offspeed pitching ending the inning on a strike-em-out-throw-em-out double play.
Team Scott got going with the bats again in the sixth. Catcher Collin Hopkins tied the game with a 2-RBI double. David Platt pitched a 1-2-3 bottom of the 6 with a fastball at 91-92, touching 94, then using an 85 offspeed pitch to get a strikeout. Ethan Vecrumba got the seventh going with his second of a game high three hits on the day and eventually scoring the go ahead run. Team Scott put up crooked numbers in each of the last four frames.
Team Scott's bullpen was even more impressive at the end. Dalton Laney needed only 7 pitches to get three outs in the 7th. Matt Petrosino made short work of Team Sommer in the 8th. Austin Long closed the door in the 9th with 1-2-3 inning of his own. In total Team Scott faced the minimum in every inning after the third and retired the last 14 batters that they faced.
Scott's Cream wins game two 11-4. #iubase pic.twitter.com/wnh0EKro2a

— Carl James (@jovian34) November 9, 2019

With the series now even, the Cream and Crimson Series will be decided in the rubber match at 12:30pm Sunday at Bart Kaufman Field.