We learned plenty about Hoosier Baseball on Thursday.
We learned Matt Lloyd was named a Second Team All American Utility Player by Collegiate Baseball News.
We learned Coach Lemonis was named Head Coach for this Summer's 14 and under USA Team.
And we learned our pitching match up for tonight's game vs Texas A&M.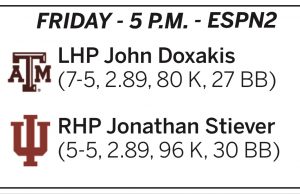 (Via IUHoosiers.com Game Notes)
We are going to learn plenty more about Hoosier Baseball in the next few days too.
Can we play focused and execute in a hostile environment? Can we find a way to put up significant runs on a Friday starter? Can we be more worthy than a throw away sentence in a D1 Regional Preview? Can we beat teams from the SEC and the Big 12 and advance to the Super Regionals?
We'll start to learn some of that starting at 5pm.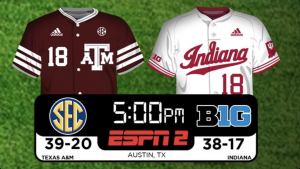 Go Hoosiers !
#iubase
— CF
Here's some Hoosier Baseball in the News for Friday June 1
Stu Jackson previews tonight's game vs Texas A&M
Spencer Davis previews The Austin Regional
Andrew Hussey writes about Hoosier Baseball's mindset heading into The Austin Regional
MIke Hutton writes about Future Hoosier Ty Bothwell of Boone Grove High School and how he now has 5 no hitters and 2 perfect games for his high school career
And if you haven't got to check it out yet here's our NCAA Tourney 101 including Talking Hoosier Baseball's Regional preview.