Sometimes it happens that quick. No score , inning after inning. Break up the no hitter. Leave a few guys on. Get out of a few jams in the field. Still no score.
But then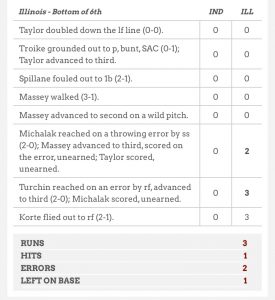 Via IU Recap
Then you're left asking yourself what just happened?
BB,WP,E6,E9 just happened.
Execution, Execution, Execution.
Never take it for granted, because when it's missing, you are reminded real quick how important it is. Gotta make the plays your supposed to in games like this. Postseason games turn on the lack of it all the time.
Four out of the eight teams invited to this tournament will not be playing on Friday. Two because they won't play until Saturday and two because their Tournament is over.
You can read below some recaps of last nights game and how it ended up that today at around 2pm it is now win or go home.
Score some runs and execute better today and it's Friday Night Lights one more time in Omaha for Hoosier Baseball.
Go Hoosiers
#iubase
— CF
Zach Osterman
Mike Miller
Stu Jackson
https://indiana.rivals.com/news/iu-drops-big-ten-tournament-opener-vs-illinois-7-1
Updated #B1GBaseball Tournament bracket after Day 1! Action resumes tomorrow at 9 a.m. CT pic.twitter.com/03kP5CqkwZ

— Big Ten Baseball (@B1Gbaseball) May 24, 2018