Just to review, there are four teams in our side of the bracket and only two will be playing on Saturday. One will be 2-0 and one will 2-1.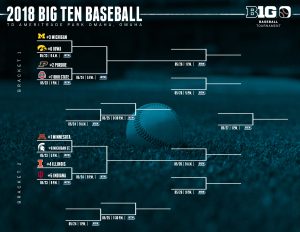 Hoosier Baseball caps off a long day of baseball at TD Ameritrade Park with the late night game. It is scheduled for 10pmEST. Keep in mind, there will be a mandatory 45 minute 'umpire break' in between games regardless of how long the Minnesota vs Michigan St game goes before us.
Hoosier Baseball
#5 seed
vs.
Illinois
#4 seed
All Games for the B1G Tournament will be shown live on BTN and on the BTN2Go App.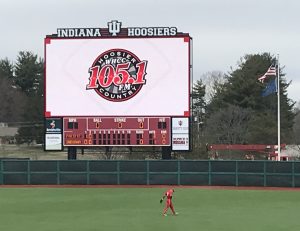 Greg Murray Play by Play Link
Starting Pitchers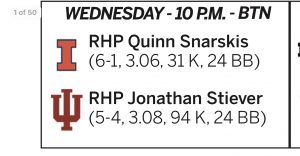 The rest of the IU Game Notes are in the IU game preview here
Jonathan Stiever faced Illinois back at The Bart in late April. He was perfect through 3 while lighting up the radar guns in the stands. He finished with 2 outs in the seventh giving up just 3 earned but took the loss because we didn't score after the first.
Hoosier Baseball faced RHP Quinn Snarskis the next day and he finished 7 innings just giving up 1 run. He ended up with a no decision after Illinois tied the game when down to their 27th out.
Three innings later we were officially introduced to 2018 All B1G Ten Freshman Drew Ashley.
DREEEWWWWW !! #iubase pic.twitter.com/vuoaVguDrw

— iubase.com (@iubase17) April 28, 2018
You can read more about that series vs Illinois here from MIke Schumann's Week In Review
The Hoosier Baseball Report: IU Rights the Ship After Losing Four in a Row
It'll be a long wait today for first pitch but hopefully well worth it. And since we are all going to have some time to kill until 10 EST. Feel free to check out Episode 16 of Talking Hoosier Baseball for more of a B1G Preview
Or read our B1G Tourney 101 for more info on how the Tourney works and another look at the teams in our half of the bracket
We had no trouble getting guys on against this pitcher that Saturday in April but getting them in was another story. Our lineup was built a lot differently that weekend though. With Luke Miller now back and both him and Logan Sowers on fire, scoring should not be so difficult . I don't mind the late start anyway, let's win and do it all over again tomorrow.
Go Hoosiers
#iubase
— CF