Indiana goes for the series sweep vs. the Buckeyes at the BART at 2:45pm
By Carl James @jovian34 March 26th, 2023, photos by Zach Greene and Carl James
---
Top 9th: Ohio State 5, Indiana 7 (FINAL)
Hayden is back out for the 10-out save. A groundout to Cerny is the first out. Kern hits a solo shot to left center, cutting the lead back to two runs. Hayden recovers with a three-pitch strikeout. A flyout to right ends the game.
Bottom 8th: Ohio State 4, Indiana 7
Tibbitts draws a lead-off walk. Cerny gets hit by a pitch. Ellis drives in an insurance run with a single. A double play ends the inning.
Top 8th: Ohio State 4, Indiana 6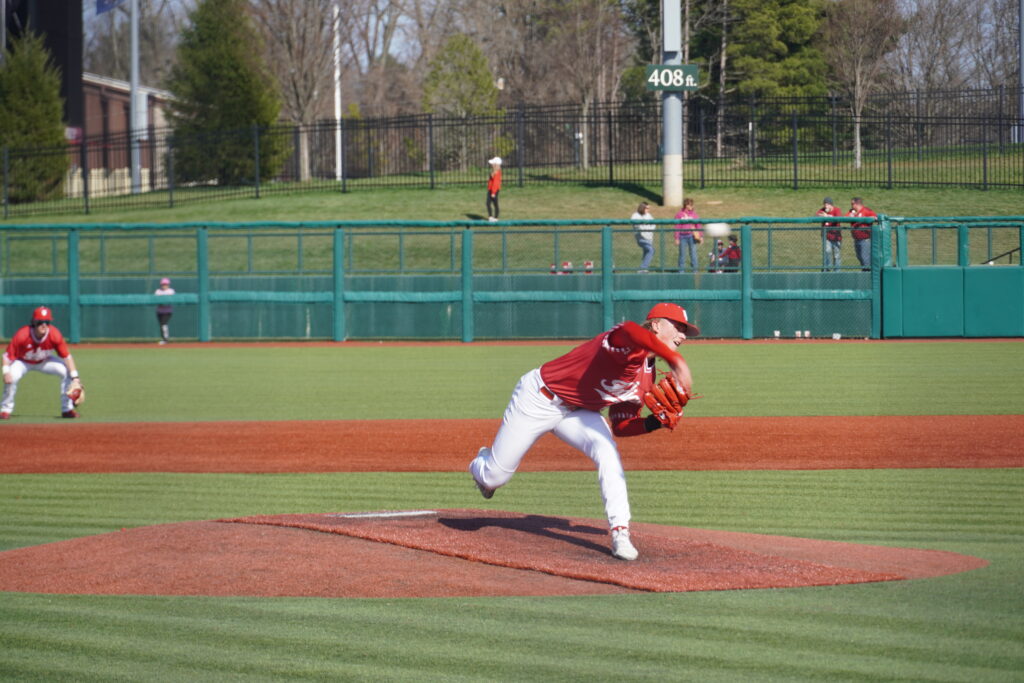 Luke Hayden is back out for the 8th and gets the lead off batter on strikes. Hayden gets a groundout and then starts to lose the strike zone walking a batter and getting behind on Okuley before striking him out to end the inning and maintaining the two run advantage.
Bottom 7th: Ohio State 4, Indiana 6
Phillip Glasser walks, but is stranded.
Top 7th: Ohio State 4, Indiana 6
Hayden gets a jam shot on a 92-MPH fastball for a quick flyout to start the inning. Pyne collects a pop up in foul territory. Hayden gets a check swing strikeout with a 95-MPH fastball.
Bottom 6th: Ohio State 4, Indiana 6
New lefty pitcher for Ohio State. Cerny flies out to the right center warning track. Ellis goes to the deepest part of the Bart but is reeled in at the warning track. Whalen flies out just shy of the warning track. It's a 1-2-3 inning.
Top 6th: Ohio State 4, Indiana 6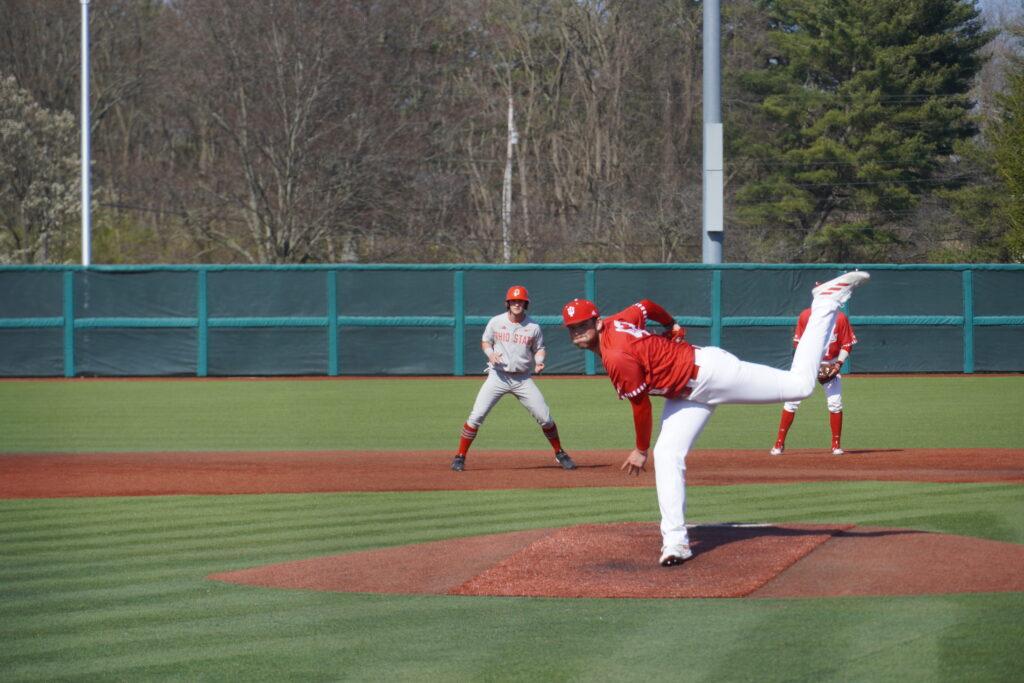 Seiler gets a line-out to center to start the inning. Nick Erwin gets on opposite field double down the right field line. A single puts runners on the corners. Kaczmar gets behind, but works the count full and walks which loads the bases with one out. Luke Hayden is warming in the Indiana bullpen. Mitchell Okuley walks, scoring one. Pitching coach Dustin Glant makes a mound visit. An RBI groundout cuts the lead to 3 with two outs. Mercer brings in Luke Hayden to get the inning's last out. Hayden wild pitch swinging strike gets past Ellis and scores one more.
Bottom 5th: Ohio State 1, Indiana 6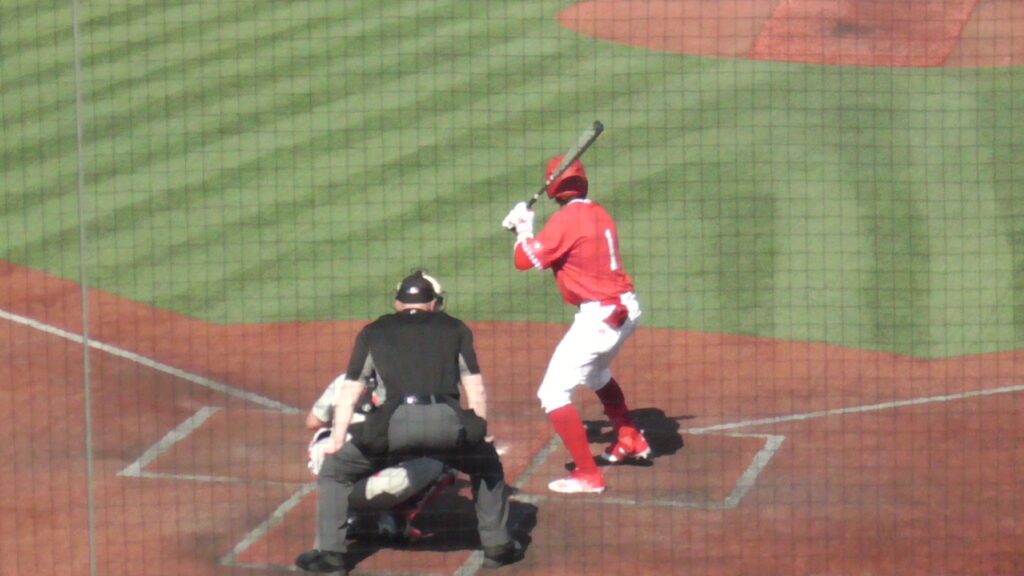 Bobby Whalen gets on with a single. Whalen was moving on a 2-1 hit-and-run that Jessee fouled off. Jessee hits a rocket the other way for double that plates Whalen. Phillip Glasser walks, showing the Eckhardt may be tiring with 69 pitches. Josh Pyne attempts a sacrifice bunt that goes foul. Pyne pulls a double down the left field line driving in both runners. Ohio State makes a pitching change. They go to the lefty Jaylen Jones. A wild pitch gets Pyne to third with no outs for Taylor who strikes out. Tibbitts also strikes out when Jones throws mostly off speed and gets Tibbitts on a 94 MPH fastball. Mathison grounds out into the shift stranding Pyne.
Top 5th: Ohio State 1, Indiana 3
Seiler fields a bunt to get the lead off man. Kern gets on with a single to right. Pettorini strikes out on three pitches. Cole Andrews grounds out to Pyne to end the inning.
Bottom 4th: Ohio State 1, Indiana 3
Hoosiers go down 1-2-3.
Top 4th: Ohio State 1, Indiana 3
Brayden Risedorph is the new Hoosier pitcher. A lead off hit by pitch is followed by a ground ball single and a walk loads the bases with nobody out. Risedorph induces a shallow fly ball out. Caden Kaiser hit a sacrifice fly. Kaczmar is hit by pitch to reload the bases. Jeff Mercer calls on Ben Seiler out of the bullpen to attempt to end the threat. Tyler Cerny reels in a pop up to end the inning.
Bottom 3rd: Ohio State 0, Indiana 3
Bobby Whalen legs out an infield single. Hunter Jessee advances Whalen to third on a single. Phillip Glasser is called out on a check swing. Josh Pyne drives in Whalen with an RBI ground out to third. Devin Taylor hits a moonshot to the hill beyond third base to give Indiana a three run edge.
Top 3rd: Ohio State 0, Indiana 0
Henry Kaczmar singles to right to lead off the inning. Manase picks Kaczmar off. Mitchell Okuley gets another single. Lipsey flies out to Whalen in center. Manase ends the inning with a swinging strikeout on a curveball.
Bottom 2nd: Ohio State 0, Indiana 0
Carter Mathison flies out to the center field warning track. Tyler Cerny goes down swinging. Ellis hits a soft grounder into the shift to end the inning.
Top 2nd: Ohio State 0, Indiana 0
Three contact outs has Manase go 1-2-3 with a pitch count of 30 having faced seven of the nine Buckeye batters so far.
Bottom 1st: Ohio State 0, Indiana 0
Justin Eckhardt generally walks fewer than 4% of his batters faced, but walks Phillip Glasser to lead of this inning. Pyne flies out. Taylor flies out deep to center and Glasser advances to scoring position on the tag. Brock Tibbitts is robbed of a single by a snow cone catch from the glove of Tyler Pettorini at second base.
Top 1st: Ohio State 0, Indiana 0
Trey Lipsey works the count full but is struck out by Manase. Kade Kern grounded out to second base. Tyler Pettoroni hit a single to center. Cole Andrews flew out to Bobby Whalen in center.
Pregame
Seti Manase will be Indiana's opening pitcher for the series finale. Based on comments in the past from Coach Mercer the expectation would be for one time through the order for Manase, likely followed by Ben Seiler. Ethan Phillips and Brayden Risedorph could follow Seiler.
Links
A Sunday doubleheader. 🙌

📺: https://t.co/rn0XTmF70Y
📻: https://t.co/Q3EAWiHazd
📊: https://t.co/LFiX0NpsUm pic.twitter.com/iQFj1WI3LO

— Indiana Baseball (@IndianaBase) March 26, 2023