Indiana goes for the series win the Buckeyes at the BART
By Carl James @jovian34 March 26th, 2023, photo of Matthew Ellis by Zach Greene
---
Top 9th: Ohio State 6, Indiana 9 (FINAL)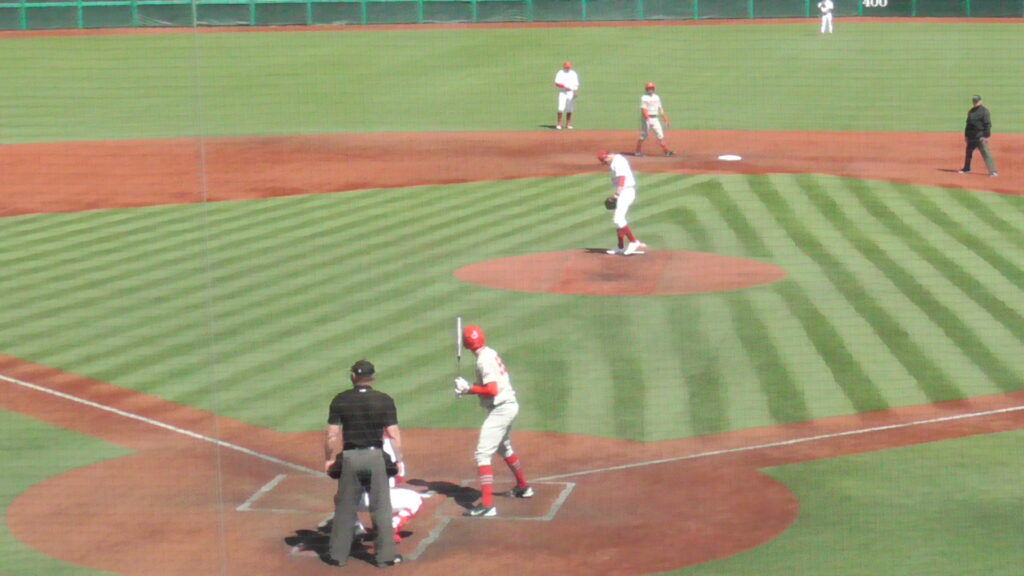 Yoho allows a lead-off single. A ball down the first base line barely goes foul and Yoho completes the strikeout. Graveline reaches for strike three to make the second out. Runner advances to second on defensive indifference. Yoho completes the B1G series victory with his third strikeout of the inning.
Bottom 8th: Ohio State 6, Indiana 9
Ellis gets his 4th RBI of the day with a single, driving in Tibbitts who got into scoring position with a lead off single.
Top 8th: Ohio State 6, Indiana 8
A one out walk and a hit-by pitch has Yoho dealing with the tying run on base. A station-to-station single puts the tying run in scoring position with only one out. Yoho gets out of the threat via two strikeouts.
Bottom 7th: Ohio State 6, Indiana 8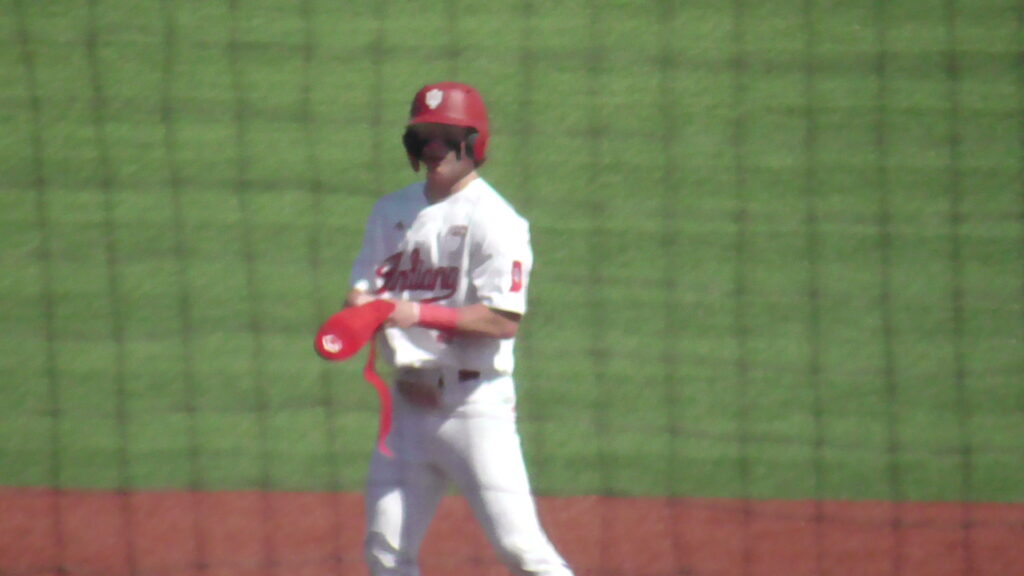 Mathison hits a lead-off double to the left field wall. Tyler Cerny gets a single off of the second baseman's glove to advance Mathison to third. Ohio State makes a call to the bullpen. Matthew Ellis tattoos a pitch 110-MPH off the bat for a three-run-bomb to center to give Indiana back the lead. A Pyne hit and a error gets Serruto to second, prompting another Buckeye pitching change.
Ellis Bomb delivered. Crushed
8-6 Hoosiers B7 #BigCountry @matthew_ellis35 #iubase pic.twitter.com/33NKp6yNph

— iubase.com (@iubase17) March 26, 2023
Top 7th: Ohio State 6, Indiana 5
Aydan Decker-Petty starts his outing get one out on one pitch by catching a bunt pop up. Mitchell Okuley ties the game with a rocket over the right field fence. Decker-Petty responds positively by striking out Lipsey. Kern draws a two-out walk. Serruto and Glasser have a brief mound visit with Decker-Petty who throws over several times checking on Kern. Decker-Petty gets called for a pitch clock violation on a full count which results in a walk and puts the go ahead run in scoring position. Jeff Mercer elects to go with Craig Yoho to get the Hoosiers out of the jam. Yoho throws a pickoff attempt into centerfield and another throwing error by Whalen allows the Buckeyes to take a one run lead. Yoho gets the strikeout, but the damage has been done.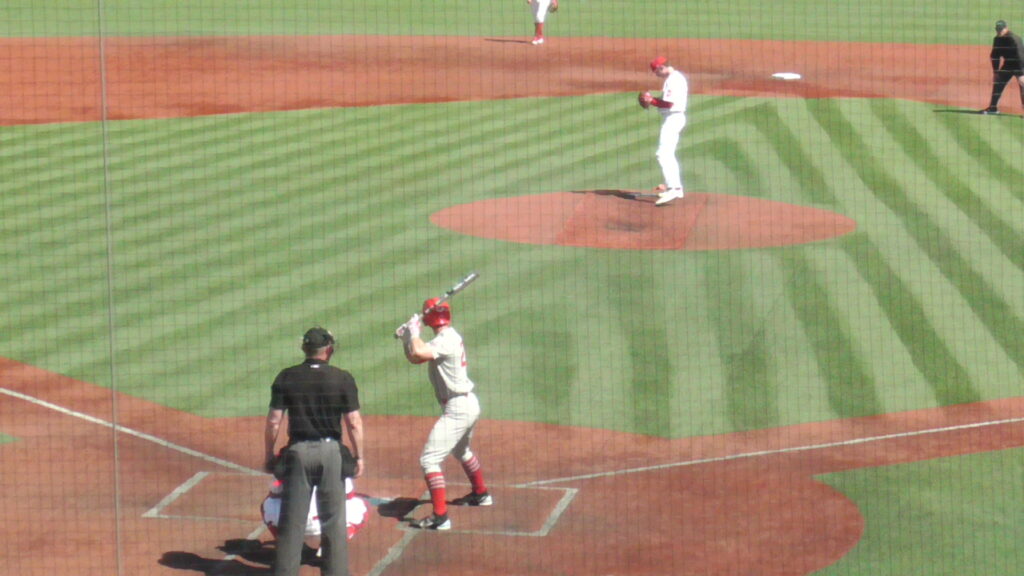 Bottom 6th: Ohio State 4, Indiana 5
Glasser hits a chopper over the third baseman for a one-out single. Devin Taylor walks for the second time today. Devin Taylor has the highest walk rate among the starting position players in this game's line up.
Top 6th: Ohio State 4, Indiana 5
Sinnard is still pitching. Graveline hits a single to left field. Hank Thomas hits a single to right. Graveline makes it to third but comes off the bag and gets tagged out by Pyne. An RBI double to left by Nick Erwin cuts the lead to one, but Erwin gets into a run down between second and third and is thrown out by Serruto. Sinnard gets a strikeout to very likely end his outing with a lead.Sinnard is now over 100 pitches. The Hoosiers avoid what should have been a crooked inning for Ohio State.
Bottom 5th: Ohio State 3, Indiana 5
Whalen makes the third out but feels he beat out the throw. Given that the Big Ten does not have replay, head coach Jeff Mercer decides not to make an issue of it with the umpires.
Top 5th: Ohio State 3, Indiana 5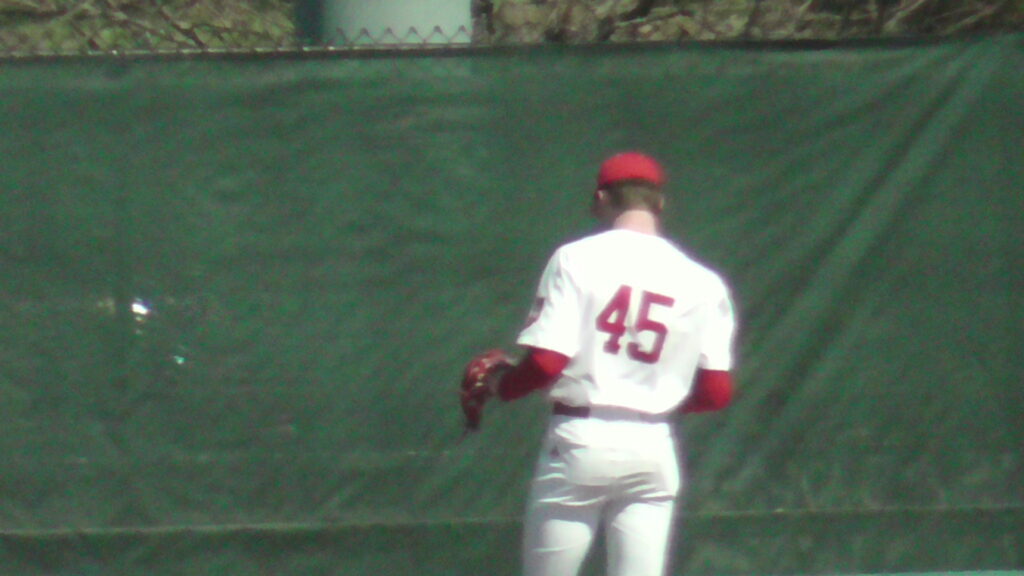 Luke Sinnard goes 1-2-3 as he nears 90 pitches on the day. Aydan Decker-Petty has been throwing in the Hoosier bullpen.
Bottom 4th: Ohio State 3, Indiana 5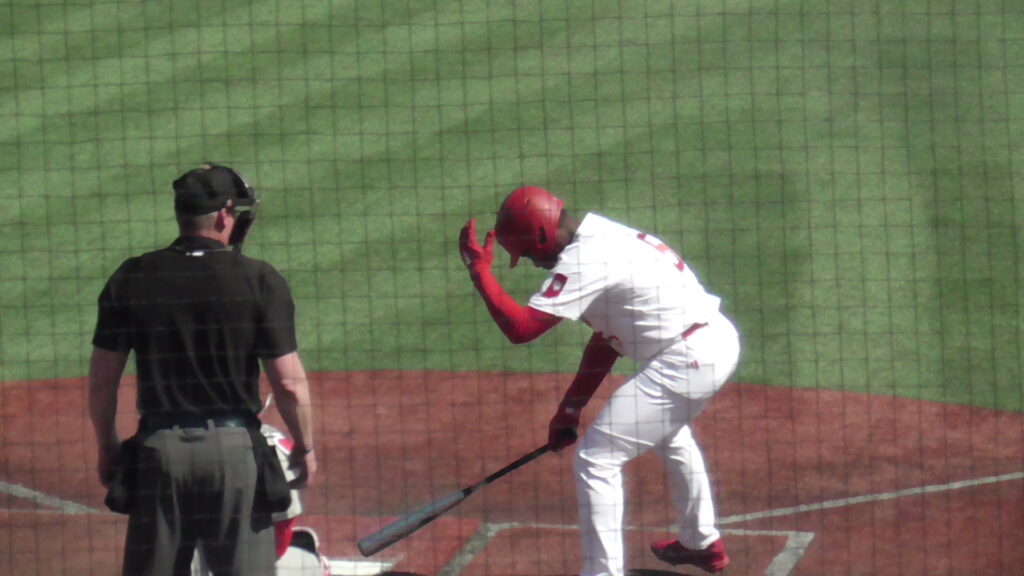 Brock Tibbitts reaches on a two-out error, but Mathison goes down looking at strike three.
Top 4th: Ohio State 3, Indiana 5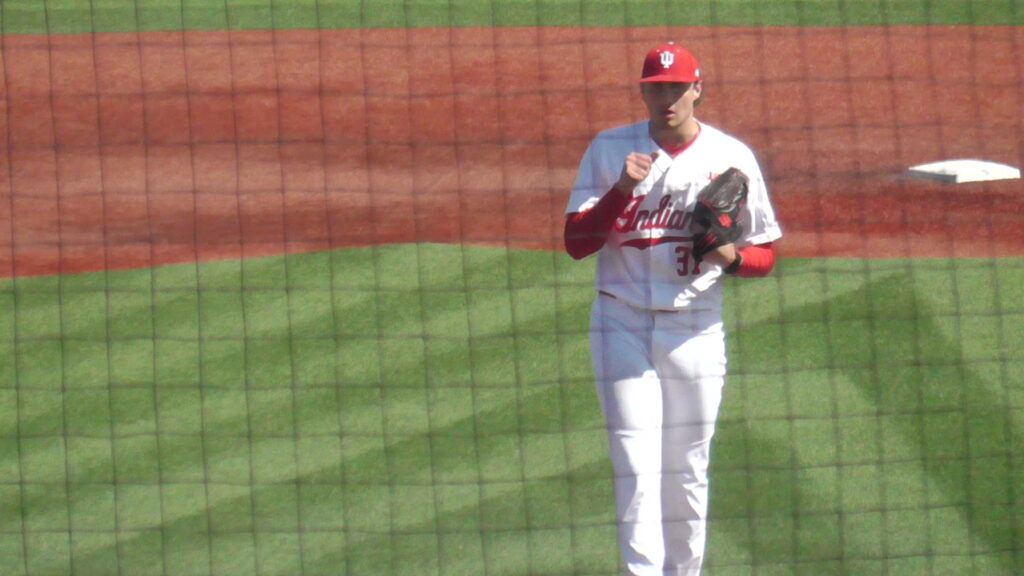 Starting the fourth with 62 pitches Sinnard gets a line out on his first out of the inning. Josh McAlister then works the count full and Josh Pyne ⭐ makes a great play on a dribbler for the second out. Sinnard's 75 pitch is a called third strike to end the inning.
Bottom 3rd: Ohio State 3, Indiana 5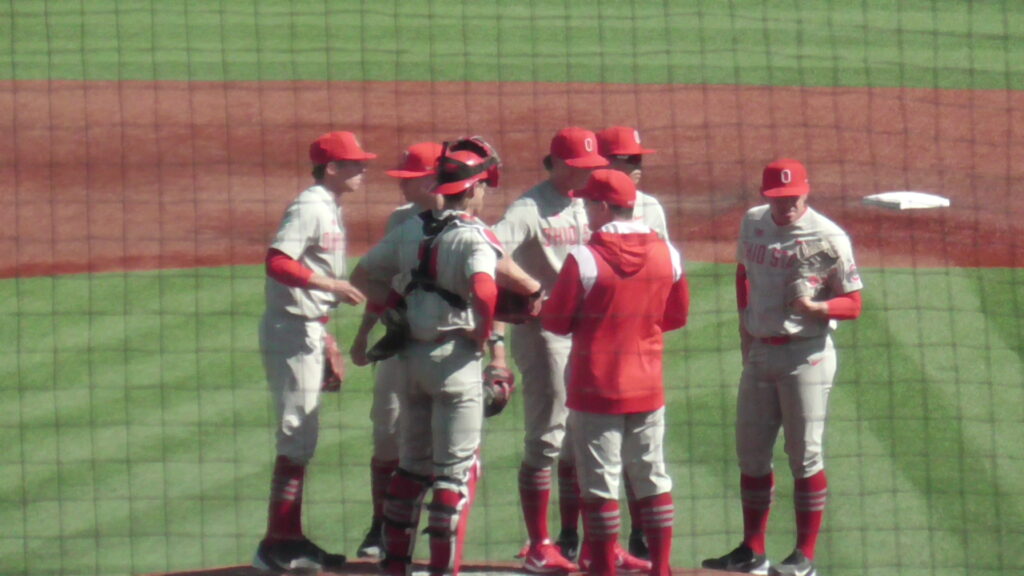 Phillip Glasser fouls off a couple of two strike pitches to work a lead-off walk as Indiana tries to respond. Josh Pyne fouled a pitch off of Graveline behind the plate. Graveline was in pain. After a brief delay, Graveline stayed in the game and Pyne smacked a single to left field. Taylor pulls a grounder for a station-to-station single to load the bases. Brock Tibbitts continues his hot streak with 2-RBI double. Still with no outs Carter Mathison works the count full and walks which will end Bruni's day.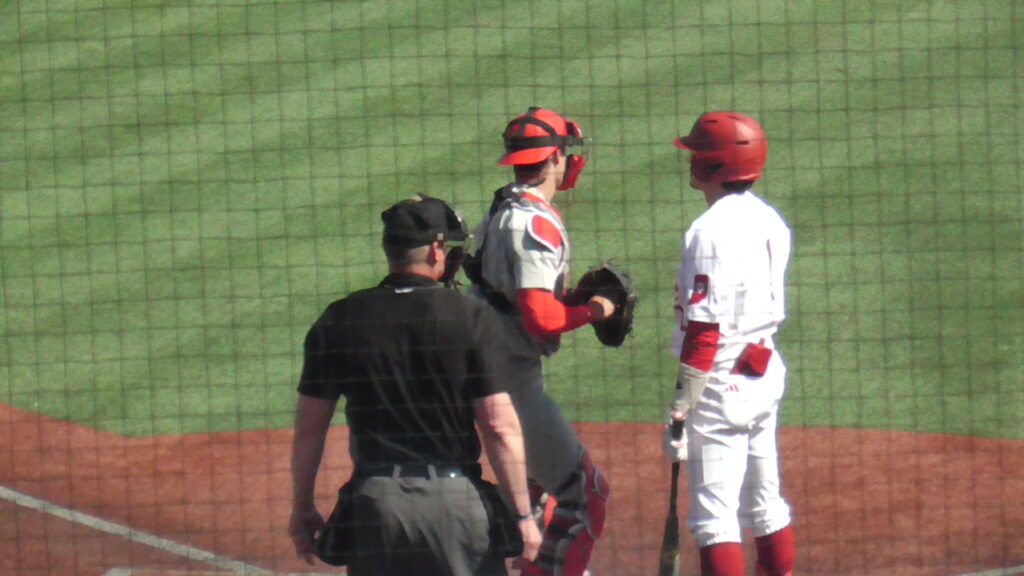 Tyler Cerny comes through with an RBI infield single which plates two thanks to an errant throw by the shortstop. Bobby Whalen drives in Mathison with a deep sacrifice fly to center field. Peter Serruto works a two-out walk to get Cerny into scoring position for the hot bat of Phillip Glasser. The Hoosiers have now batted around, but Glasser strikes out to end the inning he started with a walk.
Top 3rd: Ohio State 3, Indiana 0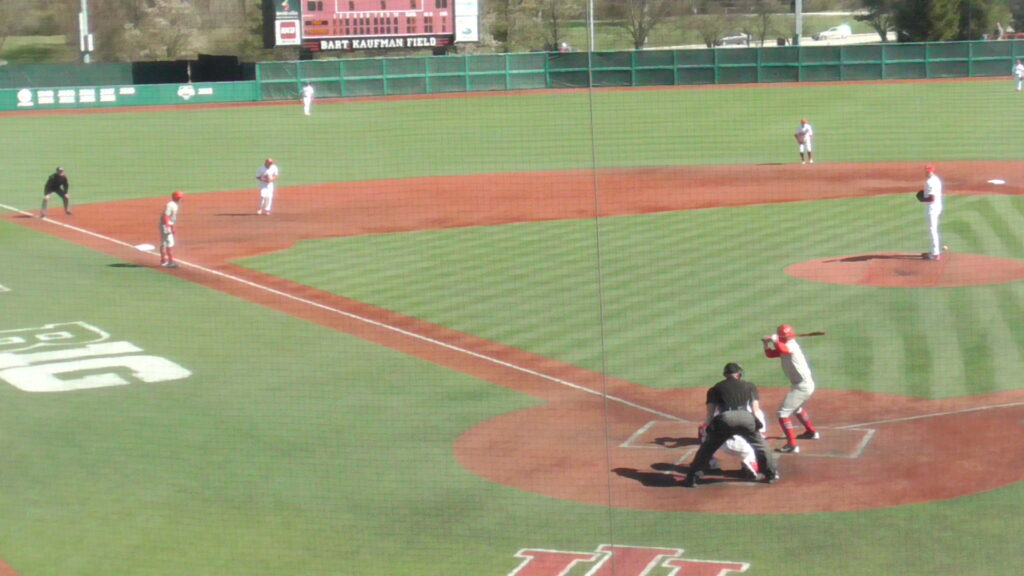 Kade Kern is seeing Sinnard well, hitting his second double in as many at bats. Marcus Ernst works the count full and then gets a fly ball to left just deep enough (367 feet) to catch the wind and clear the fence for a two-run homer. Sinnard then walks Matthew Graveline on four pitches with two outs. Hank Thomas then pulls a pitch to the right field wall for an RBI double. After a mound visit from pitching coach Dustin Glant, Sinnard ends the inning with a looking strikeout.
Bottom 2nd: Ohio State 0, Indiana 0
Matthew Ellis gets on via a 1-out walk, but the Hoosiers are unable to advance him.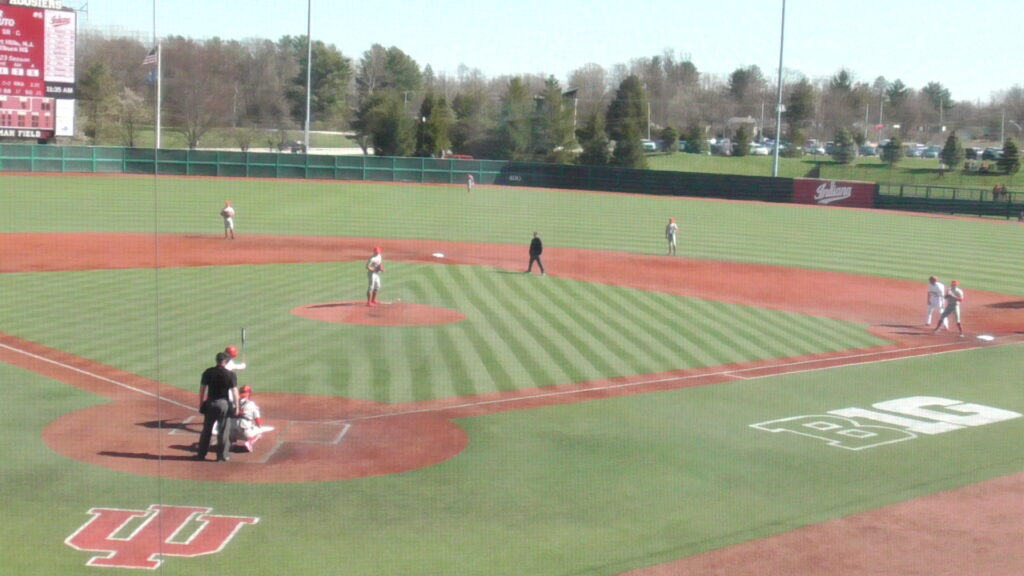 Top 2nd: Ohio State 0, Indiana 0
Quite the crowd for 1130am
No score B2 #iubase pic.twitter.com/xjBVOvFEQE

— iubase.com (@iubase17) March 26, 2023
Luke Sinnard works around a one-out single.
Bottom 1st: Ohio State 0, Indiana 0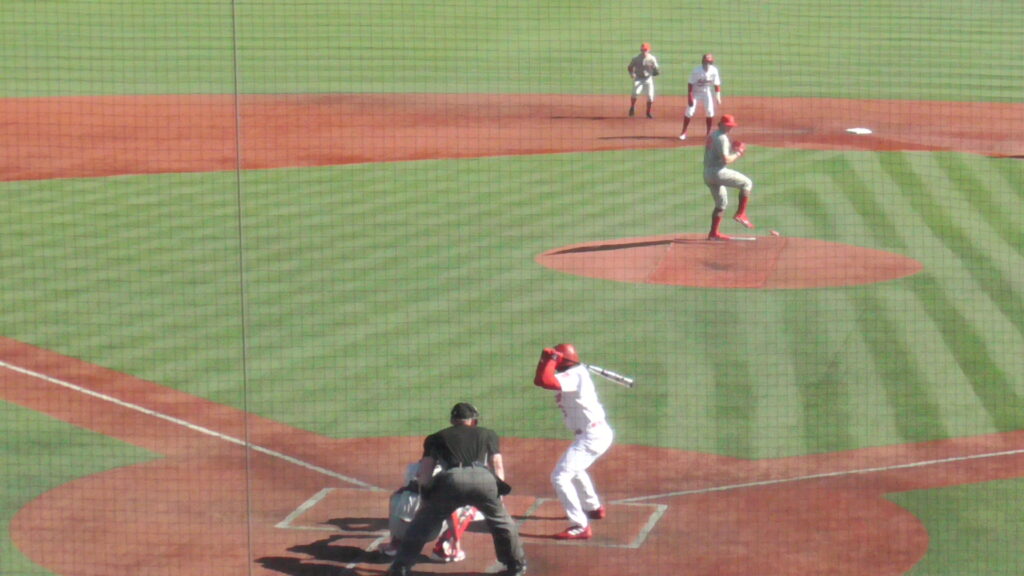 Phillip Glasser leads off with a double extending his hitting streak to 12 games. Devin Taylor walked but Buckeye lefty starter Gavin Bruni ended the inning with three straight strikes to Carter Mathison with two 83 MPH sliders in the zone around a 91 MPH fastball on the inside part of the plate.
Top 1st: Ohio State 0, Indiana 0
Luke Sinnard strikes out Trey Lipsey on three pitches. Kade Kern works the count full and hits a double into the right center gap. Marcus Ernst also works a full count before Sinnard strikes him out and ends the threat with a ground out.
Pregame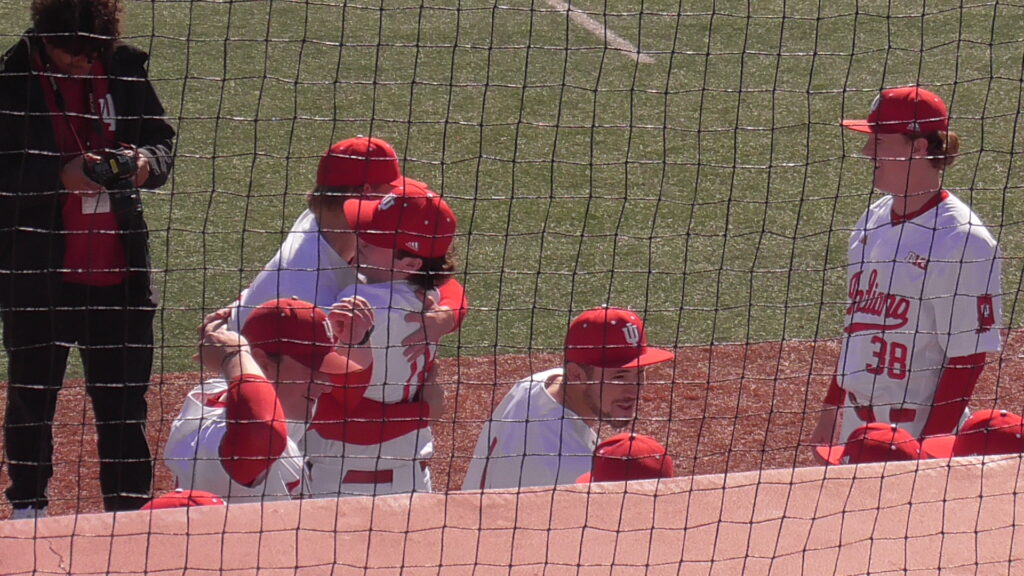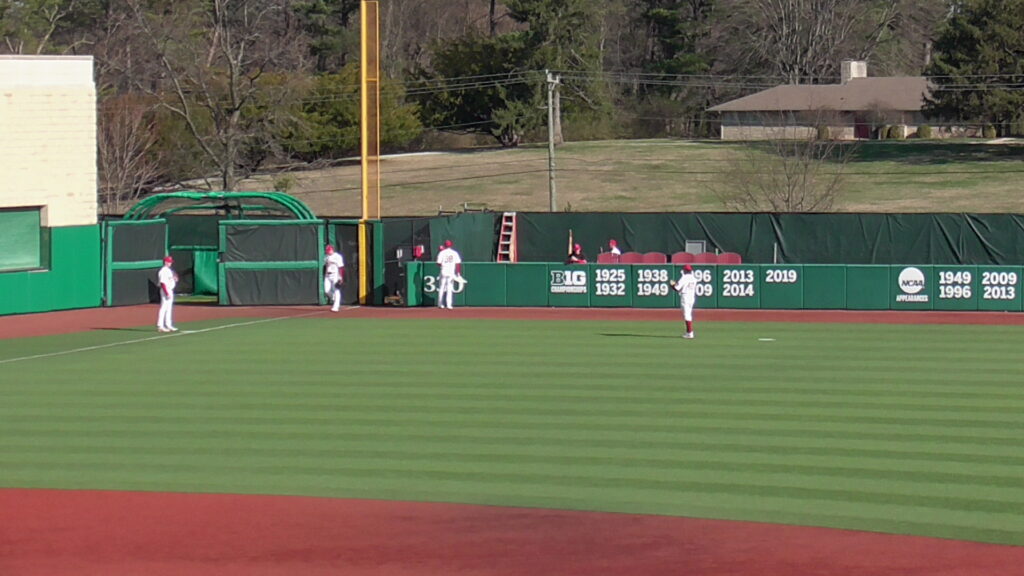 Starters
Starters for Game ☝️. ⬇️ pic.twitter.com/FpLHAkfXfA

— Indiana Baseball (@IndianaBase) March 26, 2023
Links
A Sunday doubleheader. 🙌

📺: https://t.co/rn0XTmF70Y
📻: https://t.co/Q3EAWiHazd
📊: https://t.co/LFiX0NpsUm pic.twitter.com/iQFj1WI3LO

— Indiana Baseball (@IndianaBase) March 26, 2023