Live Blog of Fall Ball exhibition match-up
By Carl James @jovian34 September 16th, 2022
---
Bottom 14th Inning – EIU 12, IU 24 – FINAL
With victory already in hand, Joey Brenczewski lead off the inning with a hit and scored later on an error. Taylor adds an RBI cherry to his amazing day with a sacrifice fly. Hoosiers WIN!
Top 14th Inning – EIU 12, IU 22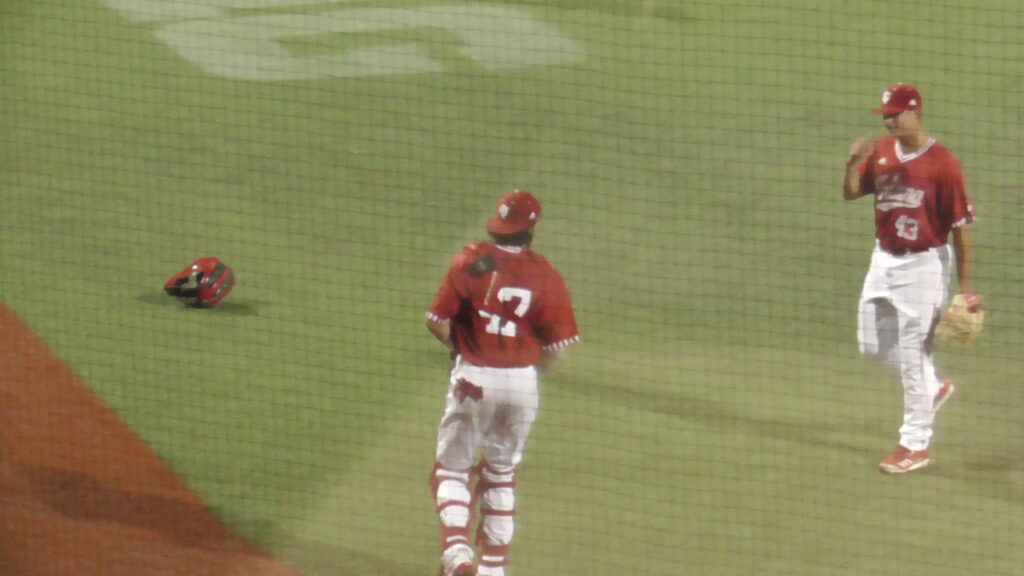 Butler transfer RHP Adrian Vega worked around a single and a wild pitch inducing three soft contact outs for a shutout inning.
Bottom 13th Inning – EIU 12, IU 22
Devin Taylor is having quite a night. An RBI double was is fourth hit of the game. Ethan Vecrumba added a two RBI triple to extend the Hoosier lead to twelve heading into the 14th and final frame of the evening.
Top 13th Inning – EIU 12, IU 19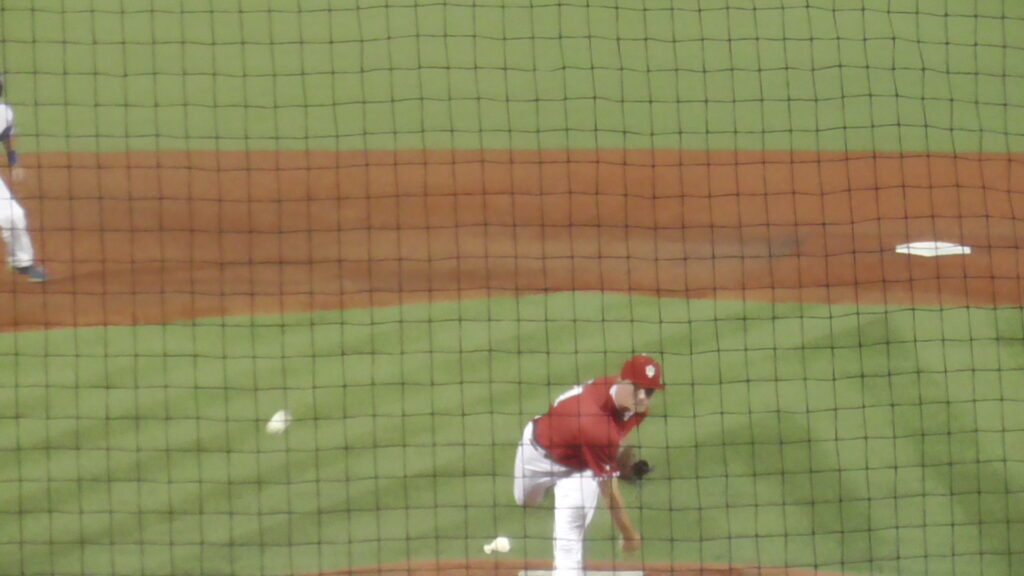 Freshman righty Evan Whiteaker worked around a couple of walks with his 88-90 fastball to keep the Hoosier lead at 7 runs.
Bottom 12th Inning – EIU 12, IU 19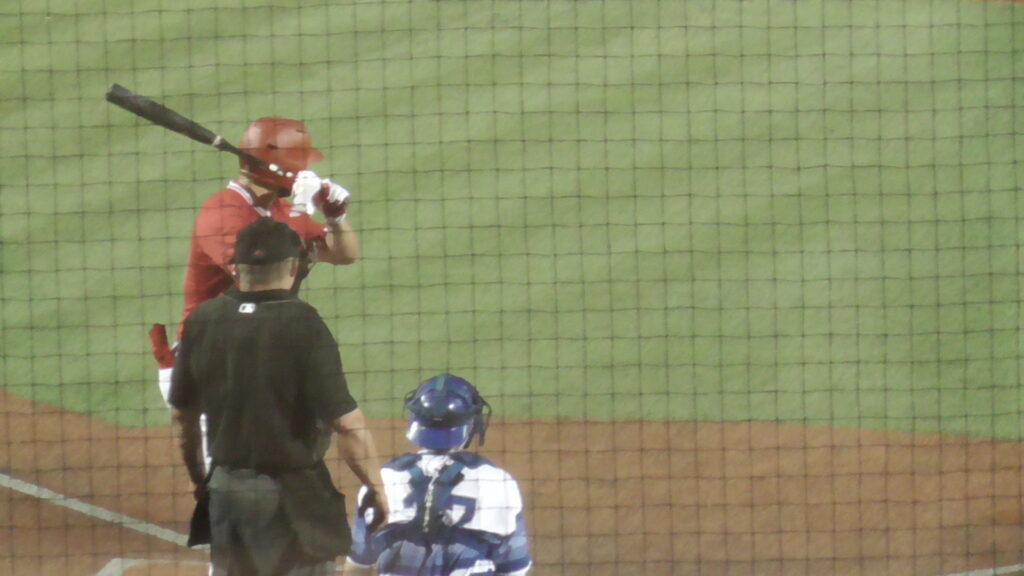 Indiana got the bases loaded with one out on three walks prompting a pitching change. Morgan Colopy blasted a pitch to the centerfield wall for a double to drive in two.
Top 12th Inning – EIU 12, IU 17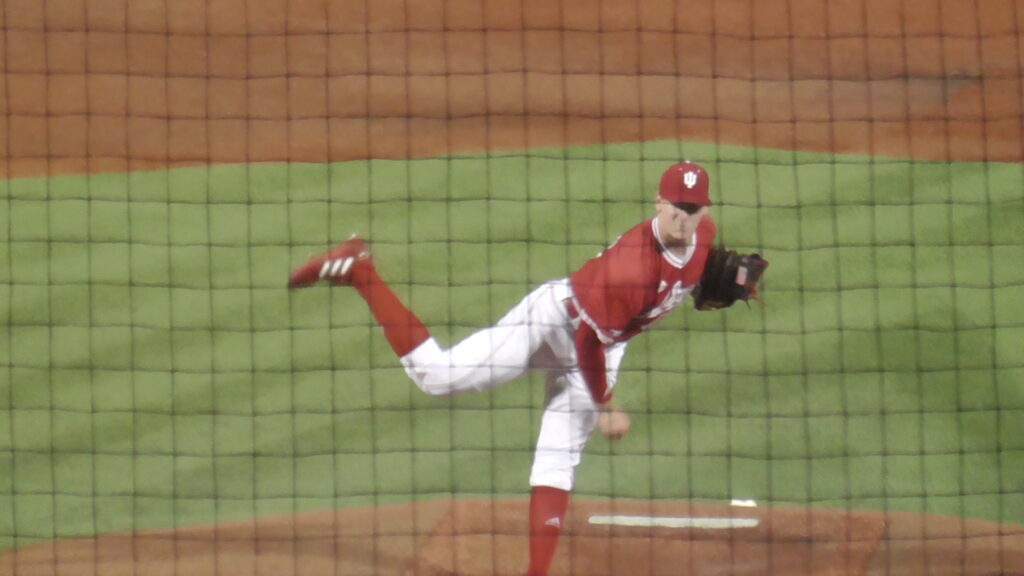 The Panthers get one back off of senior Craig Yoho. The righty was lighting up the gun with a 92-94 fastball. He struggled with command, prompting a visit from pitching coach Dustin Glant. Yoho got two groundouts to short to end the inning and keep the Hoosiers up 5 runs.
Bottom 11th Inning – EIU 11, IU 17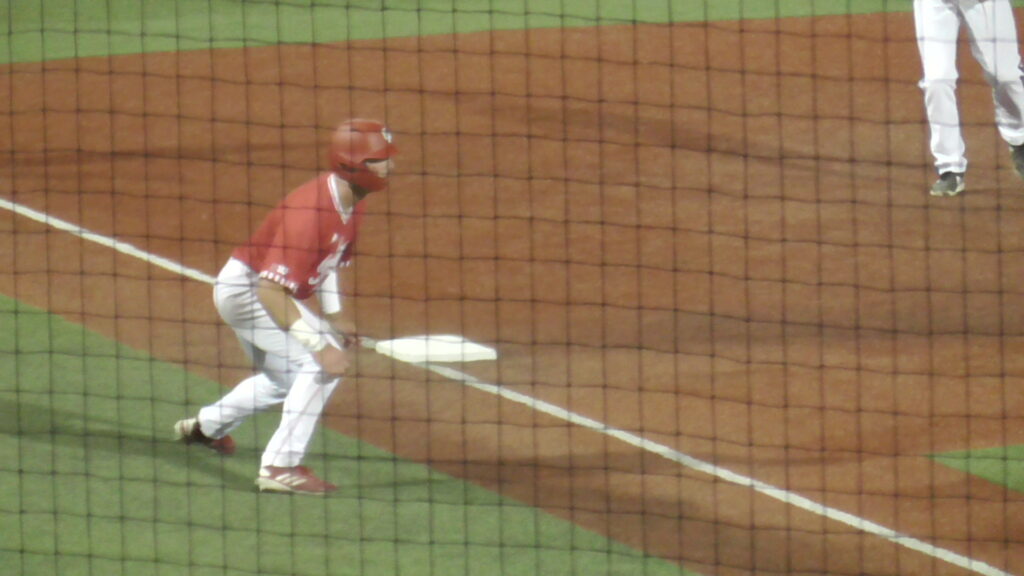 Hunter Jessee got on via plunk, stole second, an d Morgan Colopy drove him in on a groundout to extend the Hoosier lead.
Top 11th Inning – EIU 11, IU 16
Panthers get one back off of Hoosier righty juco transfer Grayson Makranyi. Makranyi gave up a double and a two base wild pitch, though he didn't miss the zone much getting three contact outs. Taylor is playing first and made a great grab on a hard hit ball up the line.
Bottom 10th Inning – EIU 10, IU 16
Devin Taylor was showing off his wheels again legging out a single on a weak ground ball. A double play to end the inning kept the Hoosier lead at 6 runs.
Top 10th Inning – EIU 10, IU 16
Grad transfer (Davidson) Gabe Levy pounded the strike zone. He did give up a pair of hits, but a caught stealing and strikeout allowed him to get out of the frame with no damage. The righty was sitting 89-91 and got his strikeout on an 83 MPH off-speed offering.
Bottom 9th Inning – EIU 10, IU 16
Morgan Colopy connected on a single to plate two. Hunter Jesse added an RBI of his own. Evan Goforth scored on a wild pitch as Indiana extends the lead to 6 and forces another mid-inning Panther pitching change.
Top 9th Inning – EIU 10, IU 12
Hoosier Freshman Ethan Phillips struggled to command his off-speed against his first batter and gave up a lead off double. The righty's 90-91 fastball became much more effective when his low 80's pitch started hitting the zone ending the inning with two strikeouts and no damage.
Bottom 8th Inning – EIU 10, IU 12
Nothing going for Indiana in this inning with the expected starters back in the contest.
Top 8th Inning – EIU 10, IU 12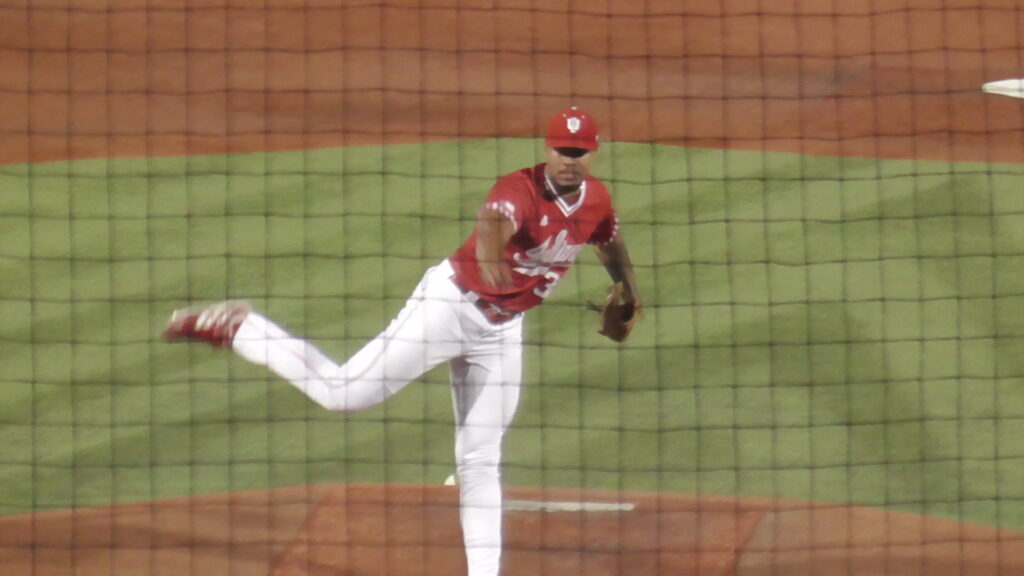 Junior College transfer Seti Manase made short work of the Panthers, going 1-2-3 with two strikeouts. The righty was pounding the strike zone with a 89 MPH fastball and 78 MPH off-speed.
Bottom 7th Inning – EIU 10, IU 12
Hoosier Freshman Joey Brenczewski got an RBI groundout to score Morgan Colopy and extend Indiana's lead.
Top 7th Inning – EIU 10, IU 11
#39 Nathan Ball, lefty pitcher transfer from Youngstown State had a rough outing. Four hits including a home run and a triple brought the Panthers within one on the scoreboard. Ball did manage to get two nice strikeouts to end his outing. He mixed a 91-92 fastball with a low 80s off-speed. Freshan righty Jacob Vogel ended the threat with a runner in scoring position to keep the Hoosiers on top.
Bottom 6th Inning – EIU 6, IU 11
It's Josh Pyne's world we are just living in it

Make that 3-3 with 2 HR and 5 RBI's for @_joshpyne_ and it's only the 6th inning. #iubase pic.twitter.com/qvfdCiJGj2

— iubase.com (@iubase17) September 16, 2022
Josh Pyne is on fire! Another two-run jack! He's 3-for-3 so far with 5 runs batted in.
Top 6th Inning – EIU 6, IU 9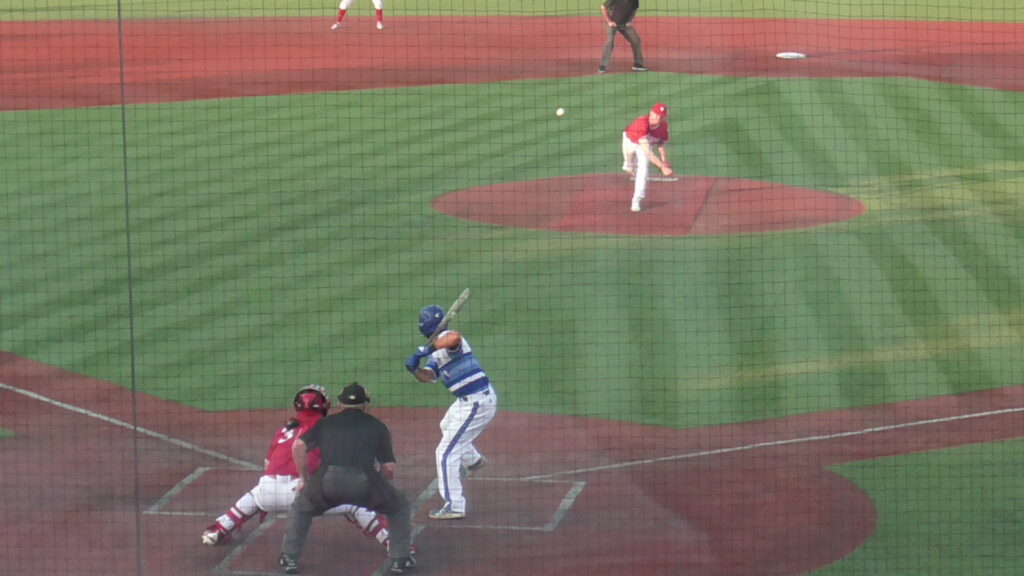 Freshman righty Aydan Decker-Petty was attacking with a 91-92 MPH fastball. A hit by pitch and walk came back to haunt him when a bases loaded double plated two Panthers. Decker-Petty recovered to get the final out of the inning on an infield pop up.
Bottom 5th Inning – EIU 4, IU 9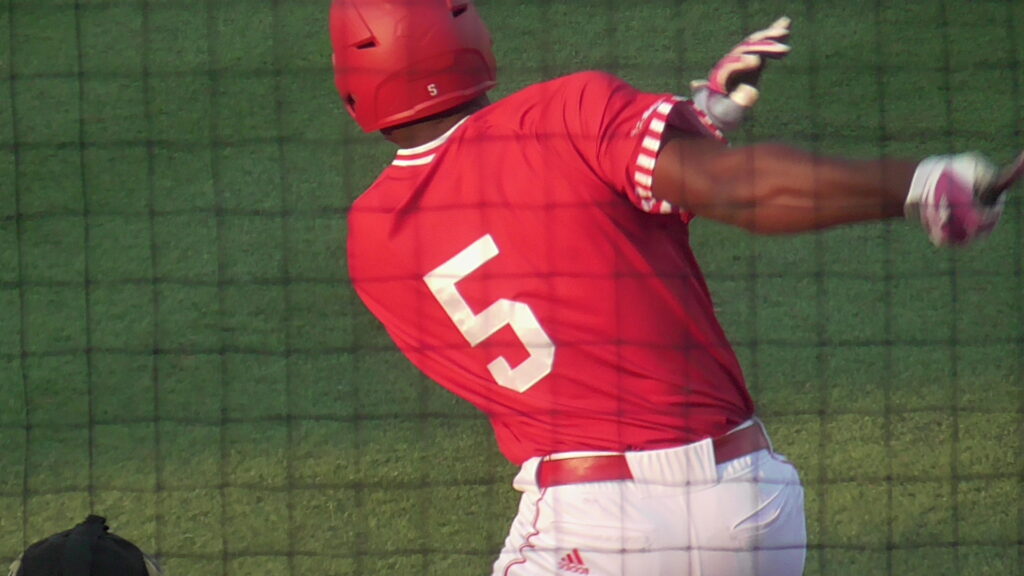 Freshman Devin Taylor went opposite field for his first at bat in front of Hoosiers fans and scored after a stolen base and a wild pitch.
Top 5th Inning – EIU 4, IU 8
Freshman RHP Cooper Katskee went 1-2-3 with a heavy off-speed mix getting two strikeouts.
Bottom 4th Inning – EIU 4, IU 8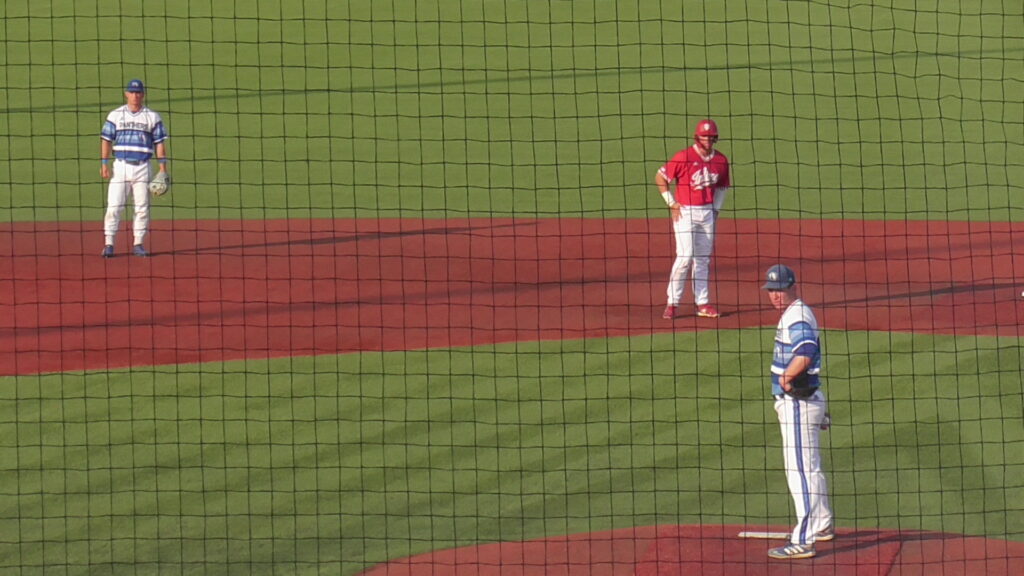 Brock Tibbitts. Hunter Jessee. and Evan Goforth started the inning with singles that plated a run after a wild pitch. A Peter Serruto sacrifice bunt and a Bobby Whalen sacrifice fly gave the Hoosiers the lead back. Josh Pyne comes up with two out and a runner in scoring position. Sound familar? Yes. Of course he got an opposite field hit to plate another run. Then Mathew Ellis also got an opposite field single to plate one more and force a Panther pitching change. That makes 5 singles and two sacrifices to generate 4 runs.
After the pitching change Carter Mathison broke the singles with an RBI double.
Top 4th Inning – EIU 4, IU 3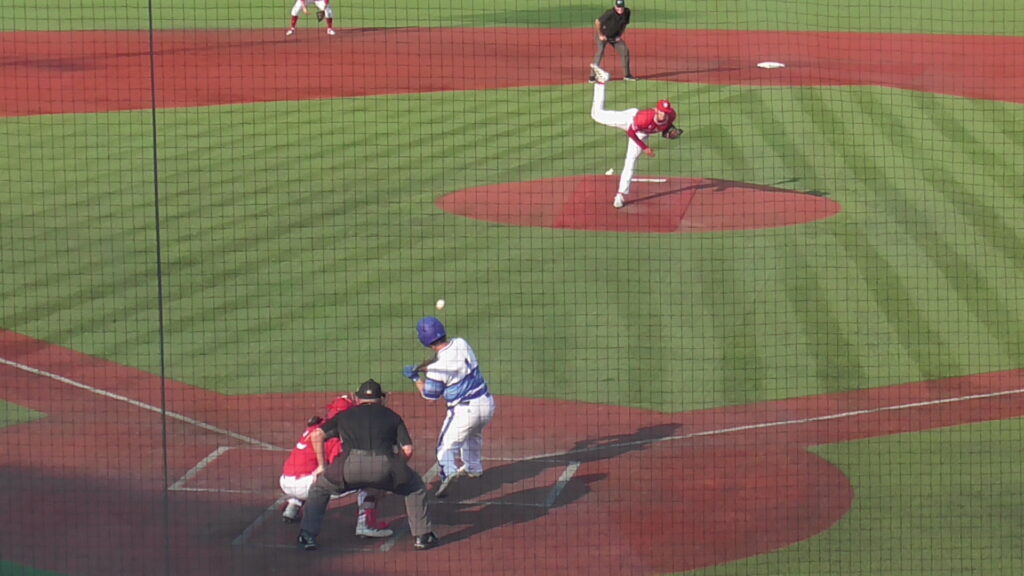 #54 Wes Burton, a right handed pitching transfer transfer from defending national champ Ole Miss worked around a walk setting down two Panthers via strikeout. Burton was throwing a lot of off-speed, but ended the inning with a swing and miss off of his 88 MPH fastball. He also commanded a 74-76 off-speed pitch and showed a curveball at 68. The one walk started 3-0 but he battled back to a full count.
Bottom 4th Inning – EIU 4, IU 3
A Mathew Ellis single was all that Hoosiers had going in the inning.
Top 3rd Inning – EIU 4, IU 3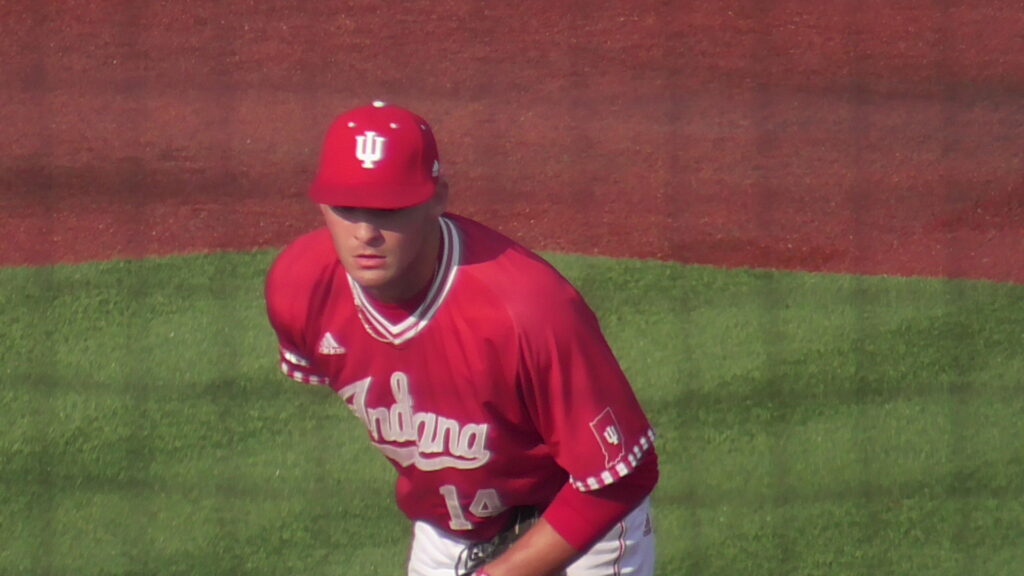 #44 RHP Cooper Hellman, a transfer from Western Kentucky struggled with control of his 85 MPH fastball. He walked three of the first four he faced and they scored on a single compounded with a Carter Mathison error in right field. #14 Freshman RHP Connor Foley was brought in to wrap up the inning with a runner on third. He gave up that run with a single, but his 92-94 MPH fastball was effective in getting a strikeout and flyout to end the inning.
Bottom 2nd Inning – EIU 0, IU 3
Hunter Jessee lead off the inning with a triple and scored with an RBI-ground off the bat of Evan Goforth.
Top 2nd Inning – EIU 0, IU 2
RHP Luke Sinnard sat down the Panthers 1-2-3. Sinnard was mixing a 93-94 MPH fastball getting one strikeout with an 83 MPH breaking pitch.
Bottom 1st Inning – EIU 0, IU 2
If you had @_joshpyne_ for first home run of The Fall you are a winner. Line drive laser show to left. 2-0 IU B1#iubase pic.twitter.com/a5zRheLKW7

— iubase.com (@iubase17) September 16, 2022
Josh Pyne got the offense for Indiana going with a two-run blast with one out in the first inning. He drove in Phillip Glasser who walked before him. Mathew Ellis also drew a walk but the Hoosiers left a runner stranded.
Top 1st Inning – EIU 0, IU comping up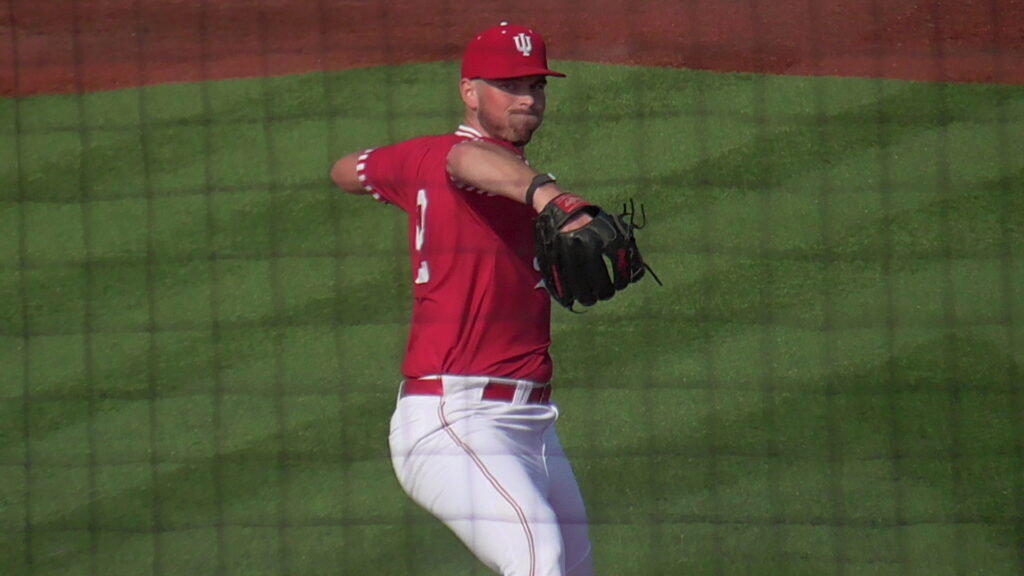 LHP transfer Ben Seiler hit the lead-off batter on the eighth pitch. He produced two quick ground outs to Josh Pyne at third base. The second was an inning ending 5-4-3 double play. Seiler was mixing a lot of off-speed pitches. He gave up a couple of hard hit balls pulled foul but mostly worked in the zone.
Friday 4:52pm
#42 LHP Ben Seiler will take the bump for the Indiana Hoosiers in the first inning.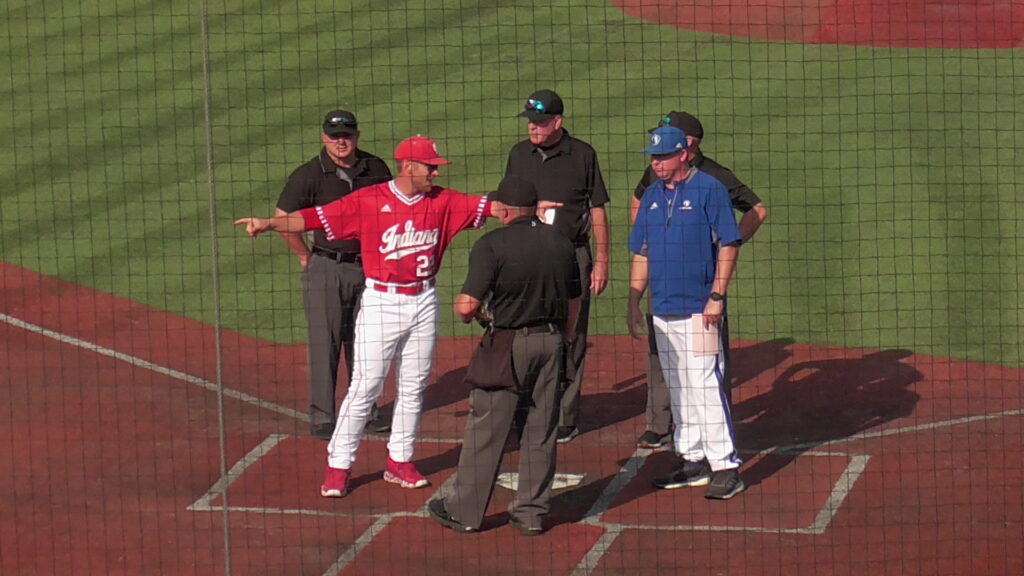 Thursday, September 15th, 7:50pm
This page will be updated throughout Friday evening from the iubase.com crew with details from Bart Kaufman Field as the Hoosiers host the Panthers. First pitch is scheduled for 5pm Friday, September 16th. You can read our Fall Ball preview article and then come back starting at game time for a live look at the Hoosiers and especially the large group of new pitchers. We will also be providing updates as usual on Twitter @iubase17.