Kyle Schwarber delivers on the big stage as expected #HelmetsOff #thb #iubase pic.twitter.com/Njt0p6mezS

— Talking Hoosier Baseball (@SeeYouAtTheBart) July 17, 2018
Not that we were surprised but Schwarber shines again under the bright lights and on a huge stage. 55 long balls on the night. 10 more than Harper but it's about when you hit them in The Derby that matters most. He had to settle for runner up this year. Something tells me he's going to be invited back. And who knows? he might even be playing on Tuesday next season.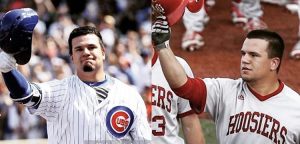 So many Schwarbombs last night but that walk off into the finals for Number 21 was definitely my highlight of the night. I'm glad his parents had such a great view.
A walk-off. pic.twitter.com/6RGn1eKsOE

— Chris Webb (@ChrisMWebb) July 17, 2018
To think they used to sit at Sembower Field and watch him hit bombs. Incredible.
Schwarber just showed again how special a player he is and what a great representative of Hoosier Baseball he continues to be. Hopefully we get around to putting his Number 10 on the outfield wall. I'm sure Justin Walker would be just fine with it.
Go Hoosiers
#iubase
— CF