During his three seasons in Bloomington , Kyle Schwarber hit 40 long balls for Hoosier Baseball. He hit plenty of monster shots at Sembower, The Bart, on the road(especially that one at Louisville), in B1G Tourney Games, in NCAA Tourney games, and really anywhere he's ever swung a bat. The amount of success he's had, no matter the level of baseball or situation, is staggering.
Some players are just special and the entire country got to find out real quick what we knew for years. He has excelled everywhere he's played.
• 2012 – After helping the YD Red Sox win a title at The Cape Cod League, Schwarber was awarded Playoff MVP.
• 2013 – Selected to play for Team USA
• 2014 – Drafted 4th overall in the June MLB Draft and dominates every minor league level hitting 18 homers in 70 games.
• 2015 – won Futures Game MVP in Cincinnati.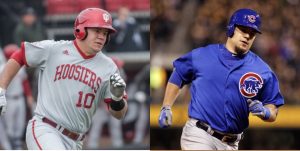 • NL Wild Card Game- He homered in his first ever playoff game.
• He then put that moon shot on the scoreboard against St Louis in the NLDS
Remember when Kyle Schwarber re-accommodated this ball on top of the scoreboard? pic.twitter.com/y3MbQPjW07

— Æ5-L3 iv2iv (@Aisle424) April 10, 2017
• 2016 – of course, his incredible return from an April injury to help Chicago win The World Series
The Comeback Story: Kyle Schwarber (@kschwarb12)

The unbelievable World Series performance from Kyle Schwarber in 2016 after just missing 6 months.

Full link: https://t.co/xXtK3VOEKc pic.twitter.com/rZcAgwRk76

— Cubs Live (@Cubs_Live) November 29, 2017
• 2017 – Schwarber hits 30 bombs in his first full pro season including this one at Wrigley against the Mets
• 2018 – 18 first half bombs to lead the team and get selected to participate in The Home Run Derby
It all gets rolling Monday Night from Washington, DC around 8pm. You can check out his competition in The Derby here
MIke Schumann, from The Daily Hoosier, has a Home Run Derby 101 that includes 17 of his first half Schwarbombs.
Kyle Schwarber to Participate in Monday's MLB Home Run Derby
This will be Schwarber's first try at the MLB Home Run Derby, and fittingly, he'll be back wearing red Considering what he's done in the past under the bright lights, I'd say we are in for some kind of show.
Go Hoosiers
#iubase
— CF