Hoosiers manage only 1 run on four hits against 101-MPH stuff in series opening loss at the Bart
By Carl James @jovian34 April 8th, 2023 – photos by Zach Greene
Indiana dropped to 20-10 (5-2 B1G) being dominated by Iowa's ace, Brody Brecht, in his deepest outing of the year so far. The Hoosiers were only able to muster 1 run on four hits, losing the series opener 7-1. Brecht was sitting mostly at 98-99 MPH on his fastball, touching 101 on occasion. He walked 4 and struck out 7 Hoosiers, which was much less than the 13 Maryland Terrapins he struck out last week in a shorter outing. This allowed for far more soft contact outs, which kept his pitch count down, and allowed him to complete seven full innings of work.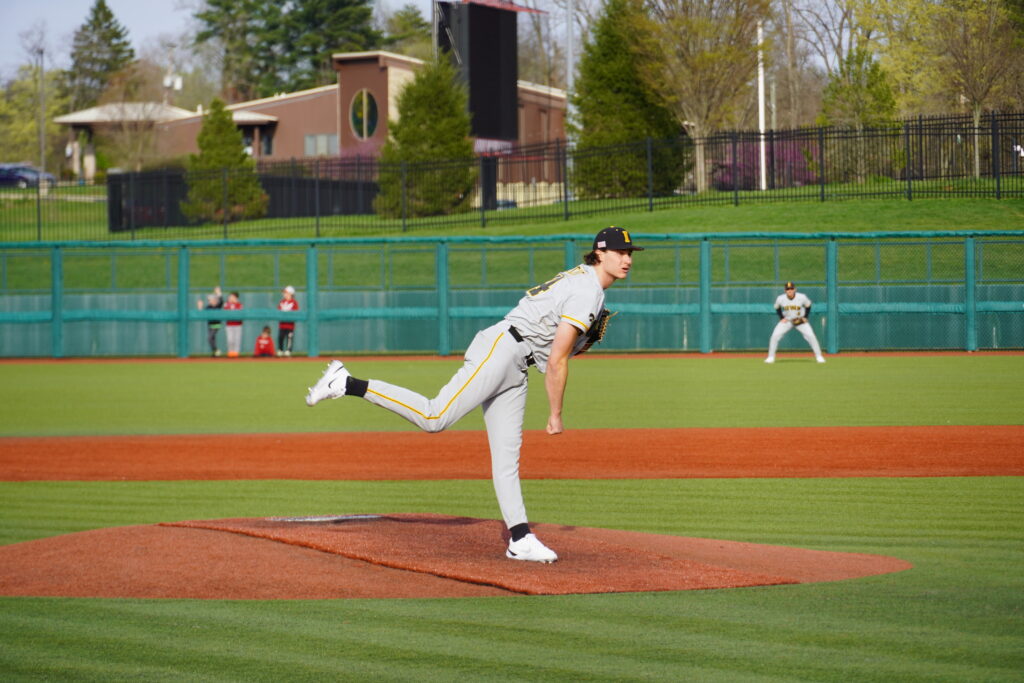 Senior+ shortstop Phillip Glasser noted after the game, "I think we were prepared for the [Brecht] fastball, but it is tough. You've got to be on time, ready to go, stay super flat. There is not as much room for error."
Following the game head coach Jeff Mercer was happy with his teams hitting approach. "I thought we were super competitive tonight. We did everything that we we're outlined to do." Mercer noted that "he threw the change-up a little bit more than we thought he would." That 95-MPH change-up made it a three-pitch mix that the Indiana hitters were dealing with. Only Devin Taylor and Hunter Jessee managed to get hits of Brecht, with Jessee's hit driving in Brock Tibbitts for Indiana's only run of the game.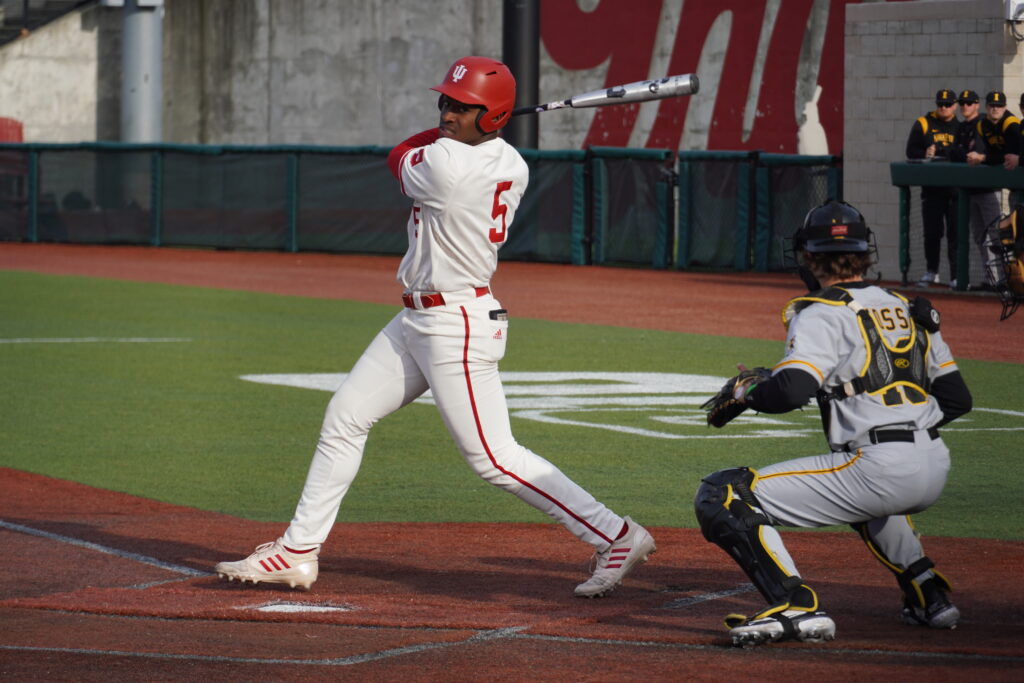 Indiana did end up striking out 13 times, but six of those were all six outs that reliever Jacob Henderson got in final two innings to seal the win for the Hawkeyes. "The side-arm guy was just a really unique look. I thought we could've been a little more competitive to him." Indiana did manage a hit in each inning against Henderson, a pinch hit double by Morgan Colopy in the eighth inning and a double off the bat of Carter Mathison in ninth.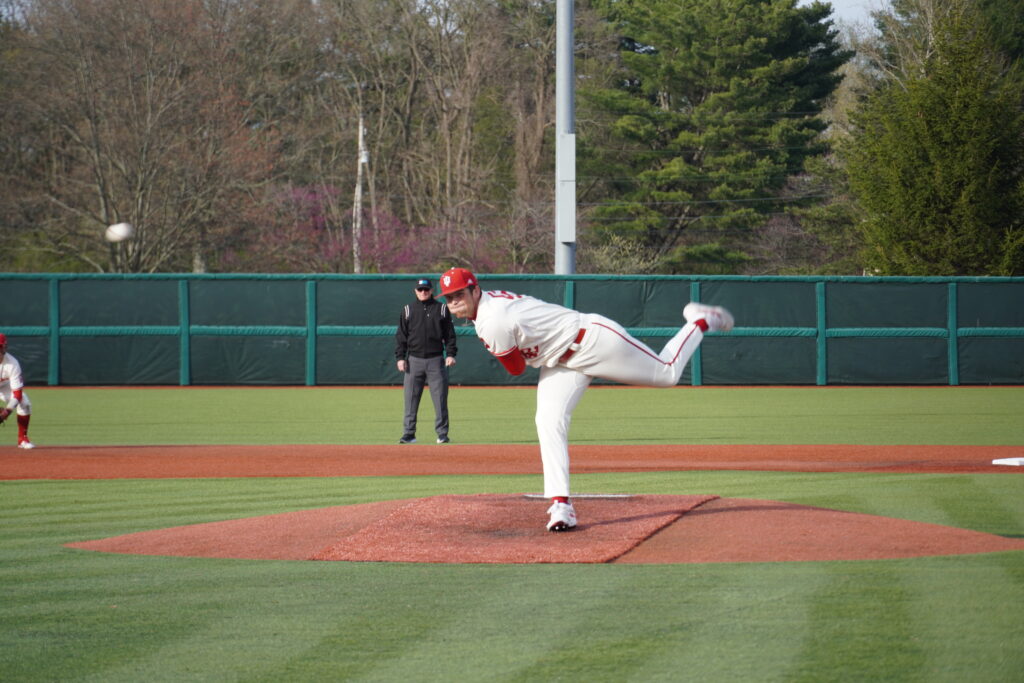 Iowa capitalized on several Indiana mistakes to score 7 runs. Josh Pyne committed two errors at third base and Hoosiers pitchers plunked three Hawkeyes to award additional free bases. Five of the seven Hawkeye runs were earned, but Mercer felt that it was the combination of errors and free bases that allowed Iowa to pull away. "Six of their seven runs weren't necessarily unearned, but were handed between free bases, hit by pitches and two errors."
.@IndianaBase freshman righty Connor Foley ('24 elig.) came out of the pen blowing smoke. FB sat in 94-97 mph range, big ride w/ several whiffs up in zone, touched 99 mph on trackman. Huge arm in the B1G, eligible next year. @PG_Scouting @B_Sakowski_PG @vcervinoPG pic.twitter.com/LUlJXjodbU

— PG College Baseball (@PGCollegeBall) April 7, 2023
Two of those hit batsmen were plunked by starting pitcher Ben Seiler, who is now 0-3, pitching 3.1 innings, giving up three runs (only two earned). Seiler did strike out three Hawkeyes. Connor Foley gave up the hardest hit ball of the game, a solo home run, but otherwise looked electric, touching 98-MPH on his fastball in an otherwise solid inning of relief. After Seiler Mercer used a talented group of pitchers with good stuff who have been a bit inconsistent. This has saved his most consistent pitchers for the remainder of the three game series.
The Hoosiers have a quick turn-around with a 12 noon first pitch for game 2 on Saturday. That contest will be televised on the Big Ten Network. Sophomore righty Luke Sinnard, the Indiana ace, will take the mound against Iowa righty Marcus Morgan, who took the loss last Saturday in a relief appearance against Maryland. The bulk of the load last Saturday was by righty Zach Voelker, who gave up only one run in five innings of relief work. Voelker has a 1.16 WHIP on the season and a low 7.8% walk rate.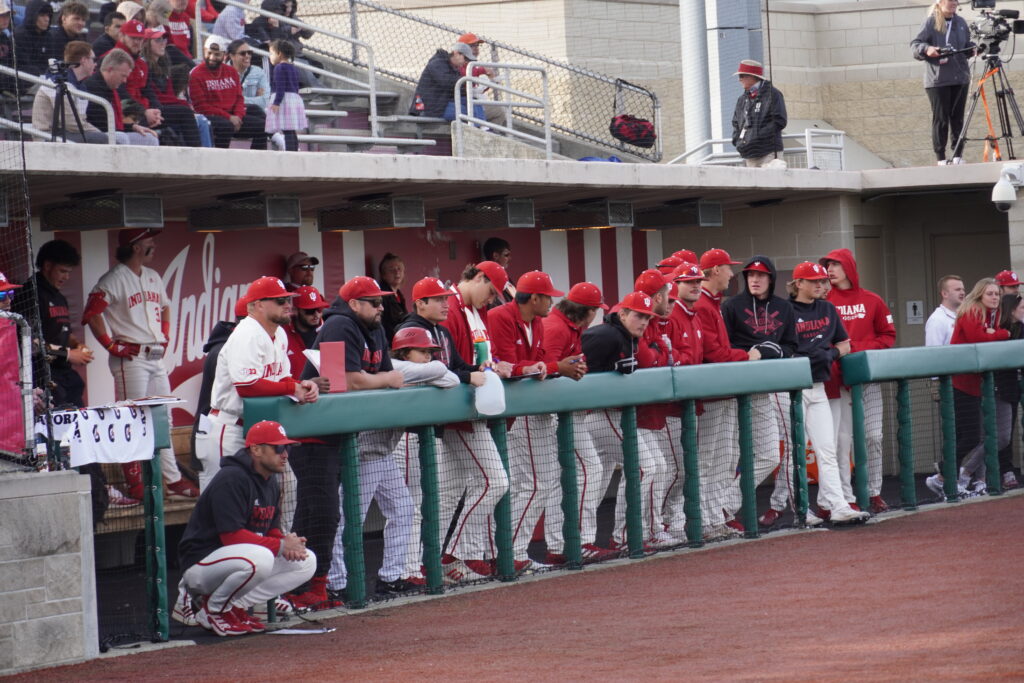 Mercer also noted that Indiana catcher Matthew Ellis is dealing with a minor injury that has kept him out of lineup for a few games. Ellis is "day-to-day" and should be available and back in the lineup either Sunday or on Tuesday.