The Hawkeyes and Hoosiers open a B1G weekend series under a national spotlight
By Carl James @jovian34 April 7th, 2023
Bottom 9th: Iowa 7, Indiana 1 (FINAL)
Carter Mathison rips a one-out double to right, but it is stranded to end the game.
Top 9th: Iowa 7, Indiana 1
Phillip Glasser ⭐makes a fantastic play to get the first out, but Josh Pyne fails to field a hard chopper putting a runner in scoring position. Decker-Petty plunks the next batter and walks the bases loaded with one out. Cooper Katskee is the new Indiana pitcher. A 2-RBI double has put this one pretty much out of reach. Katskee gets a strikeout and groundout to strand two.
Bottom 8th: Iowa 5, Indiana 1
Morgan Colopy leads off with a pinch hit double off of Jacob Henderson, the new Iowa pitcher. Three strikeouts later Colopy is left on second.
Top 8th: Iowa 5, Indiana 1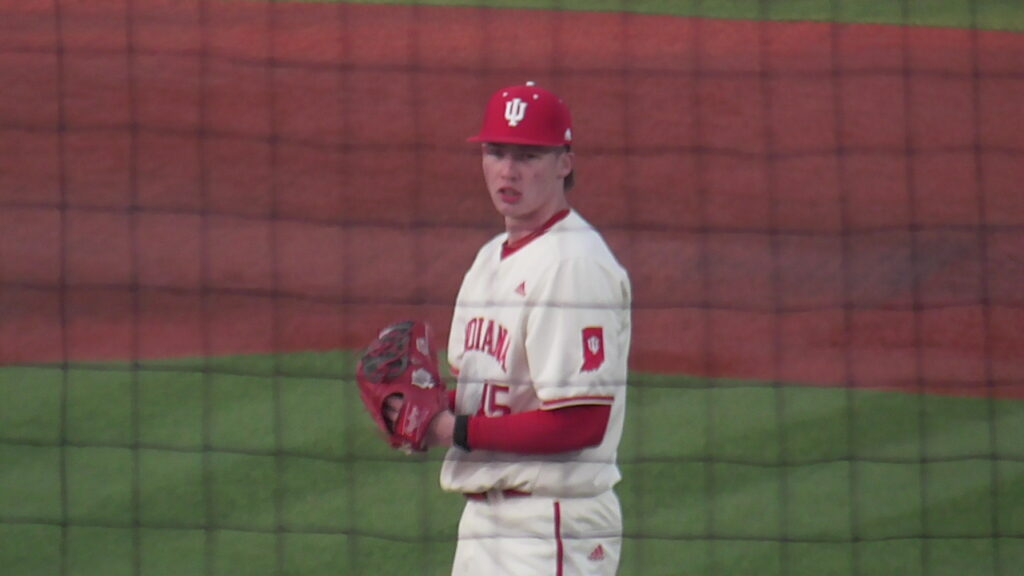 Ayden Decker-Petty is the new Hoosier pitcher. He works around a walk and some solid infield defense gets the Hoosiers back in the dugout.
Bottom 7th: Iowa 5, Indiana 1
Brock Tibbitts works a lead off walk and gets to second on a wild pitch. Mathison flies out to left. Brayden Frazier in right field robs Josh Pyne of extra bases. Hunter Jessee hits an RBI-single to break up the shut-out.
Top 7th: Iowa 5, Indiana 0
Connor Foley is the new Indiana pitcher. He gets his second strikeout on a 97-MPH fastball. Another 97-MPH fastball is sent back over the centerfield fence for a solo home run.
Bottom 6th: Iowa 4, Indiana 0
Brecht is having a special night. The Hoosiers are just not managing much beyond weak contact.
Top 6th: Iowa 4, Indiana 0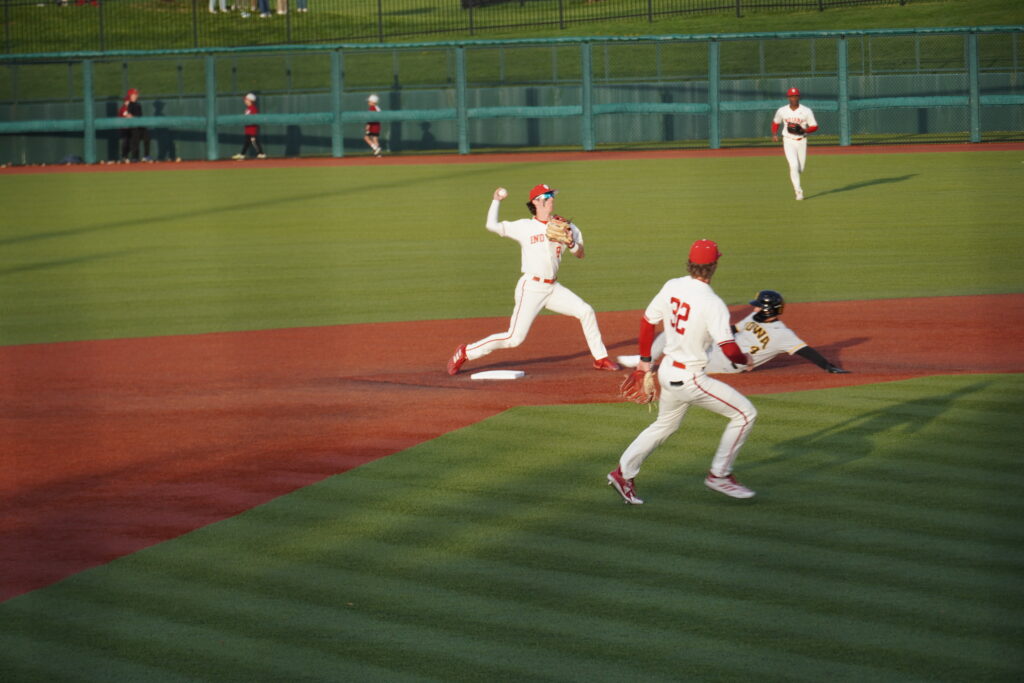 Josh Pyne and Tyler Cerny turn a double play to erase a walk for a quick inning for Brooks Ey.
Bottom 5th: Iowa 4, Indiana 0
Hunter Jesse gets ahead of Brecht 3-0 and walks on a full count. So far the Hoosiers have not significantly run up Brecht's pitch count. Tyler Cerny strikes out. Peter Serruto grounds into a double play. Brecht is just at 69 pitches after 5 innings and is Iowa is clearly in the driver's seat.
Top 5th: Iowa 4, Indiana 0
A double and a couple of productive outs extend the Hawkeye lead to four runs.
Bottom 4th: Iowa 3, Indiana 0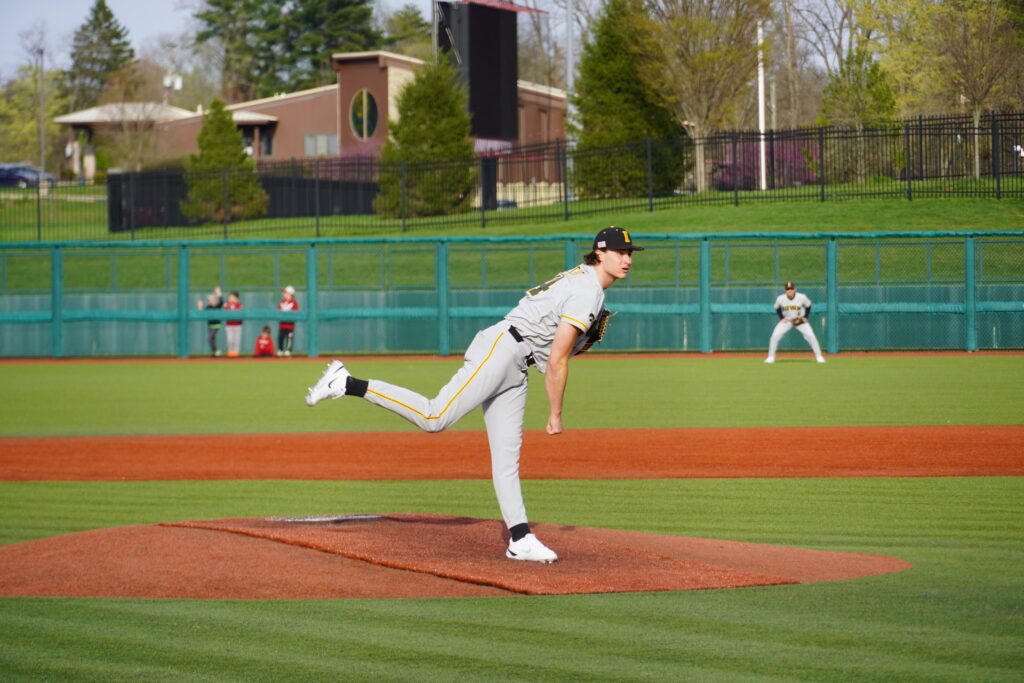 Devin Taylor rips a single to right for Indiana's first hit off of Brecht. Tibbitts works a walk to get Taylor into scoring pitch. A ball to Carter Mathison prompts a mound visit from the Iowa pitching coach. A swinging bunt gets two in scoring position with two outs, but Pyne flies out to center to end the inning.
Top 4th: Iowa 3, Indiana 0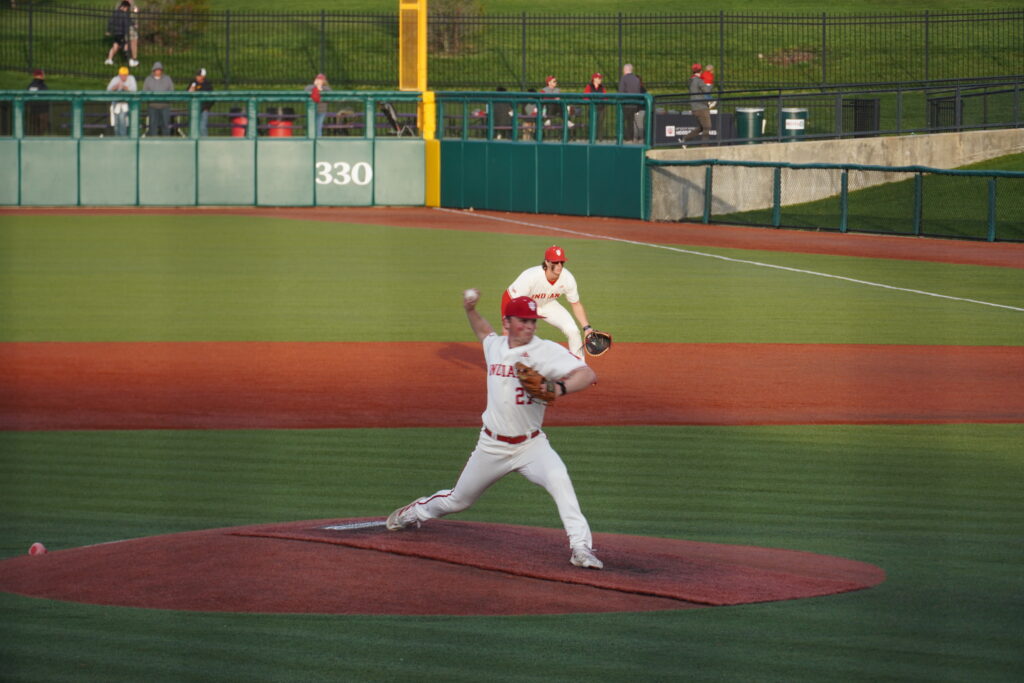 Seiler gets into a one-out, two base runner jam. His day is done and Brooks Ey is the new Hoosier pitcher. Ey gives up a 3-2 single hit hard enough to center to hold the runner at third with one out. A two RBI-single gives Iowa a three-run lead.
Bottom 3rd: Iowa 1, Indiana 0
Brecht is getting through the Hoosier order quickly. He only has 45 pitches after three innings. Easily on pace for his longest outing of the year. Serruto got him in a 3-2 count but grounded out. Indiana has yet to make solid contact.
Top 3rd: Iowa 1, Indiana 0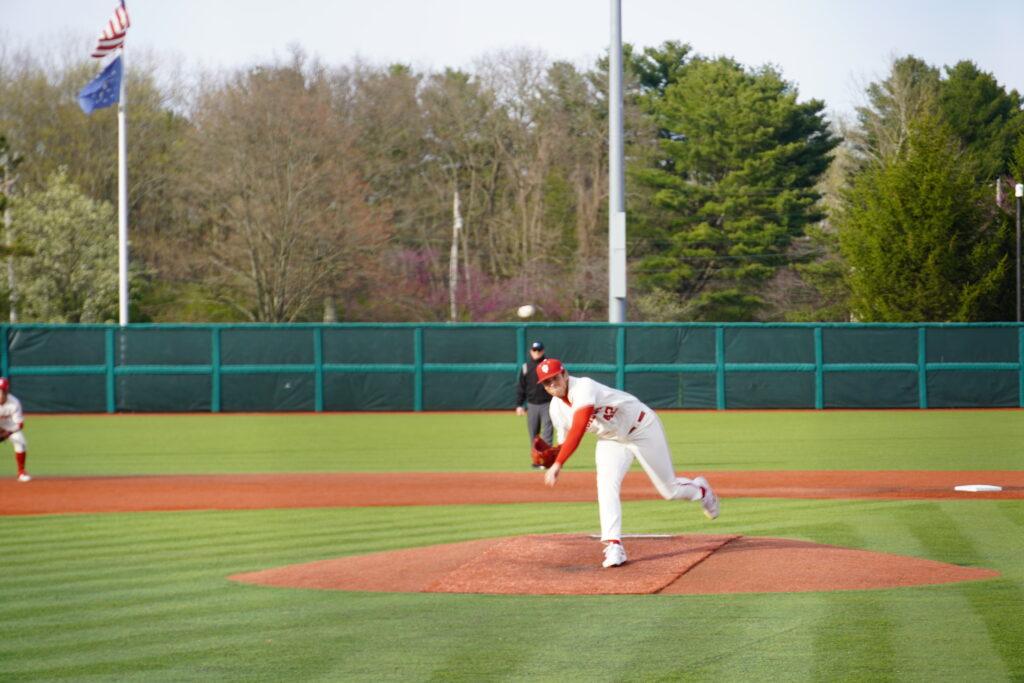 Whalen catches the third out on the warning track in left center to keep the Hoosiers within one. Seiler has been solid through three. Brooks Ey has been throwing in the IU bullpen.
Bottom 2nd: Iowa 1, Indiana 0
Hoosiers strike out twice going 1-2-3.
Top 2nd: Iowa 1, Indiana 0
A one-out single is erased when Peter Serruto throws out the runner trying to advance on a ball in the turf.
Bottom 1st: Iowa 1, Indiana 0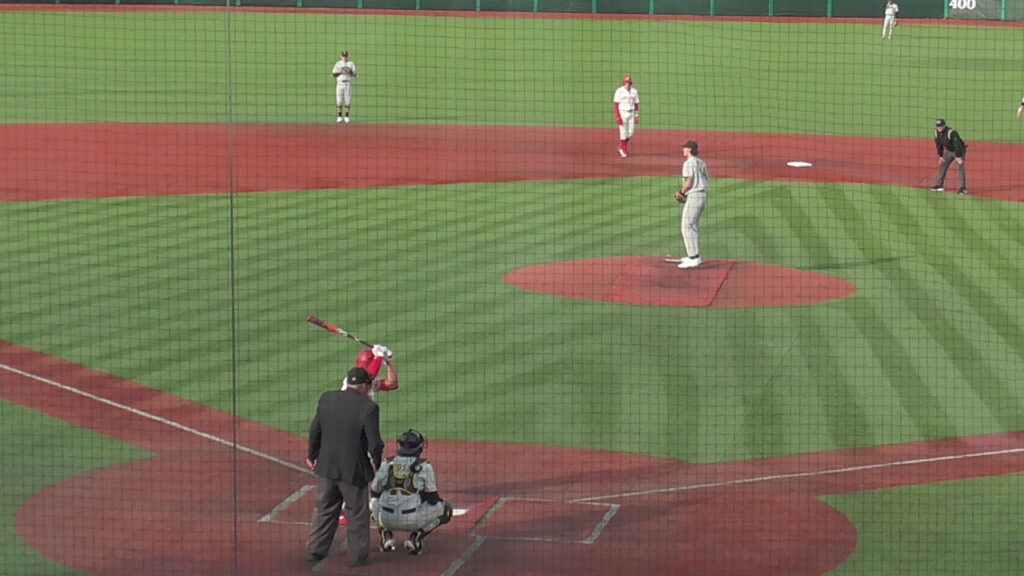 Iowa's Brody Brecht was sitting 99, touching 100, walked Glasser and left him stranded on second. Took 18 pitches.
Top 1st: Iowa 1, Indiana 0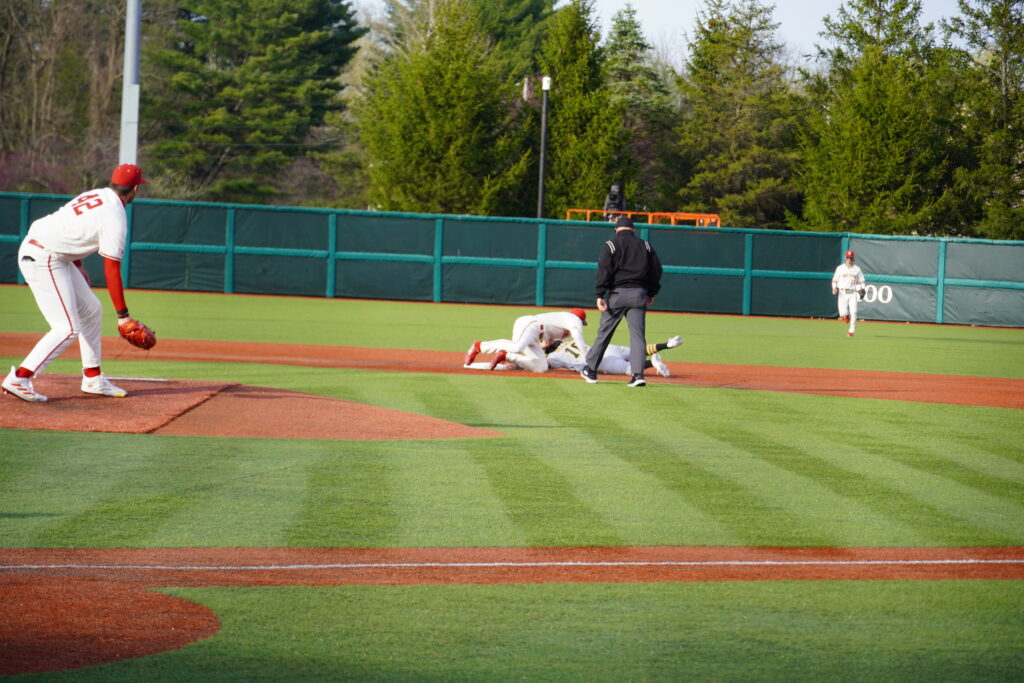 Ben Seiler had to throw a lot of pitches in the first. He induced a couple of contact outs before getting into some trouble with a hit-by-pitch and then a Josh Pyne error at third base. A single scored an unearned run. Peter Serruto caught a would be base stealer to end the inning. Not the start the Hoosiers were hoping for.
Ceremonial First Pitch
Great to see @IndianaWR Head Coach Angel Escobedo who threw out tonight's first pitch. #iubase ⚪️🔴⚾️ pic.twitter.com/c61sRoszDF

— iubase.com (@iubase17) April 7, 2023
Starters
The first on the field. ⤵️ pic.twitter.com/gSZRo7ASaS

— Indiana Baseball (@IndianaBase) April 7, 2023
Links
Back home again.

📺 https://t.co/xL6Y0yAUNN
📻 https://t.co/Q3EAWiHazd
📊 https://t.co/U6R6Z5ajUP pic.twitter.com/oqE9FZMqck

— Indiana Baseball (@IndianaBase) April 7, 2023