Hoosier Baseball (20-6)
vs
That team near the Wabash River (15-10)
Pitching Matchups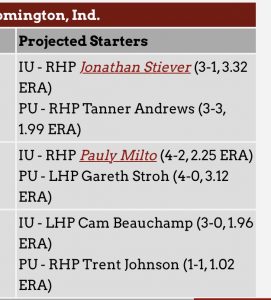 (via IUHoosiers.com)
You can see the rest of the IUHoosiers.com series preview here
http://iuhoosiers.com/news/2018/4/5/baseball-indiana-returns-to-b1g-action-as-it-hosts-purdue.aspx
The schedule for the weekend is Friday at 330 pm , Saturday at 2pm and Sunday at 3pm (start time for BTN Broadcast).
With cold temps coming to BTown this schedule is subject to change.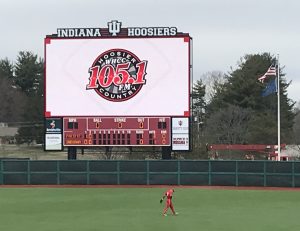 Greg Murray Play by Play Link
http://mgmt.firststreaming.com/listen/iphoneredir.php?callsign=WHCC_FM
The Team Near the Wabash River is coming to The Bart off of sweeping a series with Penn State. You can read about that series here
https://www.hammerandrails.com/2018/3/31/17185026/purdue-baseball-penn-state-wrap
That sweep leaves them on a 5 game winning streak and undefeated in conference putting them in first place in The B1G.
You can see the rest of the B1G Standings here
Last season Hoosier Baseball lost the first two games in Lafayette but did avoid the sweep by winning on Sunday 14-9. That Sunday game recap is here
http://iuhoosiers.com/news/2017/4/9/baseball-indiana-takes-finale-from-purdue-14-9.aspx
Before that it was a 2016 series sweep for Hoosier Baseball At The Bart. The Sunday game in that series was definitely one to remember. Logan Sowers was the hero after a long rain delay which you can read about here
http://iuhoosiers.com/news/2016/4/10/baseball-hoosiers-rally-to-knock-off-purdue-7-6-and-sweep-series.aspx
Speaking of Logan Sowers
⚪️Inside The Numbers🔴

Logan Sowers
Current Career Hit Total
1️⃣9️⃣7️⃣

Last Hoosier to get in the 200 Hit Club was Scott Donley in 2015 (228 total hits) #iubase https://t.co/oDCOd02lM8

— iubase.com (@iubase17) April 5, 2018
Add in a dominating home sweep of these guys in 2014 and Hoosier Baseball has never lost a game to that team near the Wabash River At The Bart (6-0).
Greg Murray caught up with Coach Lemonis to discuss the series which you can see here via @IndianaBase
🗣🎙⚾️ @lemo22:" We get to compete against another great program. It should be a lot of fun." pic.twitter.com/hknnBuyZg2

— Indiana Baseball (@IndianaBase) April 5, 2018
And Stu Jackson has a preview of the series here
https://indiana.rivals.com/news/iu-baseball-gears-up-for-weekend-series-vs-in-state-rival-purdue
IU Team Stats
http://iuhoosiers.com/cumestats.aspx?path=baseball&year=2018&
TTNTWR Team Stats
http://grfx.cstv.com/photos/schools/pur/sports/m-basebl/auto_pdf/2017-18/misc_non_event/2018Stats.pdf
Assuming the Saturday Game time is 2pm The Talking Hoosier Baseball/ iubase.com Saturday Tailgate will be starting at 10am and there's plenty of warm food on the menu so come on by. Bring a drink of choice and a chair if you want and hang out before the game. Just look for the candy striped canopy and the IU pub table and bar stools. All are welcome.
Let's Go Hoosiers !!
https://twitter.com/seeyouatthebart/status/982167095684186112?s=21