There are many disadvantages in trying to run a competitive baseball program in B1G country. Unfortunately being on the road for the first month of the season is a must.
The 2018 'Because we're a Team from The North ' road trip consists of 11 games this year. The Brittain Resorts Baseball at the Beach event in Myrtle Beach. The Snowbird Classic in Port Charlotte, Florida. A four game set with the University of San Diego Toreros.
This is the fourth season for Coach Lemonis. His tough scheduling has helped the Hoosiers make the Dance two of his first three years. He loves challenging his club with a tough and daunting start to the season. In his first trip, Hoosier Baseball came out of the gates strong with a series win in Palo Alto and completed the trip with an 8-4 record.
2016 didn't go as well. A 14-4 win in the season opener was solid, but it was followed by six straight losses, including getting swept at Cal State Fullerton. They came home with a 3-7 record.
Last season the trip was better, producing a 5-6-1 record and 2 of those losses were close games with the #1 team in the country Oregon St.
It's common for Northern teams to begin their season without a single outdoor practice. Last year we had an unseasonably warm February, so we even had a few open scrimmages to attend before that plane left for Surprise, Arizona. Hopefully we're blessed with more of the same this year. Rumor has it 30 degrees is the cut off for practices to be at The Bart instead of in Mellencamp Pavillion .
Regardless of the outside practice time they can fit in, the eleven game trip will begin on Opening Day February 16th at TicketReturn.com Field in Myrtle Beach, SC .
Weekend one matches the Hoosiers up with two other #2 seeds from last year's NCAA's (Oklahoma and South Alabama), 2016's National Champion (Coastal Carolina ) and Kansas St .
In the second weekend the competition drops off a bit. No team had a final RPI last season higher than 84 . Boston College (84), Rutger (139), and Chicago St (284) are on the docket for The Snowbird Classic .
Boston College did make the Supers in 2016. They were one win away against Miami from Omaha that season. The ace of that staff, Justin Dunn, went 19th overall to the Mets, so he won't be on the hill in Port Charlotte. Rutger, unfortunately we know well. Chicago St went 11-41 last season, but will bring in ten Juco transfers so should be improved in 2017.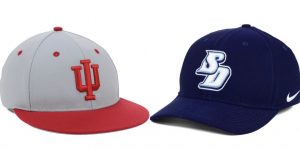 The trip concludes with a four game set with the University of San Diego.
Most Cub fans should get warm and fuzzy thinking about that! The Toreros have made the tourney 5 of the last 10 years. The last time… in 2013, with a guy named Kris Bryant. USD didn't make the NCAA's last season but went 35-18 and finished with an RPI of 53. They played really well at home finishing with a 21-8 record at Fowler Park.
If the Hoosiers are to reach 40-45 wins this year, they must get off to a decent start. This 'Because we're a Team from the North' road trip, will have much to say about that! Every week, leading into the upcoming season, we'll be taking a deeper look at the upcoming opponents. Stay tuned….