We are introducing something new to the website titled 'From The Seats At The Bart'.
A place where fans can share their stories about games attended, experiences with players, or just telling us how you follow the team.
In general, just share your passion about being a Hoosier Baseball fan! It would be entered as a post and we can add any pictures you'd like. They'll be kept under the ABOUT tab in the menu.
Just contact cf3105@gmail if you'd like to post an entry
Audrey starts us off with her entry. – Audrey Deitrich – @DeeDeeTrick on twitter
I have been an Indiana fan since the the day I was born. In my two-year-old photos were me in an IU cheerleading uniform. I wrote an essay in the 6th grade about Damon Bailey. My first tattoo was of my favorite line in the IU fight song. But, IU baseball was never on my radar, until that magical run to Omaha in 2013. After that, my mom, Ronda, and I were hooked. We may be new(er) to the scene, but you'll be pressed to find IU baseball fans bigger than us. We've been season ticket holders for four years now and our lives revolve around what's going at the Bart in the spring and summer.
What's there not to love about the IU baseball program? Since 2013, the program has been able to bring in many high profile opponents. Bart Kaufman Field is a dream location to watch games in, and, the team has always been competitive, no matter how big or small their opponent. But, I think the biggest thing that contributes to my love of IU baseball are the players. In all of my time of watching college athletics, I have never met more humble and appreciative student-athletes than the IU baseball players. It is never a challenge to get a picture, autograph or even just a quick high five before or after the game. Simply, they get it. They understand that there wouldn't be a program without the fans coming to their games and they show their appreciation often.
I truly wouldn't be the fan I am today if it wasn't for Austin Cangelosi '17, aka Cangy, aka The Scatman. Early on, I could tell that Cang was going to be one of my favorites: his personality lit up a whole room and his gratefulness for the fans was something to be admired. I was lucky enough to throw out a first pitch in 2015 and Cangy was the one to catch for me. Right away, he tried to put my mind at ease and before we went out onto the field he whispered a quick "Now, don't go Major League on me and just run off the field, I want to give you this ball when we're done!"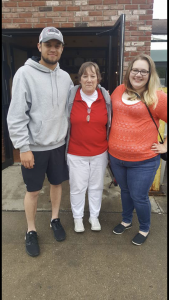 We cannot talk about Austin without mentioning the coolest thing he's ever done for my family as fans. In the spring of 2016, I wanted to do something special for my mom's birthday. She has always been more of a fan of experiences than things, so, I thought, what better experience than having lunch with her favorite IU baseball player? Austin was quick to say yes and we almost pulled off the surprise, if it wasn't for a torrential downpour cancelling their game against Northwestern. Since I didn't have an excuse to get her down to Bloomington, I had to mention it was for a birthday surprise, and her smart mind figured it out before we even made it off of IN-37. I've never met a more charming and down-to-Earth person than Austin, and that day truly cemented the love and appreciation we Deitrichs have for the IU baseball players.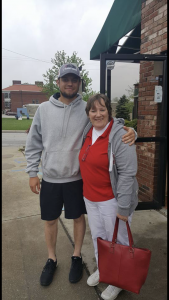 Baseball may just be a game to others, but, being a Hoosier fan has brought me so much more than just entertainment. I have a new family, both on and off the field, that I get to spend time with every spring, enjoying every good moment together, and being there for each other when things are not going as well as we'd hope. Win or lose, I'm always my happiest sitting at the Bart watching these guys. As a fan base, I don't think we could get any luckier in terms of the young men who have representing Indiana University on the baseball field.
I can't wait for the 2018 season to get here. As always, go Hoosiers.
* Audrey