It's an old adage that's thrown around often. But always rings true…
"Every time you go to the ballpark you will see something new."
Today we will add to that, "even at a practice".
The Hoosiers began today's practice/scrimmage with base-running drills and working on diving back into first. Long toss followed. The usual ho-hum events. They then followed the same old script and scattered throughout the field to get ready for BP. To be honest, I didn't even realize who was in that first group. I was more focused on shortstop because Coop was playing there and I thought that was pretty cool. Next thing I knew somebody takes one deep to left and into the home bullpen.
The guys erupted! Cheering and yelling! All this over a BP homer? Scotty Bradley literally jumped in the air at first base, his arms raised high! Colby Stratten had gone deep! Coach Lemonis and Coach Bunn shot a confused look at Bradley. He yelled, "That's his first EVER!!" The players were still cheering. When he was done with his hacks a few of the guys went over and hugged him.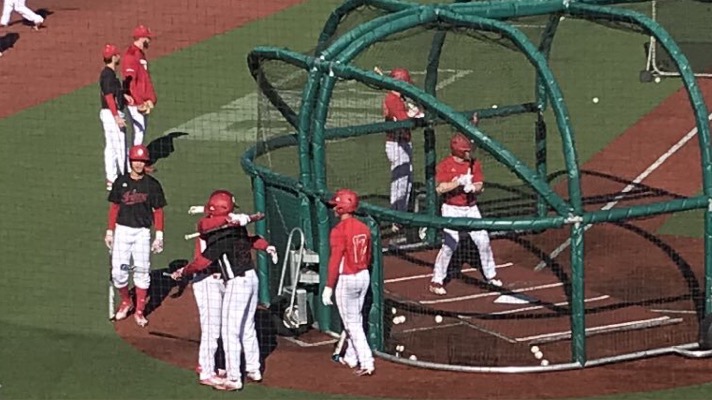 For a BP home run.
Have never seen that before.
Found myself thinking… That's a culture. That. Is. A. Team!
A few groups later Sowers, Miller, Lloyd, and Dunham put on quite the long ball show, and it was business as usual on the field.
As far as the rest of Sunday's warmup went, we saw some situational play where the guys worked on cutoff throws and back up positioning. The pitchers were running the bases for these drills so it definitely seemed strange to see BJ Sabol legging out a triple and Jon Stiever being caught in a run down. We saw some teaching moments from Coach Lemonis and some good execution as well. Standard procedures for a January practice.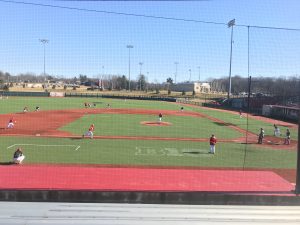 They put in a lot of pregame work throughout the season at The Bart, so if you can get there early it's definitely worth it!
A four inning scrimmage followed. There were about six scouts in attendance Friday afternoon but we didn't see any radar guns today.
Logan Kaletha started the day off by smoking a triple into the right centerfield gap. This guy is fast. He also had another 2 out RBI hit later in the scrimmage.
Wasn't much offense during the four innings. Drew Ashley and Matt Gorski got in the hit column. Luke Miller had an RBI Sac fly that was ten feet away from being an oppo grand slam.
There were too many walks, errors, and wild pitches for the coaches tastes I'm sure. But it's January and they may have been a little preoccupied. The reason this was only a 4 inning scrimmage was so the guys to get to the IU vs. PU basketball game.
As was the case on Friday, it is just important to get outside. It was a bright sunny day which is impossible to simulate in Mellencamp Pavilion. So again another win for The Team of The North.
As the scrimmage came to its last half inning the Black Team was down 2 with one out. Chris Lowe ripped a double down the right field line . Justin Walker then grounded out to short. The tying run stepped to the plate with two outs. The batter? Who else? Colby Stratten.
…
Nope. Not this time. He flew out to center.
But you know what? I can promise you we'll see some amazing moments this season, and I can promise you that if you come out to the Bart you'll see something new!
It was great to be back at The Bart . Hopefully we will get this kind of weather in March.