Indiana travels to Happy Valley to take on Penn State in B1G play with a Saturday doubleheader at 11am ET and series finale Sunday at Medlar Field at Lubrano Park
By Carl James @jovian34 March 31st, 2023 – photo of Tyler Cerny and Bobby Whalen by Zach Greene
| Team | Record | B1G | RPI | vs. RPI Top-50 | OPS | WHIP | Fielding % |
| --- | --- | --- | --- | --- | --- | --- | --- |
| | 18-7 | 3-0 | 28th | 3-6 | .870 | 1.42 | .966 |
| | 13-8 | 0-3 | 129th | 1-3 | .851 | 1.58 | .968 |
Update: No Friday game (RAIN), DH Saturday 11am, 1-game Sunday 12noon
| Day | Date | Time | | | Temp | Rain % | Wind |
| --- | --- | --- | --- | --- | --- | --- | --- |
| Saturday | April 1st, 2023 | 11am | TBD | RHP Daniel Ouderkirk | 69 F | 90% | WSW 20-30 MPH |
| Saturday | April 1st, 2023 | 3pm (approx) | RHP Luke Sinnard | TBD | 69 F | 90% | WSW 20-30 MPH |
| Sunday | April 2nd, 2023 | 12noon | TBD | TBD | 49 F | 2% | NW 10-15 MPH |
Pitching
Indiana and Penn State have each only announced a single starting pitcher for the series. On Friday, Penn State will start 6′-9″, 256 lb. righty Daniel Ouderkirk. He is currently 1-2 with a 5.06 ERA, 1.5 WHIP. He strikes out 2.58 batters for every batter he walks and he averages over 1 strikeout per inning. Ouderkirk struggled last weekend at Michigan where he went only 3.0 innings, giving up seven earned runs on six hits while walking three. HIs best outing was a 7.0 outing in February against Northern Illinois where he gave up only one run on three hits while striking out 11. In half of his six appearances so far he has struck out at least ten. In his last three appearances he has at most 4.0 innings.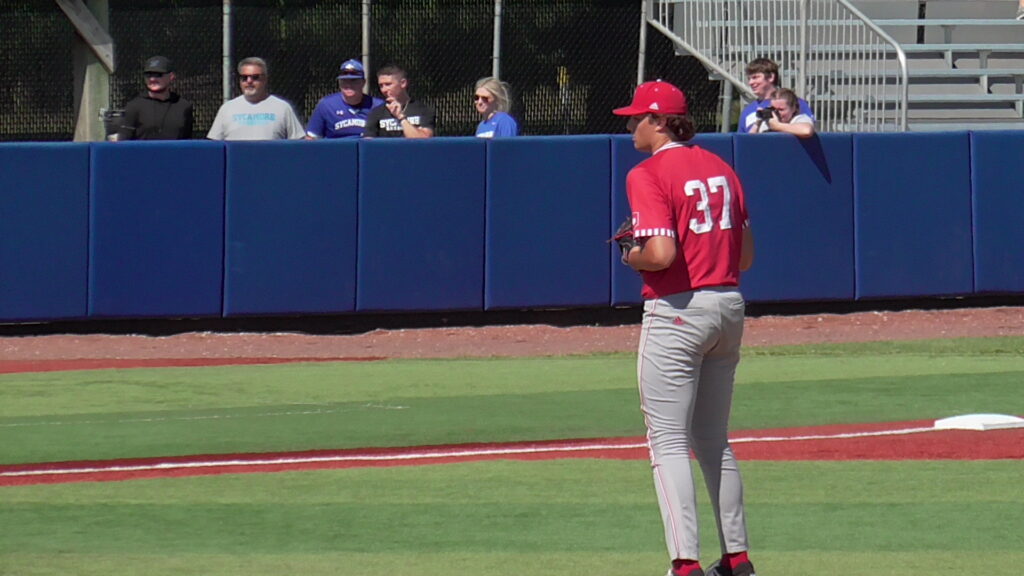 On Saturday Indiana will start Luke Sinnard. Head Coach Jeff Mercer said of Sinnard that he's "been more than you could have hoped for." Indiana is using Sinnard on Saturday as the one guy they expect length from. "If we use him in the middle we have the culmination of the rest of those guys can give us the Friday game and we can bring some of those guys back for the Sunday game."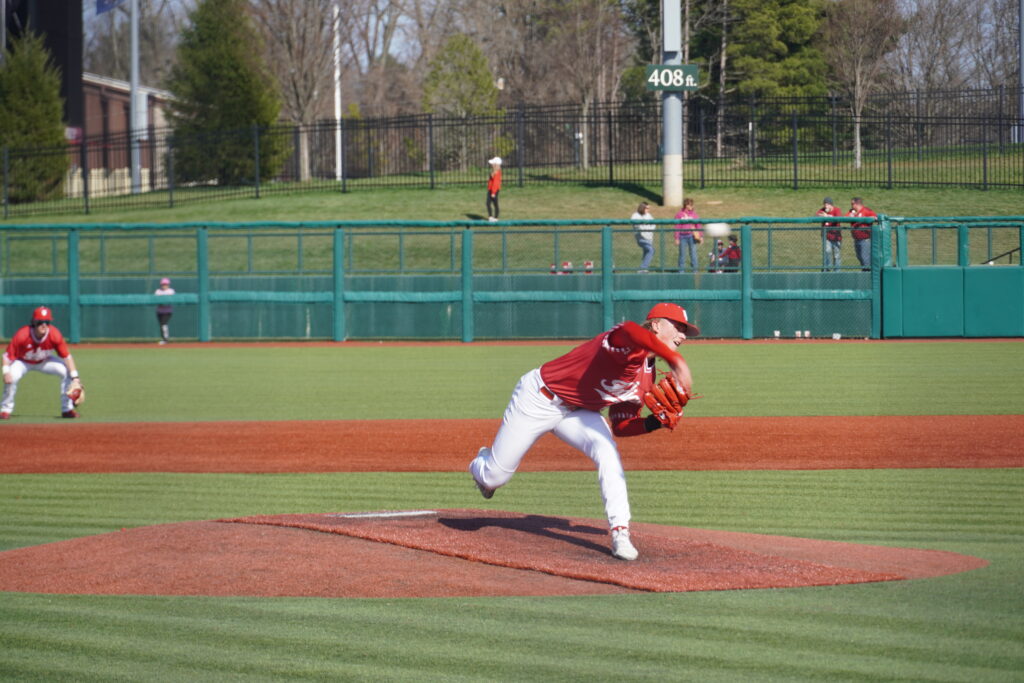 "Having [Ryan] Kraft and [Craig] Yoho in the bullpen has been great. We didn't know we were going to get that." Yoho transferred to IU as a position player and Kraft was a bit over-exposed as a Freshman pitcher last season for IU and struggled statistically in 2022. "You are really excited about what Luke Hayden did [against Ohio State Sunday]".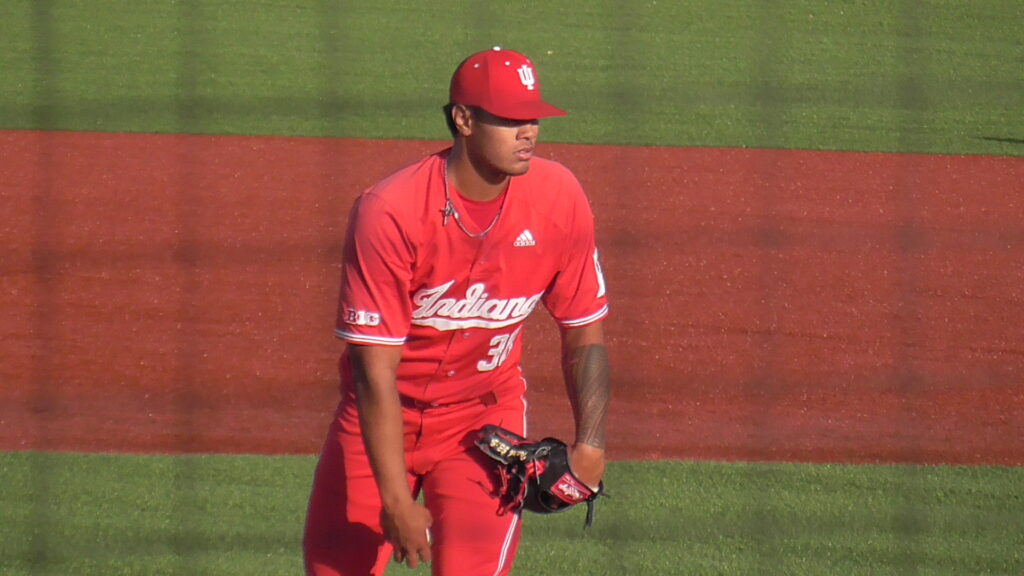 Seti Manase was described as the likely opener on Sunday. Mercer loves what Manase brings to the table, but he is limited as later in an outing he can struggle when he loses fastball velocity. "When he falls below 87 or 88 the ride on his fastball isn't as good. The differential in velocity between his splitter and slider/cutter isn't as good, isn't as effective."
The Hoosiers have used 20 pitchers so far this season. While they are not sending that many pitcher to Pennsylvania, they do have a wealth of arms that have a decent body of work that can be used to cover 27 innings with the goal of keeping the Nittany Lions at six runs or less and give the offense a good opportunity to win each game.
Hitters
Catcher Thomas Bramley has been a consitent producer near the top of the Nittany Lion order. He has a hit in all but three of their game including all of the games against Michigan last weekend. The power for Penn State comes from Jay Harry, who is slugging .552 with 4 home runs and Kyle Hannon who is slugging .544 with 5 home runs. Hannon has also been the most effective on the base paths, with 15 steals on 17 attempts.
The series is a home coming of sorts for Indiana centerfielder Bobby Whalen, who is from Pennsylvania and expects to have as many as 100 local family and friends in attendance. While Whalen has struggled at times during the season, he is riding a seven game hitting streak into the series and has been key piece near the bottom of the order that was very productive against Ohio State. Whalen said, "We've really prided our self in getting the pitcher no breaks. No matter if its one or nine or five or six we're going to compete and give our best effort.
Defense
By the numbers the teams are relatively even. A big focus lately has been on outfield defense. Whalen said "Last year we were not very happy with our outfield defense. It felt like we left some outs on the board and we weren't as good as we wanted to be as a group." Indiana collected a few key outs with cuts and relays over the Ohio State series and Whalen has been a leader among the outfield group. He atributes the recent improvement to better decision making more so than arm strength.