The stage was set. Drew Ashley in his last at-bat of the game managed to extend his on-base streak to 32 games. That had two runners on base with Grant Richardson up to the plate, one out, and the Hoosiers down to Penn State 5-3 in the final inning of the seven inning affair. Richardson took a pitch high the opposite way for a three-run walk off home run.
Ty Bothwell looked good for most of his starting on the bump. However, lead-off walks in the third and fifth inning lead to giving up five earned runs. This is the first time this season that Hoosier pitching has given up more than two runs in a game.
On Offense Paul Toetz got the Hoosiers started in the first inning with an RBI single scoring Cole Barr who had doubled. The Hoosier bats struggled for the next three innings failing to get another hit until a Grant Macciocchi bomb in the fifth inning which prompted a pitching change by Penn State coach Rob Cooper. Grant Richardson followed that up with a double and Barr drove him in with an RBI single to bring the game back within 2 runs.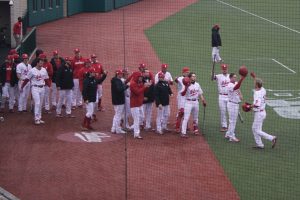 Connor Manous came out of the bullpen for Indiana to get the last out in the fifth inning. Manous' 12-6 curveball was on and he got a lot of swings and misses on balls in the turf. He managed a 1-2-3 sixth and seventh innings to keep the game close and earn the win and clinch a series win for Indiana.
Indiana and Penn State have one more game at 2:40pm Eastern Daylight Time to conclude the series.