The Hoosiers survived a late comeback bid to take game one of their three-game series with Illinois 7-6 in walk-off fashion.
by Garrod Creech •

@creech_garrod

• April 29th, 2022
Indiana rode the steady hand of Jack Perkins for as long as they could on what would be a weird day for the talented right-hander. Illinois loaded the bases against him in both the first and second, but the Illini's three hits in those innings together traveled a total of 80 feet. A scoreless third and a ten pitch fourth inning turned what looked like a rocky outing into a solid start. Perkin's held a top-five B1G offense scoreless until a solo shot in the fifth inning but opened the sixth having already thrown 109 pitches.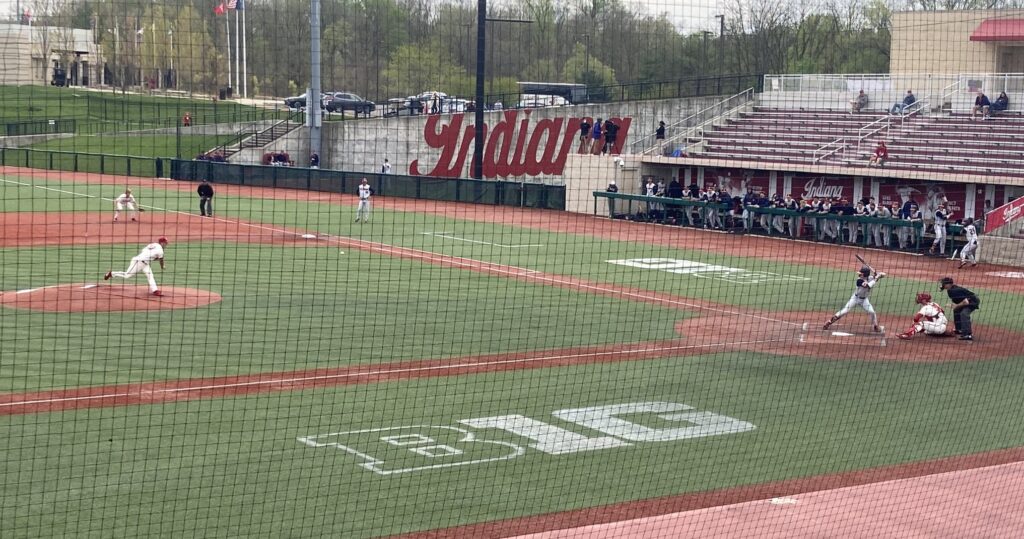 "They [Illinois batters] are tough. They don't give away any pitches. They drove his pitch count up, and he had to really battle. He had to really compete and just keep executing pitch after pitch after pitch. His stuff was really good though. Ya know, 93-94, sometimes 95, 2-3 off-speed pitches for strikes, and a bulldog mentality. He's become that Friday guy," Coach Mercer said after the game.
Perkins strands the bases loaded again. 2-0 B2 #iubase pic.twitter.com/cNykbiDrOx

— iubase.com (@iubase17) April 29, 2022
Back-to-back doubles for Bobby Whalen and Hunter Jessee jump-started the scoring in the bottom of the first for the Hoosier offense. Josh Pyne managed a soft single to bring Jessee home and make it 2-0 early. Whalen (4-5 with, one RBI, four runs scored) would get involved again in the second, driving in Tyler Doanes with a single before scoring from second on a Jessee infield single that pushed the lead to 4.
A Whalen double and Pyne sac fly gave the Hoosiers five in the fifth, and Doanes singled home Carter Mathison in the sixth. Whalen, Jessee, and Josh Pyne combined for eight hits and six of Indiana's seven RBIs on the day. The team scored six runs in five innings off of Illinois starter and big-league prospect Cole Kirschsieper, the most he's given up in a game this season.
Whalen's chaotic but effective baserunning netted the Hoosiers multiple runs on the day.
"Being aggressive and making mistakes is better than not hustling and not making any mistakes. Even when you're aggressive and make mistakes, sometimes the game rewards you and it ends up working out," Whalen said. "I pride myself on just playing hard and seeing what happens."
In his final frame, Perkins managed to strike out a couple, but two free bases and a single plated one more for the visitors and ended his day. Coach Mercer has said a few times now that the team is comfortable with Perkins throwing ~120 pitches so long as his stuff's still there. He threw 128 today and looked sharp up until the very end. His final line included seven hits, six free bases, and two runs, but he went just long enough for the Hoosier staff to comfortably deploy their bullpen. Grant Holderfield entered in the sixth with two outs and two on and ended the threat no problem. Indiana led 6-2 after six innings.
But the Illini refused to go away.
Holderfield ran into trouble almost instantly in the seventh. Two quick hits there led to a quick run, then an error and three more hits made it 6-5. Reese Sharp replaced Holderfield with two on and two out in the eighth. A bad luck chopper bounced over Pyne at third to tie the game, but Sharp got the next guy to fly out and end the inning. A perfect ninth for Sharp then put the pressure back on the offense with the game still tied heading into the final frame.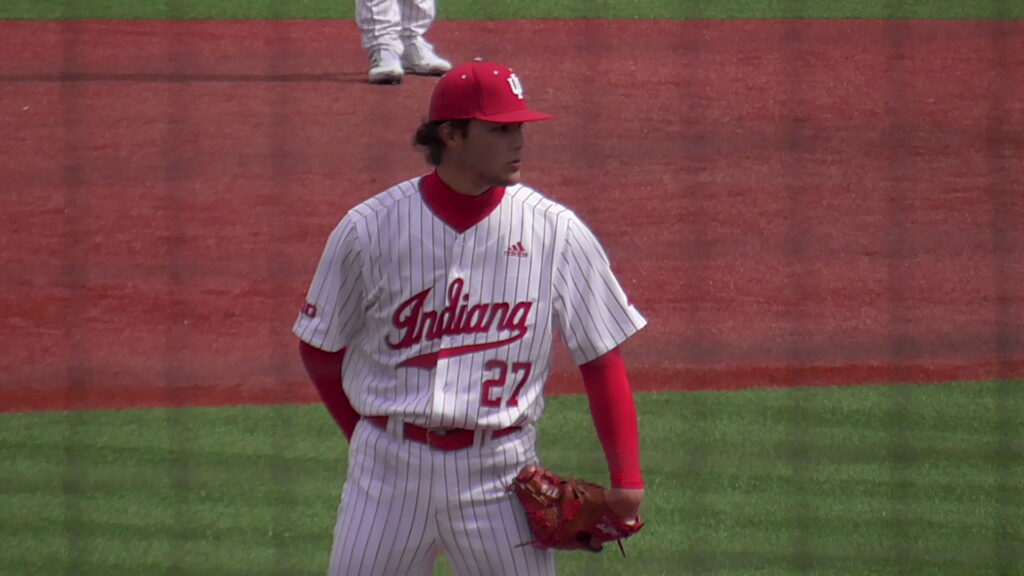 "Absolutely electric. Big time. I mean, he's a killer," said Pyne of Sharp.
Max Johnson showcased some speed to lead off the bottom of the ninth, beating out a throw from short for an infield single. Whalen followed with a bloop single of his own to shallow center, and Illinois elected to intentionally walk Hunter Jessee so the Illini would have a chance at a force out at home. With Josh Pyne at the plate, a pitch skittered past the Illinois catcher but bounced back hard off the limestone wall and a charging Johnson was tagged out at the plate.
With one down and two on, double-play ball would've sent it to extras. Instead, Pyne worked a 3-1 count and sent a fastball down the third base line. Whalen scored again and the Hoosiers took home their sixth victory in seven games.
Josh Pyne wins it for the Hoosiers with a walk off single 7-6 final #iubase pic.twitter.com/eq3WK6koga

— iubase.com (@iubase17) April 29, 2022
The win pushes the Hoosiers' record to 19-23 overall and 5-8 in conference play. They'll be back at the Bart tomorrow at 2 PM for game 2 of the three-game set.