Sinnard Strikes out 13, Whalen drives in the winner, Indiana sweep Morehead State and completes 9 games in 10-day stretch going 8-1 including two series sweeps.
By Carl James @jovian34 March 18th, 2023
College baseball differs from the professional game in a number of ways. One of the most significant ways it differs is the scheduling. Professional baseball is an everyday affair and starting pitching is usually on a 5-game rotation that ensures each pitcher gets at least 4 days of rests between starts. College baseball is scheduled by the week, with the centerpiece being a 3-game Friday, Saturday, Sunday series, with a secondary Tuesday or Wednesday midweek game. Starting pitchers are used to going once per week on the same day of the week.
The cold weather and snow in Indiana this weekend necessitated some major changes the past week and half that culminated in Indiana playing 9 games in a 10-day stretch of time. While Indiana's most recent opponent didn't have that, Morehead State still had to move a Friday through Sunday midweek to Thursday through Friday. The impact was that on Friday, due to rest schedules, both teams were burnt up on relief pitching arms, but heavy on weekend starters. This setup a most interesting pitching duel that was not determined until the last at-bat with two outs in the bottom of the ninth inning.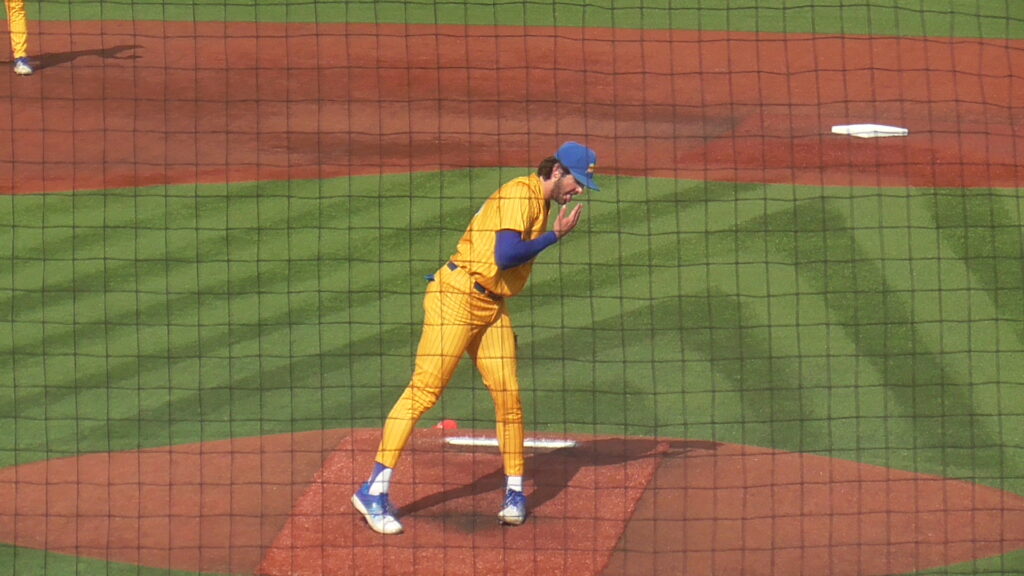 Morehead State right hander Grant Herron was a challenge for the Hoosiers two time through the batting order. Coach Mercer said in preparing for the game the biggest opportunity Indiana coaching saw was "that walks were a thing that they had battled." Mercer siad they focused on that because the pitching profile was particularly challenging for Hoosier hitters. "They have good stuff, real sinkers, low slot sink. They executed pitches – pressure, pressure, pressure. You've got to get him in the zone and make sure it is something that you can handle."
The Hoosiers this season have been particularly prone to ground ball outs and have hit into a lot of ground ball double plays. Mercer elected a hitting strategy of being very selective and attempting to get on with walks. "When he commanded it early I was a little bit nervous." There were several called third strikes on Hoosier hitters.
In the fifth inning the strategy finally paid dividends. Pyne broke through with a double down the left field line. Devon Taylor earned his third walk of the day, and was followed up by walks of Brock Tibbitts and Carter Mathison which scored a run and prompted a pitching change. Luke Helton then walked in two more runs, giving Indiana a 2-run lead, with the majority of the Hoosier runs coming via free bases.
On the other side of the ball, Luke Sinnard was just dominant. He struck out the first six Eagle batters he faced. Sinnard's only trouble came in the third inning when Carter Sakamoto drew a full count walk and Carter Owens, in his first ever collegiate at-bat, took Sinnard deep for a two-run home run. Mercer reflected, "We did a slide step first pitch and it sped [Owens] up and he homered. That never happens. It always works the opposite way." Sinnard said that didn't impact him. "I didn't really think about it. Wiped it immediately. it happened. Just got to flush it. It was a decently executed pitch, he just got to it."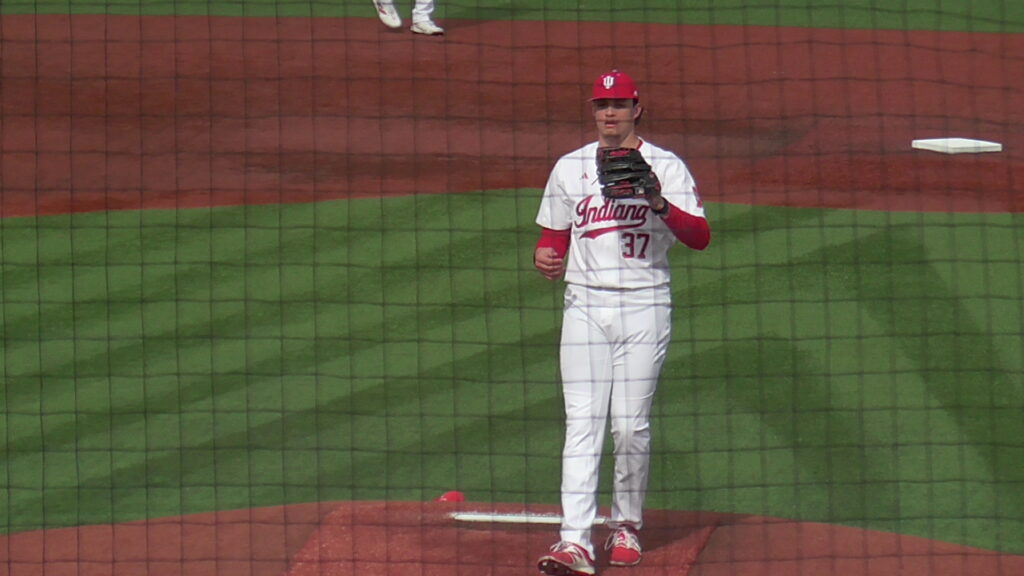 Sinnard just kept dominating, and those two runs were all that he surrendered. Sinnard reflected, "I was on the attack and they were on the defense." He maintained his velocity through his outing. "In the dugout I will… my routine is usually I sit there until there's two out and I'll get up and I have a Plyo ball that I throw against the wall. it usually gets me warm before I go out there because we only get five throws."
In the seventh inning, Mercer made the decision to go to Ryan Kraft, who recently has served as the back-end guy. "So we wanted to clear the deck. Seti throws a splitter, but it's not as electric as Luke's." Kraft struggled a bit. "He wasn't as good today. We've also used him a ton and needs a week off." Kraft walked two in the 8th before Manase came in and ended the inning with a flyout.
The top of the ninth started with a ground ball throwing error by Phillip Glasser that Brock Tibbitts tried to pick off a bounce at first base but instead hit Tibbitts hard in the nose. Tibbitts was tended to on the field and had to come out of the game. Mercer described Tibbitts condition afterwards, "He's in good spirits. We'll get a picture tomorrow morning and we'll see where its at from there." Tyler Cerny moved to first base and Evan Goforth came in to play second base. A single was followed up by a sacrifice fly that got the tying run in scoring position. That paid off for the Eagles when a double to right tied the game and put the go ahead run in scoring position. Manase kept battling and struck out two more Eagles to keep the game tied.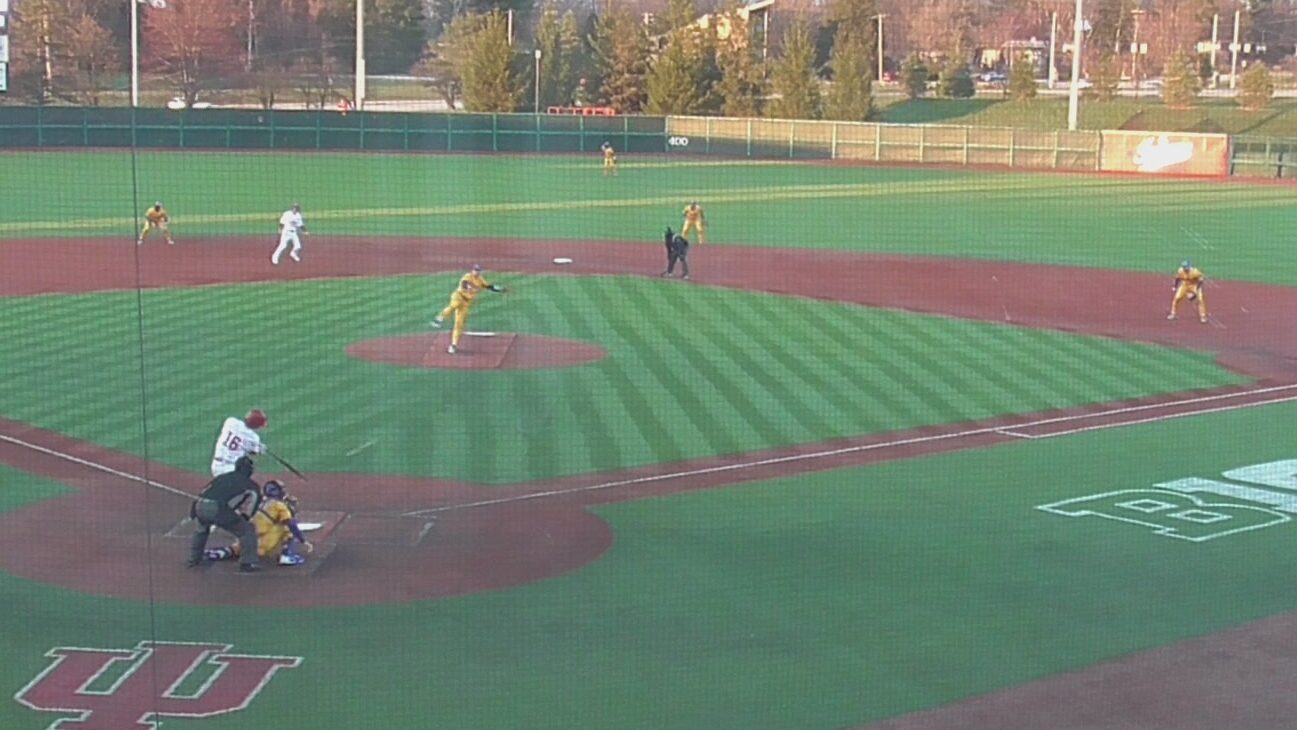 The Hoosiers started the inning with two quick contact outs. Tyler Cerny got on with a single, but managed to get to scoring position off of a wild pitch. Bobby Whalen was the hero of the day hitting a single to right to right and Cerny managed to just beat the throw to walk-off the series sweep.
Indiana improves to 13-7 on the season. That is the most wins collected so far by a Big Ten (B1G) team in non-conference play and the third best winning percentage. The Hoosiers have the 6th best RPI rank in the B1G now at 58th. Eight B1G programs are currently in the RPI top-100. The Hoosiers get a welcome three day break before hosting the RPI no. 12 Indiana State Sycamores (8-8) on Tuesday at 5pm.