by Chris Feeny • @iubase17 • Feb 28
Hoosier Baseball took care of business during the first ever February games at The Bart. Wins over Cincinnati and Butler have evened the record for the season at 4-4. Now it's time to travel 730 miles south to Myrtle Beach to participate in the Coastal Carolina University Baseball Tournament.
All weekend will be spent playing opponents who made the NCAA Tournament in 2018. All weekend will be resume building opportunities . The RPI stakes get higher and higher as the weekend rolls along. Make no mistake about it, wins in March can go a long way towards playing June Baseball. These three (especially Saturday and Sunday) could absolutely be difference makers come Selection Monday.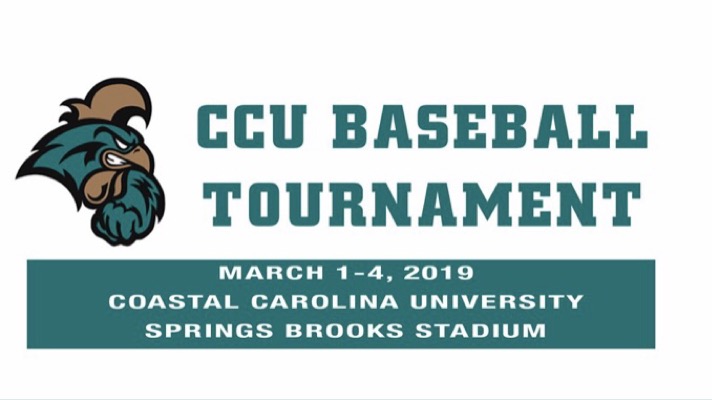 Game One – Friday
Indiana vs Northeastern
2:00 pm ET
Game 2 – Saturday
Indiana vs Connecticut
10:30 am ET
Game 3 – Sunday
Indiana at (20) Coastal Carolina
12:00 pm ET
Spring Brooks Stadium
Conway, South Carolina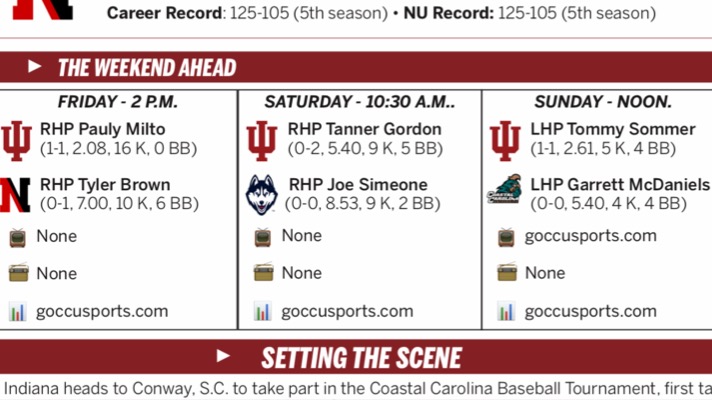 Pitching Matchups via the Indiana Game Notes
Northeastern (4-2)
Back to back regular season CAA Champs
• The Huskies have won three in a row including a neutral site win over Missouri. Last season they finished 36-21 (11-6 in neutral sites) and earned an at large bid to the NCAA Tournament. They were eliminated in two games by Auburn and host NC State.
• Cory DiLoreto is their offensive star. This season batting .476 with 10 H, 3 doubles, 2 triples and 8 RBI
• Pitching staff does have control issues. This season 30 walks, 16 WP and 9 HBP.
Conneticut (3-3)
Defending regular season AAC Champs
• These Huskies have lost two in a row but already have two neutral site wins over Louisville. Last season they finished 37-22 (5-4 in neutral sites) and also earned an at large bid to the NCAA Tournament. They advanced to the Conway Regional Final eliminating host Coastal Carolina along the way. They did lose the Tegional Final to Washington.
• Anthony Prato is their offensive star. He is batting .400 with 10 hits and 4 doubles on the season.
• This pitching staff can also be very wild. They have 26 walks, 10 wild pitches and 8 HBP's already in 2019.
(20) Coastal Carolina (7-2)
Defending Sun Belt Regular season and Tournament Champion. 2018 NCAA Regional Host
• The Chanticleer's have lost two in a row but won their first seven and have several quality RPI wins already. Last season they finished 43-19 and were 27-11 at home. They earned a Regional Host seed but were eliminated by Connecticut. They are currently ranked 20 by D1 Baseball.
• Parker Chavers is Coastal's offensive star. He was a 2018 Freshman All American and has started hot in 2019. Chavers is hitting .344 with 11 hits, ten runs scored, 4 Home runs and 15 RBI's. He is a five tool athlete who routinely made Sportscenter in 2018 for his Top Plays in Centerfield.
• By all accounts, if there is a weakness for Coastal it is the pitching staff. The offense seems primed to take them far but the pitching is inexperienced and beatable.
On the Air
Friday – as of now there is no play by play audio or video being provided by either University
Saturday – Connecticut is providing an audio play by play.
Sunday – Coastal Carolina is providing audio play by play.
• No word yet if Indiana University is going to provide any type of play by play for Baseball at all this weekend. Probably not. However, if you'd like to listen, Softball will be on the road in Louisiana this weekend and Indiana Univeristy will be providing an audio play by play link to all games . They are playing some great ball.
Team Rosters / Team Stats
Indiana
Northeastern
Conneticut
Coastal Carolina
Coach Mercer met with the media Wednesday
Logan Kaletha met with the media Wednesday
The lastest episode of Talking Hoosier Baseball • (Weekend Preview starts at the 25:00 mark)