Indiana opens up B1G play against the Buckeyes at the BART
By Carl James @jovian34 March 25th, 2023, photos by Zach Greene and Carl James
---
Top 9th: Ohio State 6, Indiana 14 (FINAL)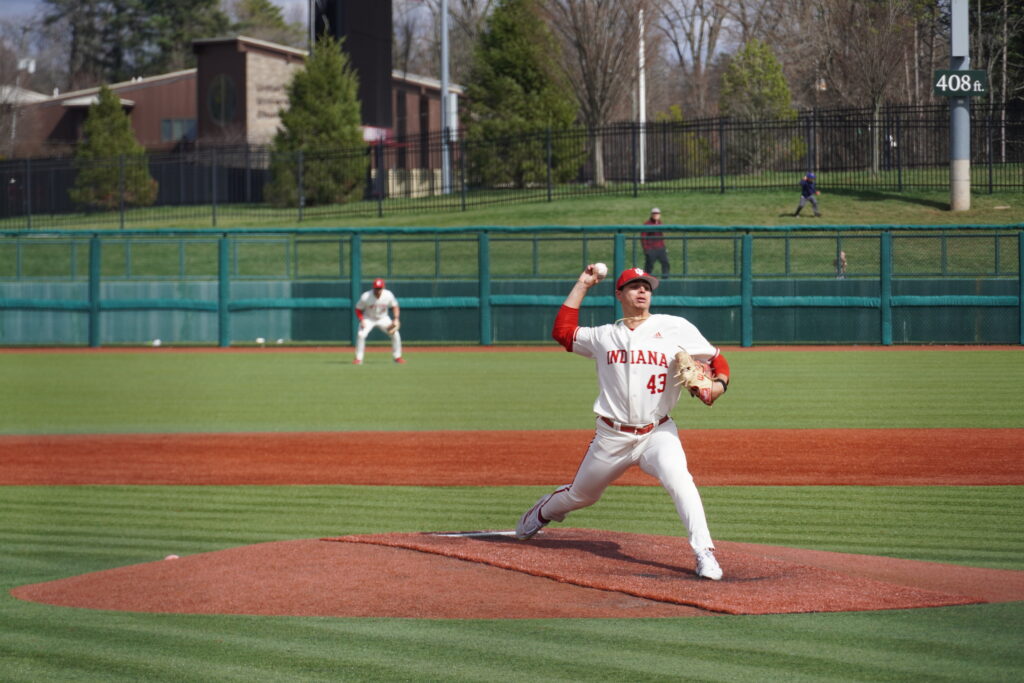 Adrian Vega is the new Hoosier pitcher. Sam Murrison comes in to play left field and Morgan Colopy is playing right field. Vega works around two hits and ends the game with strikeout. The Hoosiers improve to 15-7 on the season, 1-0 in the B1G standings. Hoosiers will need to win one of the two doubleheader games tomorrow at 11am to open the B1G season with a series victory.
Bottom 8th: Ohio State 6, Indiana 14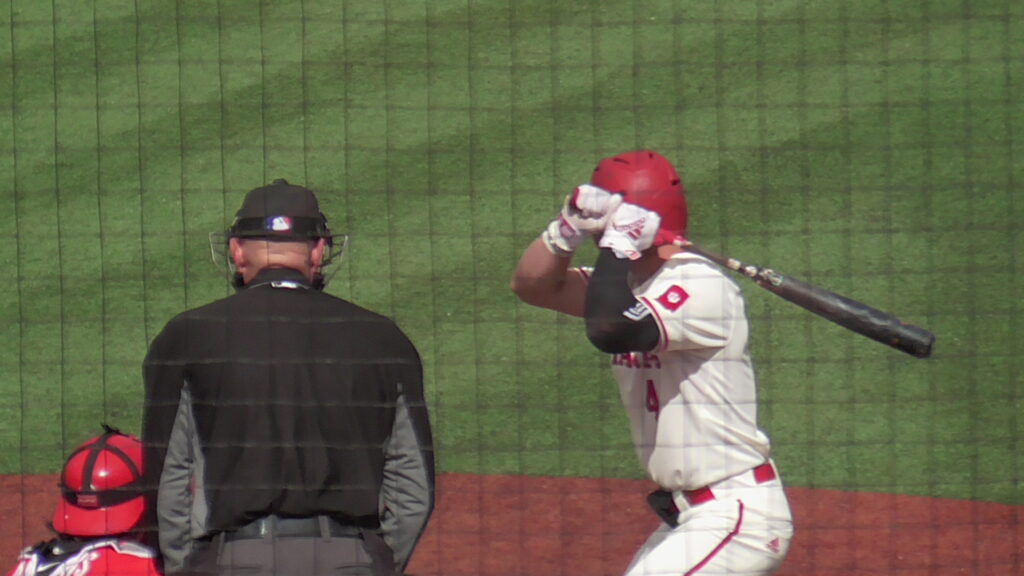 Hunter Jessee gets on with a hard hit infield single to lead off the inning. Glasser extends his hitting streak to 11 with a double to the left center gap. Pyne walks to load the bases with nobody out. Taylor fould off several pitches and works a no out, full count walk. Tibbitts drives in one more with an RBI single. Pyne scores and Taylor gets to third on a bobbled ball in right field. Mathison drives in another with a sacrifice fly. Ellis singles and Whalen walks to load the bases with two outs, but a fielder's choice ends the inning.
Top 8th: Ohio State 6, Indiana 10
Jeff Mercer and Dustin Glant are letting Ryan Kraft keep going in this one. He gets a groundout to first and then gives up a single. Craig Yoho is now tossing in the Hoosier bullpen. Kraft strikes out the Buckeye's lead-off hitter for the second out. Kraft gets behind but gets Kern into a full count before surrendering a single to right field. This prompts a mound visit from Glant. Kraft ends the inning with a strikeout.
Bottom 7th: Ohio State 6, Indiana 10
Ohio State's Wyatt Loncarr has been struggling on the season, but comes out and gets a 1-2-3 inning.
Top 7th: Ohio State 6, Indiana 10
Kraft works around a couple of base runners for another scoreless frame.
Bottom 6th: Ohio State 6, Indiana 10
Two-on, one out threat amounts to nothing after a catcher pick-off and a groundout.
Top 6th: Ohio State 6, Indiana 10
A one-out single is erased on double play in a needed shut-down inning for Ryan Kraft.
Bottom 5th: Ohio State 6, Indiana 10
Cerny leads off with his first career home run, and Ellis follows it up with a bomb of his own. Coupet's day comes to a close with the Hoosiers scoring 10 runs on 10 hits in 4.0 innings against the touted Buckeye ace. This is huge for Indiana. The one thing they had not done yet this season was get to an elite starter.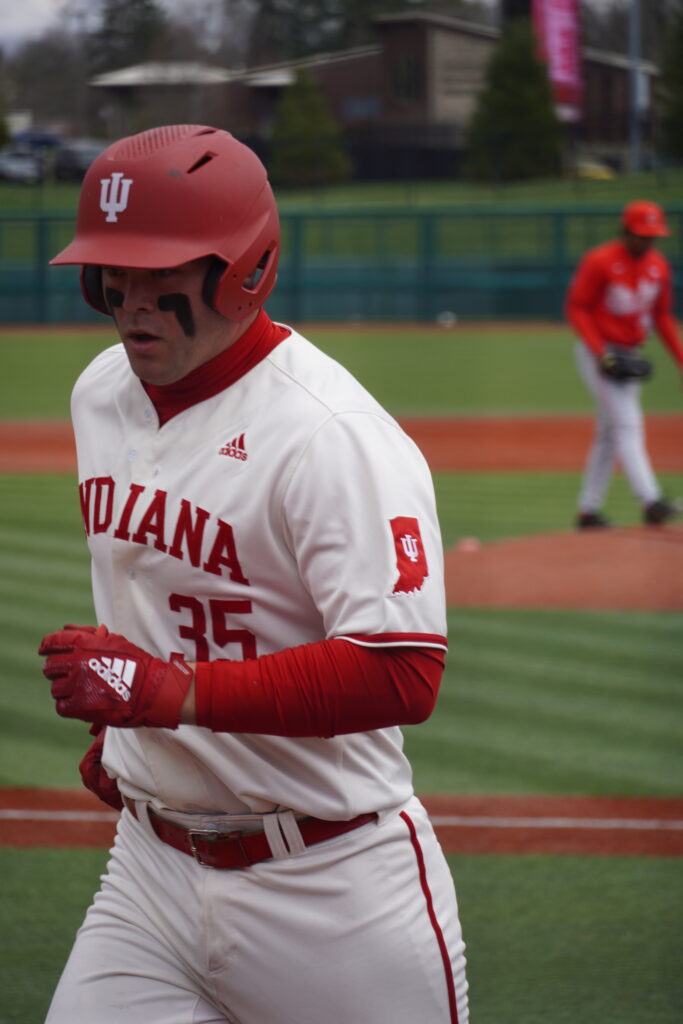 Nolan Clegg is the new Buckeye pitcher. The righty gets a called strikeout, a groundout, and a flyout to end the inning.
Top 5th: Ohio State 6, Indiana 8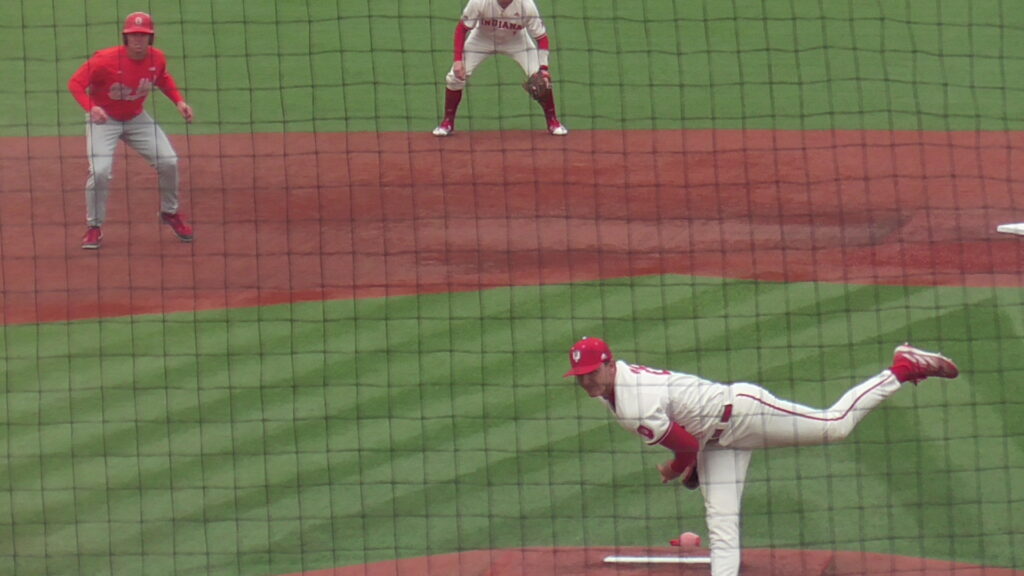 Levy walks the lead-off batter on four pitches and Ryan Kraft is the new Indiana pitcher. Levy managed to cover several innings and give the offense a chance to get back into the game. Kraft induces a groundout and strikeout, before a two-out walk. An opposite field single to right was hit too hard to score the run. Kraft got a weak grounder to second base to end the inning with the Hoosiers' two-run lead still intact.
Bottom 4th: Ohio State 6, Indiana 8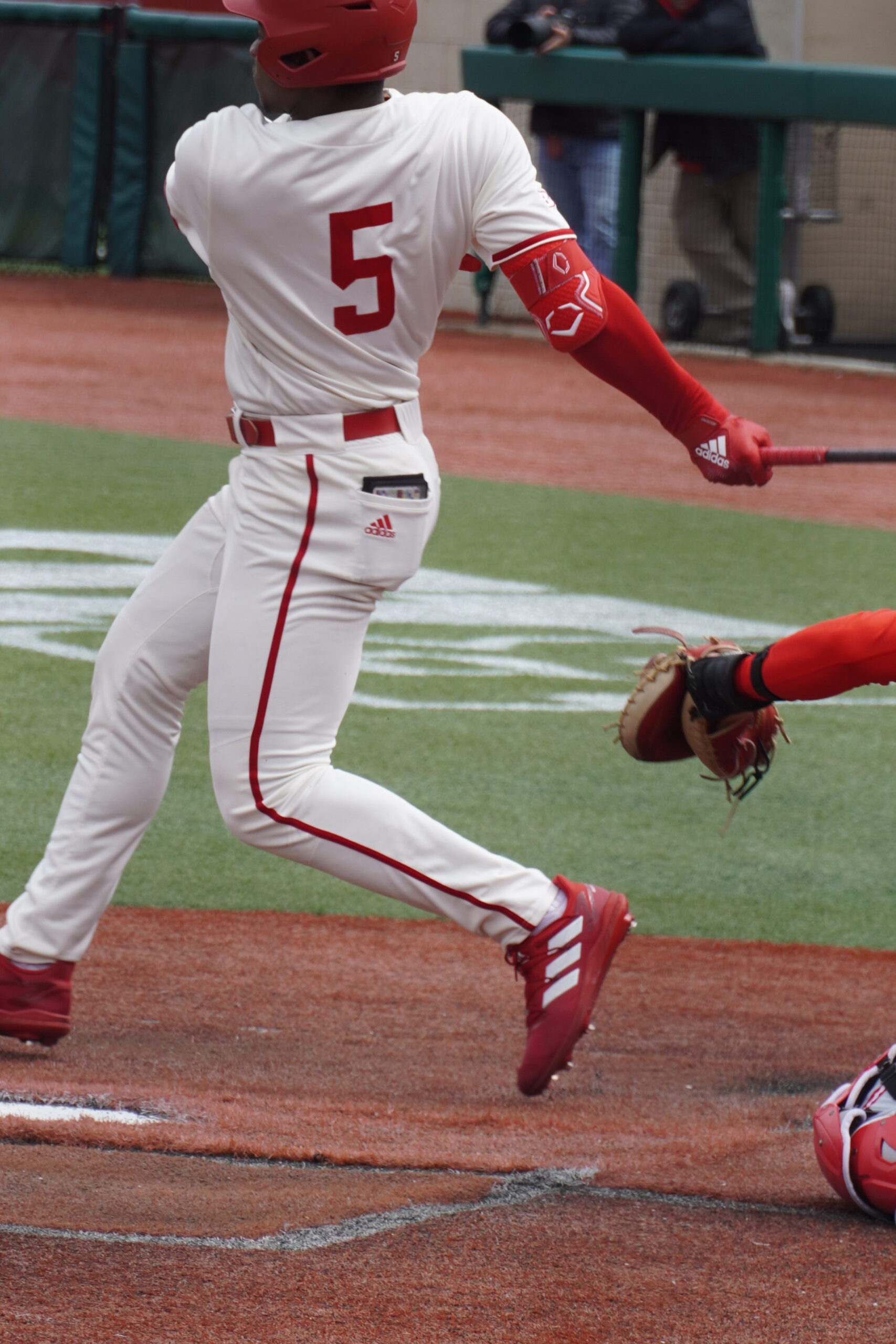 Ellis grounds out to first base to start the inning. Whalen gets on with a single and the Hoosiers continue to show the ability to hit the touted lefty. Hunter Jessee gets plunked which advances Whalen to scoring position for the hot bat of Phillip Glasser. This also prompts a mound visit from the Ohio State pitching coach. Phillip Glasser walks on for pitches to load the bases for Josh Pyne. Pyne is hit on the foot by a pitch which scores another run and the Hoosiers take a lead on a Devin Taylor two-RBI single. A Tibbitts sacrifice fly extends the lead to two runs.
Top 4th: Ohio State 6, Indiana 4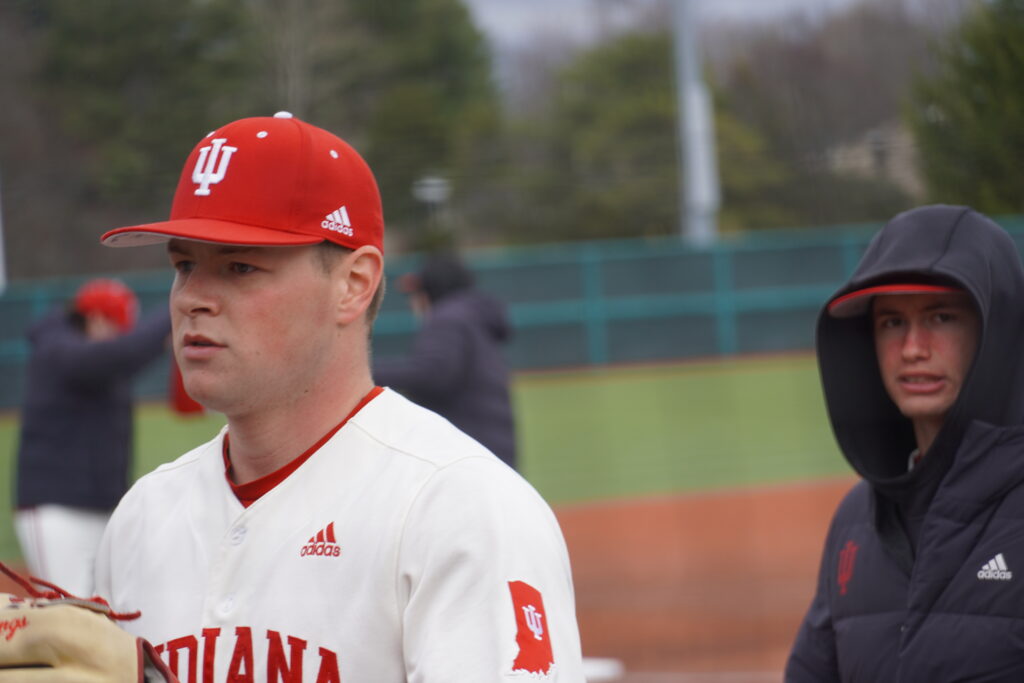 Levy is back out, only down by two now. He gets the count 0-2 and then gives up a lead-off double to the gap. Pyne makes a fantastic play to get the first out and keep the runner at second. Trey Lipsey goes down on strikes. Kern grounds out to Glasser at short.
Bottom 3rd: Ohio State 6, Indiana 4
Phillip Glasser pops out. Josh Pyne gets on via an infield single. Hoosiers are now outhitting Ohio State 4 to 2. Devin Taylor fouls off two two-strike pitches and muscles a pitch over the short stops head to get runners on the corners with one out for Brock Tibbitts who works the count full. Tibbitts drives in another run by slapping a single the other way. Mathison strikes out on a great pitch by Coupet, impressing the collection of MLB scouts. Coupet's 60th pitch of the day ends in a groundout to third base.
Top 3rd: Ohio State 6, Indiana 3
Another 1-2-3 inning for Levy, including a swing and miss strikeout on an 83-MPH high curveball.
Bottom 2nd: Ohio State 6, Indiana 3
Brock Tibbitts takes Coupet 372 feet over the right field fence for a lead off solo shot. Carter Mathison pulls a ground ball for a single. Tyler Cerny smacks a gapper for an RBI double. Three straight hits against Coupet. Matthew Ellis goes down on strikes. Cerny gets a great jump and steals third base which sets up an RBI groundout off the bat of Whalen and all of a sudden the Hoosiers have halfed the Buckeye lead.
Top 2nd: Ohio State 6, Indiana 0
Levy gets two quick soft groundouts to first base. Levy's fastball is in the 86-88 MPH range. It seems to be enough to get swing and miss on his 81-MPH off-speed when he can locate it. A short pop up ends the inning 1-2-3.
Bottom 1st: Ohio State 6, Indiana 0
Isaiah Coupet goes 1-2-3 through the top of the Indiana order.
Top 1st: Ohio State 6, Indiana 0
Evan Whiteaker walks the lead-off batter on a full count. The first pitches to Kade Kern were also balls and the infield had a meeting at the mound to refocus Whiteaker, but Kern walks anyway. This prompts a mound visit from Dustin Glant. The bullpen has activity now. Whiteaker walks Marcus Ernst on four pitches to load the bases. Whiteaker walks in a run.
Gabe Levy is called in from the bullpen. Levy has been working on improving his velocity enough to include a fastball in his pitch mix. Levy is a strike thrower, but has been hit hard so far this year. Levy walks in another run. Then an infield fly was reeled in by Tyler Cerny for the first out. A ground ball single drives in two more, then a fielder's choice and an error gets another runner to second with two outs. A groundout mercifully ends the snowball inning. The Hoosiers are in a giant hole facing an elite pitcher.
Starters
Evan Whiteaker is getting the start. I can only assume the decision to hold back Luke Sinnard to Sunday is the expectation to use multiple bullpen arms two times in the series so you put the starter most likely to go deep into the day with the double header (Sunday). There is a lot of left-handed pop in this lineup at all of the odds spots in the order (1-3-5-7-9) which is interesting with the wind blowing hard out to right field.
First 🔟 facing the Buckeyes. pic.twitter.com/AaGhl16Ym3

— Indiana Baseball (@IndianaBase) March 25, 2023
Links
Spending Saturday at The Bart.

📺: https://t.co/vMPveKGYeT
📻: https://t.co/Q3EAWiGCJF
📊: https://t.co/LFiX0NoV4O pic.twitter.com/SaNj6i4i9y

— Indiana Baseball (@IndianaBase) March 25, 2023