Maryland and Indiana are tied a top the B1G standings heading into the middle game of the series
By Carl James @jovian34 April 29th, 2023
Top 9th: Maryland 16, Indiana 2 (FINAL)
Luke Hayden is the new pitcher throwing to Riley Langerman, the new catcher giving the overworked Peter Serruto a bit of a break. Ian Petrutz goes yard with a solo shot. Runners stranded in scoring position
Bottom 8th: Maryland 15, Indiana 1
Hoosiers go down 1-2-3.
Top 8th: Maryland 15, Indiana 1
Shleger doubles to lead off the inning and steals third base. Phillips walks Shaw and allows Shleger to score on errant pick-off throw. Shaw gets to third on a balk and scores on a Lorusso single. The wheels are coming off for Indiana now. Matt Shaw blasts a grand slam. Gabe Levy is the new Indiana pitcher.
Gabe Levy is the new Indiana pitcher. A single, a double, and a wild pitch make it all nine Maryland batters to reach base and score in the 8th. Levy gets Shliger, Shaw, and Lorusso all out to end a disaster of an inning.
Bottom 7th: Maryland 6, Indiana 1
After a couple of ugly swings and then two two-strike fouls, Jessee slaps a ball into left field for a single. Jessee is stranded.
Top 7th: Maryland 6, Indiana 1
Big Ten (B1G) Pitcher of the Week Ethan Phillips comes in a sets down the bottom of the Maryland order 1-2-3 with two strikeouts.
Bottom 6th: Maryland 6, Indiana 1
13 straight plate appearances now for the Hoosiers without a ball hit out of the infield. A 1-2-3 inning and McCoy has just over 80 pitches. This one has been all Maryland so far.
Top 6th: Maryland 6, Indiana 1
A walk and a blast by Shaw extends the Maryland lead. Sinnard battles back with a strikeout and groundout. Ethan Phillips has been warming off and on. Hacopian hits a two out double. With his 100th pitch, Sinnard gets a warning track out.
Bottom 5th: Maryland 4, Indiana 1
Peter Serruto works a two-out, full count walk. McCoy had collected six straight groundouts before that. McCoy gets behind Glasser 3-1 before filling up the count and Glasser hits a dribbler up the middle for a single to put Serruto in scoring position. A ball gets past Shliger to get both runners in scoring position. Bobby Whalen walks to load the bases bringing up Devin Taylor. This prompts a Maryland mound visit and gets the Terrapin bullpen active. Devin Taylor dribbles a ball to the right side and is just thrown out.
Top 5th: Maryland 4, Indiana 1
Three up, six pitches, three outs. Very nice inning for Luke Sinnard.
Bottom 4th: Maryland 4, Indiana 1
Tibbitts grounds out to short. Mathison grounds into the shift on his pull side for the second out. Pyne grounds out to short.
Top 4th: Maryland 4, Indiana 1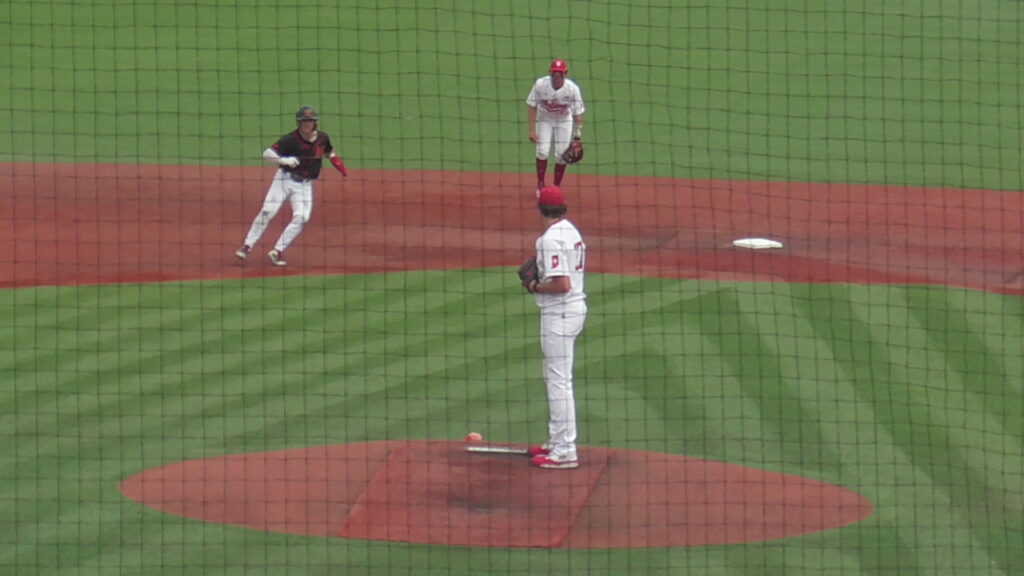 Keister leads off the inning with a single. Luke Shliger hits a rocket clearing the centerfield fence to extend the Maryland lead to three runs. Sinnard is getting hit hard today. Sinnard walks Shaw and ⭐Pyne makes a great play to get the first out. A foul pop up makes it two outs. Sinnard also walks Hacopian. ⭐Tyler Cerny robs Matt Woods of an RBI single to end the inning.
Bottom 3rd: Maryland 2, Indiana 1
Serruto rips a ball off of McCoy, but Keister collects it for the first out. Glasser is out on a swinging bunt. Bobby Whalen rips a pitch into the gap for a double. A passed ball gets Whalen to third. Maryland deploys an extreme pull shift to Taylor who works the count full and grounds out to first base.
Top 3rd: Maryland 2, Indiana 1
Sinnard strikes out Ian Petrutz looking then gives up a 2-0 single up the middle to Eddie Hacopian. Sinnard gets up 0-2 on Matt Woods then clips him with an inside pitch to put Hacopian into scoring position. A pair of flyouts ends the threat and Sinnard gets his first no-run inning.
Bottom 2nd: Maryland 2, Indiana 1
Josh Pyne drives in Brock Tibbitts, but a great opportunity ends with a Hunter Jessee double play to get McCoy out of the jam. Indiana is really struggling to find a key hit at the bottom of the lineup in this series.
Top 2nd: Maryland 2, Indiana 0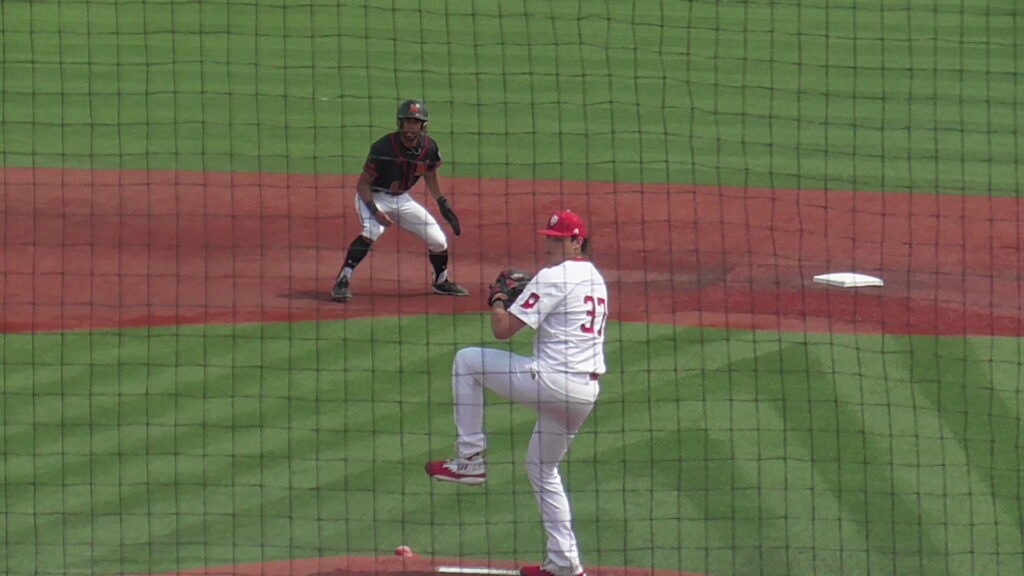 Luke Sinnard gives up a lead off double to the right center field gap off the bat of Elijah Lambros. Lambros is bunted to third and scores via a single by nine-hole hitter Kevin Keister. Sinnard is managing so far but Maryland is able to square him. After a rocket infield single with two outs, Dusting Glant comes out to talk to Sinnard. No activity in the bullpen yet. Sinnard gets Nick Lorusso to fly out on the next pitch ending the inning.
Bottom 1st: Maryland 1, Indiana 0
Maryland's Kyle McCoy makes quick work of the Hoosiers.
Top 1st: Maryland 1, Indiana 0
Luke Shliger hits Luke Sinnard's frist pitch for a single. Matt Shaw rips a 1-1 pitch for a double that Hunter Jessee misplays in left field allowing Shliger to score. Sinnard leaves Shaw at third with a backwards "K" of Matt Woods.
Starters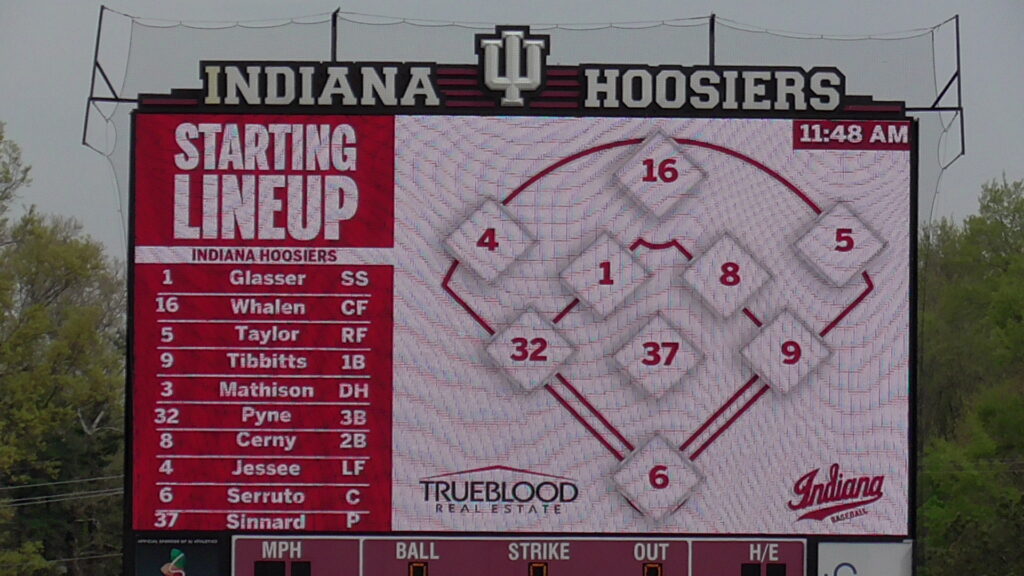 Noon Start
🚨 SCHEDULE UPDATE 🚨

Indiana and Maryland will throw the first pitch at Noon on Saturday, April 29. pic.twitter.com/iIgbgCJr5T

— Indiana Baseball (@IndianaBase) April 29, 2023