Indiana defends the home winning streak at the BART at 6:00pm
By Carl James @jovian34 March 28th, 2023
---
Top 9th: Kent State 3, Indiana 4 (FINAL)
Brayden Risedorph on in a save situation, gets a strikeout and quick groundout to start the inning. A 1-2 strikeout ends the game and the Hoosier winning streak continues.
Bottom: Kent State 3, Indiana 4
Jessee works a one-out walk and is replaced by Glasser with a fielders choice. Jessee is stranded.
Top 8th: Kent State 3, Indiana 4
After a great outing, Katskee gives up a full count, lead-off walk and Evan Whiteaker is called in. Whiteaker started on Saturday and walked the only four batters he faced. This is a key spot for the freshman. He gets behind and walks his first batter, prompting a mound visit from Dustin Glant. The next three pitches get out number one on strikes. Whiteaker battles for another strikeout. Whiteaker gets ahead of Justin Miknis buts ends up walking him loading the bases. A base hit up the middle cuts the Hoosier lead to 1. Whiteaker strands a runner on third with a strikeout.
Bottom 7th: Kent State 1, Indiana 4
Kolenda gets two quick outs but the hot bat of Brock Tibbitts finally breaks through roping a single the other way. Ellis gets Tibbitts to second with a single. Cerny drove him in with a single.
Top 7th: Kent State 1, Indiana 3
Kent State's Jake Casey has 7 homers on the year and he thought he had number eight. Head Coach Jeff Duncan argued the call to no avail. Katskee got Casey to line out to Jesse and managed another 1-2-3 inning.
Bottom 6th: Kent State 1, Indiana 3
Freshman Kent State pitcher Jordan Kolenda has now retired six straight Hoosiers.
Top 6th: Kent State 1, Indiana 3
Cooper Katskee hits his first batter of the game on an 0-2 count. Ellis throws out the runner on an attempted steal. A ground out and a strike out on a nasty breaking ball allows Katskee to face the minimum.
Bottom 5th: Kent State 1, Indiana 3
A lead-off walk of Ellis prompts a Kent State pitching change. Jordan Kolenda who came in with a WHIP of less than 0.5 made short work of the Hoosiers with a ground ball double play and a strikeout.
Top 5th: Kent State 1, Indiana 3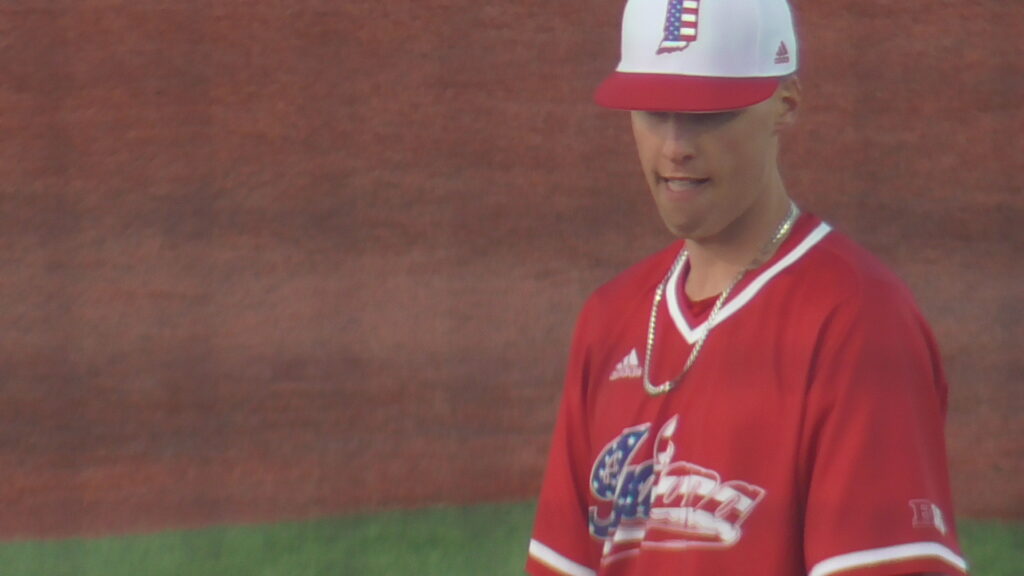 Wes Burton is the Hoosier pitcher for the fifth inning. Fly outs to left and right followed up by a strikeout give the Hoosiers another 1-2-3 inning to maintain the two-run lead.
Bottom 4th: Kent State 1, Indiana 3
A Whalen single and a Glasser opposite field double puts two in scoring position for Pyne with two outs. Pyne works a 1-2 count full and takes a walk to load the bases for Devin Taylor. Taylor hits a ground ball to third base which is booted, scoring an unearned run.
Top 4th: Kent State 1, Indiana 2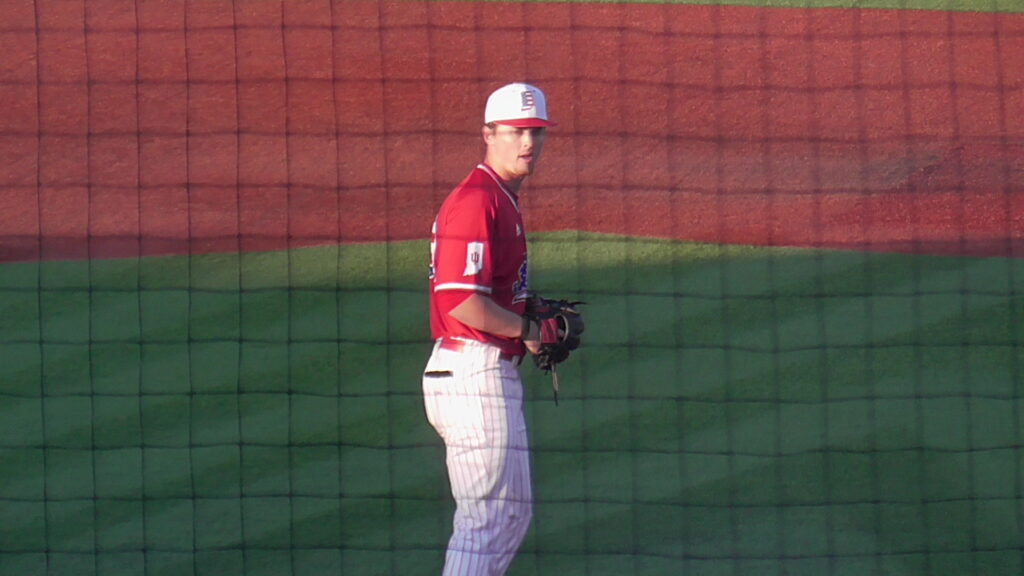 Nathan Ball is the new Indiana pitcher. Ball has struggled so far this season with an 18.0 ERA and a 4.0 WHIP. Mercer and Glant have been giving guys opportunities. We will see if Ball can take a step forward here. Ball hits the zone with 77-79 MPH off speed and then gets a called strikeout on an 89 MPH fastball. He then gets a strikeout looking on a 79 MPH offspeed and strikes out the side with a swing and miss on another offspeed.
Bottom 3rd: Kent State 1, Indiana 2
A Tibbitts single is all the Hoosiers have going.
Top 3rd: Kent State 1, Indiana 2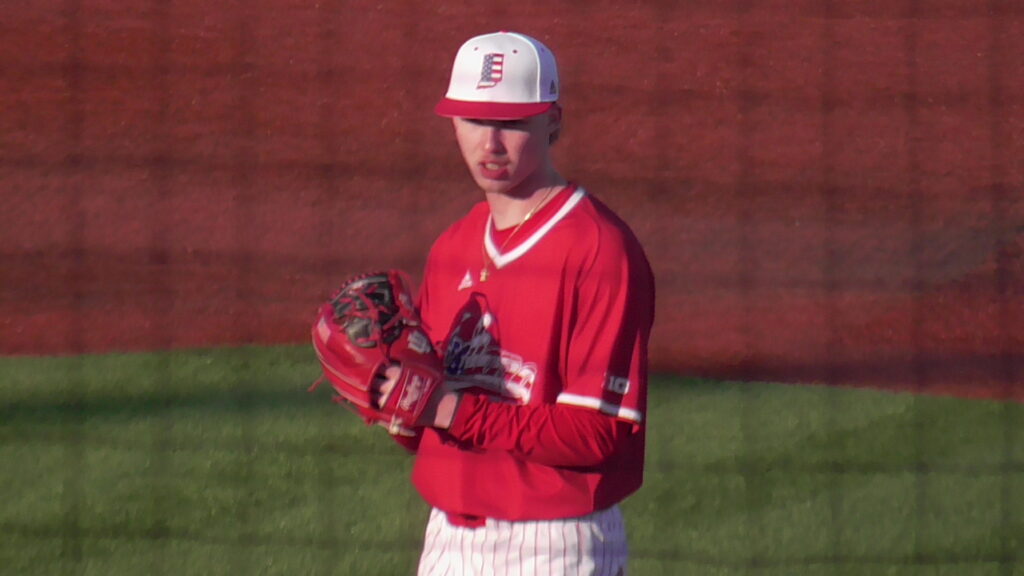 Aydan Decker-Petty is the new pitcher for the Hoosiers. He allows a hard hit ball for an out to his first batter. He gets the next batter on strikes then surrenders a 3-1 single on the ground up the middle. After getting behind 2-0 Ellis and Glasser come out to talk to Decker-Petty. The next pitch is in the zone and is roped to center for a single. The threat is ended with a groundout to Glasser at short.
Bottom 2nd: Kent State 1, Indiana 2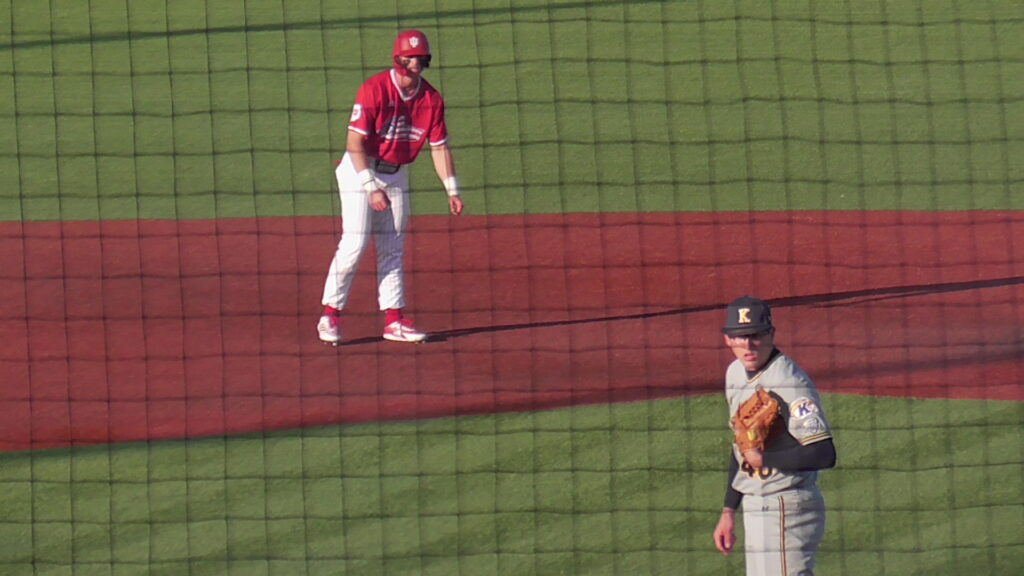 Bobby Whalen reaches on a walk with one out and is thrown out at home trying to score on a Hunter Jessee double to the right center wall. Glasser bounces a ball off of the third base bag for an RBI double. Pyne grounds out on a swinging bunt.
Top 2nd: Kent State 1, Indiana 1
Phillips is in a jam. A walk, a hit by pitch, and a single has loaded the bases with no outs. Pitching coach Dustin Glant comes out to talk to Phillips. The next batter he gets ahead 0-2 and strikes him out with a 1-2 high fastball. Phillips tries to nibble and falls behind 3-0 to Mack Timbrook before getting a 3-1 get-me-over and then a foul ball to fill the count. Timbrook hit a ground out RBI to first base and Phillips escapes the threat with groundout to Glasser at shortstop.
Bottom 1st: Kent State 0, Indiana 1
Glasser hits a ball through the hole in the left side for a lead off single. Pyne does the same thing on the right side to go station to station. Devin Taylor walks to load the bases. Brock Tibbitts drives in Glasser with a sacrifice fly. Ellis hts a towering fly ball to shallow right field which was dropped, but Ellis was out via a controversial infield fly call. Tyler Cerny grounds out to end the inning.
Top 1st: Kent State 0, Indiana 0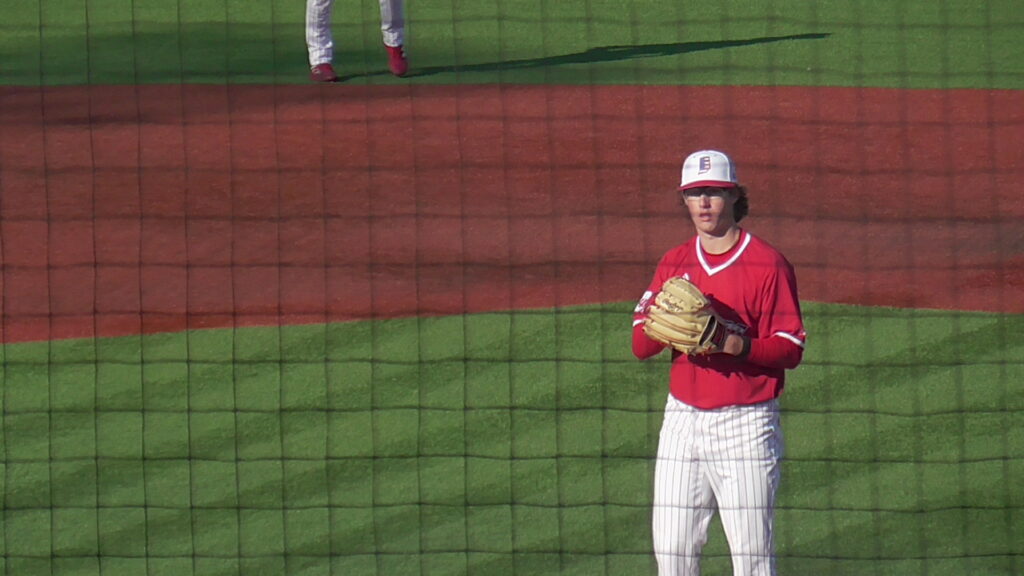 Ethan Phillips is on the bump for the Hoosiers. His first pitch, a 91 MPH fastball is hit on the ground hard into right field for a single. Phillips gets the next batter on a swinging strikeout with an 81 MPH slider. An infield pop is dropped between Phillips, Josh Pyne, and Phillip Glasser, but Pyne is able to get the lead runner at second. Phillips was throwing to first a lot, and finally threw one past Brock Tibbitts, who got the ball and threw out the runner trying to get all the way to third to end the inning.
Starters
.@PhillipGlasser1 in the lead-off spot for Tuesday. pic.twitter.com/nXqX4fK5kj

— Indiana Baseball (@IndianaBase) March 28, 2023
Links
Gameday at The Bart.

📺: https://t.co/az39qiGe2F
📻: https://t.co/Q3EAWiGCJF
📊: https://t.co/LFiX0NoV4O pic.twitter.com/ZYh0MqcfIv

— Indiana Baseball (@IndianaBase) March 28, 2023