The Hawkeyes are bringing talent to Bloomington in a B1G Series at the Bart this weekend
By Carl James @jovian34 April 6th, 2023 – photo of Ben Seiler pitching by Zach Greene
Indiana hosts the Iowa Hawkeyes for a three-game conference series. Indiana is 5-1 in the B1G and Iowa is 1-2 after dropping their only conference series to Maryland last weekend in Iowa City. Iowa does have a Saturday win over consensus number-1 LSU in an early season tournament game.
The series starts Friday at 6pm at Bart Kaufman Field. Saturday is an earlier than usual 12-noon start as that game will be broadcast on Big Ten Network. The series will wrap with a Sunday noon game. The weather appears relatively stable with little chance for rain so the Hoosiers may get to play a tradition weekend schedule for the first time in a month.
🔙 at The Bart for another B1G series. ⤵️ pic.twitter.com/8rmPMKrGhl

— Indiana Baseball (@IndianaBase) April 6, 2023
On a national level, D1Baseball included the series in their weekly staff pick lists, the only B1G series to get the interest. Of the 11 staff members, 6 picked Iowa, 5 picked Indiana. Most notably the two Midwest reporters, Burke Granger and Patrick Ebert, both picked Iowa. Granger will be at the Bart this weekend providing national coverage.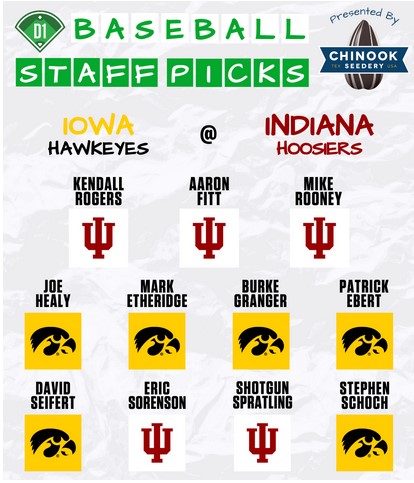 Iowa is most noted national for Friday night starting pitcher Brody Brecht. Brecht has pitched 33.2 innings and struck out an eye-popping 59 batters. He's also walked 24 and hit three. His batting average against is only .164. Brecht can light up a radar gun, touching triple digits. In a Thursday media availability when asked about Brecht, Indiana Head Coach Jeff Mercer said, "The game plan is simple, yet difficult. It's not complex. You have to be on fastball timing, you have to establish that you can manage a fastball, and then be able to read the off-speed pitch from there." The contrast is between a high 90's fastball and a low 90's slider. Brecht has gone between 5.0 and 5.2 innings in his last four starts, giving up less than two runs on average and striking out about 9 per game. Last week 13 Terrapins went down on strikes.
Phillip Glasser continues to lead this team with getting on base. He discussed how he has responded to seeing a lot more off-speed and drawing more walks as pitchers get cautious with him. "It's just trusting the guys behind you, obviously. We've got super talented guys in [Josh] Pyne and Bobby [Whalen] right behind me, and then [Brock] Tibbitts has been tearing it up. So it's pretty easy. Just stay on fastball, swing at strikes, do damage, and take walks when they give it to you."
For Iowa's offense, the Hoosiers will have to deal with Kyle Huckstorf who hit three of his five 2022 home runs off of Indiana in the series opener last May in Iowa City. In 2023, Huckstorf is hitting .340 with a .427 on base percentage. Huckstorf went 5 for 14 against Maryland last weekend. Iowa has four hitters including Huckstorf with an OPS north of 1.000. In total the team is hitting .300 on the season with a .423 on base percentage.
With the schedule likely back to normal, Mercer and pitching coach Dustin Glant will get to try out the strategy they have been working on with the unorthodox nature of the pitching cabinet they have assembled. "We'll try to pick the best match-up on Friday to get it off the ground, and then [Luke] Sinnard on Saturday, and likely Seti [Manase] on Sunday. And then we'll use [Ryan] Kraft and [Craig] Yoho, and those guys and hopefully [Luke] Hayden, Hayden has shown some real flashes lately. Kind of the first game we feel we're in the driver's seat to run it out we'll go to those guys early if we have an opportunity to do that. I think we're going to start Ben Seiler on Friday. Illinois State had some success against [Iowa] with lefties."
After earning a win last weekend, Ryan Kraft says he stretched out enough to go even deeper than the 71 pitches he's thrown in his last two bullpen outings. Kraft said, "I probably had an inning or two [in the tank]."