Epic series comes down to a rubber match
By Carl James @jovian34 April 9th, 2023
Top 9th: Iowa 2, Indiana 4 (FINAL)
Iowa stays fighting with a lead off single. Tyler Cerny executes a 4-6-3 double play to get Iowa down to their last out. Risedorf falls behind 2-0 to Hojnar, and throws three straight strikes to give the Hoosiers a marquee series win.
Bottom 8th: Iowa 2, Indiana 4
Mathison singles on the ground to right side. Colopy lines out to right field. Pyne draws a four pitch walk to get Mathison into scoring position. Cerny out runs a potential ground ball double play, bring the hot hitting Peter Serruto to the plate. Serruto drives in a run with his fourth hit of the day tying the game. New Iowa pitcher Cade Obermueller plunks Glasser to load the bases. Obermueller gets ahead of Whalen 1-2 who rips a two RBI-single into left field.
Top 8th: Iowa 2, Indiana 1
Brayden Risedorf is the new Indiana pitcher. Seegers leads off with a single just over the head of Glasser. Frazier exceutes a sacrifice but to get Seegers into scoring position. Cade Moss grounds out to Glasser who made a difficult play to get the second out. Seegers is at third now. Cerny can't collect a chopper which scores an unearned run, giving Iowa the lead right back. Cerny does make the play on the final out being shifted in the correct spot.
Bottom 7th: Iowa 1, Indiana 1
Cerny hits a fly ball into the right center gap, but Kyle Huckstorf tracks it down for out number one. Peter Serruto hits a one-out single, his third hit of the day. Phillip Glasser just misses extra bases with a foul ball. Glasser then hits a little bouncer back to the pitcher, who mis-fires to second drawing the fielder off the bag. Everyone is safe. This prompts an Iowa pitching change.
Bobby Whalen ties the game with an RBI single up the middle! Taylor is out on a swinging bunt that moves both runners into scoring position for Brock Tibbitts with two outs. Tibbitts goes down on strikes. We are in another tie game in the 8th inning with the series on the line.
Top 7th: Iowa 1, Indiana 0
A rocket at Taylor is out number one. A well executed bunt gets a runner on first representing Iowa's fourth hit of the day. Whalen reels in a can of corn in center for out number two. Cerny catches a pop up to end the inning and send the game to the stretch.
Bottom 6th: Iowa 1, Indiana 0
Another two-on, no-out start to an inning. The Hoosiers narrowly avoid a double play and have runners on the conners. Luke Llewellyn is the new Iowa pitcher throwing 92-MPH heat to Carter Mathison, who then looks at 84-MPH breaking ball for strike three. Morgan Colopy works the count full with two outs and walks the bases loaded for Josh Pyne. Pyne works the count full, but another ball pounded into the ground keeps Indiana without any runs on the board.
The Hoosiers have twice as many hits as the Hawkeyes up to this point. Both teams are struggling to take advantage of the opportunities that have been gifted them.
Top 6th: Iowa 1, Indiana 0
Wes "Stirrups" Burton is on the bump for Indiana. He walks Frazier on four pitches. Cade Moss tries to bunt with one strike but the ball goes just foul in front of Pyne. Burton strikes Moss out. Wilmes flies out to right
Bottom 5th: Iowa 1, Indiana 0
Peter Serruto hits a two-out double but is stranded by ground ball out off the bat of Glasser.
Top 5th: Iowa 1, Indiana 0
Craig Yoho gets out of a 2nd-3rd, one-out jam with a 3-2 strikeout on a nasty breaking ball.
Bottom 3rd: Iowa 1, Indiana 0
It's death by ground balls. Peter Serruto gets on via a lead off single and Phillip Glasser grounds into a double play. Whalen strikes out.
Top 3rd: Iowa 1, Indiana 0
A lead off-double and a hit-by-pitch has two on with no outs and Yoho is in a jam. Yoho refocuses and strikes of Sam Hojnar witha 92-MPH fastball. Yoho gets behind 3-1 to Kyle Huckstorf. Pyne fields a chopper and the base runner is called out by leaving the base line. A fly out ends the inning.
Bottom 2nd: Iowa 1, Indiana 0
Hoosiers again get two on with no outs but a couple of ground balls and an unconventional 4-6-2 double play ends with Carter Mathison getting tagged out at the plate. Indiana sent Mathison thinking that Iowa would try for the double play at first.
Top 2nd: Iowa 1, Indiana 0
A single deflects off of Manase's leg to get the lead-off hitter, Michael Seegers, aboard. Manase strikes out Brayden Frazier. Cade Moss flies out. Seegers steals second base to get into scoring position. Manase gets ahead on Ben Wilmes 0-2 and tries to get him to bite on sliders outside, but ends up walking him. Jeff Mercer elects to go to Craig Yoho out of the bullpen. Brennen Dorighi pops up high in the infield and Brock Tibbitts reels it in.
Craig Yoho puts out the fire in the 2nd. 1-0 Iowa B2 #iubase pic.twitter.com/rRcA7IydON

— iubase.com (@iubase17) April 9, 2023
Bottom 1st: Iowa 1, Indiana 0
Phillip Glasser walks and Bobby Whalen is plunked to lead off the Hoosier half of the inning. Taylor hits into a fielders choice and just beats out the double play. Brock Tibbitts however does hit into a clear 5-4-3 double play to end the inning stranding Glasser.
Top 1st: Iowa 1, Indiana 0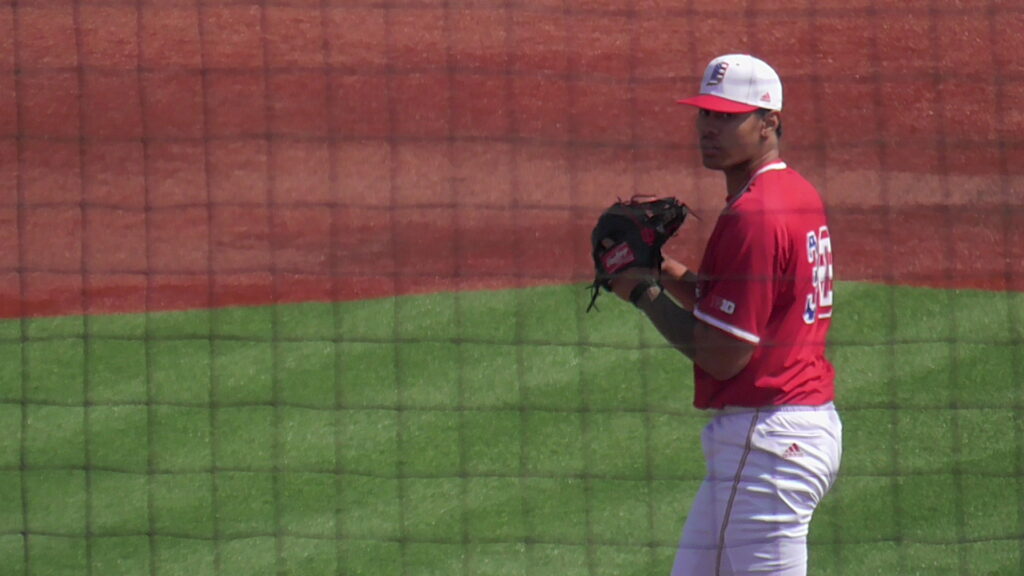 Bobby Whalen robs a lead off home run to start this one. A walk is followed up by an opposite field ground rule double that puts two runners in scoring position. A four pitch walk loads the bases with one out. Manase is struggling. Dustin Glant is making a visit and Hoosier bullpen has activity. An RBI groundout scores one. Devin Taylor then joins the party robbing a three-run homer in left to end the inning.
Starters
Sunday starters. ☀️ pic.twitter.com/mtRU0Ls4EX

— Indiana Baseball (@IndianaBase) April 9, 2023
Links