Sinnard and Kraft combine for 10 scoreless innings forcing a Sunday rubber match
By Carl James @jovian34 April 9th, 2023
It was a beautiful Saturday afternoon for baseball, the first of the season being broadcast on Big Ten Network. Iowa was coming off of a dominate pitching performance and victory the night before. Indiana was hoping to bounce back know their ace, Luke Sinnard was on the mound.
Both team's Saturday starters were coming off less than ideal outings. Iowa's Marcus Morgan only pitched 1.1 innings against Maryland in a relief outing on April 1st. He gave up two earned runs on two hits and hit a batter in the process. Sinnard had earned his first loss of the season that same day at Penn State. Sinnard addressed that outing by saying "I came to a realization that maybe I had gotten a little bit comfortable in the starting role, and I didn't go out there with as much fire as I needed to."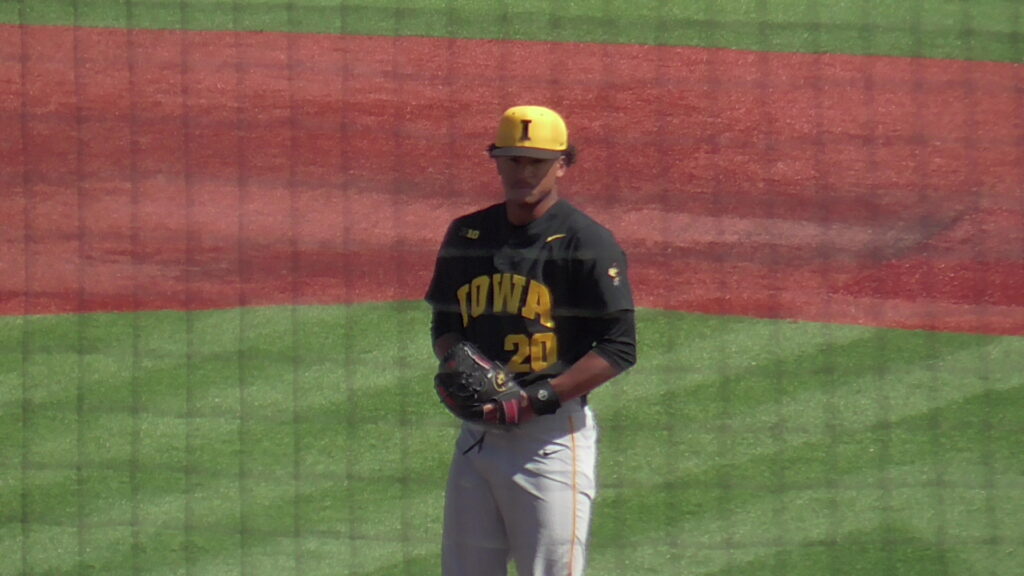 Morgan and Sinnard were both electric and were effective with a similar pitch mix. Morgan was sitting in the mid 90s with his four-seam fastball and giving the Hoosier batters fits with a 91-MPH cut fastball that is a tad slower than the four seam with some horizontal action to the pitcher's glove side.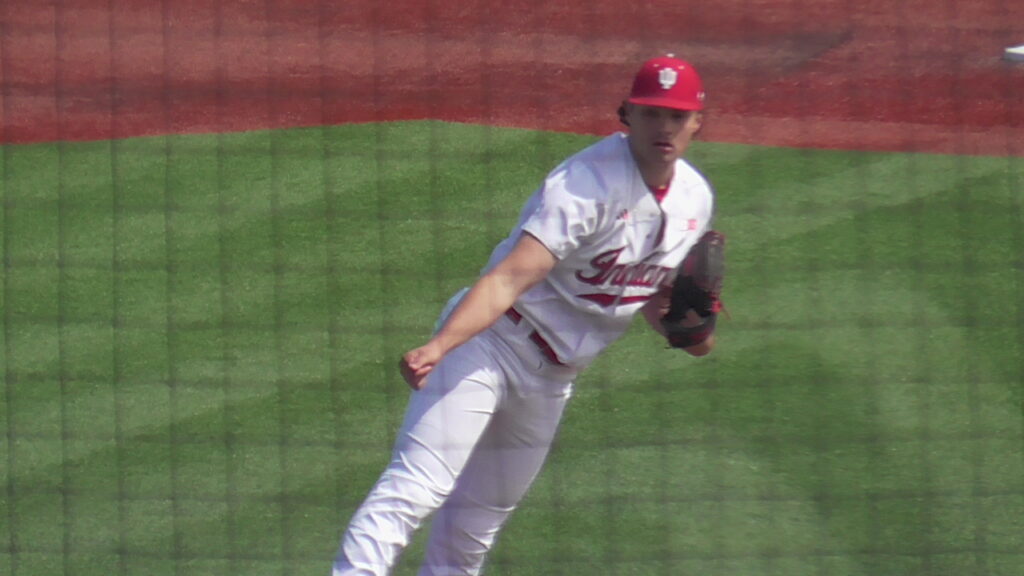 Sinnard also employed a very effective cut fastball. When asked about what was working for Sinnard, head coach Jeff Mercer said "He's done an awesome job of hiding his fastball with the cutter." WIth batters that hunt fastballs, the cutter is a very deceptive pitch. "It looks a lot like a fastball and moves late, so a fastball really kind of plays up. So as soon as you kind of get a feel for those two he has a curveball, and that is a really devastating pitch." Sinnard is tall and throws his curveball over the top so it has a lot of vertical action which makes connecting with it difficult if not timed up precisely.
Morgan went five innings and Sinnard went six. Both teams went to long inning relievers who have been highly trusted. For Iowa it was Zach Voelker. Voelker was producing a lot of weak fly balls. Mercer described the dilemma that his hitters had, "the fastball profile and then the cutter usually or a slider have a similar spin and then they sweep. Our guys keep trying to stay in the big part of the field with it and they are beating our barrels."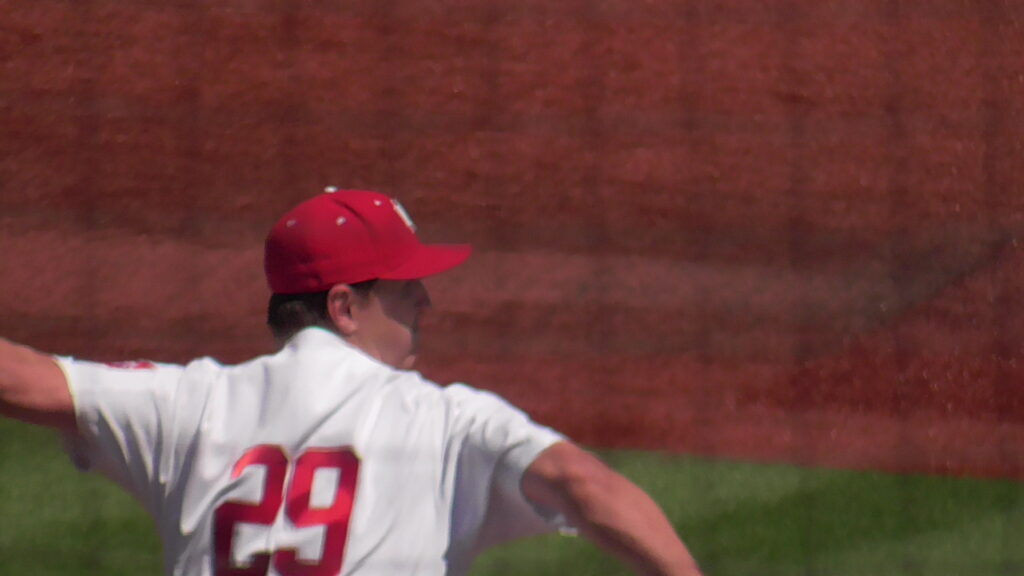 For Indiana it was Ryan Kraft, who allowed some traffic, but almost always seems to manage his way out of it without giving up runs. In the seventh he walked Sam Hojnar on four pitches. On Krafts third throw over to first he picked Hojnar off and immediately struck the batter out to end the inning. In the 8th Kraft had two on with just one out, and produced a couple of ground balls to end the threat.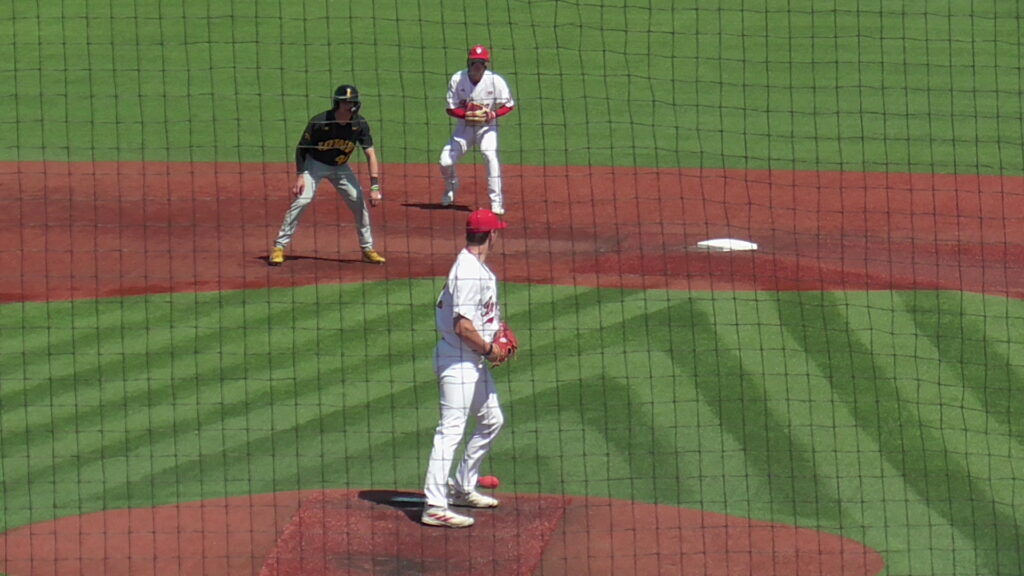 A big part of what allowed Kraft to get out of the trouble, was the deployment of effective defensive shifts. Mercer spoke in detail about this. "Coach [Derek] Simmons has done a really good job. We've got a little bit different software than we had last year. We are fortunate financially, that Indiana allows us to invest in some of that technology." Mercer said they while they had employed some shifts on Friday, with the trust they had in Sinnard and Kraft to hit their expected targets accurately, they went all in on "high-risk, high reward" shifts on Saturday and Iowa consistently hit right into those shifts.
An 8th-inning substitution put two Hoosiers in critical spots down the stretch. Morgan Colopy replaced Hunter Jessee in the batting order as Voelker's batting average against is worse against right-handed hitters. Defensively this shifted Devin Taylor into left field while Colopy took over in right.
Something had to give. After nine innings of neither team being able to score, the game went into an extra frame. Iowa seemed to finally break through with a single and then a double down the left field line. Taylor seemed to take the shift in position fine as he hit Phillip Glasser with a great throw who relayed it to Peter Serruto at the plate to get the second out of the inning and keep Iowa off of the scoreboard.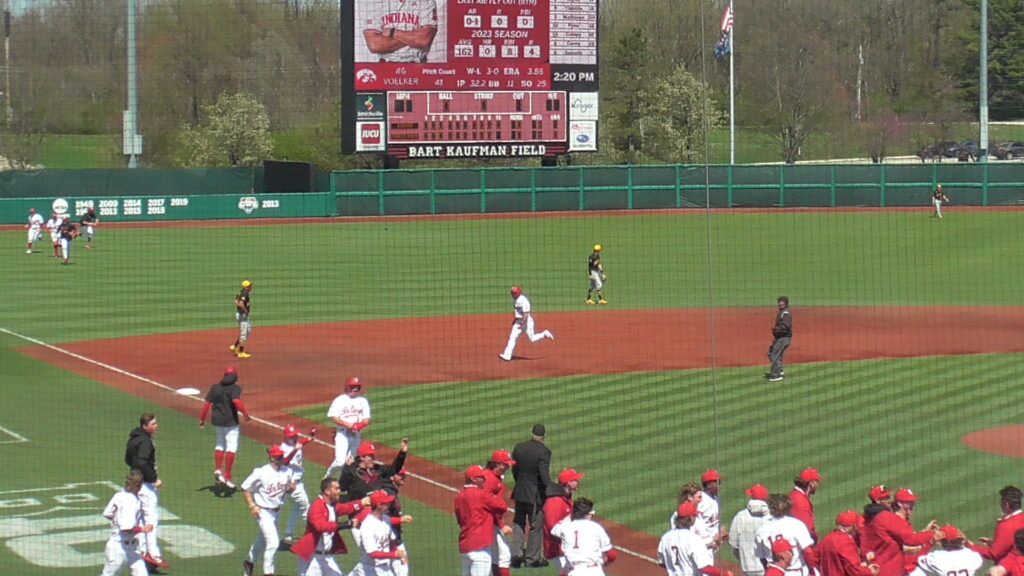 In the bottom of the tenth, Carter Mathison managed only the second hit of the day for Indiana with a lead-off single. Colopy then came up with one out. Mercer recounted, "I was sick tired of us trying to take breaking balls into the middle of the field because it wasn't working." Colopy had one prior at bat, a pop up to center. Mercer wanted the right handed hitters to get more aggressive on fastball timing and if they get in front of a curveball, just pull it. It would either go foul or go over the fence. Colopy indeed pulled that same pitch and hit the left field foul poll to end the game with a 2-0 Hoosier victory.
There series concludes with a rubber match on Easter Sunday at 12 noon.