Indiana is up 2-0 in the 4-game series, goes for the series win today vs. the Knights
By Carl James @jovian34 March 11th, 2023
Top 9th: Knights 3, Hoosiers 13 (FINAL)
Wes Burton is on to get the last three outs. A called strikeout is followed up with a hit-by-pitch and walk to put a runner in scoring position with one out. A fly ball to left gets the second out. A strikeout ends the game. Indiana takes the series.
Bottom 7th: Knights 3, Hoosiers 13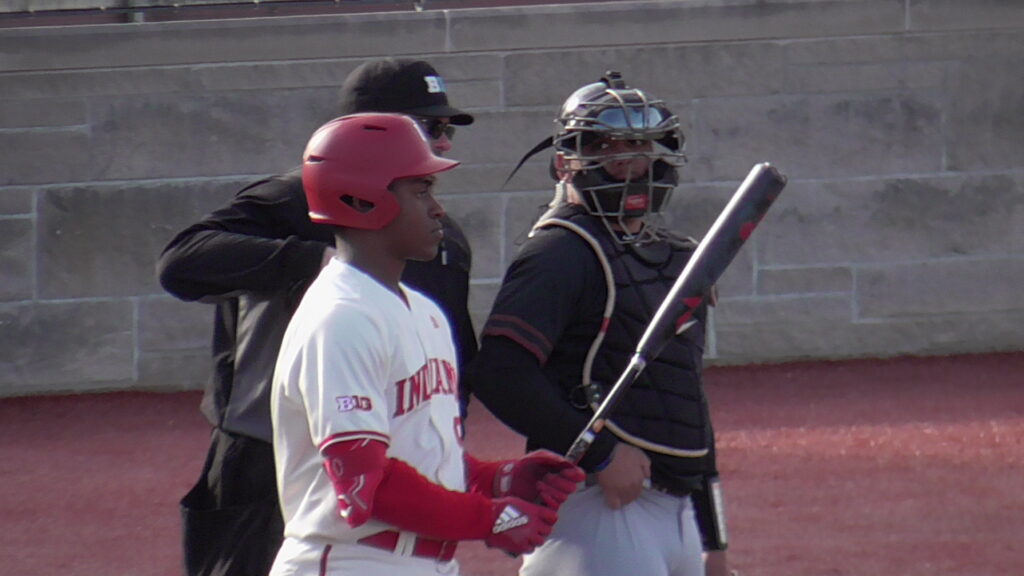 Devin Taylor gets on for fifth time today with a solid two-out single. Seruto walks Taylor into scoring position. Phillip Glasser fights off an RBI single to left to score Taylor and extend the lead to 10 runs.
Top 7th: Knights 3, Hoosiers 12
Phillips works around an infield single that almost wasn't as Cerny was just late on a fantastic play. Glasser made a great play at short for the second out. Another single put runners on the corners. Phillips strikes a batter out to send us to the stretch.
Bottom 6th: Knights 3, Hoosiers 12
Devin Taylor is having a day. Three for three with a hard hit gapper to lead off the inning. Serruto bunts Taylor to third and gets on via an error. Glasser hits a ground ball through the right side for an RBI single driving in Taylor. Hunter Jessee is out on an infield fly. Whalen is out on a chopper to the pitcher advancing both runners into scoring position with two outs. Mathison walks on four pitches. Pyne looks at strike three, stranding three more.
Top 6th: Knights 3, Hoosiers 11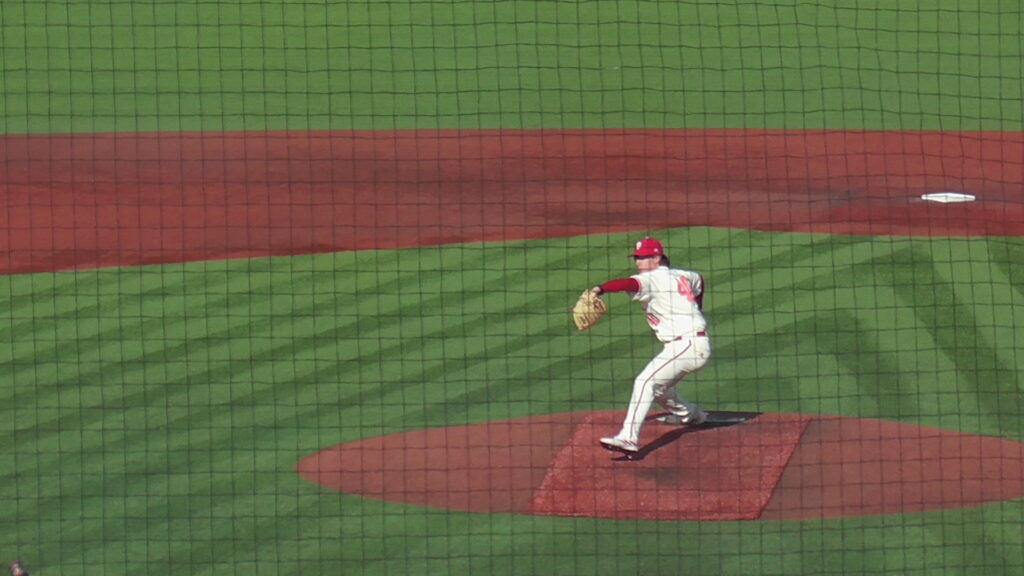 Freshman Ethan Phillips is the first Hoosiers out of the bullpen. Phillips got two quick outs but lost command on his breaking pitch walking one batter and working the other one full, before striking him out with an 89 mph fastball. He touched 92 twice in the inning.
Bottom 5th: Knights 3, Hoosiers 11
The new Knight sidearm lefty strikes out the left handed hitting Jessee, and then the righty Whalen. Mathison attempts a bunt for a hit, but fouls it. Mathison then rips a line ball to right field for a single. Josh Pyne fights of a pitch on the hands for a centerfield single. Mathison sees the defense and steals third base. Tibbitts walks the bases loaded. All three runners are stranded when Cerny flys out foul to the right fielder.
Top 5th: Knights 3, Hoosiers 11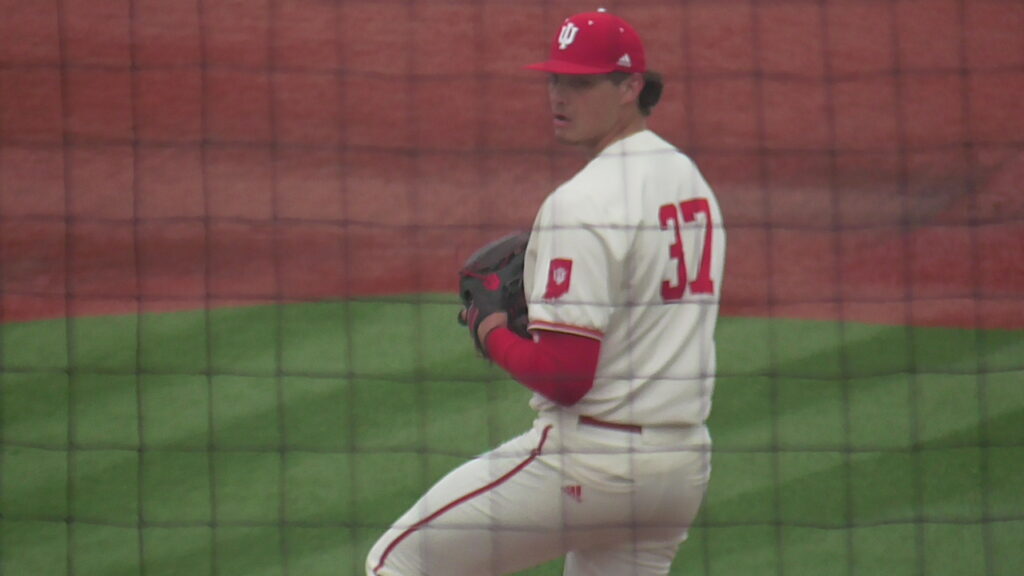 Sinnard in a two-on, no-out jam. Mound visit from pitching coach Dustin Glant. Ethan Phillips is warming. Quick pop up makes it one out. Two more quick soft contact outs ends the inning with no damage and Sinnard is in line for the win should the Hoosiers hang on.
Bottom 4th: Knights 3, Hoosiers 11
Cerny fouls out. Devin Taylor gets on for the third time today, this time with a 3-1 walk. Inning ends as Glasser is called out on a full count strike.
Top 4th: Knights 3, Hoosiers 11
A single and double gets two in scoring position with no outs. Sinnard strikes out the next batter with a full count. An infield single drives in the run. A stolen base puts another runner in scoring position. Another strikeout with a runner on third and less than two outs gives Sinnard a chance to limit the damage this inning. The inning ends on a pop to Tyler Cerny.
Bottom 3rd: Knights 2, Hoosiers 11
Josh Pyne gets on when plunked by the first pitch of the inning. Brock Tibbitts gets on via an infield single and gets to second as the ball got past the first baseman. Cerny deflects a hit off of the pitcher that plates Pyne. Freshman DH Devin Taylor hits the left field wall for an RBI double. Peter Serruto drives in two RBIs with single. Glasser goes opposite field with a two-run home run barely getting into the Hoosier bullpen. Jessee gets hit on the elbow and Bobby Whalen advances Jessee to third with an opposite field single that is misplayed allowing Whalen to get into scoring position as well.
After a pitching change, Carter Mathison hits a sacrifice fly to deep centerfield advancing both runners. Pyne adds a sacrifice fly of his own. Tibbitts is retired on a fly ball to end the inning.
Top 3rd: Knights 2, Hoosiers 3
Sinnard gives up a walk and a 402 foot home run over the Indiana bullpen. Sinnard ends the inning with his seventh strike out of the day.
Bottom 2nd: Knights 2, Hoosiers 3
Indiana plates one more and strands two.
Top 2nd: Knights 0, Hoosiers 2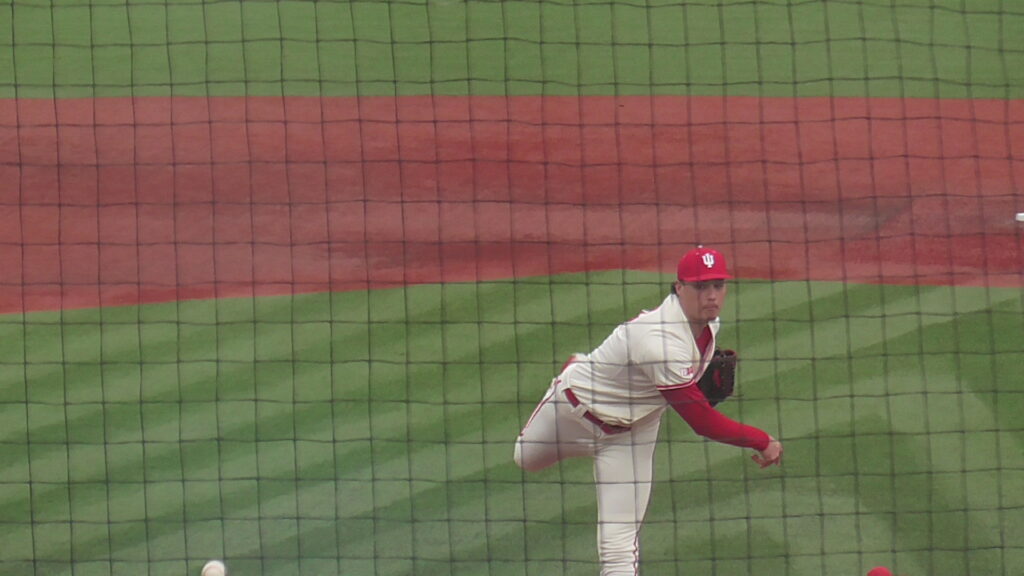 Sinnard gets two more strikeouts and works around a single.
Bottom 1st: Knights 0, Hoosiers 2
Phillip Glasser works a full count and punches a grounder through to right field for a lead-off single. Hunter Jessee and Bobby Whalen walk the bases loaded with no outs. Carter Mathison slices a sacrifice fly ball to left scoring Glasser. Josh Pyne strikes out. Brock Tibbitts goes opposite field with a bloop single plating Whalen. Tyler Cerny hits a loud flyout to right field.
Top 1st: Knights 0, Hoosiers 0
Luke Sinnard was excellent in the top of the first, striking out all three, mixing four different pitches, touching 93 mph.
Starters:
Ready to roll versus the Knights. pic.twitter.com/NofsuhSn9S

— Indiana Baseball (@IndianaBase) March 11, 2023
Links
For the series.

📺: https://t.co/ogBkAEoQJI
📻: https://t.co/Q3EAWiGCJF
📊: https://t.co/LFiX0NoV4O pic.twitter.com/PJohjqLp98

— Indiana Baseball (@IndianaBase) March 11, 2023