Indiana managed only two runs in the 7-inning run rule game where the Wildcats outplayed the Hooisers in all aspects of the game.
By Carl James @jovian34 March 15th, 2023
Indiana coaching was in a pickle for planning the pitching at Kentucky on Tuesday. They just came off their first day off from playing and winning five baseball games in five days. Three of those games were close enough to require the services of closer Ryan Kraft. Add to that the rescheduling of the upcoming weekend series with Morehead State from a Friday through Sunday series, to Wednesday through Friday. The Hoosiers will now need to play nine games in a 10-day stretch, which is very extreme for a college baseball team. This is especially taxing on a pitching staff.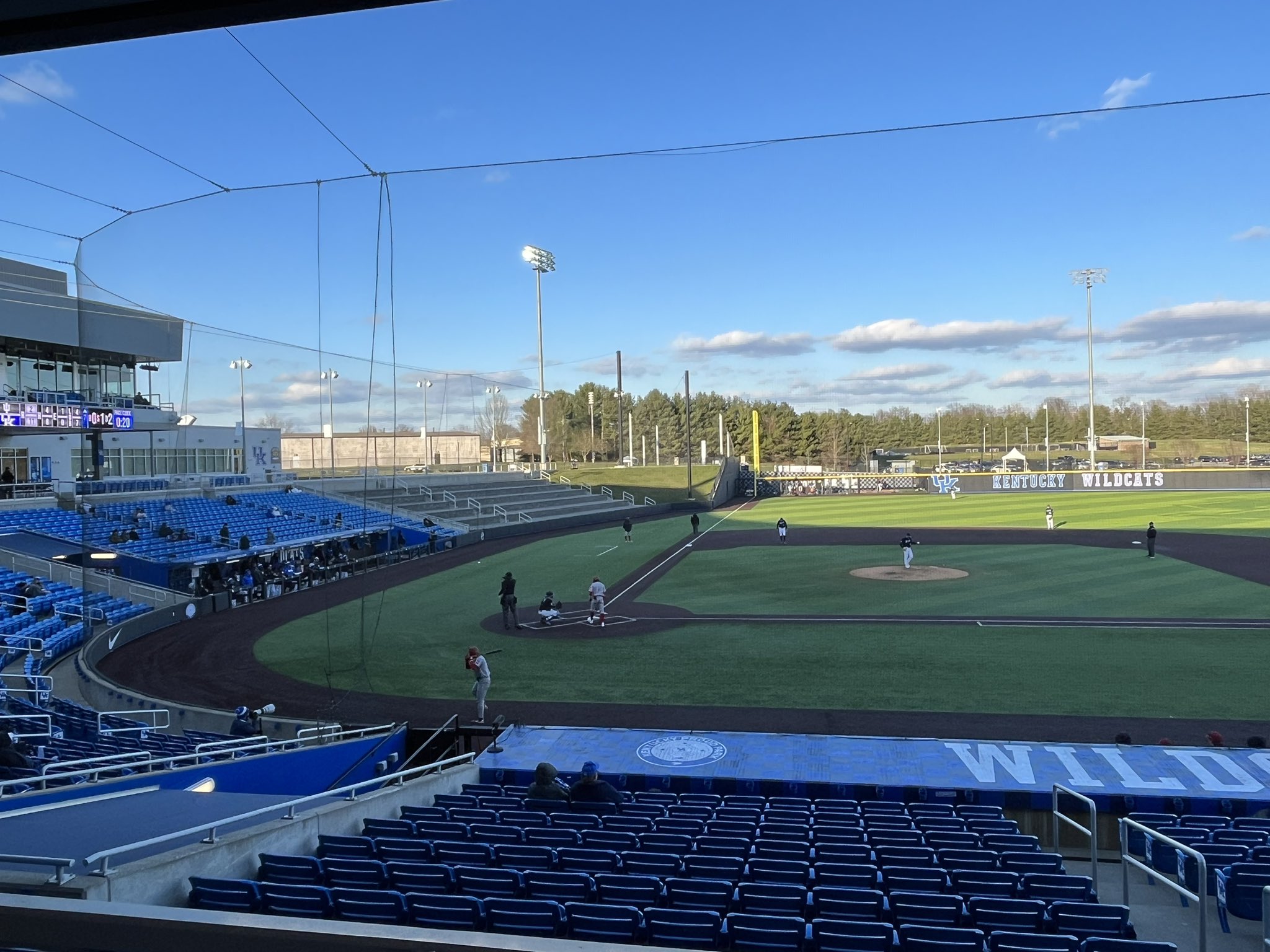 After the game coach Jeff Mercer said "With our weekend series being moved up to Wednesday, Thursday, Friday, we were a little limited in what we could do in those situations." Graduate Student Gabe Levy got the start. He had not been used since March 3rd at East Carolina. In his 1.1 innings of work vs Butler on February 28th, he was throwing exclusively off-speed and coach said that was because Levy's fastbal velocity was lower than everyone wanted. His off-speed Wednesday was in the 80-83 mph range and he was throwing an 86-88 mph fastball as well.
Levy dominated the first inning with two strikeouts and appeared to be strong, if a little slower in the second inning before getting derailed when Phillip Glasser commited and error to allow a one-out runner on in the second. Then Levy followed that up with two hit batsmen to load the bases. "The hit by pitches were in two strike counts." Then a balk call scored one with a 2-0 count. Free passes are not something this coaching staff has tolerated and immediately called on Freshman Aydan Decker-Petty for fireman duty. A single scored two more before a ground ball double play ended the inning.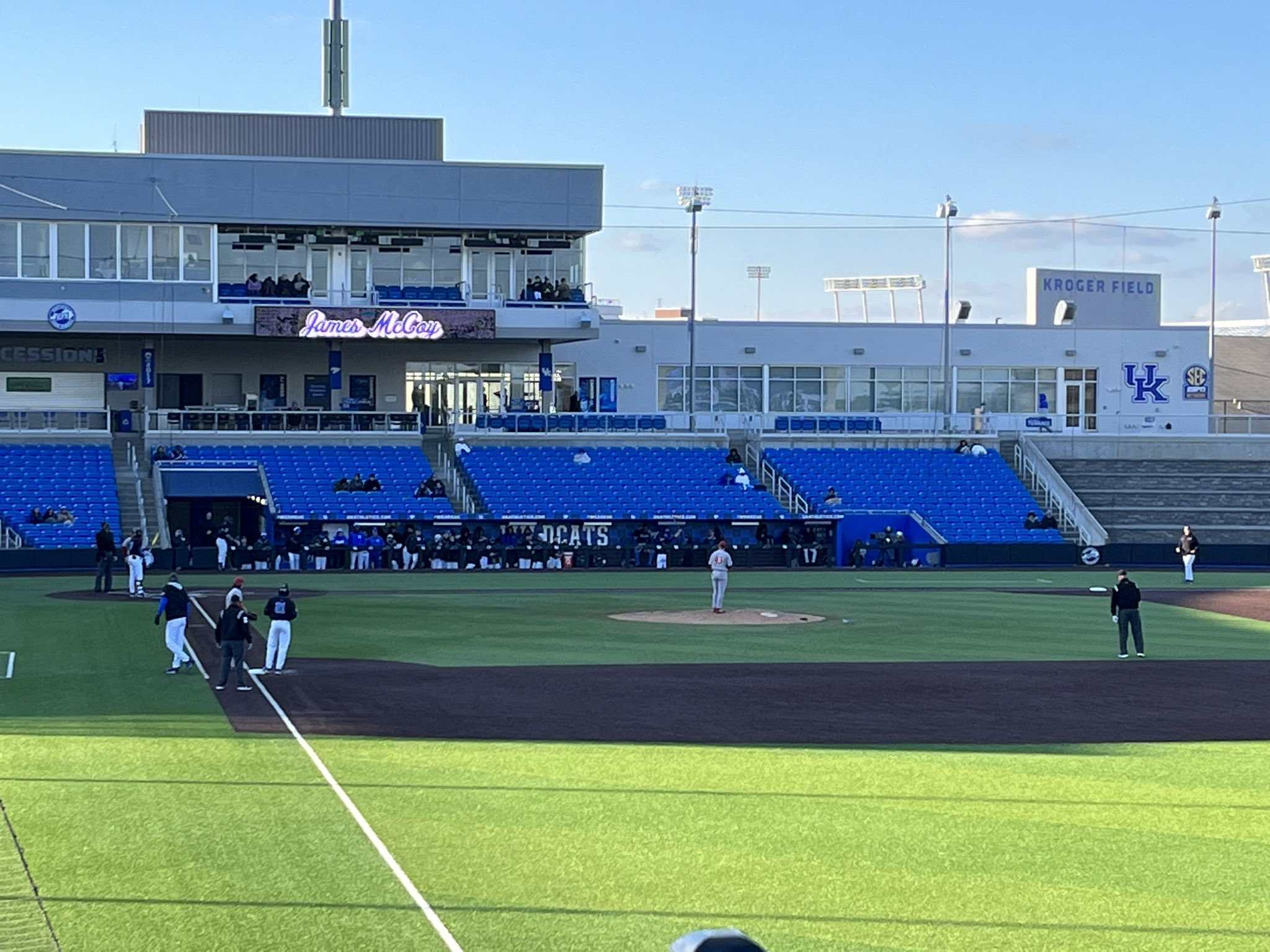 Decker-Petty gave up a run of his own via a walk and double in the third. Freshman Connor Foley allowed two free passes in the fourth but kept Kentucky from scoring with strikeouts. A single and walk ended his day in the fifth for Cooper Katskee, who allowed one inherited runner to score. The wheels came off in the sixth. Katskee walked the leadoff guy on 4 pitches, then missed the tag on a sac bunt play, walked another guy, gave up a sac fly and ended his day with another hit batsman. This brought in Cooper Hellman who gave up a single and homer before hitting a batter of his own. Adrian Vega came in and ended the threat, but the Hoosiers were already down nine.
Brooks Ey joined the HBP parade by hitting the lead-off guy and gave up an RBI single to invoke the SEC's 10-run rule and bring the game to a conclusion.
That was made possible by the fact that five different Wildcat pitchers held Indiana to only four hits in seven innings, with over half of the outs coming via strikeout. Mercer expressed his frustration, "…when you chase ball four for strike three three or four times and you put yourself in that situation where you just don't play well in any phase of the game…" Two through five in the order got on just once out of 12 times, a walk by Carter Mathison.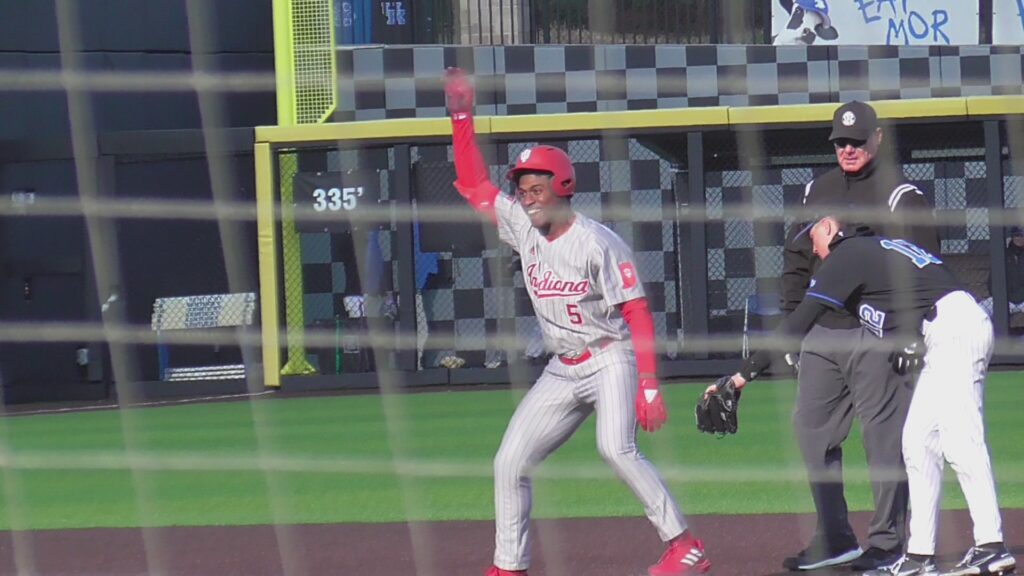 Devin Taylor got a start again at designated hitter and roped a double. "I've got a lot of thinking about what I want to do go forward. Devin's done a terrific job." Mercer is in a bit of a conundrum. Peter Serruto has been excellent behind the plate, and Matthew Ellis has started to show signs of getting his swing back (including a double in this game). If Serruto catches and Ellis DHs, that leaves having Taylor to replace one of the starters in the outfield. But which one? Add to that Morgan Colopy starting to swing the bat better as well. We may very well see a lot of guys rotating days off, possibly like Josh Pyne who sat Tuesday and allowed Evan Goforth to get a start at third base.
The Hoosiers have one more series starting Wednesday at 4:30pm vs the Morehead State Eagles at Bart Kaufman Field. We will continue to have coverage on iubase.com and social media. Indiana is 10-7 on the year so far.