'Bigs' Seiler impresses in five shutout innings, but Hoosiers lose 4-2
By Carl James @jovian34 February 25th, 2023
Indiana took a 2-1 lead into the bottom of the eighth inning but were not able to lock down the win in Austin Friday night. A lot of things went really well for the Hoosiers, but in broad strokes, this is not yet a team that can be expected to win a game where the offense only generates two runs.
What worked well – Part I – starting pitching
Seiler stifled 'em 🚫

5 IP, 4 H, 0 R, 2 BB, 2 K@BenSeiler1 | #IUBase pic.twitter.com/XPDupf7VRn

— Indiana Baseball (@IndianaBase) February 25, 2023
A 'Bigs' question was answered for the Hoosiers in a very positive way on Friday. Graduate Student lefty Ben 'Bigs' Seiler looked the full part of a Power-5 Friday starter. Seiler pitched five scoreless innings on the road at a college blue-blood with little run support and kept his pitch count very low. For those five innings he put himself in line for a victory and out-dueled Longhorn pitcher Lucas Gordon who is a weekend returner from the 2022 College World Series team. Seiler has thrown a lot more pitches in his college career at Siena. Projecting a future start of this caliber later in the spring, it would not be out of the question to expect to Seiler able to produce quality starts of 6+ innings or deeper.
What worked well – Part II – Pyne's clutch hitting
Hoosiers back in front on Pyne infield single 🌲

M7 | #IUBase 2, Texas 1 pic.twitter.com/ccTkUMKdy0

— Indiana Baseball (@IndianaBase) February 25, 2023
Josh Pyne doing Josh Pyne things. Hoosier fans are really blessed to see this man play baseball in the Cream and Crimson. So many times an opportunity to drive in a runner at third with less than two outs is squandered, then Pyne comes to the plate, and finds a way to get a hit and drive in that run. This was how the Hoosiers denied Texas a shutdown inning and immediately retook a 1-run lead in the top of the 7th inning.
What didn't work – Part I – shutdown relief
Indiana has thrown 17 pitchers in five games so far, not including sophomore left-hander Grant Holderfield who is still ramping up to game time condition. With 14 of those 17 new to the program this season, knowing what pieces are going to work best against which hitters in specific situations is a tricky game to play.
With only 4 games worth of data, the first pitcher to see action was Adrian Vega who had a stellar relief outing a week prior at Auburn. A lead-off walk set the table for Texas in the sixth and they managed to scrap their way to a tying run via a sacrifice fly ball. Once the Hoosiers took the lead back in the seventh, the coaching staff decided to try a different arm to hold the slim margin.
Graduate Student Gabe Levy (transfer from Davidson) has pitched effectively in many roles in his D1 college career so far, including as Davidson's closer his senior year. Levy got roughed up in middle relief work at Auburn a week ago, giving up 4 runs on 7 hits in 2.2 innings of work. Head coach Jeff Mercer has said that Levy had the best statistical fall on the staff, and he was clearly a go-to for these tough spots despite that rough outing.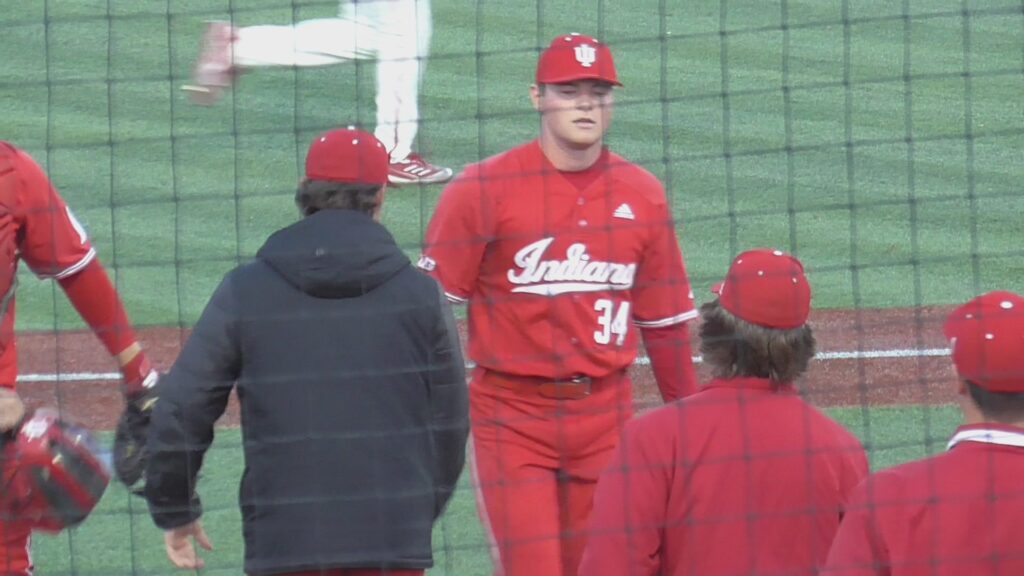 Levy worked a 1-2-3 inning vs the bottom of Texas's order in the seventh, so it made sense to go back to him in the eighth, but he was unable to replicate that against the top of the order. A lead off double put the tying run in scoring position. A walk (possibly a pitch-around) then put Texas' 3-hole hitter, left fielder Porter Brown, up with the go ahead run on the base paths. Brown cleared the bases with a three-run home run.
After Levy got an out via the strikeout, but allowed another runner via a hit, the coaches turned to freshman righty Brayden Risedorph to staunch the bleeding. Risedorph got two contact outs to get the Hoosier bats at least a chance in the ninth only needing two runs to tie.
What didn't work – Part II – hitting outside the top of the order
Six of Indiana's seven hits came from the top of the order: Phillip Glasser, Hunter Jessee, Pyne, and Bobby Whalen are all swinging the bat very well. Matthew Ellis hitting seventh legged out an infield hit and scored on a shallow sacrifice fly. No you didn't read that last sentence wrong. What has been lacking is the power. Indiana is going need more from Carter Mathison, Brock Tibbitts, and Morgan Colopy on a regular basis. While the pitching has been doing its job of keeping earned runs under 5.0 per game, the Hoosiers have still lost three of five games from a lack of offensive production. The table is being set, but the Hoosiers will need more extra base hits from those three and Ellis to win consistently.
Next Up
Seti Manase (1-0, 0.00 ERA) will get his first weekend start after a couple of 1-2-3, one inning appearances. Many of us assumed Manase, based on his performance in fall exhibitions, would be part of the weekend action. The imposing righty doesn't have great velocity, but has an effective pitch mix and stays in the zone most of the time. The Hoosiers play Texas in Game 2 at 2pm ET. I will be live blogging that game as well.