by Cassady Palmer • @crpalmer0627 • April 19
The Indiana bats explode in the middle innings to lift the Hoosiers over some early Spartan offense.
The Indiana offense did a little bit of everything in this one. They hit (averaging .341 on the evening), hit for power (40% of their hits went for extra bases), they worked pitchers to the tune of 4.1 pitches per plate appearance, and they drew walks. And man did those walks count! In the 5th inning with the bases loaded and no outs, four out of the next five Hoosiers earned RBI walks to break the 4-4 tie. Indiana never looked back from there, going on to win 13-4.
After a very Pauly-Milto-esque 1st inning with a trio of strikeouts on 12 pitches, a 3-run homer and a wild pitch allowed Michigan State to tie the game by the end of the 3rd inning. Milto then settled in nicely, giving up no more runs over his final four frames while striking out seven batters and walking none. This pushes Milto's strikeout-to-walk ratio up to a ridiculous 7.67-to-1. Braden Scott and Austin Long combined for a pair of shutout innings of relief, allowing a pair of hits while striking out five Spartans.
The Hoosier bats seemed to start off pretty hot, scoring four runs on six hits (three doubles) in the first pair of innings. But momentum appeared to shift as the Spartans tied the game up by the end of the next inning. The tide turned, however, as the MSU pitchers started to lose control and walk Hoosiers with the bases loaded. Eight runs combined in the 5th and 6th innings saw the momentum shift unequivocally. A solo shot by Wyatt Cross in the 8th inning was the icing on the cake of a solid offensive performance.
Several Indiana batters had solid outings. Matt Gorski collected three hits on the night along with a pair of walks. Drew Ashley, Scotty Bradley, Grant Richardson, Eli Dunham, and Cross each sprayed two hits, while Justin Walker drew a pair of walks and Cole Barr legged out an infield single and was plunked.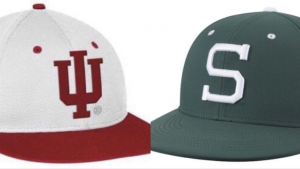 Weather permitting, Indiana will face off against the Spartans on Saturday late afternoon at 4:05 ET. The current forecast, however, is calling for around 70% chance of wet with a high of 49 degrees. Pair this with winds that could be up to around 15 MPH, and that's just some miserable baseball. It probably doesn't help that Michigan State's uniquely-designed field is a natural one. The forecast for Sunday is looking significantly nicer, with little chance of rain, high temperatures almost touching 70 degrees, and winds of about 5 MPH. Don't be too overly surprised if we see a doubleheader on Sunday instead.
Regardless of when the next game occurs, Tanner Gordon will look to continue his recent string of quality starts on the mound, dating back to mid-March. The Spartans will be throwing out LHP Mitchell Tyranski, who is currently 0-7 with a 5.53 ERA. The game will be broadcast through the BTNPlus premium subscription service, but if Friday's game was any indication, Hoosier fans will be far better served to skip the video broadcast and stick to Greg Murray's Hoosier Country 105 audio broadcast. If the video quality is high enough, I recommend syncing whatever muted video broadcast with Greg's audio broadcast for best results.