By Carl James • @jovian34 • Feb 28
Braden Scott Shines on the Mound with a 4-Inning Relief Victory
Almost nothing was as expected Friday night in the matchup between the Indiana Hoosiers and the #21 East Carolina Pirates. The Hoosiers were facing pre-season All-American Alec Burleson. With very few exceptions (Michigan's Karl Kauffmann in 2019) in the past few years, Indiana has struggled mightly against big name Friday night arms. The Hoosiers flipped that script on East Carolina. Burelson only lasted 2.2 innings giving up 6 runs, all earned.
The Hoosiers wasted no time getting three hits in the first inning. The third hit was a two-RBI double by Jordan Fucci. East Carolina answered in the bottom of a frustrating second inning with 3 unearned runs off of Gabe Bierman. The Hoosiers punched right back with a no-doubt two-run bomb from Grant Richardson in the third. Hunter Jesse followed that up with a two-RBI double that forced ECU Head Coach Cliff Godwin to go to his bullpen much earlier than he expected.
In his first Friday night start, Bierman threw 99 pitches in four complete innings, giving up 5 runs, but only 2 earned. Bierman struck out six Pirates. Braden Scott pitched four shutout innings of relief to earn his first win of the season giving up no walks and striking out 7. When Scott took over the Hoosiers were only up by a single run. Scott got into a two-base jam in the sixth and when a strike call sparked an argument, Godwin was ejected from the game and the ECU crowd was very fired up. Scott seemed to feed of the negative crowd energy as he struck out the two-way Burleson to end the threat.
Catcher Collin Hopkins drove in a run on a single in the fifth, and Fucci added another RBI double in the 7th. The game still felt close in the eighth. Ethan Vecrumba set the stage when he turned a failed bunt attempt into a 10-pitch walk and set up Drew Ashley to break the game wide open with a three-run home run. Scott dominated the eighth. Indiana Coach Jeff Mercer took no chances, going to closer Connor Manous to shut the door in the ninth inning preserving the six-run victory.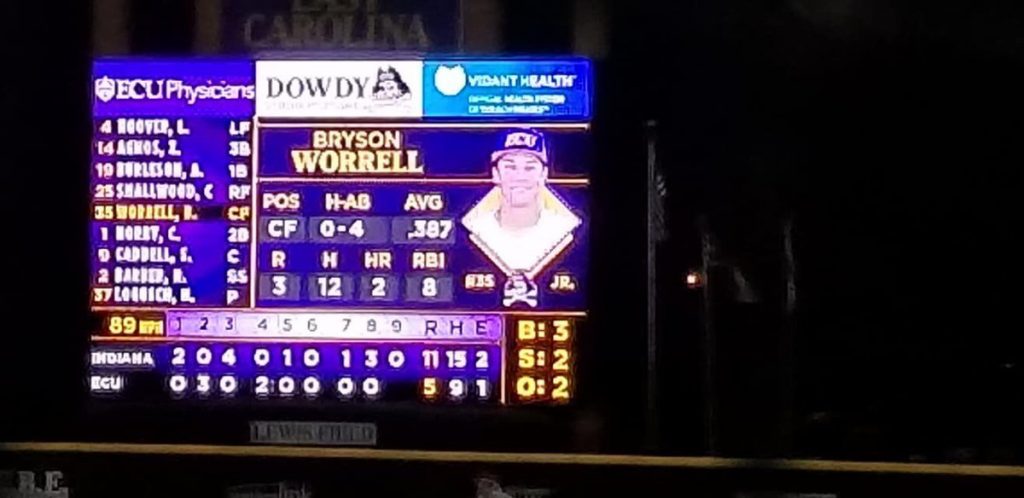 Indiana had five players (Ashley, Richardson, Elijah Dunham, Fucci, and Hopkins) with multiple hits. Dunham is still putting up video game type numbers with three hits and scoring three times.
The Hoosiers are back in action tomorrow at 12pm against High Point. Tommy Sommer will be on the bump for Indiana.