Summer weekends start early and are usually pretty packed with activities. ICYMI, there were lots of Hoosier Baseball highlights this weekend.
• Friday the Indiana Coaches named their All State Teams. Plenty of Hoosiers and Future Hoosiers were selected.
• Friday night, B J Sabol made his pro debut with the Washington Wild Things of The Frontier League and won player of the game.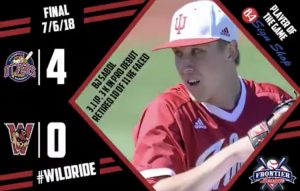 • Saturday, Sam Travis hit his 6th long ball of the season
https://twitter.com/pawsox/status/1015781564188422145?s=21
• Saturday Night, Kyle Hart won player of the game for the Portland Seadogs while picking up his 6th Win of the season. He also is scheduled to appear in the Eastern League All Star Game this Wednesday at 7pm.
• Also on Saturday night, Caleb Balgaard hit a huge bomb for Lake Erie and got some postgame tv time
8th inning go ahead 2 run homer last night for Caleb Balgaard #iubase https://t.co/Ng81DLPm0n

— iubase.com (@iubase17) July 8, 2018
• Logan Sowers had a huge weekend overall going 7 for 11 with a 2B, his 3rd homer and 5 RBI's
That's a pretty full weekend for Hoosier Baseball and I have a feeling Monday won't disappoint either.
Go Hoosiers
#iubase
— CF