The entire 2021 weekend rotation and closer hear their names called.

by Carl James •

@jovian34

• July 12th, 2021
It was a special season on the mound for the Cream and Crimson. Multiple shutouts, only one game giving up double digit runs, every pitcher under 4.70 in earned run average, and a combined no-hitter were just examples of how good this pitching staff was. More evidence came today in the selection of the three primary starters and the bullpen closer.
Third Round to the Colorado Rockies:
McCade Brown had a 3.39 ERA on the season. His electric stuff was part of a combined no hitter against Illinois and a dominating performance against Penn State which included no hits in seven innings and 16 strikeouts. Brown lead the Hoosiers with 97 strikeouts on the season. He also held opponents to a .164 batting average against.
Seventh Round to the Miami Marlins:
Gabe Bierman lead Indiana's weekend rotation with a 2.68 ERA. Bierman's season highlight was a complete game victory over eventual B1G Champion Nebraska, Indiana's only complete game of the 2021 season. Bierman struck out 80 and held opponents to a .179 batting average.
Tenth Round to the Boston Red Sox: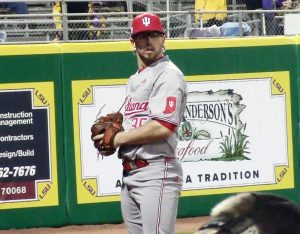 Matt Litwicki lead Indiana's with four saves on the year and impressed a lot of folks by nearly hitting triple digits on the radar gun in a few outings. In his 11 innings of work in 2021, Litwicki struck out 17 batters.
Tenth Round to the Chicago White Sox: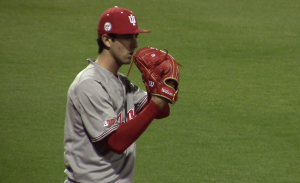 Tommy Sommer was the Friday night starter and staff leader for the Hoosiers in 2021. Sommer matched Bierman and Brown to lead the Hoosiers with five wins on the season. Sommer started the season with a B1G Pitcher of the Week performance in Minneapolis in March.