Indiana's leaders at the plate hear the names called on day three of the 2021 MLB Draft

by Carl James •

@jovian34

• July 13th, 2021
Indiana reestablished itself as the premiere talent development program for baseball in the Big Ten Conference. After a disappointing 2020 Draft that saw no Hoosiers drafted in five short rounds, the Hoosiers roared back in 2021 leading the league with 6 picks. The Hoosiers had a record 10 players drafted after the 2019 B1G title run. The final day saw the Hoosier veteran bats get picked after a day 2 that was all about pitching.
Fifteenth round to the Seattle Mariners:
Cole Barr lead the Hoosiers with a .940 OPS. Barr hit .292 on the season leading the team with 8 home runs, 26 walks, and a .526 slugging percentage. Barr made several Major League caliber plays at the hot corner. This is the second time the Mariners have drafted Barr.
Seventeenth round to the New York Yankees: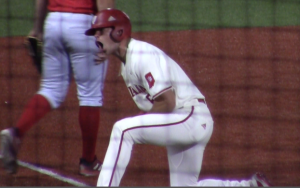 Grant Richardson lead the Hoosiers with a .320 batting average, 7 home runs (including a walk-off vs Penn State), 9 doubles, and 33 RBIs. He made huge strides this season in making contact and hitting against left handed pitching. Richardson was outstanding in center field in 2021 with no errors and many amazing displays of range.