by Chris Feeny • @iubase17 • Dec 14
Yesterday, Alex Dickerson rejoined the Padres organization signing a minor league contract. Today we look at how a decision 10 years ago to cancel a recruiting trip to Hawaii and commit to Indiana changed the Hoosier Baseball record books forever.
You really never know who you might run into at a ballgame. Or maybe even before you head in. Last season, during the Senior Day Game tailgate, a man came up to me walking a dog, asking about parking his RV and when the gates to The Bart open. I helped him the best I could, and as he walked away, he thanked me and told me his son used to play baseball for IU.
It turns out I was talking to Alex Dickerson's father, Ross Dickerson. He hadn't been back to see a game since 2011 when Alex was drafted by Pittsburgh. He stayed at the tailgate awhile, learned about iubase.com and the Talking Hoosier Baseball Alex Dickerson Award, and then headed in to get some pictures of The Bart.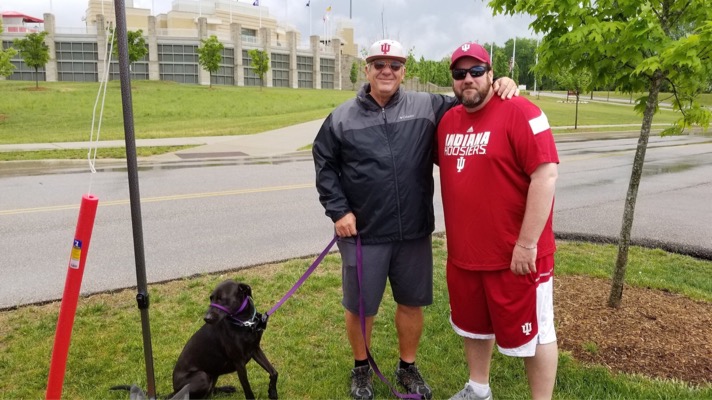 It's definitely not the home digs he was used to while attending games at Sembower Field.

This had to be a welcomed surprise as well.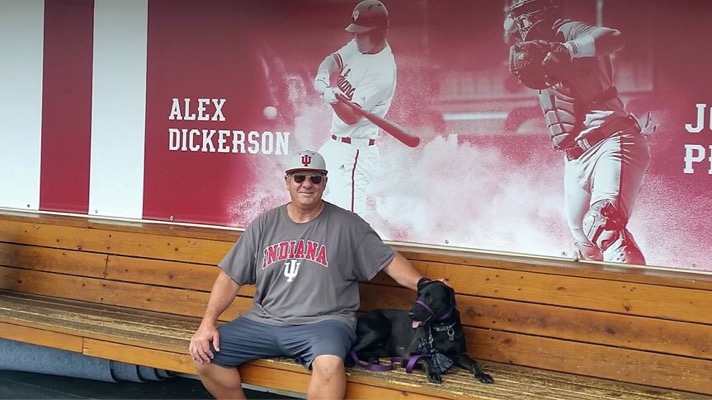 Through the wonders of the internet I was able to stay in touch with Ross and sent him a congrats on Alex resigning with San Diego and continuing his professional career. He was gracious enough to share a story with me when I explained to him I was going to post something about Alex today.
10 years ago Dickerson was in his senior year of high school in Poway, CA and attended his official visit at IU. I guess Ross can just take it from here.
"While there are many great IU stories we could share about Alex, I believe the best one for Carol and I as parents involved the recruiting trip to IU in October of 2008. Several California Universities had shown some interest in Alex being a part of their program but with the exception of Fresno State and the University of San Diego, I personally can't remember a real drive to sign him or a significant monetary offer. So, it came time to visit Indiana University, then Hawaii after. None of us, including Alex, expected much out of this visit. Heck, we had never been to the Midwest and I had to find Bloomington on a map!
Upon our arrival, we all found ourselves in awe of the campus….it just wasn't like any we have here in Southern California: the beautiful limestone architecture, Assembly Hall, the football stadium and Big- 10 game against Iowa. While Coach Tracy Smith was off with Alex talking baseball and touring Sembower Field, Carol and I sat down for a coffee, looked at each other, and simultaneously said, "Man, I hope he chooses to go here." However, we had no intention of tipping the scales. This was his decision.
That evening, over the fancy recruiting dinner with Tracy Smith and his wife Jamie, Skip asked Alex what he thought of IU and Bloomington so far. Without a moment's hesitation Alex answered, "I'm going here!" Carol and I were elated, but I could see that Tracy was a bit surprised seeing as he probably expected Alex not to commit until after Hawaii or he saw what the offer may actually be for an athletic scholarship. He did not care and neither did we at that point. He cancelled the trip to Hawaii and we all became part of the IU family.
In life we make hundreds of decisions a day and occasionally there comes a choice that is really big. For Alex, it was that decision at that table that night. At the time none of us had the faintest idea that he would be so successful at IU or that the program would mature into a Big-10 and national baseball powerhouse. We only knew that he selected a great University and a great team that was on the rise and would make friends for life. Everything since then has been icing on the cake and an E-ticket roller coaster ride for Carol and me! We owe a lot to IU and hope that no one is offended that we have taken the liberty to call ourselves 'Hoosiers.'"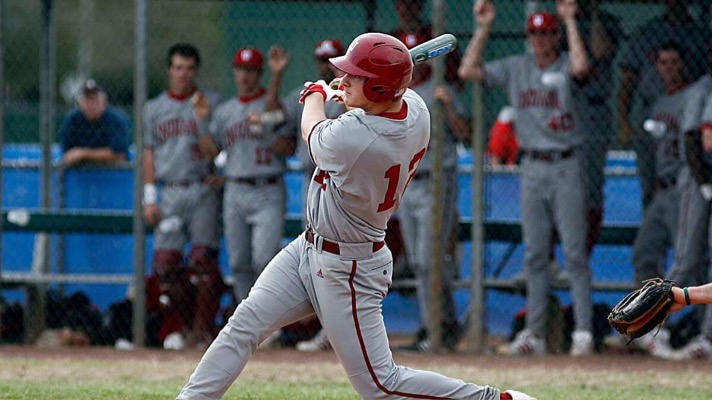 I'd say Hoosier Baseball is very glad he made the choice he did. Dickerson's name is now all over the IU record books. He leads in all time career home runs with 47. The only other player who played just three seasons in Bloomington that is even close is Kyle Schwarber with 40. He also has the most career RBI's by any player in three seasons with 181 (sixth all time). You can add 4th all time in Slugging Pct with .657 and 5th all time in Batting Avg. with .387. There is no question why the Talking Hoosier Baseball Offensive Player of the year Award has his name on it.
Dickerson received plenty of national recognition while at IU as well. His stellar freshman season won him Freshman of the year in the Big Ten. He was the first Hoosier ever to win that award (Travis joined him in 2012). He also was a First Team Freshman All American selection. Sophomore year was even better He won B1G Player of the year (3rd Hoosier ever at the time) and First Team All American honors (5th ever Hoosier at the time).
The summer between his sophomore and junior season Alex made Team USA. You can see him speaking about that and more when he took over Skip's update one week in the Fall of his Junior year.
He followed that up with making another First Team All American selection as a Junior. No Hoosier had ever gone back to back. (Schwarber and DeMuth joined him in '13 and '14)
Following his Junior year, he left Sembower Field for the Pittsburgh Pirates after being drafted in the third round of the MLB Draft. After a trade to San Diego, he started his climb through the minor leagues. By August of 2015, he was called up to The Show. His first AB was of the pinch hitting variety on the road in Millwaukee.
Alex Dickerson is making his major league debut as a pinch hitter for the #Padres in the 8th. pic.twitter.com/GRKLcyuKzk

— San Diego Padres (@Padres) August 6, 2015
But his first big league hit came a few days later back in California.
Poway's Alex Dickerson got his first Major League hit in front of the home crowd!
Watch: http://t.co/qA0NR2AVlz pic.twitter.com/gtLYaEb77K

— San Diego Padres (@Padres) August 8, 2015
Dickerson didn't start '16 with the big club, but by May he was called up again.
And on May 10, at Wrigley Field, he was asked to pinch hit with the bases loaded and 2 outs. With the count 0-2, he hit his first career home run and picked up his first four career RBI's. 2 out RBI's really are the best kind.
Dickerson finished the 2016 season with 10 home runs and 37 RBI's. Unfortunately, in '17 and '18 he dealt with injuries that left him unable to play. In November, he became a free agent. Great to see he has now signed a minor league contract with the Padres organization. I'm sure all Hoosier Baseball fans are looking forward to following Alex's return to The Show.