by Chris Feeny • @iubase17• Dec 23
This is Part Two of the 2018 Hoosier Baseball Year in Review. You can read Part One for January through May.
• June •
A post B1G Tournament record of 38-17 and a top-30 rank in the RPI earned Hoosier Baseball a #2 seed in the Austin Regional. This was the third time in four years under Coach Chris Lemonis that this team was playing June Baseball. 2018 would send the Hoosiers to Austin, Texas to compete with Texas, Texas A&M, and Texas Southern. A trip to the Super Regionals would go to the winner.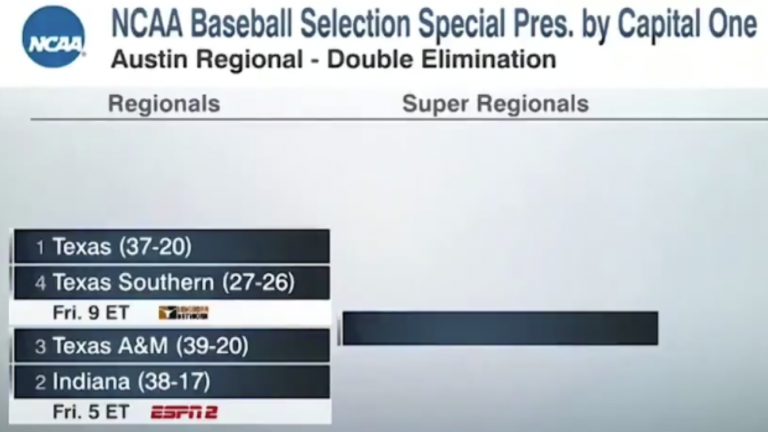 Game one was a loss against A&M in a battle of number one starters. That loss forced a win or go home situation on Saturday against Texas Southern. Pauly Milto really did not want to go home. He threw a 4 hit, 10K, complete game shutout to extend the season another day.
That set up what turned out to be one of the most memorable days Hoosier Baseball fans had seen in a long long time. It was a sweep or go home doubleheader scenario against Texas A&M and Texas.
The Hoosiers came out of the gates firing with a 9-run first inning against the Aggies. That included a two hit inning from Matt Lloyd. Matt's second hit was the three run homer to make the lead nine. All nine runs were needed. By the bottom of the ninth, Matt Lloyd found himself on the mound with the winning run for Texas A&M at the plate and 1 out. He got the double play he needed and Hoosier Baseball advanced to the nightcap 9-7.
Coach Lemonis elected to use Tim Herrin out of the bullpen during the A&M game. Herrin earned the win by surrendering only 1 run in 3 innings of relief. That led to Andrew Saalfrank getting the ball against the powerful Texas lineup in Game 2 of the day.
Saalfrank was brilliant. He held that high scoring lineup to just 2 runs in 5+ innings. Hoosier Baseball had a 2-1 lead but Kody Clemens and that offense did just enough to take a 3-2 Texas lead into the final frame. The Hoosiers got both the tying run and the winning run into scoring position, but failed to drive them in. It was an incredible effort by this team against the Big XII champion, but the Hoosiers came up just short. The season ended with an impressive 40 wins.
June Record – 2-2
June Hoosier Highlight of the month – Matt Lloyd's 3 run homer and save vs Texas A&M
Honorable Mention –
Pauly Milto's Complete Game Shutout vs Texas Southern
As the offseason began, many Hoosier fans paid close attention to Louisville to see if Coach Dan McDonnell was going to take the vacant Mississippi State job. McDonnell was interviewed and seemed to be at the top of the list for the high profile SEC position. It started to sink in that Louisville could soon be looking for a new head coach. The first name almost everyone mentioned for a potential Louisville vacancy was McDonnell's friend and former top rated assistant: Indiana's Chris Lemonis.
It only took a few days to find out.
#BREAKING: Louisville baseball coach Dan McDonnell to stay after talks with Mississippi State https://t.co/l9PJmYqdgn via @courierjournal

— Danielle Lerner (@danielle_lerner) June 6, 2018
McDonnell turned them down. Big exhale from Hoosier fans. Time to just focus on the next night's MLB Draft. Four Hoosiers heard their name called by the time the MLB Draft was over.Herrin, Miller, Sowers and Stiever would sign pro contracts and report to minor league clubs.
In what continued to be a busy June, Summer Ball began for our current Hoosiers and State Title runs went on for our Future Hoosiers. Two Future Hoosiers won State Titles,Ty Bothwell and Grant Richardson.
So now it was time to just move on with the Summer and check in on our Hoosier Baseball Alumni in the Pros or see which current Hoosiers were excelling out at Summer League.
Not exactly.
BREAKING: I'm hearing from sources that @IndianaBase head coach Chris Lemonis will be the next head coach at @HailStateBB, and that top #HailState assistant Jake Gautreau will stay on staff. If that doesn't change, I really like that duo.

— Kendall Rogers (@KendallRogers) June 25, 2018
• July •
Unexpectedly, July 2018 turned into July 2014. Fred Glass was on another coaching search. It wouldn't take Fred very long to find the next leader of Hoosier Baseball.
Outstanding get for @IndianaBase, hiring Jeff Mercer away from Wright State. The Hoosiers get one of the Midwest's best young coaches

— Teddy Cahill (@tedcahill) July 2, 2018
Coach Mercer wasted no time hiring his staff.
https://twitter.com/indianabase/status/1017121855864438784?s=21
All the new staff were getting rave reviews nationally. Plus, there were still those rumors bouncing around about Number 27. The rumors turned out to be true, as Scott Rolen was added to the staff on July 18th.
Scott Rolen joins the staff of Hoosier Baseball #iubase https://t.co/j6h21dzQd1

— iubase.com (@iubase17) July 18, 2018
July also brought us Kyle Schwarber's memorable 55 home run performance in the MLB Home Run Derby. Unfortunately, he came up just short in the Final Round.
• August •
August provided a Sam Travis weekend at Victory Field. The 2014 B1G Player of the Year homered on Friday night for the Hoosier faithful in attendance.
"Slammy" Sam Travis (@DoctorChill6) smacked a home run last night as Big Time Wrestling was going on at McCoy! @Supercuts #SuperPlay pic.twitter.com/iYO9GrSTqn

— PawSox (@PawSox) August 11, 2018
It also included the first verbal commit to Hoosier Baseball for Coach Mercer. Blayne Deaton would be the first of many recruits we would hear about verbally committing to Coach Mercer and his staff throughout the Summer and Fall. This staff hit the ground running and put on a relentless coast-to-coast recruiting effort the minute they arrived.
By the end of the month the students were back and the excellent reviews of the new staff on campus kept rolling in.
• September •
September included a different version of Fall Ball then we had been accustomed to. Individual workouts were the route this staff went and the early Fall Scrimmages did not take place.
Out first look at Fall Ball came at Louisville where Hoosier Baseball would split a double header with the Cardinals.
September also meant the start of the Minor League Baseball Playoffs. By the end, Jonathan Stiever and Logan Sowers had won the Pioneer League Title with the Great Falls Voyagers.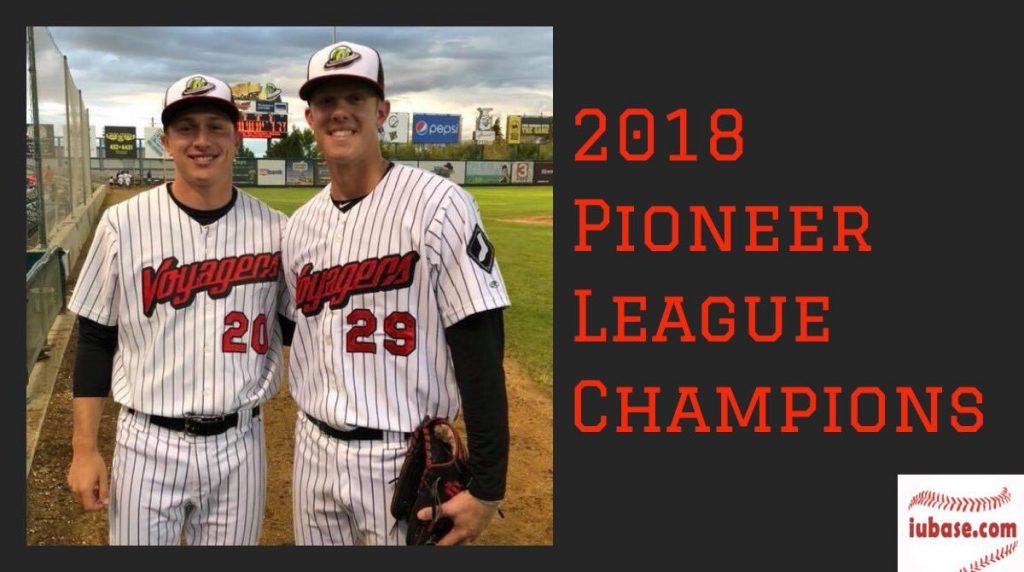 • October •
October means playoff baseball and two Hoosier alumni were on MLB playoff rosters. Josh Phegley made the playoffs for the first time in his career advancing to the AL Wild Card game with Oakland. Kyle Schwarber also advanced to the NL Wild Card game with Chicago. Unfortunately, both lost those wild card games cutting the Hoosier alumni postseason to a quick halt.
Fall Ball continued with a charity game against the University of Southern Indiana at Bosse Field. It was a huge success raising over $30K for the fight against Fredriech's Ataxia. Hoosier pitching was dominant, holding the Screaming Eagles to only one hit in nine innings.
• November •
The year began with January baseball at The Bart and was coming to an end with November baseball at The Bart. Coach Mercer's Fall Ball Schedule wrapped up with The Fall World Series. Team Fineman vs Team Cross. Green Hair was on the line. Even with Pat Loeffler's late inning heroics, Team Cross clinched the series on Saturday by winning the first two games. Pat's two out, last inning, game tying home run off of Matt Lloyd is still worth another look.
Pat Loeffler ties it up with Fineman 1 out from green hair. 2 run Bomb #HelmetsOff #iubase pic.twitter.com/m0fhKennnR

— iubase.com (@iubase17) November 3, 2018
Team Fineman won Game 3 for pride but Ryan still showed up at Simon Skjodt Assembly Hall with a new hair style two days later.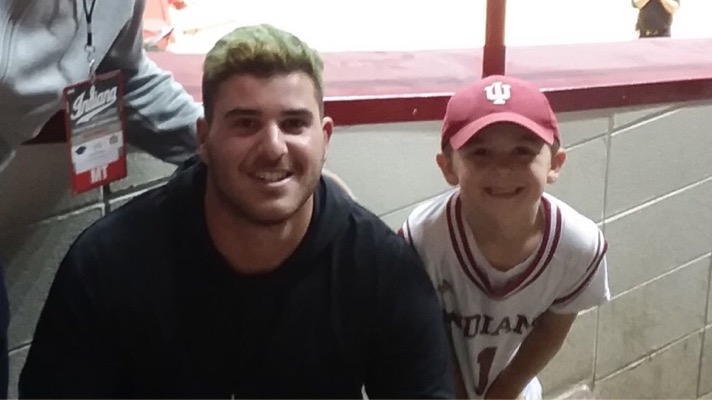 National Letters of Intent were signed in November as well. The result of Coach Mercer and his staff's dedication to recruiting were seen all across the country. Plenty of Future Hoosiers signed the very first day.
By Friday the list had grown by a few more. Plenty of talented Future Hoosiers are on their way to The Bart.
• December •
As always December was a slow month in the world of Hoosier Baseball. The team did show us that it is definitely not just ping pong and Fortnite while waiting for Finals week to conclude for these guys.
"Just lift."

There is never a dull moment in the weight room with our strength coach, @MrWalli. pic.twitter.com/lkGsUGQoLh

— Indiana Baseball (@IndianaBase) December 11, 2018
We also learned that Matt Gorski was listed as the #32 ranked draft ready prospect by Perfect Game and Matt Lloyd was named a pre season second team All American by Collegiate Baseball News.
Finally, from all of us at the site, we just wanted to say whether you have been checking in with iubase.com since last January or last week, thank you. If you've heard one episode or all 27 episodes of Talking Hoosier Baseball, thank you. 2018 was a fun ride, and it was fun to be on it with you. Hopefully the trip in 2019 lasts even longer into June.
Happy holidays and a happy, healthy New Year to everyone.
See you in 2019.