Indiana dropped it's only midweek game of the season, a make-up game vs Illinois Tuesday afternoon. Both teams employed a bullpen strategy.Illinois used seven different pitchers, most of whom had ERAs north of 9 entering the game. Indiana used only four pitchers.
Illinois got on the board in the second inning with two unearned runs off of Ty Bothwell. A double and misplayed ground ball lead to one run. With two outs a pair of singles drove in one more.
Indiana got a run in the third with a Morgan Colopy double that drove in Kip Fougerousse. The best opportunity for a crooked number was the fourth inning. Jacob Southern and Tank Espalin lead off with a single. Jeremy Houston laid down a great bunt but despite beating the throw was called out.
Hey, @bigten this was called for an out today by one of your umps, and can't be reversed.

This. Can't. Happen.
Not even close.

Time to either pony up for the tech or change the rules to allow for it if that's the issue.

Umpire ratings or accountability would be a dream😂 pic.twitter.com/4Se2HBshsw

— Josh Bennett (@Jmbennett22) May 19, 2021
Drew Ashley got on when hit by a pitch and the Hoosiers managed to score one with a Grant Richardson sacrifice fly.That tied the score a two and the Hoosiers would not score again.
Bothwell, John Modugno, and Grant Macciocchi each put in three inning and only the two unearned runs were given up. Reese Sharp pitched the 10th and took the loss via a solo home run, but otherwise he pitched well.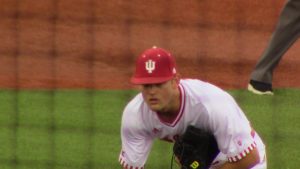 The Hoosiers outhit the Illini 9-5, but just could bring guys home. Colopy and Fougerousse were the only Hoosiers with multi-hit days.
With the loss Indiana dropped to third place in the Big Ten standings . they are 1.5 games behind league leader Nebraska who they play in a pod at 8pm Friday at Bart Kaufman Field.