Apparently The Logan Kaletha Show has been renewed for another season. After seven games he had us all making sure we knew who this new face in Cream and Crimson was.
Actually, it started in Fall Ball when reports were coming out about this #11 and his homers and web gems and wheels.
Rumor has it @LoganVolsBsbl junior college transfer OF @LoganKaletha is on fire during Fall Ball so far . Hit another homer today #IUBASE pic.twitter.com/XOmDQjvES6

— iubase.com (@iubase17) September 15, 2017
#11 finished the non conference part of the schedule with 2 Rickey Henderson homers , a walk off granny and that game winning rip in San Diego. Plus all kinds of web gems and getting on base any way he can to set the table. But I guess he's not done.
The Logan Kaletha Show definitely has been renewed for the Conference part of the Hoosier Baseball Schedule. We're just five games into B1G play but #11 has 8 hits, 5 walks, 6 runs scored and 2 long balls. Plus once in awhile he'll do something like this just to make sure your watching.
Purdue CF Skyler Hunter robbed Indiana of extra bases.

It only makes sense if @IndianaBase CF @LoganKaletha does the same to his rival.#BTNStandout x @Discover pic.twitter.com/SuzO66ebZM

— Big Ten Network (@BigTenNetwork) April 8, 2018
The last time we won a game in the 13th At The Bart the hero was also a junior college transfer outfielder and just happened to be the 100th win for Coach Lemonis. I bet somewhere Alex Krupa was smiling yesterday .
The Hero is always the last one out of the dugout #PostgameInterviews@AlexKrupa2 @HoosierBaseball #IUBASE pic.twitter.com/VQzX62iD3S

— iubase.com (@iubase17) May 25, 2017
Sunday's 13th inning walk off shot was win 123 for Coach Lemonis and his staff. You never know where you are gonna find a hero but this staff sure has a way of finding them.
The hero is always the last one out of the dugout (postgame interviews) #iubase pic.twitter.com/lcfTgJtiYa

— iubase.com (@iubase17) April 8, 2018
Not that I can't tell the Logan's apart but I can't go without mentioning that this walk off also capped off a special day for Logan Sowers. Knowing him, he wouldn't have been as happy getting Career Hit Number 200 in a loss to that team near the Wabash River.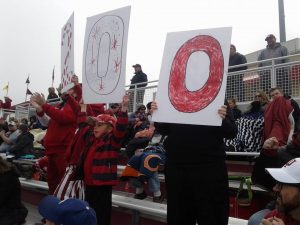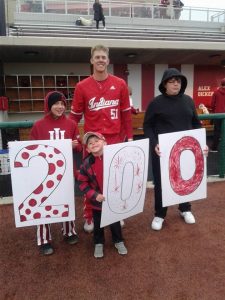 This team is not perfect and baseball can serve you that gut punch like it did Friday Night. Or it can give you that feeling in your stomach when your down 5-1 in the fourth to your rival in the rubber game of the series. But you don't have to be perfect to be resilient and sometimes baseball sends you home with a walk off home run from #11.
https://twitter.com/indianaonbtn/status/983120805088280576?s=21
#iubase
— CF