8 Days in May that won't soon be forgotten in the lores of Hoosier Baseball history. 8 Days that led to 6 different wins in 3 different states right when a promising season was heading towards the ways of an unforgettable one but for all the wrong reasons.
Well Done Hoosier Baseball.
Well Done.
Anatomy – (noun) – a study of the structure or internal workings of something
May 12th
Hoosier Baseball had lost their 5th game in a row the night before. It was also the 9th loss in 11 games. That night before might have something to do with what happened the next 8 days though. In what was a 5-2 loss something stood out. Or really I guess it was that someone stood up. After a Nebraska player decided it would be fine if he showed up our pitcher, The Captain had other ideas and made sure that wasn't gonna be acceptable.
His own manager was waiting at the top step of the dugout to bench him from the game. His manager wasn't the only one who noticed. Several Alumni and ex teammates of Ryan Fineman did to.
At the time is was a great example of guys sticking up for each other no matter what had just happened. Looking back maybe it was exactly what was needed in more ways than one.
May 12th was the return of Pauly Milto to the starting rotation to fill out that Captain Battery that has had so much success all year. Hoosier Baseball was suddenly in some rough waters and both Captain's were needed to steady the ship.
It worked.
We had a starter on the mound that hadn't been there in awhile and an inning with the type of offense we hadn't seen in a while either.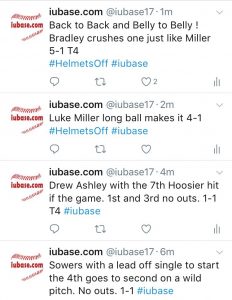 It was a 6-3 Win and evened the series. Win #1
May 13th
The bats stayed hot early on that Sunday and before we knew it it was 8-0 Hoosier Baseball. Nebraska never quit and had the tying run to the plate in the 7th and 8th and even the winning run to the plate in the ninth but Logan Sowers grabbed that ball and never let it clear the fence. Win #2 in a row and a road series win.
May 14th
Off Day
The weekly NCAA Tournament Projections come out and we see a 3 seed for Hoosier Baseball In The Clemson Regional.
May 15th
It was a trip to our coaches old office for a chance at a huge resume road win.
Cam Beauchamp throws a gem and keeps that hot lineup in check. And we are tied 1-1 to the 8th. Fineman drives a run in to make it 2-1 to the ninth. In the ninth Kaletha drives in a run to make it 3-1. Both runs were huge as Louisville got 2 in the ninth to send it to extras.
A gut punch for sure but Hoosier Baseball got off the mat quick with clutch hits from Cole Barr and Logan Kaletha and that 3 run blast from Lloyd.
A five run 10th inning sent most of that Louisville crowd home and eventually sent Hoosier Baseball on a happy bus ride home 9- 5 winners . Win #3 in a row clinched a winning road record for the season and added a nice resume win
May 16th
Off Day
May 17th
The Lazy Mary Game
Thursday was Friday because it was the last series of the regular season. It hadn't started out well and then lightning struck and the two hour delay began with Hoosier Baseball down 4-2. It was a 2 hour top of the seventh inning but that seventh inning stretch was glorious.
Lazy Mary at the Bart.
Incredible.
Maryland got another run after Mary's debut but Luke Miller made sure she was a winner. A come from 3 runs down in the 8th inning winner and instant legendary status. That was win #4 and clinched the B1G Ten Tournament berth.
May 18th
Night turned into day on Friday because of wet weather in the forecast. Milto back to the hill at the Bart for the first time since Northwestern and that wild 8th inning comeback win. Just like that night he only gave up 1 and we were tied 1-1 until Logan Sowers untied it. A 2 run single for the lead that we'd never give up. Win #5 clinched a series win to close The Bart.
May 19th
A lot of pressure going into this one. Was the Talking Hoosier Baseball Saturday Tailgate going to stay undefeated?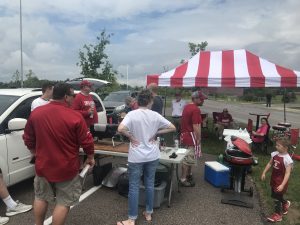 Were the 'Sunday Reds' going to stay undefeated at The Bart?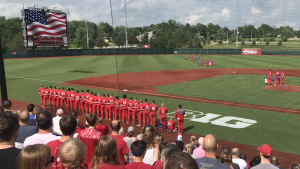 Senior Day ceremonies were great especially those video tributes. And Logan Sowers was even better.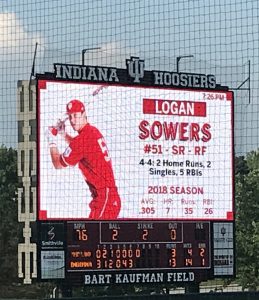 It was back and forth early but not for long. A 13-3 Hoosier Baseball Win for Win #6 in a Row and an end to the regular season.
8 Days and 6 wins that seemed to come at us when we least expected them. This team isn't perfect, no team is, but it came back in a big way after a rough few weeks.
Was it Fineman's 'keep it moving' moment on Friday Night?, was it The Captain of Talking Hoosier Baseball's emergency tailgate video? , was it having to wear the 'Sunday Reds' on Saturday in Lincoln?, was it Lazy Mary?. Probably none of them. Or maybe all of them. Who cares?
We just won 6 in a row.
Wednesday 10pm lets make it 7
Go Hoosiers
#iubase
— CF