Now that was fun.
Tim Herrin was dominant. 1 Hit No Runs. 6K's. Only 1 runner even reached second base through six innings.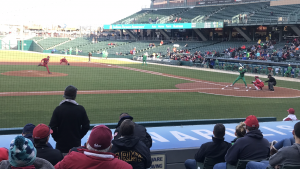 The offense had some of us looking for new seats for awhile but then Ryan Fineman made us all stand up.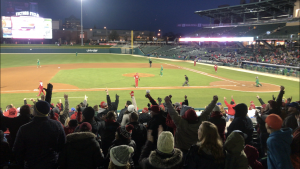 Hearing that Victory Bell to cap it off wasn't bad either.
Twenty Seven and Six
#iubase
— CF
Here's some Hoosier Baseball In The News from Tuesday night's shutout at Victory Field.
MIke Pegram – 247sports.com
Matthew Van Tryon – Indy Star
Andy Graham – IUHoosiers.com
Fineman hits the bomb
Coach Z rings the bell
WooHoo Baby way to go BUBS @IndianaBase @lemo22 @IUBaseDOps @BunnRHP @k_cheesebrough @zachlucas11 Beat @NDBaseball 3-0 It was cold ❄️ but we finally got on 🔥 Proud of you BUBS #RINGADINGDING🛎 pic.twitter.com/OMYBZ419ur

— Zachery Mezger (@coachzman) April 18, 2018