Game 1 : Hoosier Baseball Wins 4-0
Win: Stiever
Game 2 : OSU 5 IU 4
Game 3 : Sunday 1pm
Hoosier Baseball has not played a game away from The Bart on two consecutive days since March 3rd and 4th in San Diego. We left San Diego 9-2 and have gone 19-4 since. But now we see if we can take this show on the road again.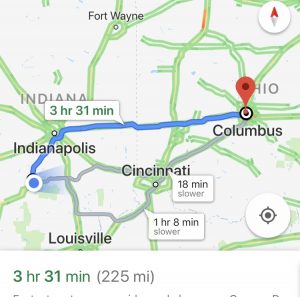 The Buckeyes (25-10) have won 5 in a row and are 10-2 playing at Nick Swisher Field this season. They've started off 6-3 in The B1G. Most recently sweeping a series in Happy Valley.
The big bat to watch out for is Noah McGowan. He leads OSU in Homers, RBI's and batting average. ( 7/44 .396)
And Connor Pohl isn't to far behind with 6/36 and .348.
Dominic Canzone would be another name to look out for as he is hitting .338 with 40 runs scored and is 9 out of ten swiping bags on the season.
In 2017, Hoosier Baseball finished the regular season winning the rubber game of the series in Columbus. Cal Krueger started and got the W and you can read about that game here
This is the first of three weekends left to add to that resume some RPI valuable Road Wins and to make sure we are ready for some June Baseball. With just 7 Games Left At The Bart in 2018 now is absolutely the time.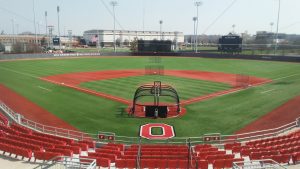 Pitching and defense travels so I think we'll be just fine. Plus, after what we've seen through 34 games, I'd have a hard time believing that this team would take any field from now until Memorial Day not expecting to win.
#iubase
— CF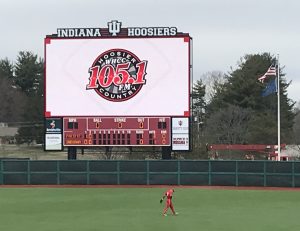 Greg Murray Play by Play Link
Pitching Matchups / Start Times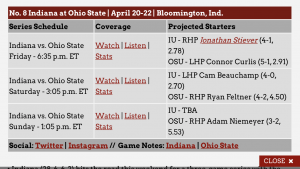 Via IU Series Preview which you can read here
http://iuhoosiers.com/news/2018/4/19/baseball-no-8-hoosiers-travel-to-ohio-state.aspx
IU Game Notes
OSU Game Notes
OSU Media Interviews (video with HC and players)
OSU Series Preview
OSU Team Stats