ESPNU will broadcast the commitee's 64 team bracket live Monday at 12 noon. Expect Hoosier Baseball to receive a #2 or #3 seed.
Immediately before that, at 11am, Carl James will be doing a Facebook Live pre Selection Show Discussion regarding the NCAA Tournament.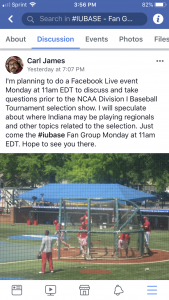 To view it just join the #IUBASE Facebook Group at this link
https://m.facebook.com/groups/1190112374390982.
June Baseball starts Friday