Rivalry B1G series gets underway
By Carl James @jovian34 May 12th, 2023
---
Top 9th: Purdue 11, Indiana 26 (FINAL)
Colopy remains in right field. Sam Murrison is in left. Seiler goes 1-2-3 and makes a great play and show⭐to seal the victory. The Hoosiers are tied for the B1G lead.
Bottom 8th: Purdue 11, Indiana 26
Phillip Glasser and Bobby Whalen combine for a pair of hits to plate another run. Morgan Colopy pinch hits for Devin Taylor and strikes out.
Top 8th: Purdue 11, Indiana 25
Ben "Bigs" Seiler is the new pitcher for the Hoosiers. Serruto cuts down a potential base stealer to end the inning.
Bottom 7th: Purdue 11, Indiana 25
Hoosiers get three back in the bottom.
Top 7th: Purdue 11, Indiana 22
Brooks Ey is the new pitcher. He is greated with a solo home run then walks the next batter, and then gives up a single. Ey is in trouble. Cooper Katskee has been seen in the Hoosier bullpen. Ey walks the bases loaded and Dusting Glant comes out for a mound visit. Ey gets ahead of the next batter 1-2, but surrenders a two RBI-double. There are still no outs. A passed ball plates another and Jeff Mercer has seen enough. Cooper Katskee is the new Hoosier pitcher. Katskee walks Paul Toetz. A wild pitch allows Toetz to take second, but Serruto keeps the other runner at third. An RBI groundout cuts the lead to 12. An RBI single plates another. Ben Seiler has started throwing in the Indiana bullpen. Katskee ends the inning with a much needed 5-4-3 double play.
Bottom 6th: Purdue 5, Indiana 22
There is a new Bart Kaufman Field home run record. Jessee and Serruto add solo shots. At this point every Hoosier except for Whalen and Mathison have homered. Mathison did however drive in two with an RBI single. Every Hoosier has hit now. Then Jessee comes back up in the same inning and homers again.
Top 6th: Purdue 5, Indiana 14
Sinnard gives up a home run, but settles down with three strikeouts.
Bottom 5th: Purdue 3, Indiana 14
Pyne is still rolling, leading off the inning with a single. Jessee rips a double to the gap the other way scoring Pyne. Jessee advances to third with one out on a Cerny fly ball. Peter Serruto strokes a single driving in Jessee. A walk of Glasser prompts another Purdue pitching change. A wild pitch advances runner to second and third. With first base open, Whalen walks to load the bases for Devin Taylor. A ground ball to first base allows Purdue to get the lead runner at home. Brock Tibbitts picks him up plating two more with an RBI-single.
Top 5th: Purdue 3, Indiana 10
Sinnard surrenders a lead off home run and a ground rule double before inducing an infield pop-up. Sinnard's sixth strikeout got away from Serruto allowing the runner to get on and advancing a runner to third that scores on a sacrifice fly. A fly ball ends the inning. Sinnard is at 68 pitches.
Bottom 4th: Purdue 1, Indiana 10
Josh Pyne is staying hot with a single over the head of Toetz. Jessee strikes out check swinging. Pyne swipes second without a throw. Cerny hits a no doubter over the center field fence. Glasser slaps a two-out single into left field, steals second, and Whalen drives him in with a double to right field. There is activity now in the Boilermaker bullpen. Devin Taylor then destroys a baseball, depositing it over the right center fence. Brock Tibbitts goes back-to-back on the next pitch forcing a pitching change.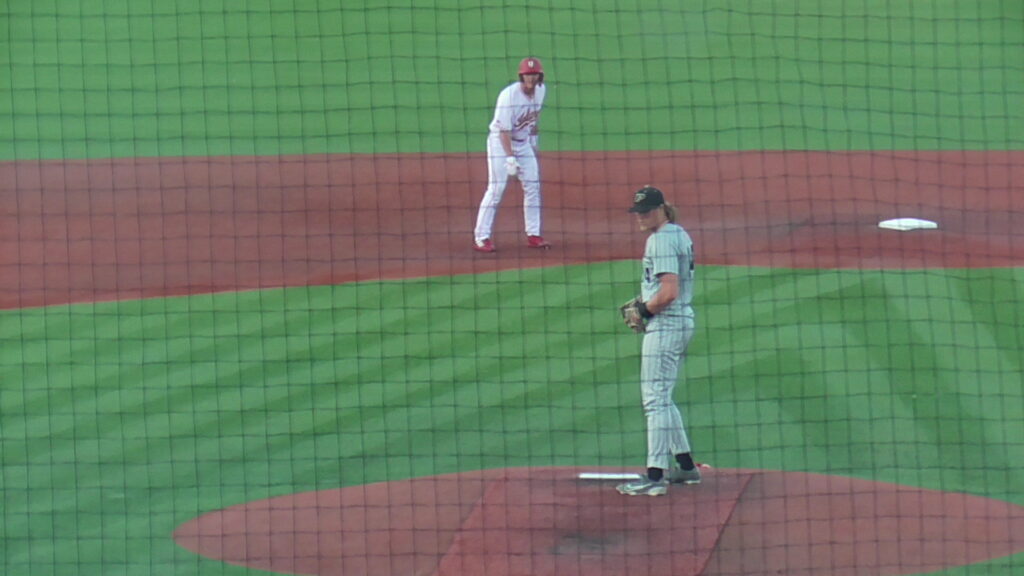 Top 4th: Purdue 1, Indiana 4
Sinnard gets a flyout to foul territory and Paul Toetz grounds out to Pyne. Sinnard is now up to 95-MPH on his fastball and induces a swinging bunt with a breaking ball to end the 1-2-3 inning.
Bottom 3rd: Purdue 1, Indiana 4
Taylor flies out to center. Tibbitts worked a 6-pitch groundout. Stephen is hitting 95-MPH on his fastball now and is throwing more strikes. Carter Mathison works a full count, then looks at a breaking ball for strike three.
Top 3rd: Purdue 1, Indiana 4
Sinnard keeps throwing strikes getting a weak pop up to start the inning. Phillip Glasser commits an error on a throw to allow a runner to get to second and he scores (unearned) on an RBI single. Sinnard plunks Cornblum on a 1-2 pitch. A fielder's choice gets the second out at second base. With the heart of the Purdue order up, pitching coach Dustin Glant comes out to talk to Sinnard and the infield. Sinnard induces a groundout to Pyne to end the inning.
Bottom 2nd: Purdue 0, Indiana 4
Stephen sets down the Hoosiers 1-2-3 and is at 41 pitches through two.
Top 2nd: Purdue 0, Indiana 4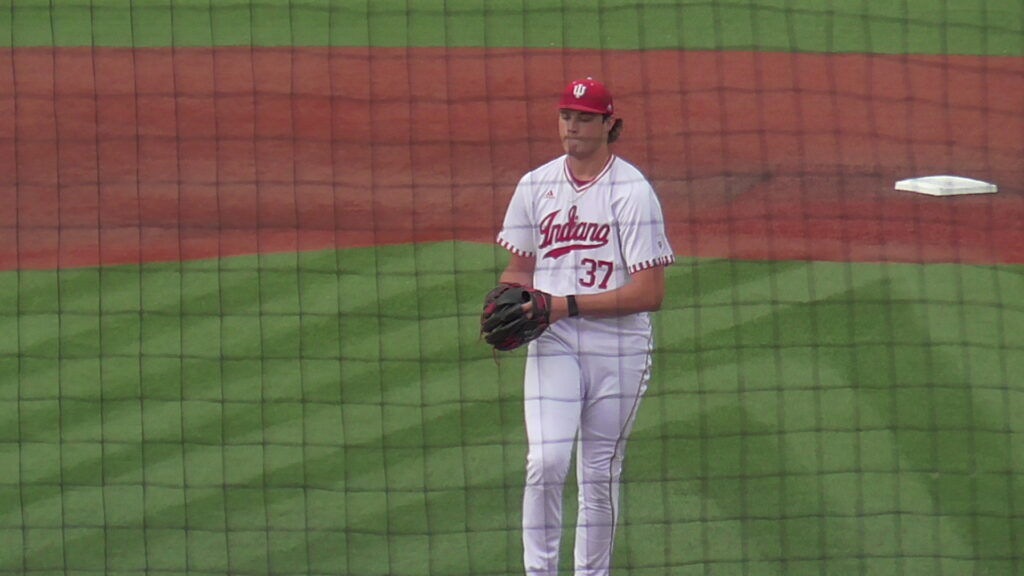 Luke Sinnard pounds the zone immediately striking out the side, 1-2-3 for a great shut-down inning.
Bottom 1st: Purdue 0, Indiana 4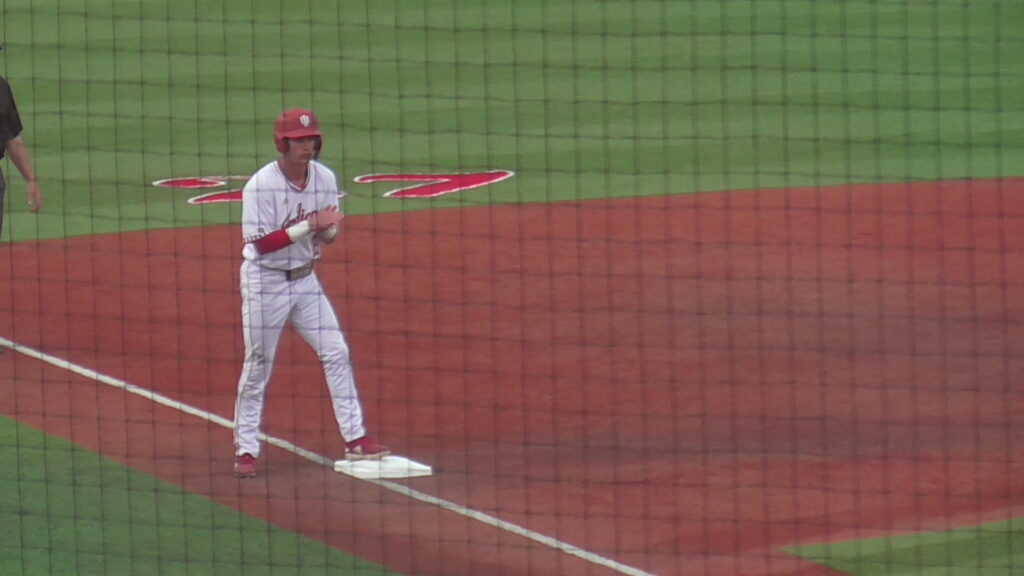 Phillip Glasser goes opposite field for a lead-off homer into the Indiana bullpen. Bobby Whalen legs out a triple. Devin Taylor hits a 3-0 pitch up the middle for a single to drive in Whalen. Brock Tibbitts is robbed of extra bases on shot to deep center for Purdue righty Kahl Stephen's first out. Carter Mathison works the one-out count full before striking out on an 83-MPH breaking pitch. Stephen starts with a breaking ball strike to Pyne before getting a foul ball on a 93-MPH fastball. Pyne blasts a two-run homer on the next pitch. Hunter Jessee keeps things going with a two out double prompting a mound visit from the Purdue pitching coach. Cerny gets Stephen's pitch count up to 31 before flying out to right field.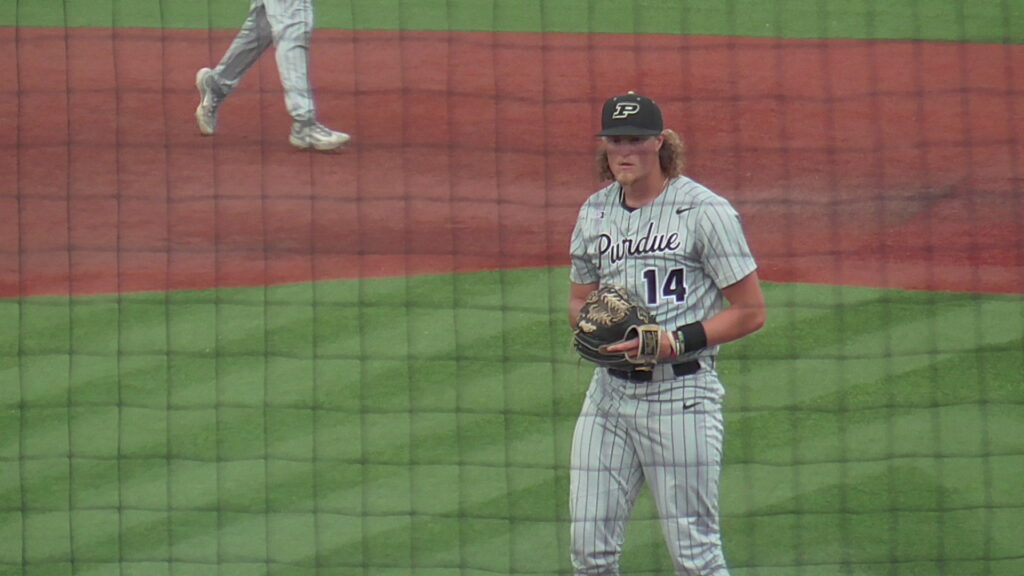 Top 1st: Purdue 0, Indiana 0
Luke Sinnard is making his second outing as the Friday night starting pitcher. Brock Tibbitts stops a Bolton grounder from getting into right field and SInnard strikes out Cornblum and Caskenette.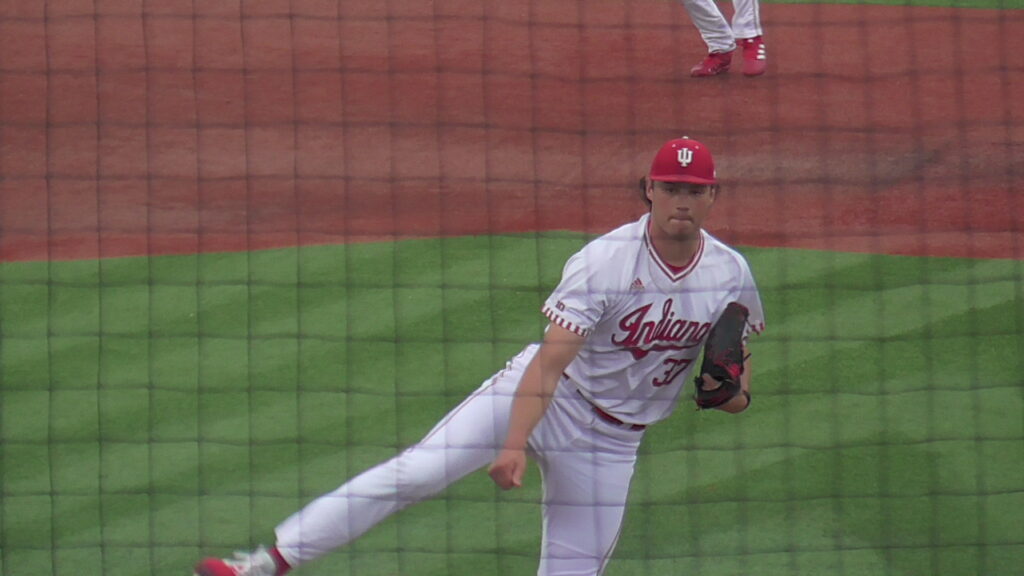 Pregame: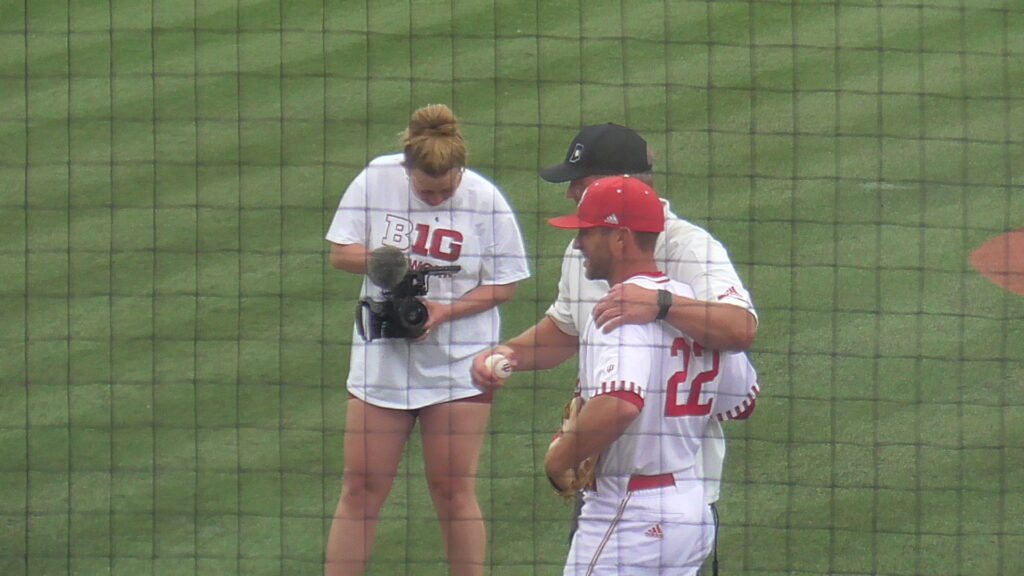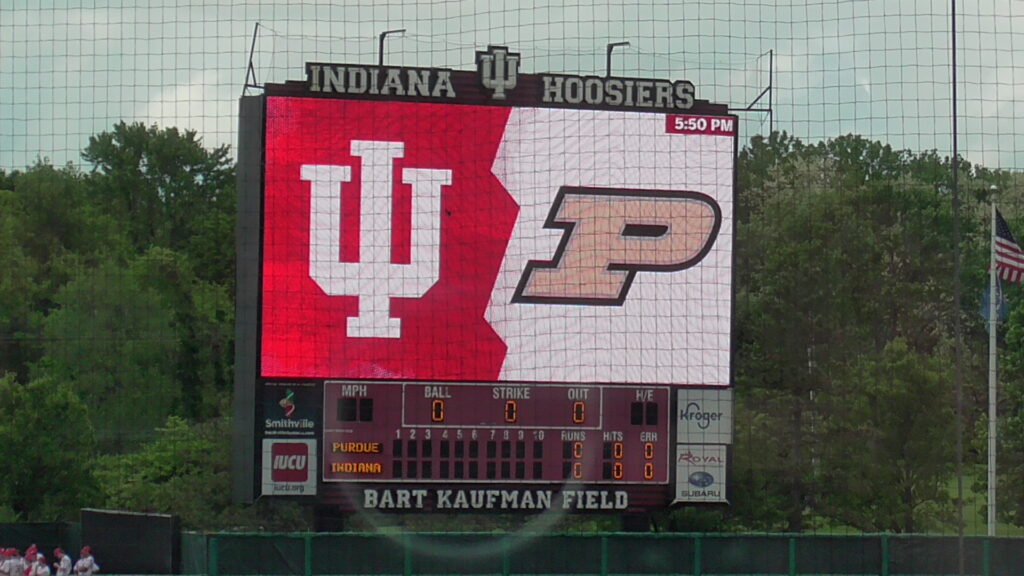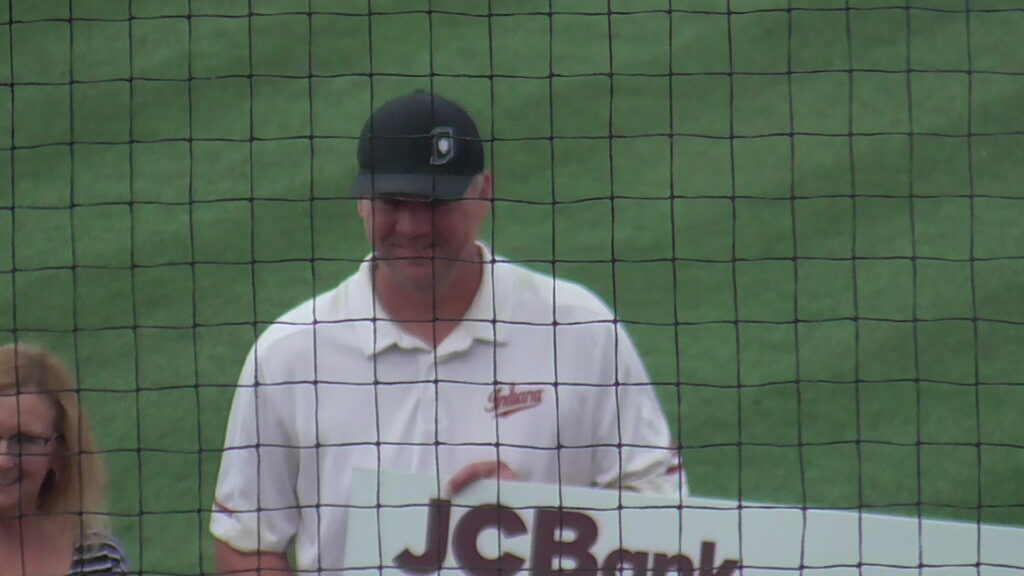 Starters
A rivalry matchup for our last home series.

📺 https://t.co/JggkZCNKqX
📻 https://t.co/Q3EAWiGCJF
📊 https://t.co/LFiX0NoV4O pic.twitter.com/6rrmjVwXio

— Indiana Baseball (@IndianaBase) May 12, 2023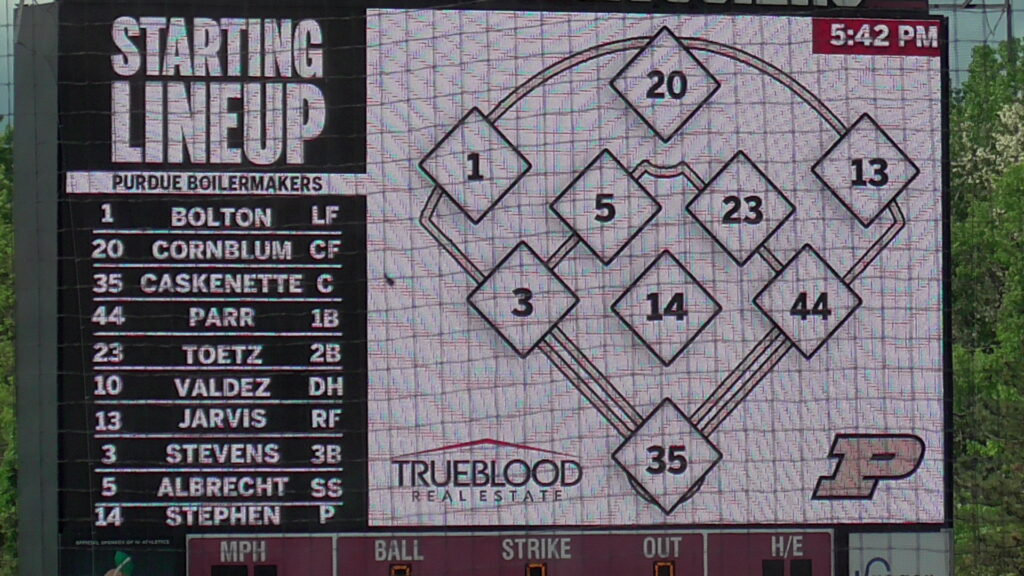 Links
A rivalry matchup for our last home series.

📺 https://t.co/JggkZCNKqX
📻 https://t.co/Q3EAWiGCJF
📊 https://t.co/LFiX0NoV4O pic.twitter.com/6rrmjVwXio

— Indiana Baseball (@IndianaBase) May 12, 2023