Hoosiers attempt a series win over Ohio out of the MAC in game of weekend series (B1G-bye)
By Carl James @jovian34 April 22nd, 2023
---
Top 9th: Ohio 2, Indiana 17 (FINAL)
Seiler gives up a pair of one-out singles. ⭐Evan Goforth playing first base now, is drawn off of the bag by a throw and applies a tag to make the second out of the inning. A Seiler strikeout seals the series victory.
Bottom 8th: Ohio 2, Indiana 17
Cerny, Glasser, Sam Murrison, and Taylor all get hits and the Hoosiers plate four more insurance runs.
Top 8th: Ohio 2, Indiana 13
Ben Seiler is the new Indiana pitcher with an easy 1-2-3 inning.
Top 7th: Ohio 2, Indiana 13
Luke Sinnard was a throwing a plyo ball in the dugout during the long half inning and is back out for a seventh inning of work. Ben Seiler is now working the bullpen. Sinnard gets two quick strikeouts, his seventh and eighth of the game. ⭐Glasser makes another great play to end this 1-2-3 inning.
Bottom 6th: Ohio 2, Indiana 13
Mathison responds with a solo shot of his own 457′ off the bat at 109-MPH. Pyne gets his fourth hit of the day and scores on a 419′ shot by Tyler Cerny, his second of the day.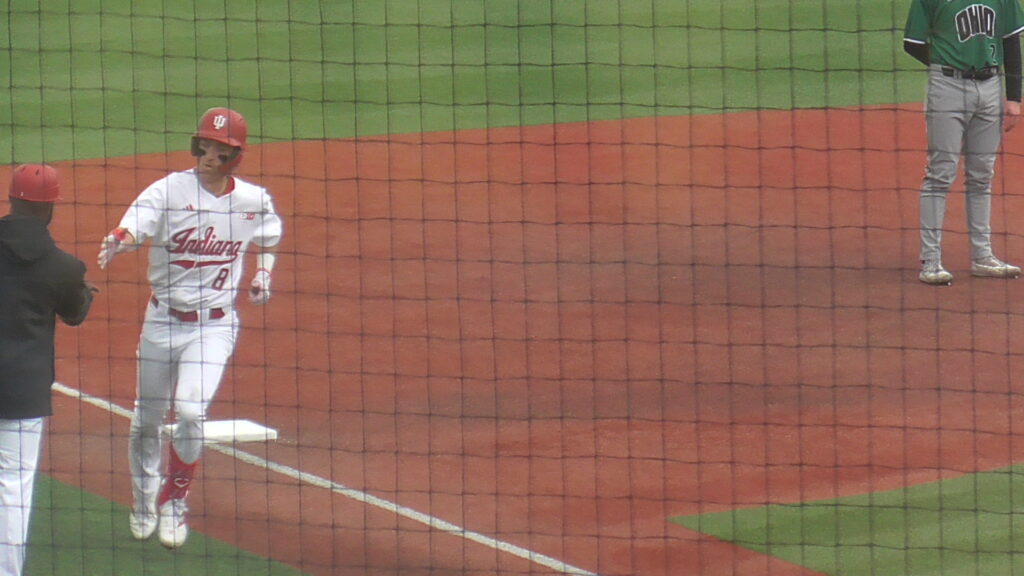 Top 6th: Ohio 2, Indiana 10
A one-out solo shot notches a small dent in the Hoosier lead. ⭐ Glasser makes a leaping grab to rob a hit and end the inning. Sinnard has thrown 81 pitches so far, two-thirds of which have been strikes.
Bottom 5th: Ohio 1, Indiana 10
The Hoosiers follow-up 4-run fourth, with three weak contact outs in the fifth.
Top 5th: Ohio 1, Indiana 10
Ohio gets a one-out threat with a double down the right field line. Sinnard ends the threat with a strikeout and groundout.
Bottom 4th: Ohio 1, Indiana 10
It's a Hoosier hit parade. Glasser, Tibbitts, Mathison, and Pyne all collect hits to extend the Indiana lead by four more runs. Indiana bats around.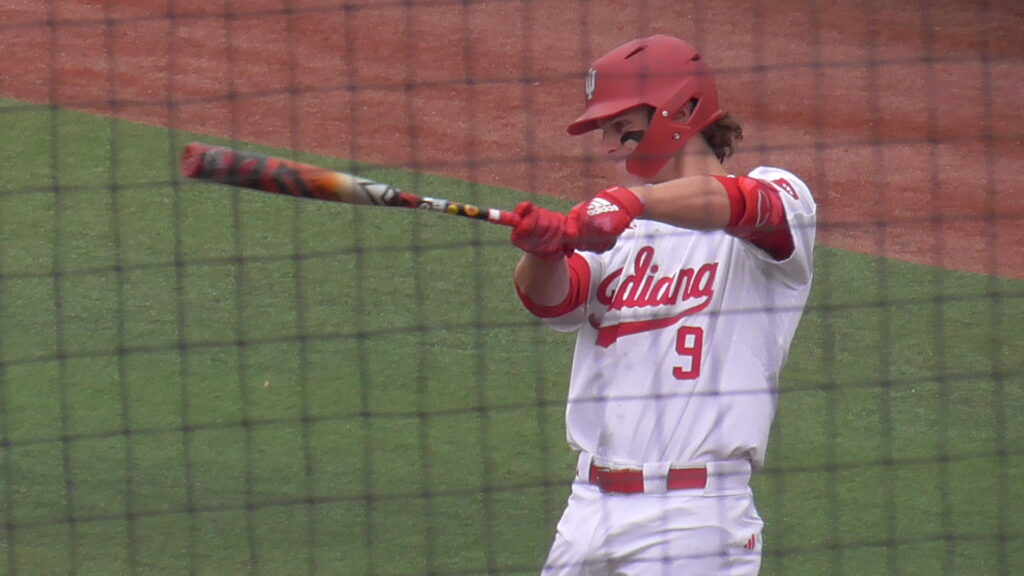 Top 4th: Ohio 1, Indiana 6
Following a similar pattern to the third inning, Sinnard gets two quick outs and walks a batter before ending the inning with no damage.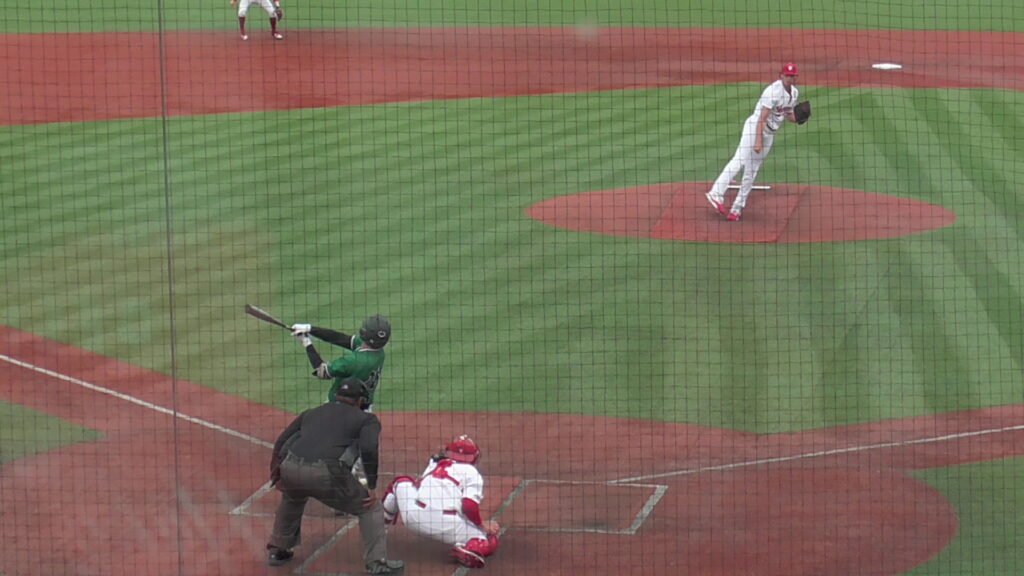 Bottom 3rd: Ohio 1, Indiana 6
Whalen and Taylor start the inning off with singles. A deep sacrifice fly by Tibbitts plates Whalen and Taylor advances into scoring position. Cerny just beats out a double play attempt to earn an RBI on a fielder's choice. The umpire ruled that the first baseman came off the bag. The first baseman asked for a reply review, forgetting that he's not playing in a MAC ballpark that has, he's playing in a Power-5 ballpark that doesn't.
Top 3rd: Ohio 1, Indiana 4
Sinnard worked around a two-out walk and ended the inning with another strikeout. Sinnard is being efficient, only needing 40 pitches to get through the first three innings.
Bottom 2nd: Ohio 1, Indiana 4
Pyne rips an RBI single and Tyler Cerny lifts a ball into the wind in right for a three-run homer.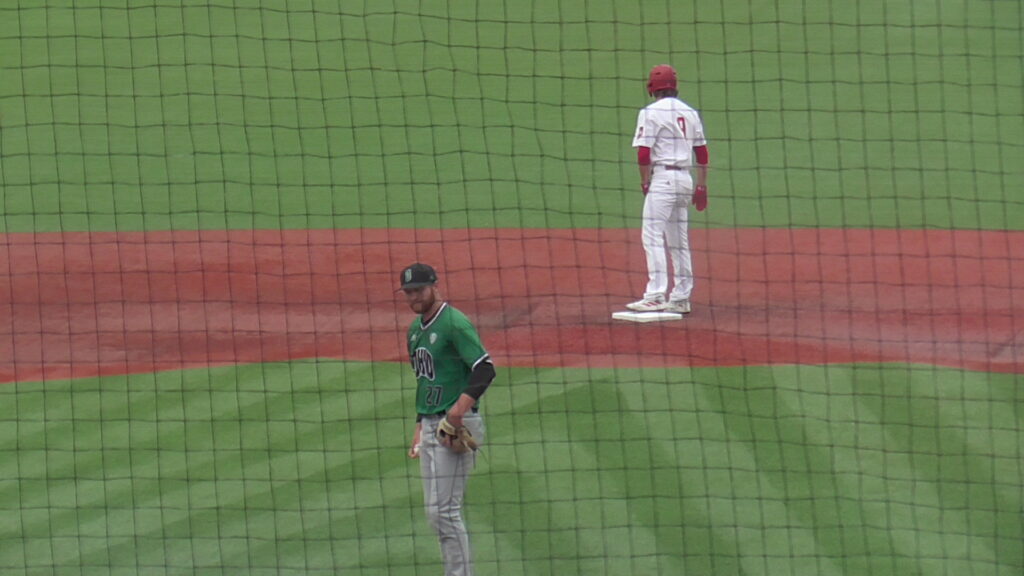 Top 2nd: Ohio 1, Indiana 0
Lead-off hitter gets a ball up into the air in right field. With the wind blowing out hard to right it easily carried for a solo home run giving Ohio the early lead.
Bottom 1st: Ohio 0, Indiana 0
Glasser flew out to start the inning. Bobby Whalen was hit by a pitch, but caught trying to steal second. Devin Taylor grounded out to the second baseman.
Top 1st: Ohio 0, Indiana 0
Luke Sinnard starts the game with a strikeout. Josh Pyne and Phillip Glasser had a scary moment colliding in foul territory on a pop up. Sinnard finishes that batter with a swing strike as well. A two out single gets Ohio its first baserunner of the day. Inning ends on a line out to Hunter Jessee in left field.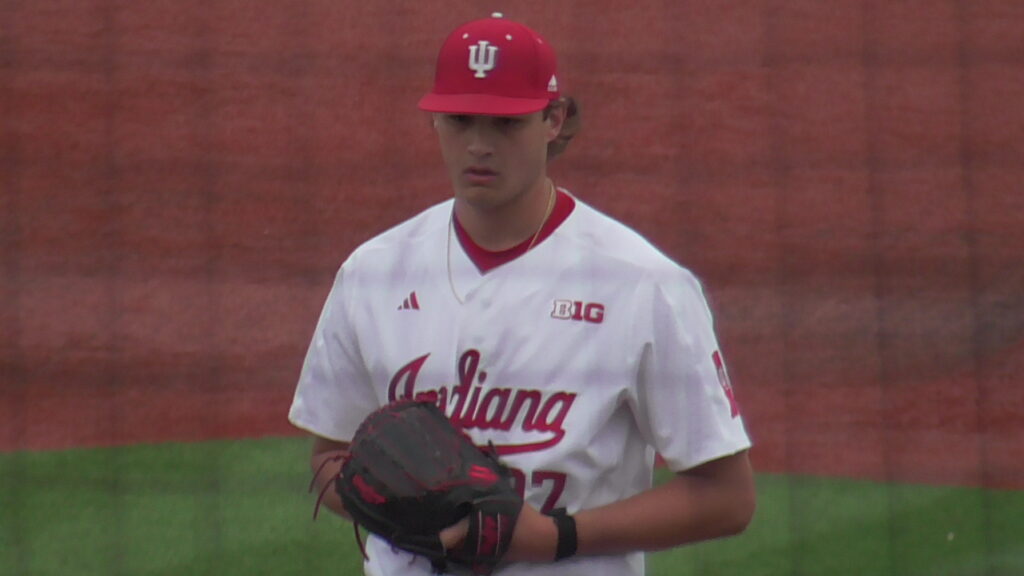 Starters
The first on the field for 90's day at The Bart. pic.twitter.com/Kki324MNoM

— Indiana Baseball (@IndianaBase) April 22, 2023
Links
Game ✌️ against the Bobcats.

📺 https://t.co/gDzLxefs51
📻 https://t.co/Q3EAWiGCJF
📊 https://t.co/LFiX0NoV4O pic.twitter.com/M19ygQB6yx

— Indiana Baseball (@IndianaBase) April 22, 2023