Indiana looks to avoid the sweep and get back into the B1G race on a cloudy Sunday afternoon
By Carl James @jovian34 April 30th, 2023
Bottom 9th: Maryland 14, Indiana 8 (FINAL)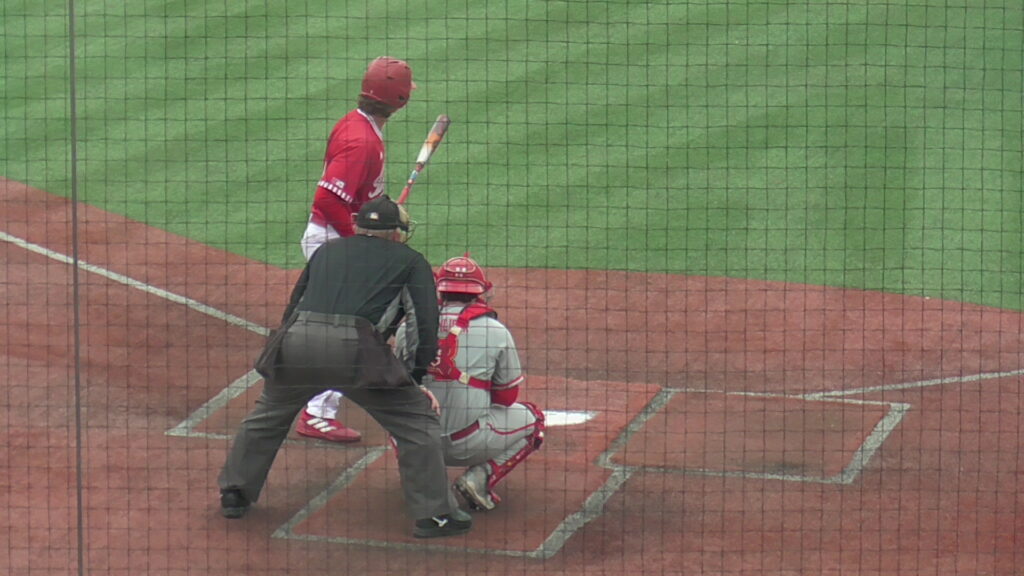 Hacopian robs Taylor of a lead-off single. Tibbitts flies out to right. Mathison rips a single into right for Indiana's 10th hit of the game. Pyne ground out. Maryland is the first team to ever sweep Indiana in a weekend series at Bart Kaufman Field.
Top 9th: Maryland 14, Indiana 8
Seiler walks the lead-off batter. Vega and Wes Burton are throwing in the bullpen. A wild pitch puts the runner in scoring position then advances to third with one out on a ground out. Seiler gets the count to 0-2 against Hacopian with the infield in. Mercer brings in Wes Burton likely to just try to get the strikeout. After a shallow flyout, a bunt single with a surprising safe call at first plates a run. Then Lambros rips a two-run bomb to put the game likely out of reach.
Bottom 8th: Maryland 11, Indiana 8
After two groundouts to short, Jessee walks on four pitches. A wind gust grabs a pop fly that drops in for an RBI double for Phillip Glasser.
Top 8th: Maryland 11, Indiana 7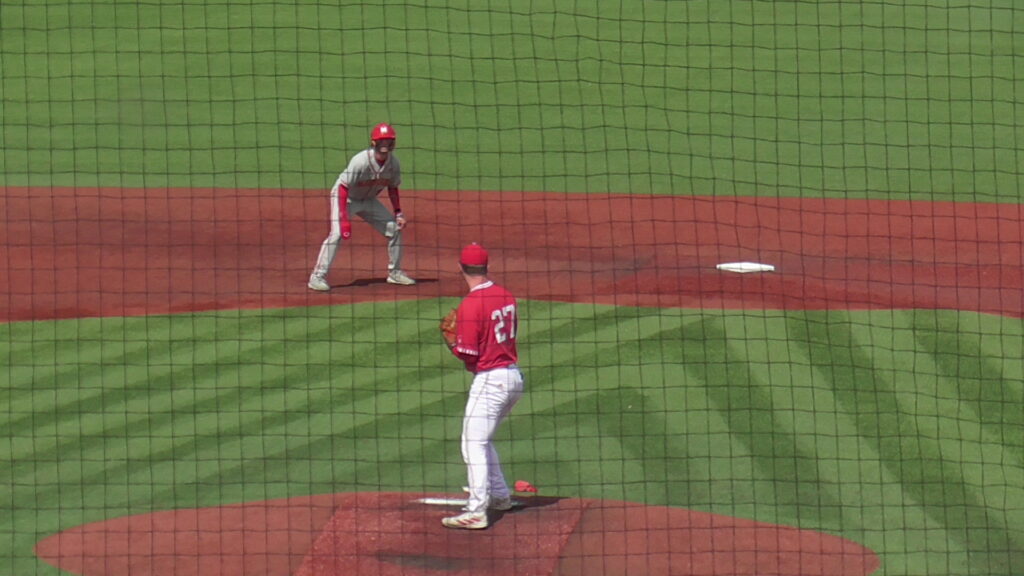 Hacopian swings the 🐢13th hit of the day to lead off the inning. Woods flies out and Lambros adds another single. The 15th & 16th hit of the day drives in the 10thand 11th Maryland runs. Ben Seiler is now in to face the top of the Maryland order. Seiler strikes out Shliger and gets Shaw to fly out ending the inning.
Bottom 7th: Maryland 9, Indiana 7
David Falco is the new 🐢 pitcher with a 1.48 WHIP. With two outs, Mathison hits a groundball through the shift and hustles to make it a double, but he's stranded by a Pyne flyout to right field.
Top 7th: Maryland 9, Indiana 7
Runners will be on second and third with one out and the dangerous top of the Terrapin order coming up. Shliger rips a single up the middle giving the 🐢 a two-run lead. Ey then walks Shaw to get Shliger in scoring position. Ey strikes out Lorusso on three straight strikes. Ben Seiler and Adrian Vega are tossing in the Indiana bullpen. ⭐Glasser robs a single from Petrutz to end the inning.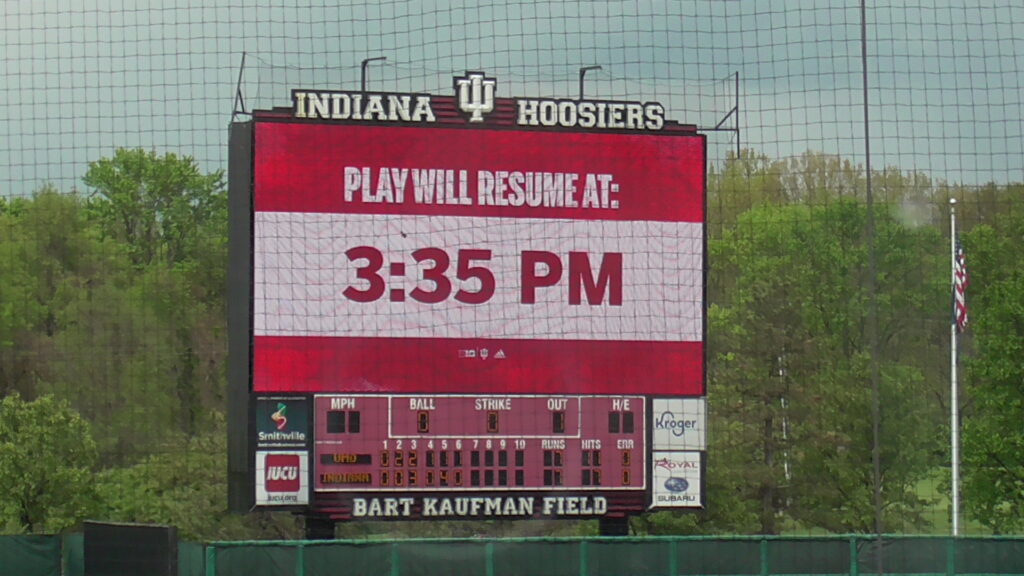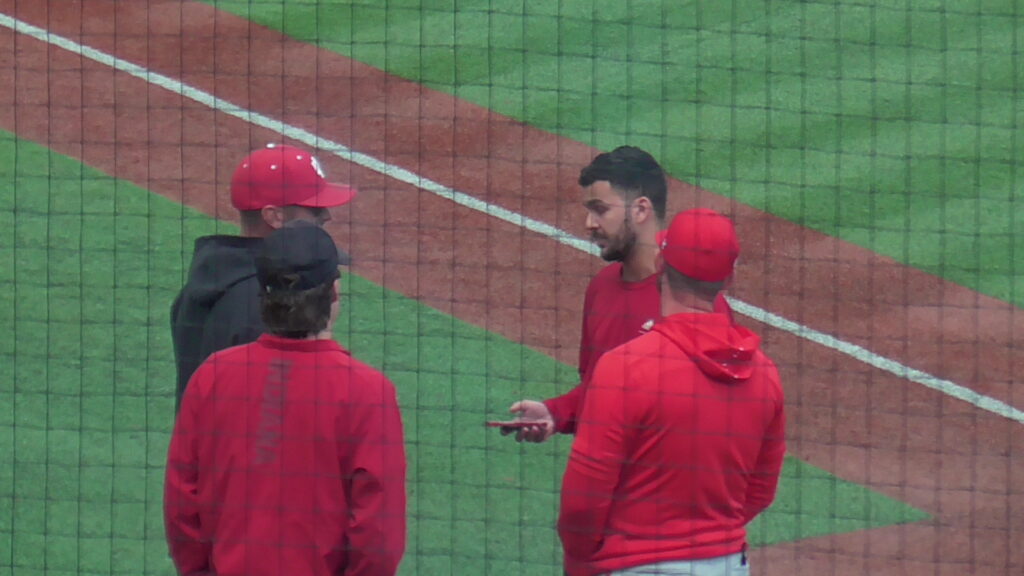 Foley walks Lambros to start the Terps seventh. Foley falls behind 2-0 to Jacob Orr, the 8-hole hitter who is trying to bunt. Orr fouls off strike two. Foley walks him as well. The decision to stick with Foley after a long delay may be questioned. Brooks Ey is the new Hoosier pitcher. Ey gets a groundout, and then lightning forces another delay.
Bottom 6th: Maryland 7, Indiana 7
Kenny Lippman is the new Maryland pitcher. He leads the staff with only a 1.07 WHIP. Lipman strikes out Cerny and Serruto. Jessee is grazed by a pitch and takes first base. He gets to second when Glasser walks. After two quick strikes, Whalen fouls off two pitches and works the count full before striking out on a slider.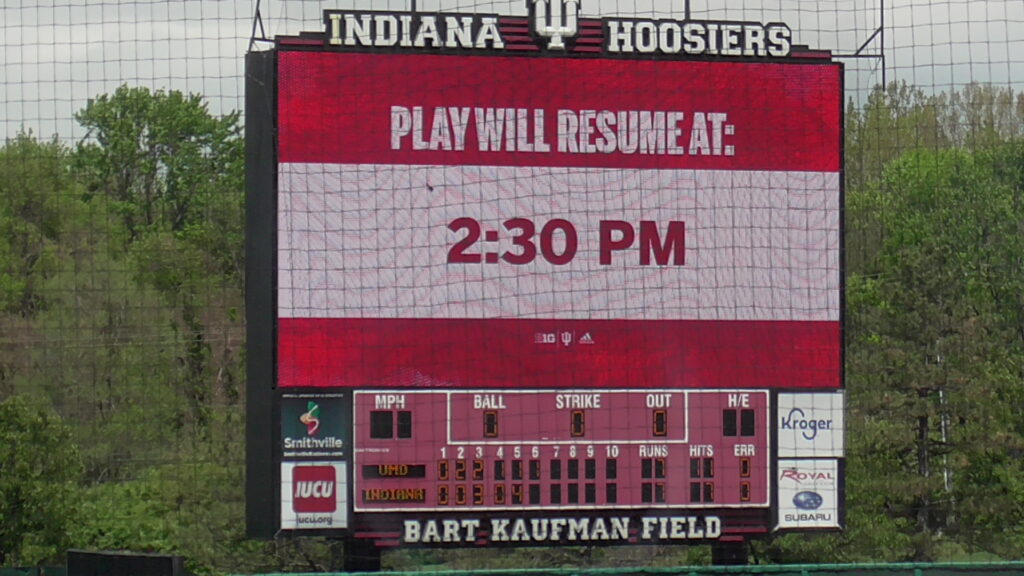 It's now a battle of Maryland's fresh bullpen versus Indiana's depleted bullpen. The Hoosiers are probably going to have to slug their way to pull out a win.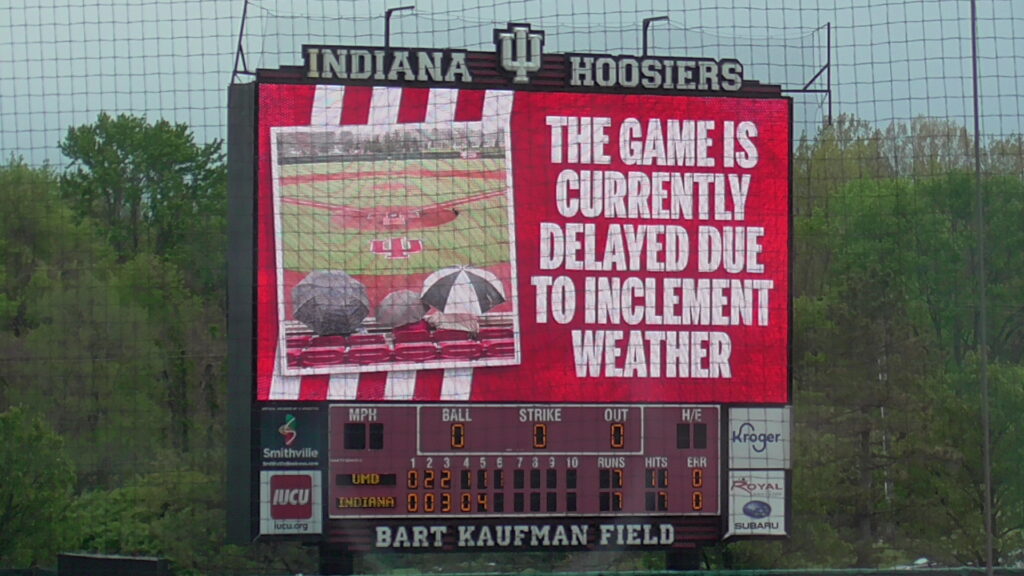 Top 6th: Maryland 7, Indiana 7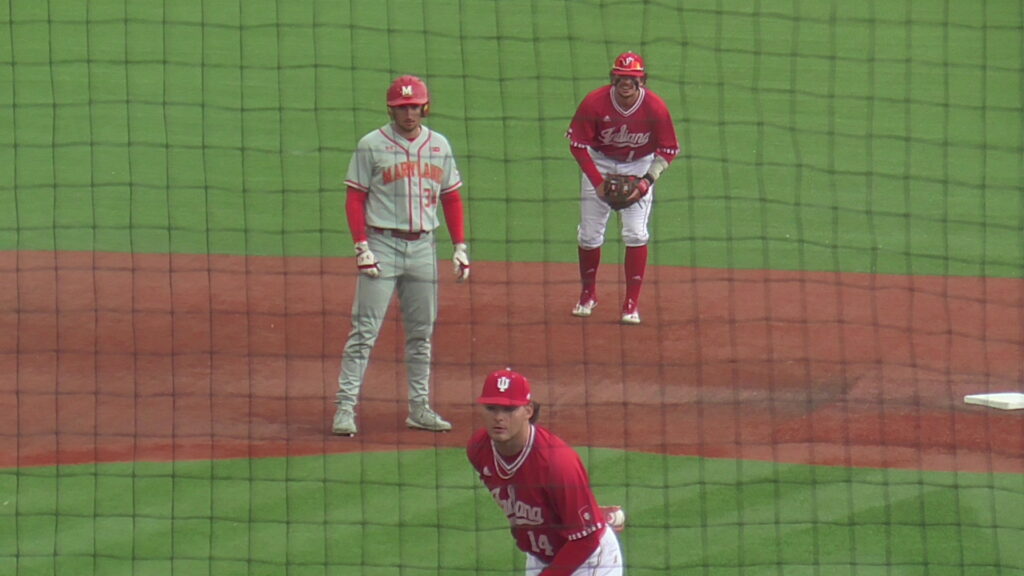 Shaw ties it right back up with a center field homer off of Yoho. Lorusso doubles and Connor Foley is the new Hoosier pitcher. He gets two quick flyouts. Inning over, now in a lightning delay.
Bottom 5th: Maryland 6, Indiana 7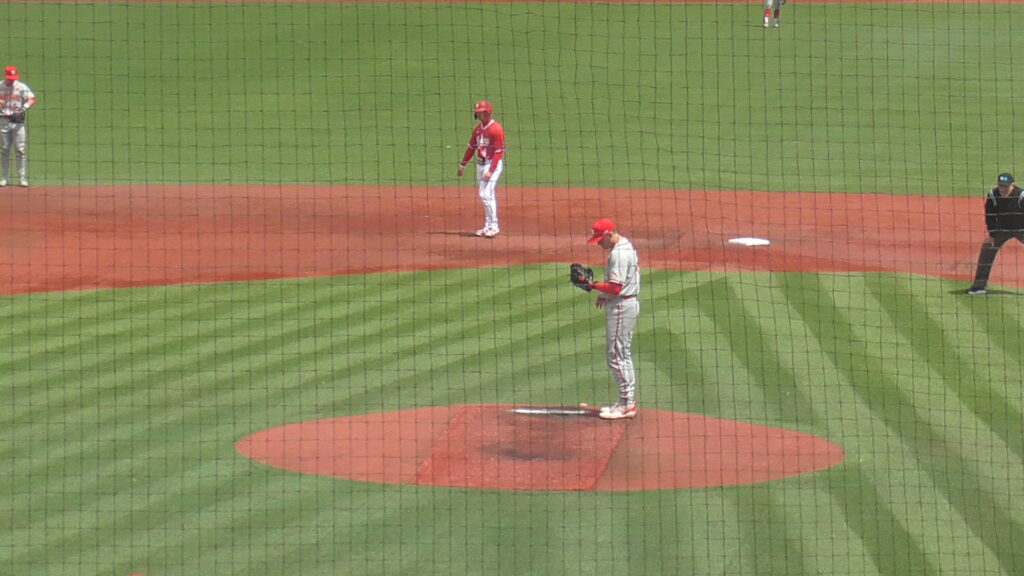 Serruto singles and Jessee doubles to lead off the inning. Glasser works a full count and lines out to first. Whalen hits a sacrifice fly. Devin Taylor goes oppo off the scoreboard to tie the game. A Tibbitts walk and a Mathison double gives Indiana its first lead of the series.
Top 5th: Maryland 6, Indiana 3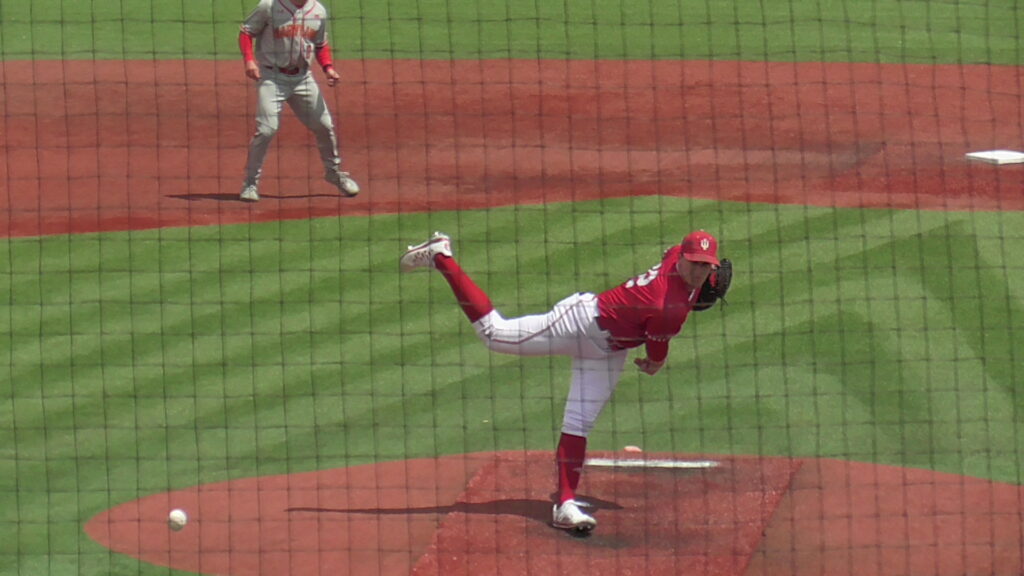 Craig Yoho is spinning the ball over 3000 RPM and gets two quick strikeouts. Elijah Lambros spoiles the inning with a solo shot to center. Yoho hits Orr in the back. Keister strikes out to end the inning.
Bottom 4th: Maryland 5, Indiana 3
After getting behind 3-0 to Mathison, Savacool gets into the zone and gets a 1-2-3 inning, now at 58 pitches through four innings.
Top 4th: Maryland 5, Indiana 3
Kraft gives a double to nine-hole hitter Keistler and hits Luke Shliger with a pitch. Jeff Mercer makes a pitching change. Craig Yoho is the new pitcher with two on and no out with Matt Shaw at the plate. Yoho struck out Shaw on three straight pitches. Lorusso hits a single the opposite way to plate another Terrapin run. A strike out-throw out double play ends the inning.
Bottom 3rd: Maryland 4, Indiana 3
Hunter Jessee walks with one out and Glasser gets a single to get Jessee in scoring position. Whalen strikes out on three pitches. DEVIN TAYLOR THREE-RUN BOMB!!!!
Top 3rd: Maryland 4, Indiana 0
Matt Shaw rips a one-out single. A walk and a threes single plates two runs. A walk of Lambros loads the bases. Kraft is in trouble with a first pitch ball to Jacob Orr prompting a player meeting on the mound. Kraft strikes out Orr to end the inning. He has thrown 52 pitches so far and will have to face 9-1-2 including Shliger and Shaw for the third time if he stays in for the fourth inning.
Bottom 2nd: Maryland 2, Indiana 0
Brock Tibbitts leads off with a single, but three quick contact outs make it only an eight pitch inning for Savacool. This is already turning the wrong direction for the Hoosiers.
Top 2nd: Maryland 2, Indiana 0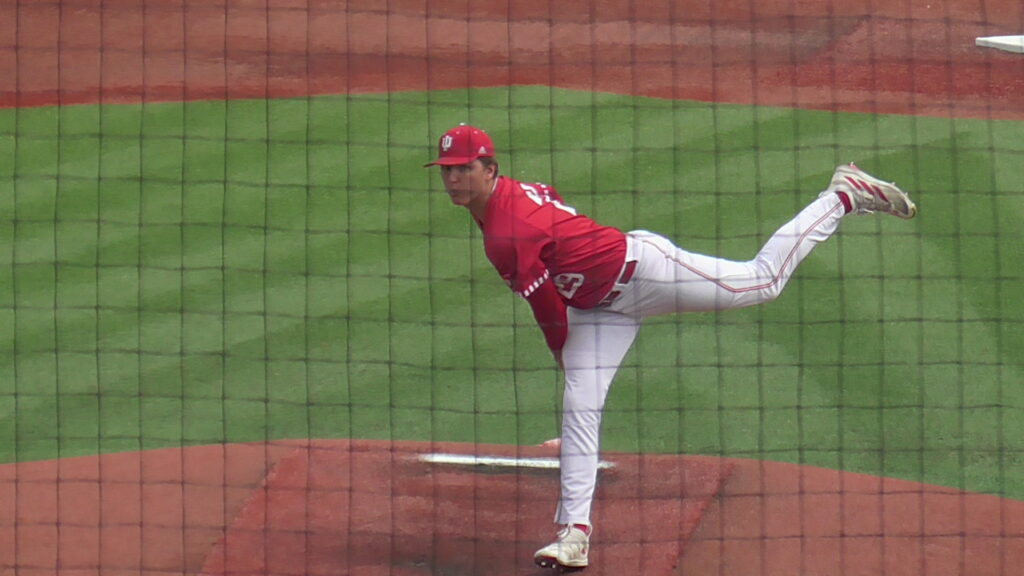 Eddie Hacopian and Matt Woods hit back to back doubles to plate a run with one out and Elijah Lambros adds a single to right. Taylor makes a strong throw to keep Woods at third. Woods scores on a sacrifice bunt by Jacob Orr.
Bottom 1st: Maryland 0, Indiana 0
Indiana forces 19 pitches out of Jason Savacool with Bobby Whalen walking. Devin Taylor hits a 2-2 pitch on the screws right at Kevin Keister who doubles up Whalen to end the inning.
Top 1st: Maryland 0, Indiana 0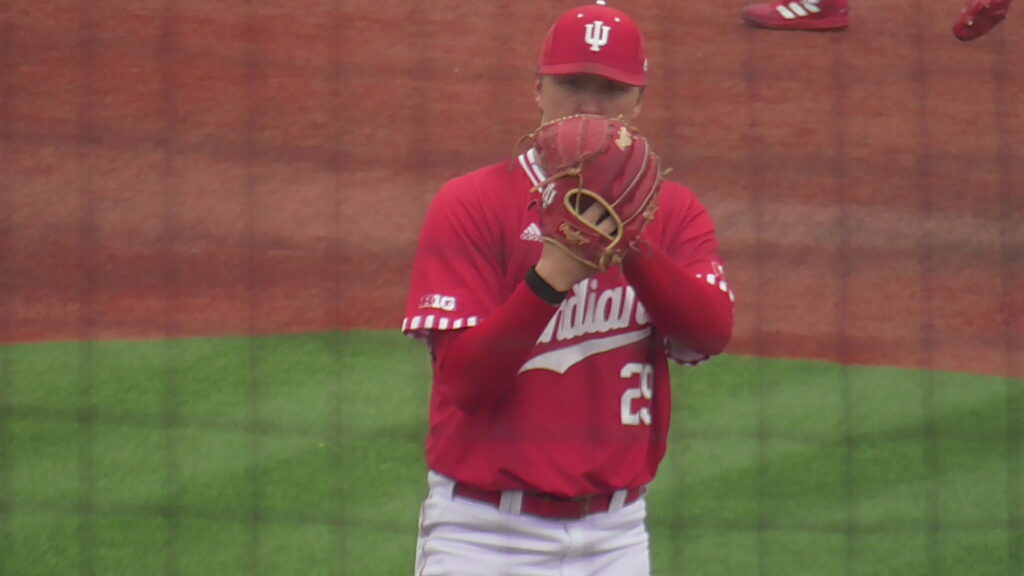 Ryan Kraft gets his first start of the year as the Hoosiers try to salvage one game from this series. Power arm Connor Foley and Craig Yoho are also fully rested. Kraft is already mixing pitches and gets top of order out 1-2-3 on just seven pitches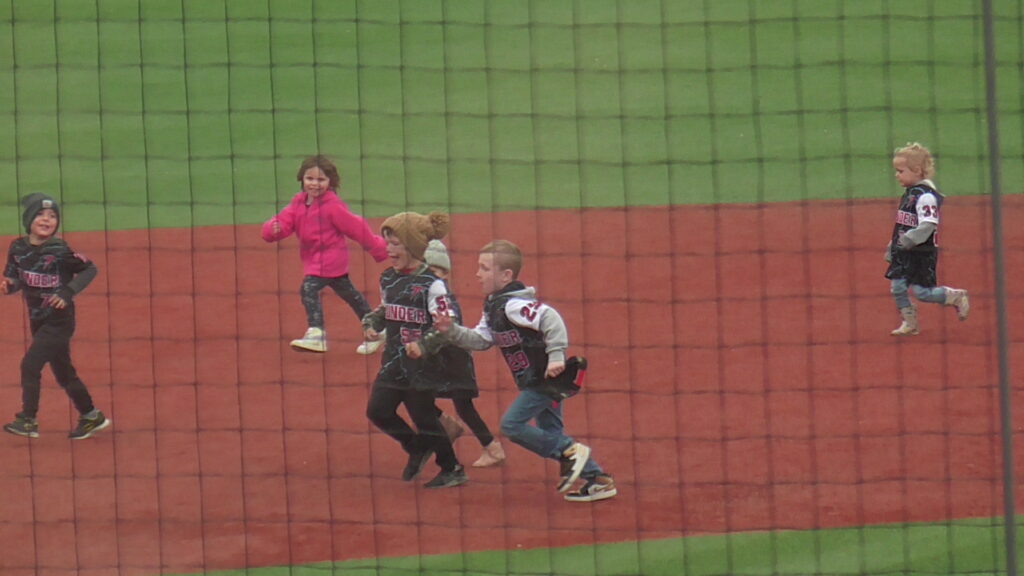 Starters
Sunday starters. pic.twitter.com/lUdlVxASc2

— Indiana Baseball (@IndianaBase) April 30, 2023
Links
Sunday ⚾️ at The Bart.

📺: https://t.co/ICAPUuV7rR
📻: https://t.co/Q3EAWiGCJF
📊: https://t.co/LFiX0NoV4O pic.twitter.com/RyCeuW1zr3

— Indiana Baseball (@IndianaBase) April 30, 2023